The allure of Mount Annapurna, the world's 10th highest peak, has captivated the dreams of countless trekkers worldwide.
For these explorers, the journey to the Annapurna Base Camp is a cherished ambition, much like the famous trek to Everest Base Camp.
Nestled in the heart of the majestic Annapurna range, the Annapurna Base Camp (ABC) offers a breathtaking panorama and an unforgettable trekking experience.
This trek is not just a walk; it's a journey through diverse landscapes, from lush forests to high alpine meadows, leading to the base of this awe-inspiring peak.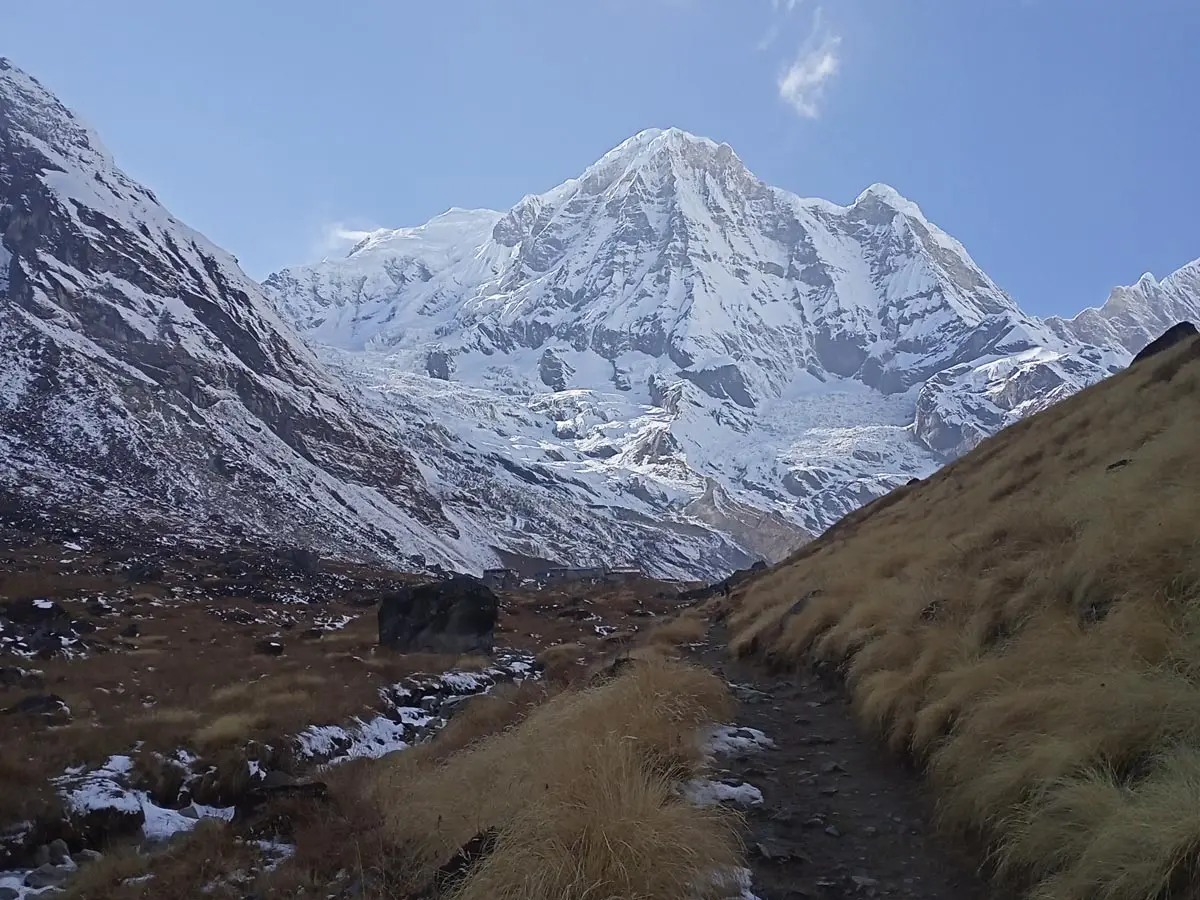 With its popularity, the ABC trek has become one of the most sought-after trails in Nepal.
However, despite its fame, aspiring trekkers often find themselves at a crossroads due to the lack of comprehensive information.
This trek, while immensely rewarding, demands adequate preparation.
The trails of Annapurna Base Camp are remarkably suitable for both beginners and seasoned hikers alike.
To embark on this unforgettable journey, one must be equipped not just with gear but also with knowledge – a guide to prepare for the Annapurna Base Camp trek is essential for turning this dream into a reality.
A Short Overview of ABC trek
Briefly outlining the ABC trek, it starts in the picturesque city of Pokhara, then proceeds towards Nayapul, ultimately arriving at Ulleri. From there, the journey unfolds through enchanting villages, terraced fields, and the lush rhododendron, the national flower of Nepal, also known as Laliguras forest.
The trail further takes you through notable spots like Machhapuchhre Base Camp (MBC) before reaching the Annapurna Base Camp.
The Annapurna Base Camp is perched at an impressive altitude of 4,130 meters (13,550 feet).
Throughout this trek, you'll be treated to awe-inspiring vistas, including the majestic Annapurna South, Hiunchuli, and the iconic Fishtail (Machhapuchhare) peak, etc.
Prepare yourself Physically before your ABC trek
Trekking is an enjoyable experience, yet it can also be quite tiring.
To ensure a successful and enjoyable Annapurna Base Camp trek, thorough preparation is key, starting with physical training and fitness.
The ABC trek encompasses long days of hiking on challenging terrains at high altitudes, with a moderate level of difficulty.
Therefore, it's advisable to commence your physical training regimen several months in advance to build the necessary stamina and endurance required for this adventure.
Focus on activities that enhance cardiovascular strength and leg endurance, such as hiking, jogging, cycling, and even stair climbing.
These exercises will help you adapt to the rigors of trekking and the changes in elevation you'll encounter along the trail.
Additionally, incorporate strength training exercises into your routine to build muscle strength, especially in your legs and core, as these areas will bear the brunt of the trekking load which can be quite a few Kgs.
Train in conditions as close to the Annapurna base camp as possible
Another crucial aspect of preparation is multi-day training or hiking in conditions that simulate the Annapurna Base Camp trek.
Wear your hiking boots and daypack with some added weight, hike long distances and practice elevation gain and loss.
This will help you acclimatize to the physical demands and get a feel for what to expect during the actual trek.
Gradually increase the intensity and duration of your training sessions as your departure date approaches.
By dedicating time to physical training and fitness, you'll not only enhance your overall trekking experience but also increase your chances of successfully reaching Annapurna Base Camp while enjoying the breathtaking scenery and unique cultural experiences along the way.
Do I need to train for Annapurna Base Camp Trek?
Whether or not you need to train for the Annapurna Base Camp trek largely depends on your current physical condition and hiking experience.
The Annapurna Base Camp trek is moderately challenging, it doesn't require technical mountain climbing experience.
While it's not as challenging as some other treks in Nepal, it still demands a good level of fitness.
The trek includes endless stone staircases and long, tiring walks up hill walks.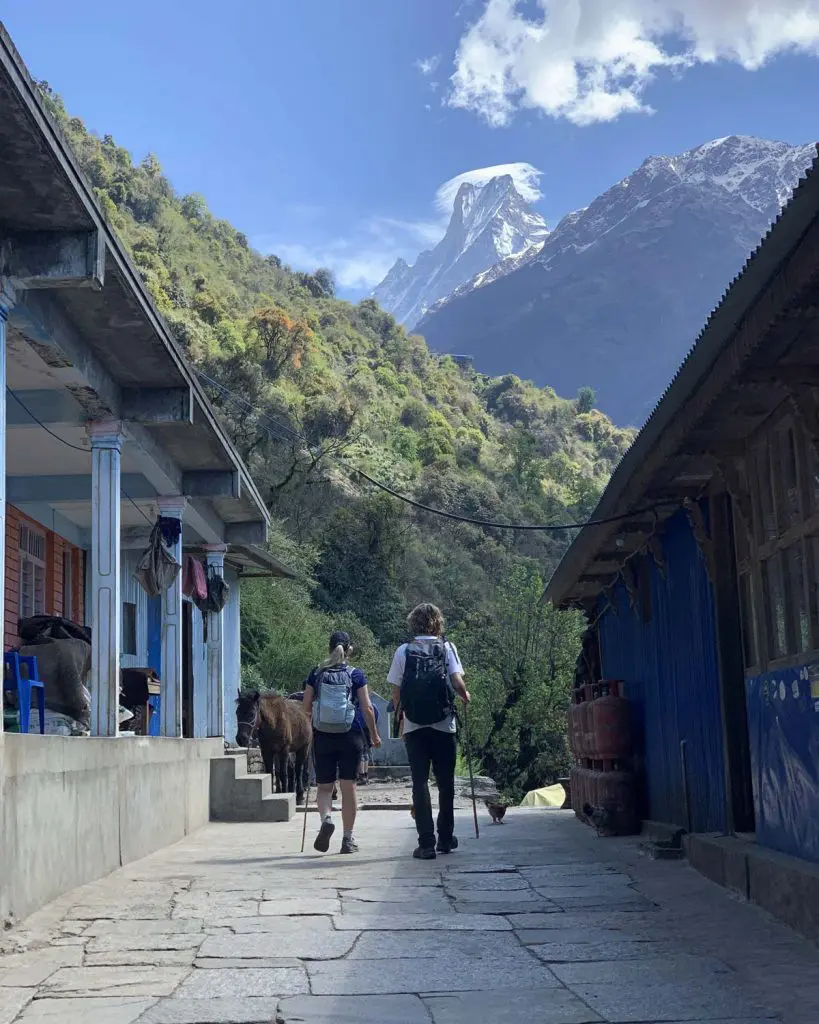 The duration of the trek varies; it can be completed in 11 to 14 days (about 2 weeks) or expedited to 8 to 9 days depending on your pace.
On average, you'll be walking for 5-6 hours daily, but if you're not used to hiking, it could take 7 to 8 hours to reach your daily destination, leading to anxiety and discomfort.
To avoid such issues, it's highly beneficial to work on your stamina and walking capabilities.
Engage in long-distance walking, practice ascending and descending on uphill and downhill trails, incorporate hiking into your routine, and focus on overall body conditioning.
These preparations will not only help you adapt to the walking demands but also significantly enhance your overall trekking experience, making your journey to Annapurna Base Camp more comfortable and enjoyable.
Choose the right season
Preparing for ABC trek not only involves physical fitness but also understanding the seasons and right trekking times.
The Annapurna region's weather can be quite unpredictable, to ensure a safe and enjoyable trek to ABC it is essential to know about the weather conditions and the most favorable season.
The best seasons to trek to Annapurna Base Camp are Spring (March, April, May, June) and Autumn (end of September, October, November).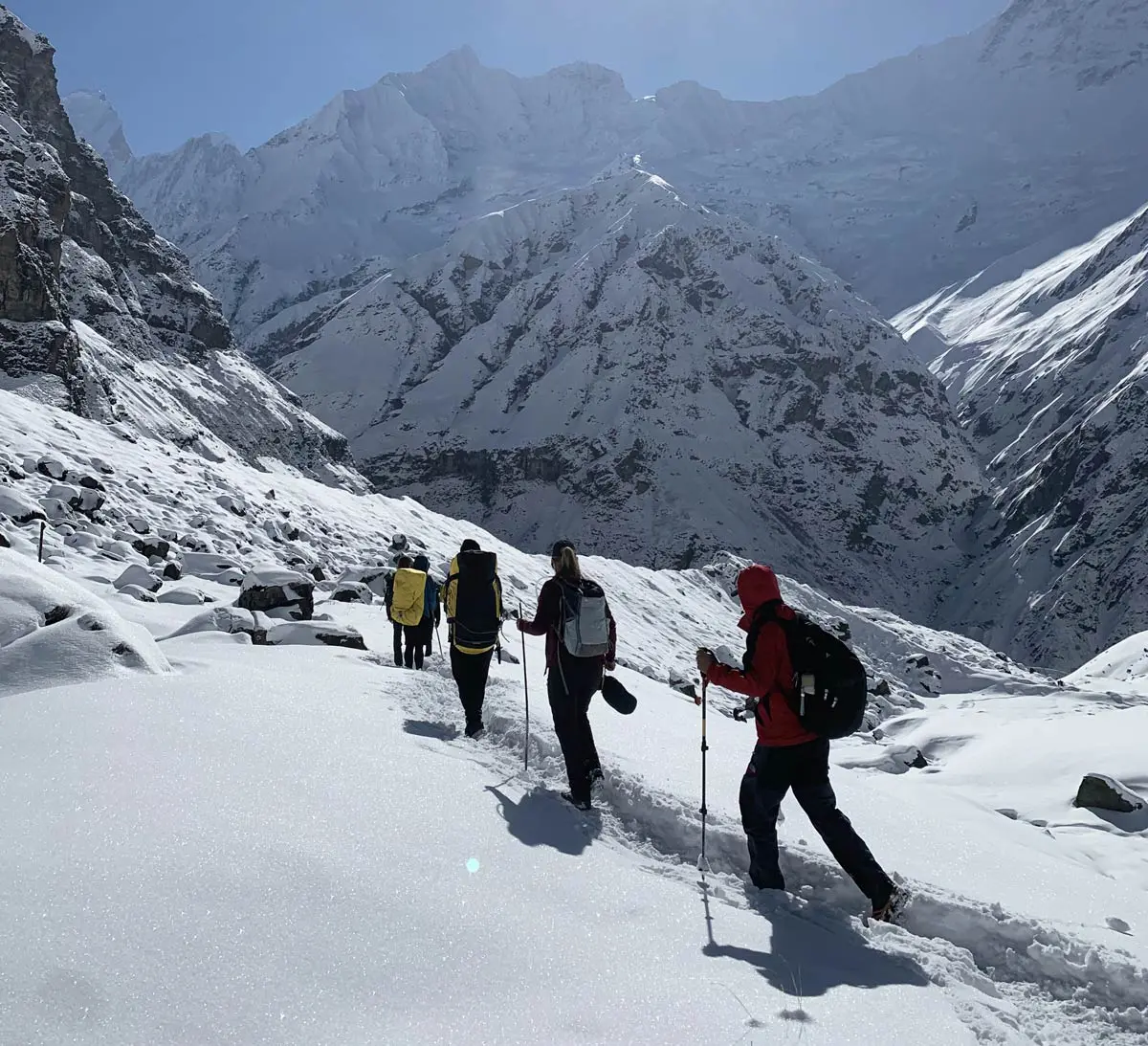 During Spring, you can enjoy clear skies, comfortable temperatures, and blooming rhododendrons. Perfect ambience for a walk-in nature.
In Autumn, the weather remains stable with clear views and pleasant temperatures.
These periods offer the most fine and favorable conditions.
Nevertheless, you can trek to ABC in any season but keep in mind that your choices can significantly affect your trekking experience.
Visa and Trekking Permits for Annapurna Base Camp trek
To prepare for the Annapurna Base Camp trek, there are several important steps you need to take regarding visas and trekking permits.
First and foremost, ensure that your visa allows you to stay in Nepal for the duration of your trek.
Trekking permits are not issued beyond your visa's expiration date, so make sure your visa covers the entire trekking period. It's essential to keep this in mind when planning your trip.
The permit fees for trekking are quoted in US dollars, but you'll need to pay them in Nepali Rupees (NRP). It's a good idea to have the exact amount in local currency with you to avoid any complications.
From April 1, 2023, the Nepal Tourism Board (NTB) has banned solo trekking in Nepal for safety reasons.
Therefore, it is advised to only trek with a registered and reputable trekking company that employs experienced and licensed trekking guides.
Choose a reputable company with experience, positive reviews and recommendations. The potential of the trekking company is usually reflected by its online customer reviews and ratings.
Selecting a trekking company that prioritizes cultural sensitivity and responsible tourism not only enriches your experience but also positively impacts the local economy, communities and environment of the Annapurna Region.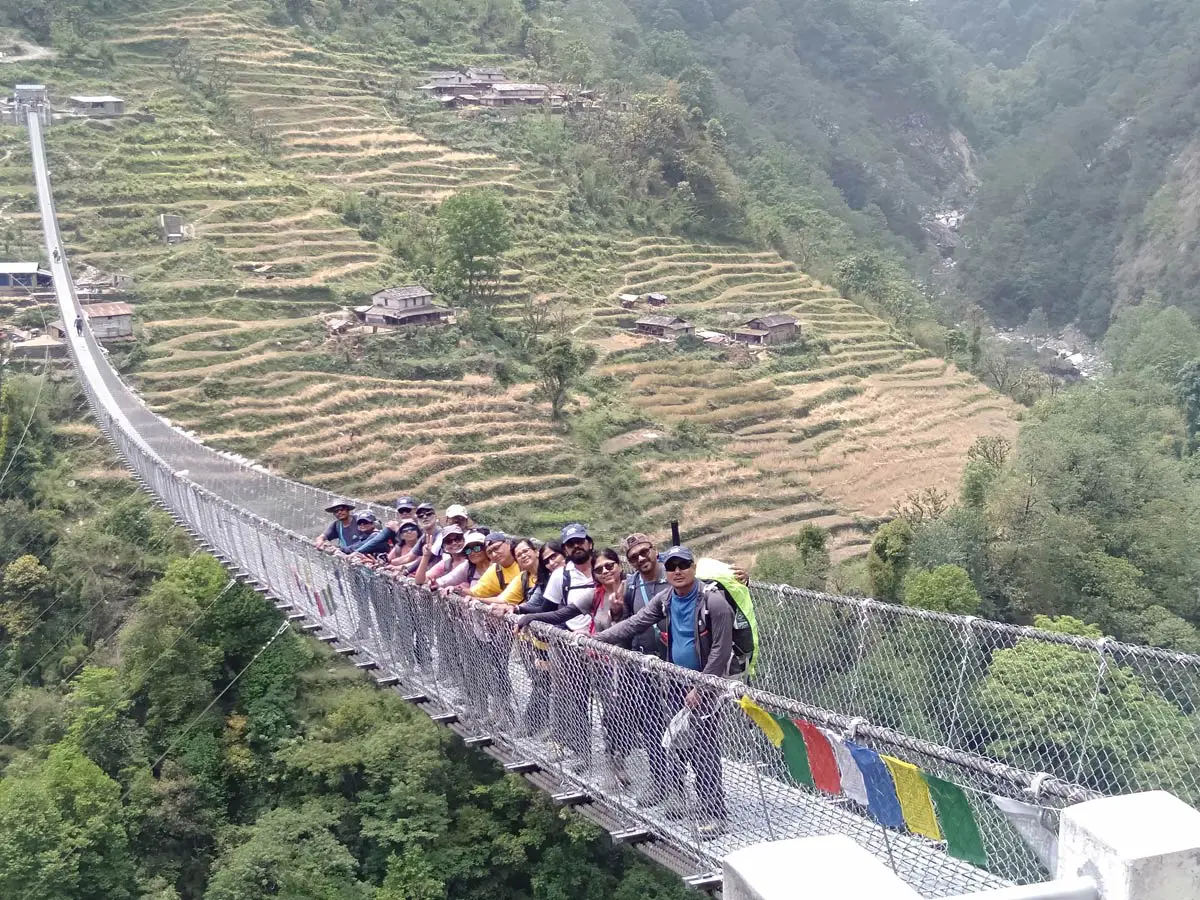 For the Annapurna Base Camp (ABC) trek, you will need to obtain two permits: the ACAP (Annapurna Conservation Area Entry Permit) and the TIMS card (Trekkers Information Management System).
The TIMS card is required for every trekker coming to Nepal, regardless of the region they plan to trek in. This card helps track trekkers and ensures their safety during the journey.
The ACAP permit, on the other hand, is specifically needed for trekkers who wish to explore the Annapurna Region. This permit contributes to the conservation and preservation of the area's unique biodiversity and cultural heritage.
In summary, to prepare for the Annapurna Base Camp trek, ensure that your visa covers your entire trekking period, trek with a registered trekking company, and obtain the necessary permits, which include the TIMS card and the ACAP permit.
These steps will help you have a safe and enjoyable trek while contributing to the conservation of this beautiful region.
How important is mental preparation for ABC trek?
Preparing mentally for the Annapurna Base Camp trek is very important.
Preparing for high altitude trekking is not just about physical training, but also about mental preparation, beginning by setting realistic expectations.
Depending on your comfort level in remote mountain settings, anticipate the need for mental adjustments.
Ready yourself for physical challenges as you'll be trekking for extended hours with your backpack in the high-altitude Himalayan terrain.
Also, mentally brace for the absence of modern amenities like Wi-Fi, disconnect from the digital world, and fully embrace the natural splendor of the Himalayas.
Utilize this time to establish a deeper connection with your environment and fellow trekkers.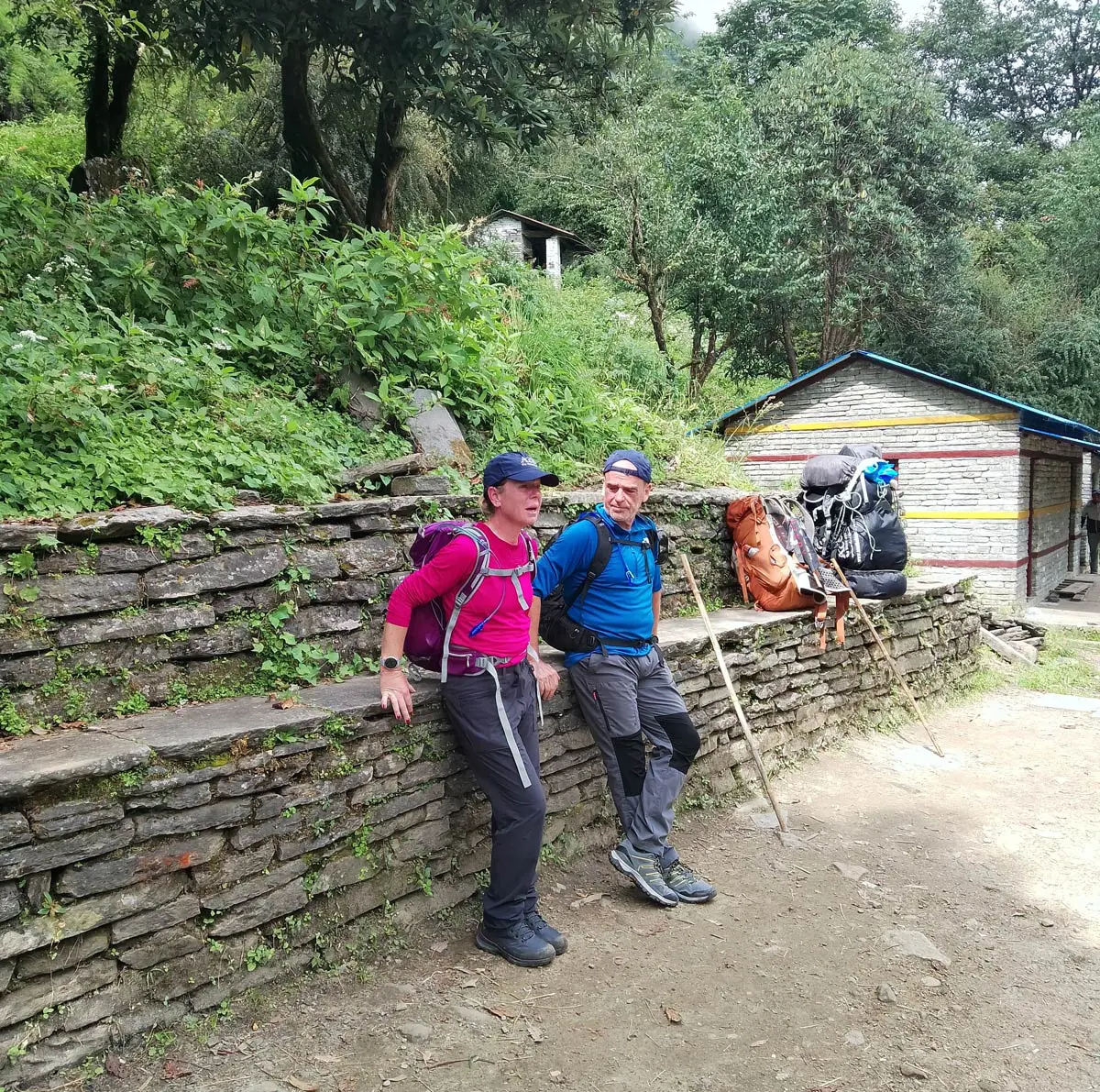 Additionally, prepare your mind to embrace simpler living conditions, appreciating the unique experience of Himalayan teahouses.
Always maintain a positive mindset throughout the journey, as this will greatly influence your perception of challenges and overall enjoyment.
Be mentally flexible, this will allow you to adapt to changing plans caused by unpredictable weather or other unforeseen circumstances.
Lastly, try to enjoy the experience, be present and appreciate the natural beauty rather than focusing on reaching the summit.
Packing for ABC Trekking adventure
While preparing for your Annapurna Base Camp adventure, packing the right gear, clothes and supplies is crucial for a safe and enjoyable journey.
Here, we have mentioned only specifics and essentials as a long list can be overwhelming.
It is a must to invest in high-quality trekking gear that can endure the challenges of the trek.
Footwear is one of the most crucial components when it comes to packing for a trek since you will be walking multiple hours a day for many days in a row.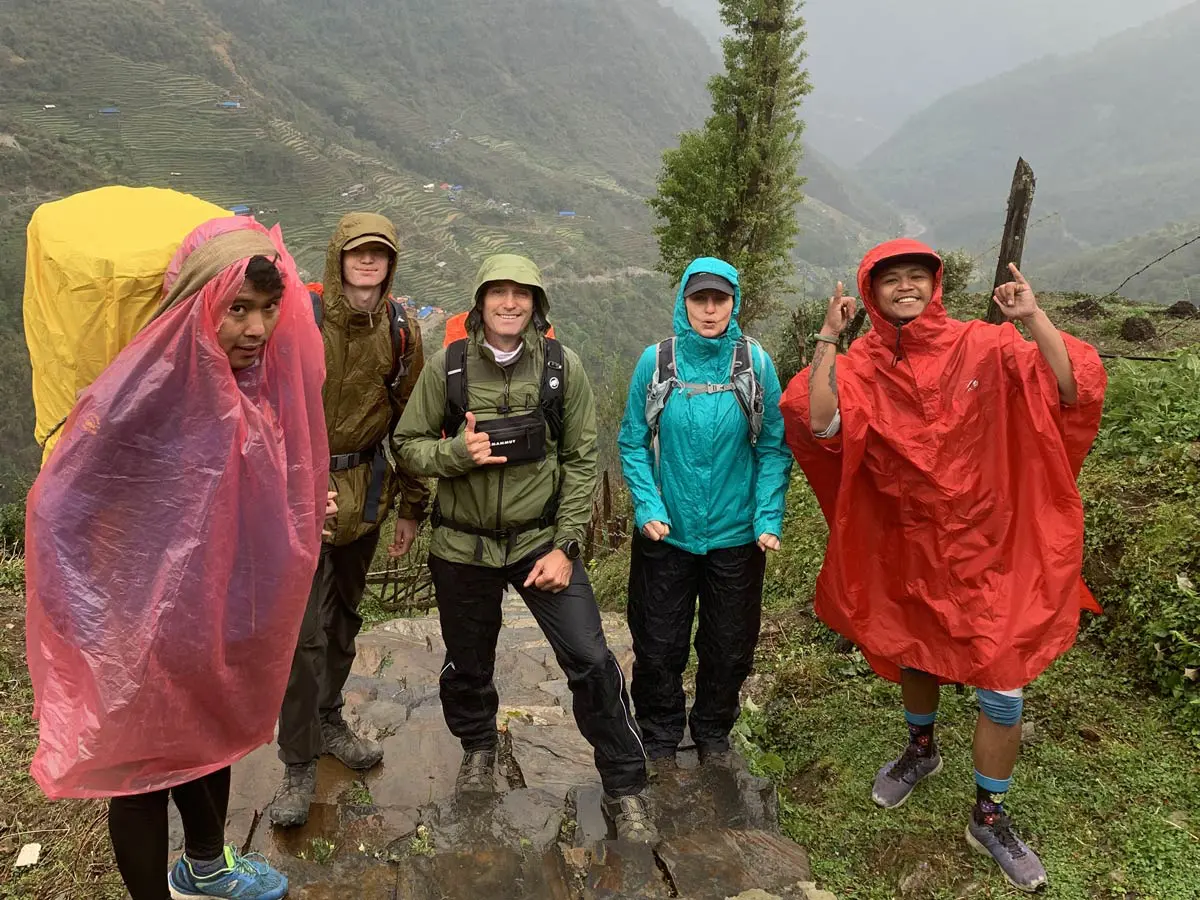 Buy sturdy, waterproof, and high-quality trekking boots that fit you perfectly with enough ankle support. Make sure to break them in before your trek.
Additionally, a good quality down jacket, preferably waterproof, is essential for maintaining warmth in the changing mountain weather.
Carrying a well-stocked first aid kit is non-negotiable, offering vital medical supplies for unexpected situations.
*NOTE: Packing light is not just a tip but a necessity; the weight of your backpack significantly impacts your trekking experience.
Opt for multipurpose and sustainable clothing, maximizing each item's functionality.
Thoughtful investment in these essentials ensures that you're adequately equipped to tackle the challenges and fully immerse yourself in the breathtaking journey to Annapurna Base Camp.
Acclimatization
Preparing for the Annapurna Base Camp Trek involves understanding the importance of acclimatization.
Acclimatization is the process of your body adjusting to the changing altitude and reduced oxygen levels at higher elevations.
It is a crucial aspect of trekking in high-altitude regions like the Annapurna Base Camp to prevent altitude sickness.
During acclimatization, your body gets used to the lower oxygen levels, reducing the risk of symptoms like headaches, nausea, and fatigue.
To acclimatize effectively, ascend gradually, allowing your body some time to adjust to the changing conditions.
It's essential to plan your trek itinerary in a way that includes rest days at higher altitudes, giving your body time to adapt before ascending further.
Remember to stay hydrated, avoid alcohol and tobacco, and listen to your body.
Proper acclimatization ensures a safer and more enjoyable trekking experience at high altitudes like Annapurna Base Camp.
Travel insurance
Travel insurance is one aspect that you should never overlook anywhere you travel.
The beauty of the Himalayas comes with its own challenges because of the high-altitude, weather, and the terrain.
Having travel insurance is not just a precaution it is a vital necessity when you are preparing for the Annapurna Base Camp Trek.
Travel insurance is essential for any trek. Annapurna Base camp trek reaches over 4,000 meters and is considered a high- altitude trek, and there is always the risk of altitude sickness or other medical emergencies, or even accidents.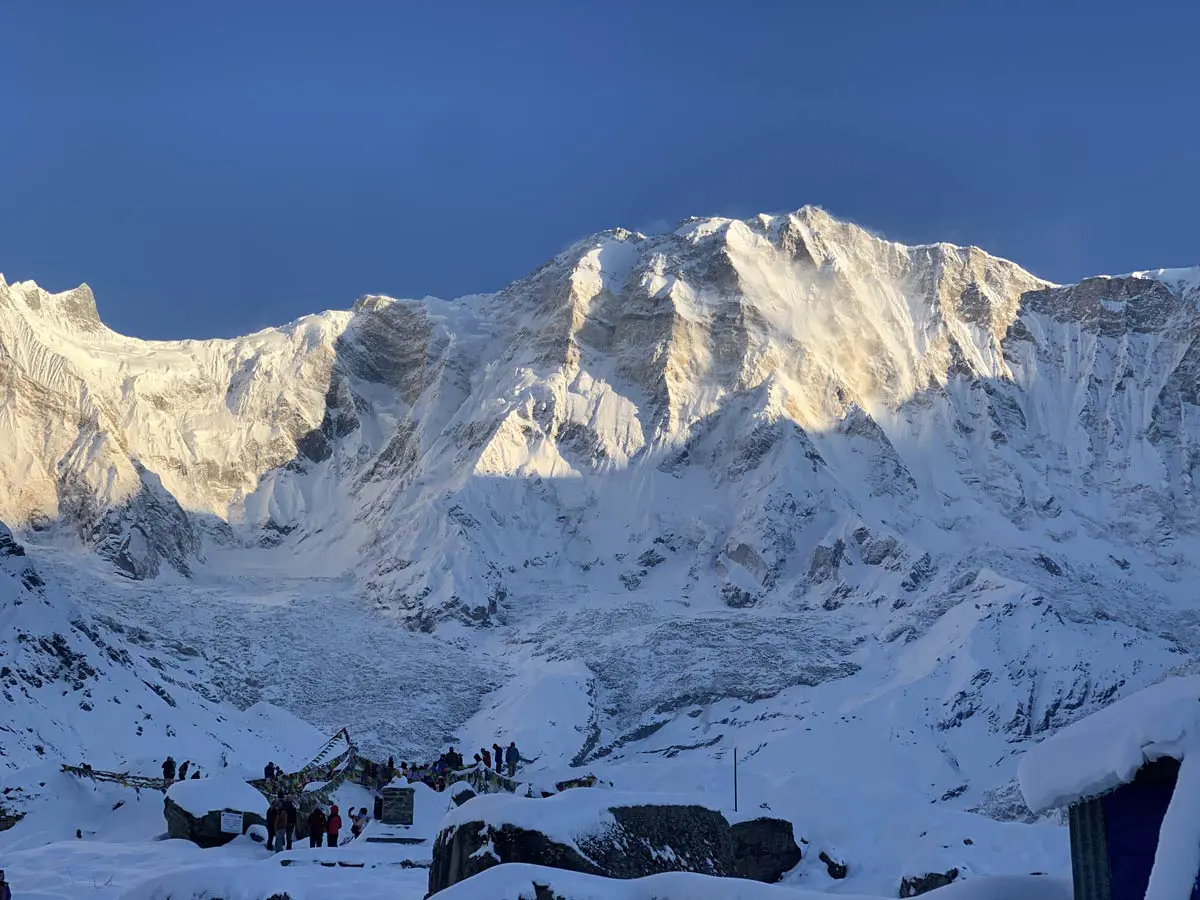 Medical emergencies can arise unexpectedly so having travel insurance ensures you access to proper medical care without worrying about the extensive costs.
Travel insurance also covers unforeseen circumstances such as loss of baggage, travel delays, and cancellations, providing financial assistance and peace of mind.
One of the most crucial aspects of travel insurance for trekkers is the coverage for helicopter rescue in case of major accidents or Acute Mountain Sickness (AMS).
In such emergencies, where immediate evacuation is necessary, a helicopter rescue might be the only way out, and the expenses for this service can be quite hefty.
Having insurance that covers helicopter evacuation ensures that you can receive timely medical assistance without being burdened by the financial implications.
It's a classic case of "better safe than sorry," where being prepared for the worst-case scenario can make a significant difference in your safety and well-being.
Choosing the right insurance policy is as important as having one.
Here are some tips for choosing a travel insurance policy for the ABC trek:
Compare policies from different companies to find the best coverage and price.
Read their provided service and make sure you understand what is and is not covered.
Ask your insurance company about any specific exclusions or restrictions.
Make sure your insurance policy covers High-altitude trekking, Helicopter evacuation, necessary medical expenses, Trip cancellation and interruption, lost or stolen luggage, personal liability.
Selecting a reputable insurance provider ensures that you are adequately protected, allowing you to focus on enjoying your trek while knowing that you are prepared for any unforeseen circumstances.
Conclusion
In conclusion, embarking on the Annapurna Base Camp trek is a thrilling adventure that demands adequate preparation.
While the journey might seem daunting, with the right physical and mental readiness, it becomes an achievable feat for anyone.
Remember, this trek is not a competition, it is your own journey to explore the beauty and wonders of nature.
By getting ready with proper training and mental preparation, you make sure your trek is relaxed and fun.
So, relax, stay focused, and relish every step of the way. Let the mesmerizing beauty of the Annapurna region captivate your senses, making your trek a memorable and fulfilling journey.