Tibet Advance Everest Base Camp - 21 Days
Recommended by 99% of travelers
The trek up to 6340meters - highest trek in the world, advance everest base camp start once we take scenic flight from Kathmandu to Lhasa.
Difficulty
Max. altitude
6,340 m/20,795 ft
Best season
Apr-Jul, Aug-Oct
Trip Highlights
Exploring the temples, shrines, bazaars of Kathmandu.
Spectacular flight from Kathmandu to Lhasa.
Sightseeing tour in LHASA.
The eighth wonder Potala Palace to the drive along the Friendship highway to trekking up to the 6380m ABC (sometimes called Camp 3), rubbing noses with Everest.
Step inside and experience life as the "Tibetan people" live, in the roof of the world.
Scenic drives Nepal/China Friendship Bridge to Kathmandu.
Trip Overview
Nowhere else on this planet can you hike on trails to such altitude without the need for crampons, ice axe or mountaineering skills. The trek up to 6340meters – highest trek in the world, advance everest base camp start once we take scenic flight from Kathmandu to Lhasa. We'll pass small Tibetan settlements, nomadic herdsmen wandering across the wide arid plains and awe-inspiring mountain peaks. Equally as fascinating is the wealth of cultural interest and we will have plenty of opportunity to explore this side of Tibet, both in Lhasa and the other towns we pass through on our journey to Kathmandu.
We spend 3 nights in Lhasa, staying right in the centre of the old city. This will allow both plenty of time for acclimatization and easy access to the city's main attractions – the Potala Palace and the Jokhang Temple. Leaving Lhasa in our Toyota Land cruiser 4 wheel drive, we'll travel through this amazing country, staying in the best traditional hotels Tibet has to offer. In the towns of Gyantse and Shigatse we explore further monasteries and fully immerse ourselves in the Buddhist culture.
Without doubt, a highlight of this trip is the visit to Everest Base Camp, and the trek to camp 3 at 6400meters., where the sheer grandeur of Everest's north face you have to see to believe. This trek takes you as close to the summit of Everest as any non-climber can go. This adventure, the highest trek in the world, is an incredible journey to camp 3 and the base of the North Col via the East Rongbuk Glacier.
Short Itinerary
Day 01 :
Arrival in Kathmandu. Overnight at hotel.
Day 02 :
Pre-trip Meeting and Sightseeing around Kathmandu valley. Overnight at hotel.
Day 03 :
Fly from Kathmandu to Lhasa. Overnight at hotel.
Day 04-05 :
Sightseeing in Lhasa. Overnight at hotel.
Day 06 :
Drive Lhasa to Gyantse (3950 m)- 305 km/6 hrs. Overnight at hotel.
Day 07 :
Drive to Shigatse (3900 m)- 95 km/2 hrs. Overnight at hotel.
Day 08 :
Drive to Shegar or New Tingri (4050 m) via Sakya-m290 km/ 5 hrs. Overnight at Guesthouse.
Day 09 :
Drive to Ronguk(5000 m) to North Everest Base Camp (5050 m)- 115 km/4 hrs. Overnight at Tented Camp.
Day 10-12 :
Acclimatization prior to trekking to Interim Camp. Overnight at Tented Camp.
Day 13 :
Trek to Interim Camp, 6 to 8 hrs. Overnight at Tented Camp.
Day 14 :
Camp II, 5 to 7 hrs. Overnight at Tented Camp.
Day 15 :
Trek to Advance Base Camp, 6 to 8 hrs. Overnight at Tented Camp.
Day 16 :
Spare day stay at Advance Base camp. Overnight at Tented Camp.
Day 17 :
Trek down to Bace Camp, 7 to 9 hrs. Overnight at Tented Camp.
Day 18 :
Dive to Zhangmu(2300 m) via Nyalam- 255 km/5 hrs. Overnight at hotel.
Day 19 :
Cross the Border and Drive to Kathmandu- 125 km/4 to 5 hrs. Overnight at hotel.
Day 20 :
Leisure day in Kathmandu. Overnight at hotel.
Day 21 :
Transfer for your final flight departure.
Departures & Availability
We do not have fixed departure date for this trip. This trip can only be organized upon your request. There is an option of private and tailor-made journey best suited for you, your family and friends. We have price discounts according to the group size, the bigger your group, the bigger your group discounts. We allow complete flexibility on your departure date, please choose your preferable date.
Price Includes
Pick up from and drop off at the hotel and the airport on a private tourist vehicle.

Twin sharing accommodation in a three star hotel in Kathmandu; Breakfast included. (4 nights)

Tibetan-standard two-star hotel accommodation (mostly twin-sharing room) in Lhasa, Gyantse, Shigatse with basic guesthouse accommodation for rest of the town in Tibet.

Tented accommodation during the trek from and to base camp of Everest (We will provide fully water proof two men tents, dining tents, kitchen gear, dining table, chairs, toilet tents etc).

All your standard Meals with hot drinks during the camping from and to base camp (Breakfasts, Lunches and Dinners).

Boiled and purify drinking water while camping.

Kathmandu – Lhasa airfare and airport departure tax.

Surface transportation to and from Kathmandu on private vehicle (border pick/drop etc.).

Guided city tour in Kathmandu on a private vehicle.

Sightseeing/monument entrance fees in Kathmandu (on Day 02).

Government-licensed English-speaking Tibetan tour guide.

The required number of ground staff for the tour like helpers and drivers.

Tourist Van or Land cruisers (4WD, 4500 model) and Support truck during the driving Tour (One Land cruiser for four clients)

Yak and Yak man or Porters to carry the equipment from base camp to above and back.

Food, accommodation, salary, insurance, equipment and medicine for our ground staff.

Advance Base Camp Climbing Permit.

All Camping and kitchen equipment.

A down jacket and a sleeping bag provided Ace the Himalaya (which needs to be returned after the trek).

Free Ace the Himalaya duffel/kit bag and sunhat (yours to keep).

A farewell dinner on the last night in Nepal

Tibet entry permission, Chinese visa and monastery entry fees.

All administrative expenses and government taxes
Price Excludes
International flight fare and airport departure tax
Travel insurance along with high-altitude emergency evacuation coverage
Nepal Entry Visa (Visa can be acquired easily after your arrival at Tribhuvan International Airport in Kathmandu with a fee of USD 50 for 30 days visa and USD 125 for 90 days visa)

Internet and telephone calls.

Lunch and dinner in Kathmandu and during the tour in Tibet– about USD 15 to 20 per person per day.

Item of Personal nature like alcohol, cold drinks and laundry.

Personal clothing and equipment.(See the equipment tab for detail information)

Tips for Guide, Porter and Driver. (Tipping is expected)

Others expenses not mentioned in the Price Includes section.
Day 01:
Our airport representative will be receiving you at Tribhuvan International airport, Kathmandu and s/he will be displaying an Ace the Himalaya signboard outside the airport terminal. You will be then transffered to your respective hotel in our private tourist vehicle.
Day 02: Pre-trip Meeting and Sightseeing around Kathmandu valley.
In the morning, after breakfast, At around 8 am, we host a pre-trip meeting at your hotel in Kathmandu and introduce your trek leader/guide. Please seek this opportunity to ask questions about your trek. We will also supply you with our trek Duffel Bag, T-shirt and a Cap. For the meeting, please make sure you bring passport, three copies of passport-size photos, and a readable copy of your travel insurance policy. During this meeting, please clear the due balance, if any, and sign the legally binding trip form as well as the non-liability disclaimer. Please inform us in advance if you will be arriving late and therefore are unable to attend the pre-trip meeting.
After the Pre-Trip meeting and breakfast, your sightseeing trip will start at 8.45 AM in the morning. We provide a private vehicle and professional tour guide. We visit Boudhnath Stupa, one of the biggest Buddhist shrines in the world, where we observe Buddhist monks in prayer in the monasteries surrounding the stupa. After Boudhnath Stupa we visit Pashupatinath, the most famous Hindu temple in the country, located on the banks of the holy Bagmati River. Here we see Hindu holy men (sadhus) meditating, pilgrims bathing and occasionally funeral pyres burning on the ghats. We also visit Bhaktapur Durbar Square, which is a collection of pagoda and shikhara – style temples grouped around a fifty-five-window palace of brick and wood. The attraction of the Bhaktapur Durbar Square are the the Lion gate, the Golden gate, the Palace of fifty five windows, art galleries, the Statue of King Bhupatindra Malla.
The rest of our time in Kathmandu is free for further exploration and some last-minute shopping in Thamel area near by your hotel. Later in the evening we will provide you with Tibet travelling permit and Visa.
Day 03: Fly from Kathmandu to Lhasa (3660meters).
The adventure begins in Lhasa. The flight from Nepal to Lhasa is considered one of the most beautiful air routes in the world, as it provides sweeping views of Everest (8848m), Kanchenjunga (8536m) and other Himalayan peaks. If traveling via mainland China, there are a wide variety of flights in addition to the world's highest train route to reach Lhasa. Upon arrival, you will be received by our Tibetan guide at the airport/train station. After approximately 1.5 hours of driving, you will reach Lhasa. It's advisable to rest and take it easy for the remainder of the day due to Lhasa's altitude. Overnight at hotel in Lhasa.
NOTE: Please let us know if you wish to arrive Lhasa via mainland China. We will arrange and send the flight and travelling permit for you.
Read more
Day 04: Sightseeing in Lhasa (3650 m).
The journey begins with a visit to Sera Monastery, accompanied by an experienced tour guide (who is also a translator). Sera is an exceptional space; its white-washed walls and golden roofs speak of Tibetan Buddhism's ancient wisdom and tranquility. Equally breathtaking are the gardens and sacred spaces of the Norbulingka, the Dalai Lama's summer residence. We will also visit the Jokhang Temple followed by Barkhor Markets – a bustling road lined with vendors where you can sample the smells and sounds of Tibet, or browse through the Thankas, masks, prayer beads and countless other treasures inherent to Tibetan custom and tradition.
Day 05: Second day of sightseeing in Lhasa.
The highlight of the day is the visit to Potala palace – a UNESCO World Heritage celebrated for its priceless treasury of Buddhist artifacts and bejeweled tombs of past Dalai Lamas. The Potala was also the tallest building in the world for 200 years following its construction in 1645. The group will then move to Drepung Monastery, which was built in 14th century and was home to over 10,000 monks. Drepung was also the educational center for the lineage of Dalai Lamas, and is famed for attracting tens of thousands of pilgrims for its Thanka festival. Drepung has a poignant presence in the spiritual life of Tibetans, and is the most cherished of all Tibet's monasteries.
In the afternoon, we visit Tibet Museum, officially inaugurated in October of 1999, the museum houses a rich collection of prehistoric cultural relics, including ornate Buddha statues in different postures, imperial jade seals, gifts granted by emperors, colorful Thankas, and various printed Sanskrit and Tibetan scriptures. It is also possible to see variety of folk art such as handicrafts, costumes, jewelry, and pottery. Beyond the collections, the museum building itself is a work of art with its ornamented beams, pillars, lintels, banners and wall hangings in the traditional Tibetan style.
Day 06: Drive Lhasa to Gyantse (3950meters) - 261 k.m
The group will travel along Friendship Highway, passing Khamba La (4794 m), where there will be the opportunity to appreciate majestic views of Yamdrok?Tso Lake, a deep blue body of water renowned for its unique beauty. The group will also see Nazin Kang Sang glacier standing proud at 7252m. Ahead to the west, we will come across another Karo La pass at 5045m. Following a 261 km drive, we will enter the town of Gyantse, a stunning example of a traditional Tibetan village filled with beautiful stone farmhouses.
Day 07: Drive to Shigatse (3900meter) - 90 k.m.
Gyantse Dzong and the Kumbum are the jewels of Gyantse. Gyantse Dzong is a historical fort built in the 14th century, and overlooks Gyantse and the surrounding Nyang Chu Valley. The Kumbum rises 35km above the town, and is crowned by a golden dome. The grounds boast a chorten (stupa), several chapels and a stunning collection of Tibetan Buddhist murals, which inspired the name of the complex. The word 'Kubum' means 100,000 images in Tibetan. After exploring Gyantse, we will take a 90 km drive to Shigatse. The group will stop at Shalu monastery along the way; the structure embodies the Han, Tibetan and Indian styles of architecture. Following a brief look at Shalu, the journey continues in Shigatse, the second largest city of Tibet. Tashilhunpo Monastery is the highlight of Shigatse, as it is one of the largest functioning monasteries in Tibet. Overnight at hotel in Shigatse.
Day 08: Drive to Shegar (New Tingri) (4050meters) - 244 k.m.
The drive to Shegar is defined by the picturesque landscape – we will pass the small towns of Lhatse and Gyamtso La pass at 5220m. You will have the opportunity to see Natang Monastery (12 kms from Xigatse), then Sakya Monastery, where you can see the largest book in the world in the great library. The book is written entirely in gold. In the evening we reach in Shegar. As the landscape opens into vast plains, many monasteries and camps of nomadic herders become visible in the distance. Overnight at Guesthouse.
Day 09: Drive Everest Base Camp (5150m) 76km
From Shegar, we drive to the south crossing of Pang La pass at 5150m/16890. The trail after leaving highway will be off road. Along the drive, we will bask in the splendor of Makalu and Shishapangma. After driving for 85 km, we will reach Rongbuk, where Mt. Everest is visible. The day will be filled by an exploration of Everest Base Camp. It is now being feasible to drive upto EBC from Rongbuk, we easily reach base camp by our Jeep. The group will also visit Rongbuk Monastery, a Buddhist pilgrimage site founded in 1902 by a Nyingmapa Lama. The cluster of meditation huts has been used by monks and hermits for over 400 years. In addition to the huts, hermits retreated to the many caves that dot the cliff walls around the monastery and valley below. We will walk the very paths used by hermits – ancient trails lined with hundreds of carved stones that embody sacred syllables and prayers.
Overnight at a tented camp
Breakfast, Lunch and Dinner
Day 10-12: Everest Base Camp (5150meters)
We rest here several days to acclimatize; it is important to be well acclimatized prior to trekking to Interim Camp. How often do you get a chance to sit and read and dine with the sheer north face of the highest mountain in the world towering above us. There are several possible day trips.
Overnight at a tented camp
Breakfast, Lunch and Dinner
Day 13: Trek to Interim Camp (5760 m)
Duration:
6 to 8 hours trek
We begin in a dusty ablation valley with views of Pumori, Lingtren and even Nuptse then branch off up the East Rongbuk valley. The trail climbs moraine rubble. Nearby, the first ice seracs (ice pinnacles) rise like white sails from the dark debris-laden surface of the glacier.
Overnight at a tented camp
Breakfast, Lunch and Dinner
Day 14: Camp 2 (5970meters)
Duration:
5 to 7 hours trek
About two hours above the Interim camp the central ridgeline leads in to a confusion of ice at the confluence with the Changtse glacier. Camp 2 (5970meters) is only ten minutes from here, it is set in a beautiful location; glaciers large and small spill into the valley from every direction and the appropriately named Sera Highway continues to extend its unusual gravel arm trough the centre of the of the ice formations.
Overnight at a tented camp
Breakfast, Lunch and Dinner
Day 15: Trek to Advance Base Camp (6340meters)-
The Rongbuk Glacier is an impressive frozen ocean of ice waves; the views of the glacier and the Himalayan peaks are some of the most dramatic in Tibet. Along the middle moraine of the glacier is the trail that expeditions use to begin their climbs of Everest and this is the trail we are taking. About two hours above the Interim camp the central ridgeline leads in to a confused of ice at the confluence with the Changtse glacier, and this is Changtse Base Camp (5970meters) which is sometimes called Camp 2; it was the 1920's and 1930's camp 2. The appropriately named Serac Highway continues to extend its unusual gravel arm trough the centre of the of the ice formations.
Rounding the corner, first Lhakpa Ri Base Camp comes into view, then eventually Everest Advance Base Camp (The old "Camp 3"), and this last section is always tough.
Overnight at a tented camp
Breakfast, Lunch and Dinner
Day 16: Advance Base Camp (6340meters).
A spare day, if you do stay at ABC enjoy the expedition atmosphere! Overnight at Tented Camp.
Camp 3, the Advance Base Camp (ABC) for the North Col route up Everest, is situated within a group of flattened gravel mounds beside the glacier. The pinnacles, the frightening group of rock palisades that kept the Northeast Ridge unclimbed for so long, are just another 1500 meters up from camp 3. Most amazing of all is the ridge extending above the Pinnacles to the southwest: the striated rock summit of Everest. The top of this mountain appears phenomenally close; it is little more than 2400 meters higher than camp 3. This is the closest non-climbers can get to the top of Everest.
Overnight at a tented camp
Breakfast, Lunch and Dinner
Day 17: Trek down to Base Camp
The return to Base Camp is a long downhill journey, but we complete it in one day, if we start out from Camp 2 it is much more enjoyable than from camp 3, we will have a chance to get our eyes off the end of our boots. , more comfortable altitudes.
Overnight at a tented camp
Breakfast, Lunch and Dinner
Day 18: Drive to Zhangmu 2400m via Nyalam 3750meters
At first light we will explore Base Camp and watch sunrise on Mt. Everest. It is a truly awe-inspiring place – the absolute north face of the highest mountain in the world soaring above you. The tour will continue on to Zhangmu through off road & roacky trail upto Lo-Tingri. Driving past Tingri, we will cross Lalung La pass at (5124 m/ 16068 ft) and Shung La pass at (5200 m/ 17056 ft), Nalyam Pass (3800m/12464 ft) which offer enchanting views of Shishapangma, Cho Oyu, Menlungtse and Gauri Shanker. We then descend gradually from the dry Tibetan Plateau. After several hours, you will find yourself amidst the verdant and fertile vegetation of Zhangmu at 2300 meter in the Nepalese border.
Overnight at a Guesthouse
Day 19: Drive to Kathmandu.
A few kilometers drive from Zhangmu to the Friendship Bridge over the Bhote Koshi River brings you to Immigration Control in Kodari, where you will depart with your Tibetan guide and driver, and walk across the river to meet Nepalese guide to drive to Kathmandu. After 4 hours of driving through deep valleys, you arrive in Kathmandu.
Day 20: Leisure day in Kathmandu and Farewell Dinner in the evening.
Leisure day in Kathmandu , If you are interested in continuing onto Chitwan Jungle Safari, River Rafting Adventure, Kathmandu Shopping Tour or Scenic Everest Flight , you can start today.
In the evening we will have a farewell dinner in a traditional Nepalese restaurant with cultural performances. Your guide(s) and an office staff will accompany you.
Breakfast and farewell dinner included
Day 21: Transfer for your final flight departure.
The trip ends, our Airport Representative will drop you to the Kathmandu International Airport for your flight departure from Nepal.
Gears and Equipment
All you need to bring for this Tour is simply some comfortable clothes; there is no any requirement of special equipment on the tour. However for your ease, the following gives you the general idea about the personal items you need to manage for the trip. The personal items referred here are optional and depends upon your choice.
During the driving tour, the vehicle transfers all the heavy items and equipments, whereas during the trek from base camp, heavy items are carried by porters or yaks. But the Personal belongings of the clients which is required at any moment like money, water bottle, camera, suns cream and toilet paper etc. should be carried by yourself. It is therefore advisable that you pack the personal belongings into your daypack.
We will supply complimentary water and wind proof duffel bag which you can use on the trek and is carried by porter/s. The duffel bag is yours to keep after the trip. You can leave your bag with your non-trek items at the hotel in Kathmandu and collect them after your return from Tibet.
All the equipments like Base camp tents, kitchen accessories and all the group climbing equipments ( climbing rope, ice screw, somw bar, ice hammer) is provided by the company.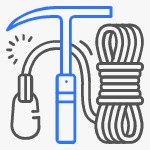 Climbing Gear
The Climbing equipment are much more expensive to buy. So, please let us know if you want to rent the equipments  at the additional cost of USD 350 per person. The Following equipments are essential for Advance Base Camp trek in Tibet.
1 Pair plastic shell mountaineering boots with high altitude liners
1 Pair of crampons (steel, no aluminum).
1 Alpine climbing harness.
1 Mountaineering axe with leash (sized properly for your height)
1 Ascender (right or left handed as appropriate)
1 Belay device (Black Diamond ATC or ATC Guide are good options)
2 D-Shaped locking carabiners
2 Non-locking carabiners
1 Pair expedition style gaiters (ensure fit over your boots)
Neck gaiter
Ski goggles (optional)
Climbing helmet (optional)
General
4 seasons Sleeping bag (Optional/we can provide one if you need it but is to be returned after the trek)
Duffel or Rucksack bag or suitcase (We will provide one complimentary ACE duffel bag for you to keep.)
Daypack
Down Jacket (Optional/we can provide if you need one but is to be returned after the trek)
Upper Body - Head / Ears / Eyes
Shade hat or baseball cap – some people drape a bandana down the back of their head and then put a baseball cap on to hold it is place. This can be a flexible alternative while keeping the sun off your ears and neck.
Warm wool or synthetic hat that cover your ears.
Balaclava – lightweight, thinner variety.
Glacier glasses-100% UV protection with side shields and a hard-sided storage case (i.e. Julbo or Cebe). This is to protect your eyes from the stronger rays of the sun due to the thinner atmosphere which can cause a painful condition known as snow blindness. Regular sunglasses are not sufficient. If you wear prescription glasses, speak to your doctor about prescription glacier glasses, perhaps with transitional lenses.
Headlamp – Black Diamond and Petzl both make several good ones. Make sure to bring extra batteries and that they are lithium batteries so that they will last in the colder temperatures. These are indispensable for getting around at night, reading, etc. so, don't go cheap here.
Some people like ear-muffs; These are optional; a good hat, balaclava, and hooded jacket should really be sufficient, but this is a personal choice for some people (optional).
A neck warmer is another piece of gear for extra warmth if you feel you will need it (optional).
Hand
1 pair liner gloves, thin wool or synthetic, useful alone on mild days or as a layer inside other gloves / mitts for additional warmth.
1 pair warm gloves (heavier fleece or wool).
1 pair shell gloves or mitts; Gore-Tex is preferred for keeping hands dry.
Instant hand warmers are always nice in a pinch, but really shouldn't be necessary on the trek. Bringing appropriate hand protection as recommended above, should be sufficient (optional).
Core Body
T-shirts (2).
Light and expedition weight thermal tops.
Fleece jacket or pullover.
Fleece Wind-Stopper jacket (optional).
Waterproof (preferably breathable fabric) shell jacket.
2 women sports bras, Synthetic, no cotton!
Lower Body – Legs
2 pairs nylon hiking shorts – Quick drying type, not cotton!
Underwear, stay away from cotton (4).
2 pairs lightweight long underwear – capilene or other synthetic.
1 pair soft shell pants – synthetic, full zip from top and bottom preferable.
2 pairs trekking pants, preferably that zip on/off at the knees so they double as shorts.
1 pair hard shell pants. Waterproof / breathable, Gore-Tex or equivalent is best. Should zip from the top and bottom – this makes it easier to put on over boots without getting undressed should the weather change once you are underway for the day.
1 pair cotton pants (loose jeans/khakis).
 All clothing should be kept dry using waterproof stuff sacks or large puncture resistant plastic bags.
Feet
 4 pairs of liner socks, synthetic or capilene.
3 pairs heavy weight socks to be worn over liner socks.
1 pair light weight socks, a good option for the lower / warmer parts of the trail.
1 pair light to medium weight water proof hiking/trekking boots. Ensure a good fit with layered socks and you have worn then before to get used to it (otherwise you will get lots of blister).
1 pair light trekking shoes or sneakers. Good for around the camp/lodges and in Kathmandu.
1 pair hiking gaiters, good for keeping dust and rocks out of your shoes / boots as well as keep your feet dry as necessary (Optional).
1 pair sandals (Optional).
Medicines and First Aid Kits
(Please note our guide will also carry the first aid kit bag during the trek. However we still recommend you to bring your personal first aid kit as well)
Extra Strength Excedrin for altitude related headaches.
Ibuprofen for general aches and pains.
Immodium or Pepto bismol capsules for upset stomach or diarrhea.
Diamox (commonly prescribed as Acetazolamide) 125 or 250mg tablets for altitude sickness. Please discuss with us before starting to take this medicine.
1 small personal sized first-aid kit with blister treatments such as mole skin, band-aids, some waterproof tape, anti-infection ointments, etc. Your guides will have more extensive medical gear, but you should have the basics for general use.
Miscellaneous, but Important !
Passport and extra passport photos (4 copies).
Airline ticket (Please make a copy and leave on at our office in KTM just in case if you need to change the date of your).
Durable wallet / pouch for travel documents, money & passport.
Lip balm. At least SPF 20, 2 sticks. A string taped to the stick is helpful, to hang around your neck and some are now being sold with a cord already attached. Handy as it avoids you from having to stop and look for it.
Sunscreen. SPF 40 is recommended and should be relatively new since it loses its' effectiveness over time.
Pocket knife or small Swiss Army type.
Water purification Iodine tablets or Polar-pure crystals.
Toiletry kit. Be sure to include toilet paper stored in a plastic bag, hand wipes, and liquid hand sanitizer, towel, soap, etc.
2 bandanas.
Optional
1 pair adjustable trekking poles. Although these are listed as optional, these can be of great assistance to people who may think of themselves and generally clumsy or with bad knees, ankles, etc, especially when going downhill (Optional).
Favorite snack foods, no more than 2 pounds (Optional).
Paperback books, cards, mp3 player (there are a couple of stops where you could recharge. Avoid players with moving hardware as it may not function. Remember, keep these items light weight (Optional).
Binoculars (Optional).
1 light weight point & shoot camera or 1 large SLR. Digital cameras are ok, but you must keep the batteries warm when not in use (Optional).
Hydration bladder with drinking tube and tube insulator (Optional).
A pee bottle for men and pee funnel for woman, some swear by them to avoid that chilly late night trip (Optional).
1 small stainless steel thermos (Optional).
This list is only a guide. While you are required to bring everything on this list, there are numerous options, brands, and versions of each piece of equipment. Use your experience and the listed features to find the best gear for you. Some of the above equipments can be easily found in stores in Kathmandu for cheaper prices.
Please Note: Tight fitting, figure-hugging clothing, such as those made with Lycra can often be offensive to locals, especially to women. If you find these items comfortable as a base layer, please pack something to wear on top of them.
Trip Map / Elevation
Download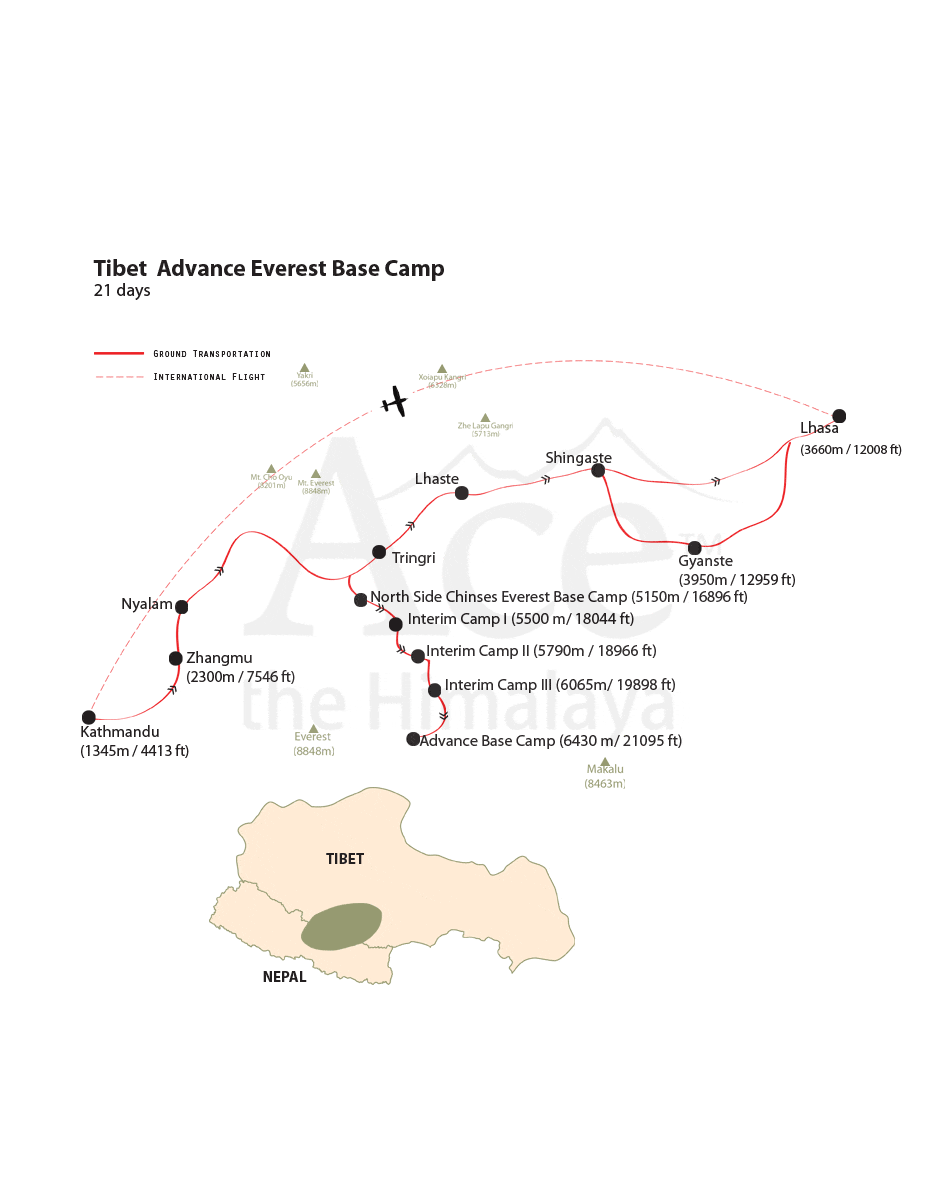 FAQs for Tibet Advance Everest Base Camp
General
Can the guide speak English?
Our guides are fluent in English. All the guides that we assign speak and understand English. They'll share with you the fascinating stories, traditions, and folklore of the mountains. The guides will also help you communicate with the locals since many shopkeepers and hosts of teahouses don't speak English.
What immunizations will I need?
COVID-19 vaccination (Negative PCR report in case of unvaccinated travelers.)
Typhoid vaccination is recommended but not required
We suggest you have a dental checkup before your trip and know your blood type. It is helpful if you inform us of any medical condition that is relevant so we may convey this information in the event of an emergency. Ace the Himalaya keeps your medical condition confidential unless treatment is necessary.
Do you handel Tibet visa and travelling permit?
YES, we do handle all the procedure for Tibet Visa and Travelling permit. The process charge is all included in the trip price.
Is there a minimum and a maximum number for your groups?
We cater to all group sizes, while maintaining the field staff ratio to give you the best quality and experience.
Are there any volunteer projects that we could visit after the tour?
Ace the Himalaya is one of the prime supporters of the social organization Sambhav Nepal. There are several on-going projects in a village called Arupokhari (Gorkha district) which you are more than welcome to visit or even volunteer at. You will be able to gain a different insight into the lives of the people in the hills and also make a difference!
Click here to learn more about our volunteer programs
Can I use credit cards in the places I visit?
Besides Chinese Yuan, only US dollars can be accepted in Tibet. Also shops that accept American currency are very limited and you might not be able to get a good deal for an exchange rate. Credit cards can only be used at some hotels. The Bank of China also accepts credit cards. ATM is not widely available. Exchanging your money to Chinese currency will be the best option for you, which can be done at the Bank of China. While changing money at the local money exchange centers, please make sure that you are accompanied by your guide and do consult him as you may easily be duped with counterfeit notes.
How much additional money do I need per day?
It depends on your spending habits. USD 15 to 20 a day will be enough to buy lunch, dinner, bottles of water, chocolates and a few drinks during the driving tour. We provide all food and drinks at camping above base camp.
Tibet is becoming more expensive every year. There are many shops in Lhasa, Shigatse and Gyantse that sell traditional Tibetan handicrafts. We recommend you to bring extra money to spend on souvenirs.
Do I need to tip my guide and porters? How much would that be?
This is a difficult thing to gauge. We have seen everything from USD 20 to USD 1000 per person for guides and porters. Tipping is not required, but a small gesture of thanks to your guides and local porters thanks for their help. The level of the tip should reflect the level of satisfaction from and personal involvement with your guide.
What additional documents do I need?
Two passport-sized photos (2×2 inch) to give to our office staff
A copy of your international flight ticket to give to our office staff
A copy of travel insurance to give to our office staff
I want to extend my holiday, any recommendations?
Yes, you can extend your holiday. Ace the Himalaya offers many options and alternatives for your holiday extension. For more information, you can visit our Day trips pages.
Weather And Temperature
What is the best season for this tour?
The best time for Everest Overland Tour is between March and October.
What is the weather and the temperature like during the trip?
The weather in the mountains is notoriously difficult to predict. Nights are generally colder than the daytime. It is also important to make sure that you can stay warm and dry in just about any conditions. Expect the unexpected! Depending on the season the temperature could range from -25°C to 20°C.
Arrival And Visas
Who will come to pick me up at the airport upon my arrival?
Our staff will be waiting for you outside the airport terminal with our signboard (Ace the Himalaya). You will be accompanied to a hotel in a private tourist vehicle.
What mode of transportation do you use?
Ace the Himalaya is all about providing you with local insights, lifestyle as well as adventure. Using a variety of private transport is an integral part of our Himalayan tours, enhancing the experience!
We use private tourist vehicles for sightseeing, city tours and pickups; whereas we use Van or 4WD SUVs for the overland drive across the Tibetan highland. These vehicles are extremely sturdy, spacious and reliable and they make the journey as comfortable as possible. For larger groups, we also use supported trucks to carry your luggage. We use our own Fleet service for Transportation
From the base camp and above (during the tented accommodation) we provide yaks or local porters to carry all equipments.
Do we book our own international flights to and from Nepal?
Yes, you need to book your own international flights. We are a local agent and it would cost you significantly higher to book through us. Please find more information in the International Flight page.
Accommodation
What sort of accommodation can I expect in Kathmandu and in the tour?
We use twin sharing standard rooms from three/four star hotels in Kathmandu with breakfast included. In Lhasa, accommodation will be in 2-star hotels. Note that higher star hotels in Tibet are very rare. These hotels are renowned for their hospitability and ethnic Tibetan ambience. It is centrally located; just a few minutes' walk from the Jokhang Temple and Barkhor Square. Elsewhere along the route, accommodation will be at the available hotels. If you would like to book a single room, please do inform us. A supplement charge will incur in that case.
Rooms in Tingri and Rongbuk cannot be booked in advance. Your guide will book them on arrival. If rooms are not available at specified guest house, he will book a room at another similar category guest house. No private rooms are available at Rongbuk guesthouses. Only dormitory style of accommodation is available with 6 to 7 beds in a big hall.
In trekking above base camp, we provide the best possible camping service complete with comfortable two person tents with good mattresses. A kitchen, dining, toilet tents, chairs with tables are also provided at the possible camps.
We try our best to provide the best accommodation available but please do keep in mind that you are taking an adventure tour, and sometimes the arrangement may be basic. Traveling in Tibet is a fantastic experience but sometimes you have to put up with a bit of discomfort. To enjoy this trip you need to have an adventurous spirit and the ability to adapt to minor discomforts.
What sort of food can I expect in the tour?
All breakfasts are included in our package. Your guide will help you find good restaurants with reasonable price. A must are the small Tibetan restaurants which serve authentic Tibetan food. You can try ethnic Tibetan cuisine. Have some momos or gyantok, and wash it down with a cup of salted Tibetan butter tea. Meals will either be in the hotel or at a restaurant of your choice (where available). While on the road, lunch will be at one of the many Chinese tea shops along the way which generally serve a variety of noodle and vegetable dishes and meat where available. Expect to spend around USD 15 to 20 per day for meals.
During the camping our expert camping cook can prepare normal and special meals upon request. There is a wider variety of food available, including Western-style food, and you may request to eat at any point of the day. The camping price includes an all-you-can-eat food service.
Will it be possible to get any clothes washed/Laundry ?
Laundry service is easily available at your hotel in Kathmandu and Lhasa. There will be no laundry service available in other towns and also in camping. Please note that laundry service is not included in the package price.
Can I charge my digital camera or other equipments on my trip?
These facilities will be available in most of the places in your hotel/guesthouse reception by paying some service charges. Remember to bring travel adapters!
However, there is no any charging facilities at the camping.
Are there any communication facilities during the tour?
Communication facilities in Tibet have been improved over the past few years. All the hotels we use in Lhasa, Gyantse and Shigatse have international IDD phone and fax services. Phone calls can also be made from public booth in bigger towns. Internet cafes are also available at bigger towns, check with your guide for the best cyber cafes in each town.
You can also have a roaming facility added to your mobile phone as mobile phones work fine in Tibet. If you buy a Chinese SIM card at the border, you could stay in touch with your family and friends most of the time. Please ask us for the latest facilities and schemes on Chinese mobile phones.
Is the water fine to drink? Do I need to bring purifying tablets/filter?
In most places bottled water is readily available. If you wish to drink normal water, you need to use purifying aid, which you need to bring with you.
Our guide will provide boiled and purifed water during the stay at tented camp.
Physical Fitness
How fit do I need to be for this tour? Is this trip for me
The Trek to Advance Everest base camp in Tibet more demanding than any of our other treks in the Himalaya. Climbing up to camp 2 and Advance base camp can be technical so, climbing rope may be required in presence of heavy snow. You need good stamina for a long day effort while crossing the high altitude in this trek. You can do this trek without any previous climbing experience and skills. The knowledge on using climbing rope and other equipment would be beneficial although not mandatory because our guide will provide you the necessary training on using climbing gears such as ropes, ice pick, crampons.
To prepare for trek you should begin training at least three to four months before your departure. As a guideline, an hour of aerobic exercise three to four times per week would be considered a minimum requirement. The best preparation is bushwalking involving relatively steep ascents and descents. If you can manage a couple of valley floor to ridgeline ascents per comfortable and able to enjoy the trek to the fullest. They are physically strong, sharp-witted and have an incredibly positive attitude towards a life that we would consider extremely tough. There is something about a trek in the Himalaya that draws you back time and time again. For keen walkers it is a paradise and even avowed non-walkers find that one foot just seems to follow the other, drawn by the appeal of what lies beyond.
Traveler Reviews
These full and frank reviews are from travelers who have traveled with Ace the Himalaya previously. The reviews and experiences shown here are from reputable travel websites like TripAdvisor, Google, Facebook, and Trust Pilot, etc.
What makes this trip different ?
Our CSR with Sambhav Nepal
Ace the Himalaya believes in giving back to the communities that surround and support tourism in Nepal. Ace provides logistical support and, if needed, cash donations to the projects of Sambhav Nepal (a local NGO).
Sambhav Nepal and Ace work together to plan volunteer programs that will bring in foreign volunteers and make use of their enthusiasm, time, and talents in a variety of projects.
Sustainability and Responsible Tourism
Of the few Travelife Partners in Nepal, Ace the Himalaya is one. We respect the procedures for sustainable tourism. Our excursions are socially and environmentally conscious, leaving the lowest possible impact in the Himalayas.
About 80% of Ace the Himalaya's staff members are natives of the regions where our trips are organized. It is one of our sustainable and responsible efforts to help local communities, support small businesses, and promote regional culture and way of life.