Rebuild Home Volunteer Program - 9 Days
Recommended by 99% of travelers
This program aims to provide roofs over head of the homeless people in rural villages of Nepal whose houses have been destroyed by the earthquake who have still not been able to rebuild their homes especially after COVID-19 pandemic affected their livelihood.
Difficulty
Max. altitude
1,400 m/4,593 ft
Best season
Jan-Jun, Sep-Dec
Trip Highlights
Beautiful scenic view while driving to Gorkha village.
Exploring some unexplored beautiful villages in Gorkha.
Rebuilding activities in the village of Gorkha.
Constructive work with the involvement of locals.
A unique opportunity for volunteers to live and work in remote Nepal.
Opportunity to witness the traditional village lifestyle and culture of the Nepalese people.
Trip Overview
On April 25, 2015, a 7.8-magnitude earthquake struck the Himalayan nation of Nepal causing large-scale destruction. The number of deaths was above 9,000, more than 13,000 were injured and about 8 million Nepali people were affected. It is the deadliest natural disaster in Nepal in more than 81 years. On top of it, the effects of the global pandemic have made lives in the village even harder. While the roofs from their head were taken away, they also struggle to make ends meet.
The destruction from earthquakes is difficult enough for Nepal to deal with alone and therefore we need the help of foreigners like you. We have designed this voluntourism itinerary in such a way that you first spend your time in rebuilding activities in the remote villages of Gorkha which lie at the epicenter of the deadly earthquake.
For volunteering, we have chosen Gorkha for deploying foreign volunteers like you because, first, the epicenter of the devastating earthquake was in this region. Second, it is the remote part of Nepal and close to Tibet, away from cities like Kathmandu, so earthquake disaster relief hasn't reached here as much as it should. The people of Gorkha are helpless, and suffering, and need your help even more so after the pandemic has meddled with their access to basic necessities. And third, most of our trekking guides and porters from the local company Ace the Himalaya are from the Gorkha region. They have lost their houses but luckily none of them have lost their family members.
Once you are done with volunteering activities, depending on your time we encourage you to indulge in various touristy activities which are safe and get a chance to know more about the beauty of Nepal. The activities can be a trek to Everest Base Camp, a visit to Chitwan National Park; rafting at Trishuli or Budi Gandaki, etc. Indulging in such activities can also help us make sure to every people in the world that Nepal is still the best place to travel and enjoy its beauty of nature despite such calamities. Your visit can also be a boon for enhancing our tourism in such a situation.
Short Itinerary
Day 01 :
Arrival at Tribhuvan International Airport (1,400 m) and transfer to hotel. Overnight at a hotel.
Day 02 :
Meeting in the Ace official, language tutoring, and half-day sightseeing in Kathmandu. Overnight at a hotel.
Day 03 :
Early-morning Drive to the village in Gorkha from Kathmandu. Overnight at a tented camp.
Day 04-07 :
The Rebuilding Activities in the Village. Overnight at a tented camp.
Day 08 :
Drive Back to Kathmandu from the village and Farewell Dinner in the evening. Overnight at a hotel.
Day 09 :
Transfer to the International Airport for your Final Departure
Departures & Availability
Price Includes
All (international and domestic) airport transfers on a tourist vehicle

Twin-sharing/double accommodation in a 3-star hotel for 3 nights in Kathmandu including breakfast.

Twin-sharing/double accommodation in a tented camp including breakfast, lunch, and dinner in the village for 5 nights – food prepared by a local cook and kitchen team.

Guided city tour in Kathmandu valley by a private tourist vehicle
Experienced, first-aid trained, government licensed, English-speaking Ace the Himalaya's trekking guide

All ground transportation in Kathmandu and the village by Private tourist vehicle.

The required numbers of Local staff and Porters to carry your luggage from Arughat – village – Arughat (For monsoon when vehicles don't go all the way up to the village)

Wages, accommodation, meals, gear, insurance, and medications for all staff

USD 200 donations per person from the cost you have paid to buy this trip (This amount is to buy the construction materials to build the houses.)

1 Ace the Himalaya's duffel/kit bag, trekking map, sun hat, and trip completion certificate
All administrative expenses and government taxes
A farewell dinner on the last night in Nepal
Price Excludes
Meals (lunch and dinner) – about USD 10 to 15 per person per day in Kathmandu.

International flight fare and airport departure tax
Any beverages including bottled and boiled water
Travel insurance along with high-altitude emergency evacuation coverage
Tips to trekking staff and driver
Your travel insurance.

Personal Gear and Equipment

Any expenses other than the Price Include section
Day 01: Arrive at Tribhuvan International Airport in Kathmandu and transfer to the hotel
Day 02: Meeting in the Ace official, language tutoring and half day sightseeing in Kathmandu.
Duration:
4-5 hrs sightseeing
In the second half of the day, we all meet at the ACE office in Thamel near your hotel and we'll have a crash course in Nepali to learn the most important words and phrases that you might find handy in daily conversation and while teaching in the village. The length of this tutoring can be shortened or lengthened depending on how the group feels. After this, we will visit some of the important historical, religious and cultural sites of Kathmandu, which will include Pashupatinath, Boudhanath and Swoyambhu.
Boudhanath: Later visit Boudhanath, a Buddhist stupa in the Valley built in 5th century with four pairs of eyes of Lord Buddha in four cardinal directions keeping an eternal watch over the people and their doings. You will find Buddhist pilgrims from Tibet going round the stupa spinning the prayer wheels.
Pashupatinath: Pashupatinath is the holiest shrine for Hindus from all around the world. In Pashupatinath area, you can see famous Lord Shiva temple and Hindu cremation ground. Though you are not allowed to go inside the temple as it is strictly for Hindus only, you can clearly see the temple and the activities from the eastern bank of the Bagmati River. The two-tier golden roof and silver doors of the temple are famous all over the world.
Kathmandu Durbar Square: It is one of three squares within Kathmandu Valley in Nepal. This complex of palaces, courtyards and temples, built between the 12th and 18th centuries, used to be the seat of the ancient Malla kings of Kathmandu. An intriguing piece here is the 17th- century stone inscription set into the wall of the palace with writings in 15 languages. The Durbar Square is the social, religious and urban focal point of the city. There are also three museums inside the palace building.
Day 03: Early-morning Drive to the village in Gorkha from Kathmandu
On this day, we transport you to one of the villages of Gorkha which lie at the epicenter of the earthquake. We will use 4WD and you have to do a few hours of walking too. Our focus is on five villages: Aruchanaute, Arbang, Manbu, Thumi and Arupokhari. Depending upon the size of group, we will decide whether your group will go to one village or two or more. The journey from Kathmandu to the villages can take from 7 to 9 hours.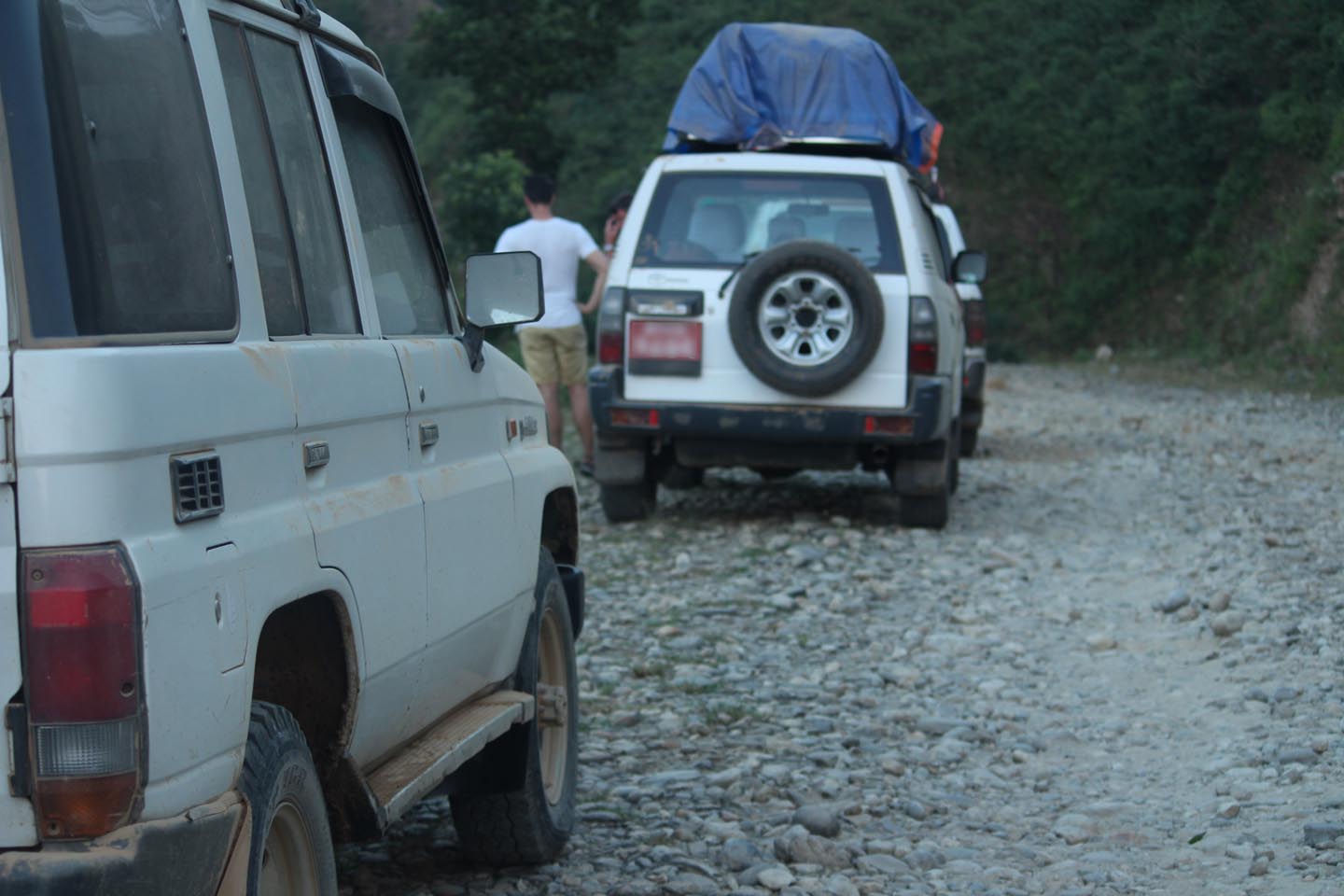 Overnight at a tented camp
Breakfast, Lunch, and Dinner Included
Day 04-07: The Rebuilding Activities in the Village
Duration:
4-5 house per day
The rebuilding activities of the houses of the village start in this day and will continue for the time of 5 days. You won't be engaging on works that require technical expertise. The activities you will do are simple: carrying housing equipment like timber, stones, sand, cement, tin, iron rods, aluminum sheets etc, mixing sand and cement, painting the walls of the houses and so on. For activities needing technical skills, we will hire building professionals. But if you have skills, then you can help them in their work and make things easier.
We will be focusing mainly on re-using the resources like woods, bamboo; stones, useful rods especially from the damaged houses which can minimize the cost of building new houses and the fund can be utilized in buying other needy materials. For this, we will definitely discuss with the locals and inspect those damaged houses so as to re-utilize the resources. The houses will be more eco-friendly by utilizing the local materials and also the local family can repair by themselves if its required.
You don't necessarily have to do only the works we have mentioned above. You can do anything you see as absolutely essential. All that matters is that you help the victims of the earthquake of Gorkha to lessen their suffering and to get back on their feet. Any types of new ideas you can always feel free to discuss with the team which can be helpful to overcome the circumstances.
Overnight at a tented camp
Breakfast, Lunch, and Dinner included
Day 08: Drive Back to Kathmandu from the village and Farewell Dinner in the evening
You will be driven back to Kathmandu from the village. And, at the end of the day, there will be farewell dinner for you in a Nepali restaurant with cultural performance. We have organized this dinner program to bid you goodbye and say thank you for your noble efforts in rebuilding the village of Gorkha.
Breakfast and farewell dinner included
Day 09: Transfer to the International Airport for Your Final Departure
The trip concludes – our airport representative will drop you at Kathmandu's Tribhuvan International Airport for your flight departure from Nepal.
Gears and Equipment
The following gives you a general idea of the personal items you need for this trip. The personal items, though, are optional and of choice. The most important factor to be considered is the time of the year, trekking days, region and altitude.
In a supported tour, heavy items are carried by a vehicle and/or porters. Personal belongings of the clients that they may need for the day like money, water bottle, rain gear, camera, sun cream and toilet paper etc. should be carried by self. It is therefore, advisable that you pack items in two separate bags.
List of Recommended Equipment for this Trip
Four-season (zero degree) sleeping bag (We have rental sleeping bags available for an additional USD 20)
Duffel or Rucksack bag or suitcase (We will provide one complimentary ACE duffel bag for you to keep.)
Daypack
Down Jacket for winter (We have rental jackets available for an additional USD 20)
Hiking pants
Full-sleeve shirt
Jumper or pile jacket
T-shirt
Swim suit (For summer seasons)
Sandals
Woolen socks
Sun hat
Sun block for lips
Sun lotion
Goggles or sunglasses
Long thermal underwear
Water bottle
Sewing kit
Medical and first aid kit
Flash light
Batteries and bulbs
Mosquito repellant creams
Swiss army knife
Personal towel
Personal toiletries and medication which should be labeled
This list is only a guide. While you are required to bring everything on this list, there are numerous options, brands, and versions of each piece of equipment. Use your experience and the listed features to find the best gear for you. Some of the above equipment can be easily found in stores around Kathmandu in much cheaper price.
Please note that Nepalese are usually conservative in their dress and do get offended by the sight of tourists wearing tight fitting, skimpy clothes. Shorts, singlets and hats are not advisable at any time and must not be worn while visiting monasteries, Dzongs and other religious institutions. These are offensive to the locals, especially to women.
Other Recommended Items
Photos of your family and friends are always appreciated and are an easy way to help villages get to know you better
A musical instrument, if you play one, will win you many friends
Small items such as stamps, postcards and trinkets from your home country make appropriate gifts.
Note: Villages in Gorkha are a remote region that has no proper shop facilities for more than an hour of where you'll be staying; therefore, if you know what you might need urgently, it is advisable you take it with you from the city.
FAQs for Rebuild Home Volunteer Program
General
Is Nepal open to travelers following the Covid-19 pandemic?
Indeed, Nepal is entirely open. Travelers are welcome in Nepal without any restrictions. Arriving travelers can obtain a visa on arrival at the Kathmandu airport as well.
What are the conditions to travel to Nepal post Covid-19?
Traveling to Nepal is now hassle-free. You don't need a vaccination certificate or negative PCR test, but check with your airlines and transit countries for any specific requirements.
We suggest you look at the Nepal immigration site https://www.immigration.gov.np for the most up-to-date information.
What additional documents do I need?
Two passport-sized photos (2×2 inch) to give to our office staff
A copy of your international flight ticket to give to our office staff
A copy of travel insurance to give to our office staff
What should I know about booking my flights to/from Nepal? Do I need to plan extra days in case of delays?
The best course of action is to add a day or two before and after your intended trek days in case of flight delays or cancellations. It also gives you time to buy clothing equipment and gear required before your trip.
Please be aware that Ace the Himalaya is not responsible for any inconveniences or missed international flights resulting from unforeseen events like airport changes, flight delays or cancellations, etc.
What immunizations will I need?
COVID-19 vaccination (Negative PCR report in case of unvaccinated travelers.)
Typhoid vaccination is recommended but not required
We suggest you have a dental checkup before your trip and know your blood type. It is helpful if you inform us of any medical condition that is relevant so we may convey this information in the event of an emergency. Ace the Himalaya keeps your medical condition confidential unless treatment is necessary.
What is the group size?
Depending on the needs in each area, we assign 5 to 30 people for building one house.
Weather and Temperature
How are weather and temperature in these regions?
Spring – March, April, May and June
Best time to travel. Always clear sky and good views. During springtime, the average temperature is 25 degrees C. But the temperature can climb up to a maximum of 30 degrees C, and it can drop to a minimum of 15 degrees C in the morning and at night (for areas above 2000 meters).
Monsoon Season – July, August and First Half of September
Not recommended to travel but best time to see the farming and work with local people in the field. The maximum temperature during the monsoon season can be 25 degrees C during sunny days and the minimum temperature can be 15 degrees C in the morning and at night (for areas above 2000 meters). The average temperature tends to hover around a comfortable 22 degrees C.
Autumn – Second Half of September, October and November
Similar to spring. Best time of the year and much cooler than spring and monsoon.
Winter – December, January and February
Cold season. The average temperature during this season is 10 degrees C and can climb up to a maximum temperature of 20 degrees C during sunny days and drop to a minimum of 0 degrees C in the morning and at night (for areas above 2000 meters.)
Arrival and Visas
Who will come to pick me up at the airport upon my arrival?
Our staff will be waiting for you outside the airport terminal with our signboard (Ace the Himalaya). You will be accompanied to a hotel in a private tourist vehicle.
Is it possible to obtain a visa for Nepal upon arrival at the airport?
Yes, you can obtain a Nepal visa upon your arrival at the airport. There are kiosks in the arrival hall that you use to complete the necessary forms.  The cost is USD 30 for a 15-day tourist visa, including numerous entries, or USD 50 and USD 125 for a 30-day or 90-day tourist visa including numerous entries respectively. You should carry cash (USD) with you to pay your visa fees quickly and easily, as digital payments are frequently unavailable.
Payments and Extra Costs
How much additional money do I need per day?
Typically, USD 15 to 20 per person per day will be sufficient. This is to purchase water, snacks, in the villages and lunch or dinner in Kathmandu. Additionally, if you want to buy souvenirs or native Nepali goods, you can bring extra cash with you.
Is it possible to use credit cards in the places I visit?
In Kathmandu, yes. But once you are out of the city, all you need is cash. Please change the currency in local Nepali Rupees before you go to the villages.
Is it possible to reserve a trip now and pay a deposit later, or do I have to pay a deposit at booking/reservation?
When you book, you must pay a 30% deposit to secure your itinerary. The remaining balance can be paid upon your arrival at Kathmandu or before arrival. US Dollars cash and credit cards (Visa, Master, and American Express) are accepted once in Nepal. Please note a 4% transaction fee will be added for all credit card transactions.
How do I pay the remainder of my balance upon arrival in Kathmandu? US Dollars cash or credit card?
You can make payments via US Dollars cash or credit card (Visa, Master, and American Express). A 4% transaction fee is added if paying with a credit card. Thus, we encourage you to pay with USD cash if you are planning to pay upon your arrival in Kathmandu.
We prefer you pay with larger bills (USD 50 or 100).  Please note that the cash should not be older than 2009 and in good condition, as banks do not accept worn, torn, or crumpled bills.
How are the ATM and money exchange facilities in Kathmandu?
There are ATM and money exchange facilities almost every few meters in Thamel, where you will be staying in Kathmandu. So, you can easily use your cards to cash out limited sum of money to which a minimum charge is deducted by the ATM facility itself. You can easily exchange your foreign currencies in currency exchange centers for an exact rate.
Volunteering Activity
What is the main Volunteering Activities?
The construction activities will be started before you arrive by the locals and the needed expertise. However, you will indulge in the simple activities like carrying housing equipment like timber, stones, sand, cement, tin, iron rods, aluminum sheets etc, mixing sand and cement, painting the walls of the houses and so on.
The locals and the guides will also be involved with you. For activities needing technical skills, we will hire building professionals. But if you have skills, then you can help them in their work and make things easier.
Will volunteers be able to complete the house?
You will only be assisting in construction of the house for a few days before another batch of volunteers' takeover with the involvement of locals and other builders. Likewise, we continue the construction work until one house is completed. Only then, we move on to construction work for building another house.
What is the mission of this Program?
The mission of this Program is to help the villagers to rebuild the houses destroyed by the 7.8 earthquake by bringing in the good-intentioned foreigners to volunteer and providing donation to cover a certain portion of the house-construction expenses.
But it excludes cost for tap, toilet and furniture. It's because most of the taps, toilets and furniture have escaped destruction and are usable.
What type of houses will be build?
The house will be built in load-bearing wall system. It will be earthquake-resistant. We will follow the technique recommended by United Nations Development Programme (UNDP).
What makes this technique effective in resisting damage from earthquakes is predominately the tie beams on the walls and concrete stitches at the corners. The tie beams are used to tie the walls to each other and prevent dampness coming up from ground to the superstructure. Both beams and stitches will be made from iron rods and concrete.
We will be using stones instead of bricks as they are readily available in the village and they are strong. We want to minimize the cost by using locally available and reusable materials found in the existing house site. If we can minimize the cost, we can build more houses.
What sort of skills do I need to have for this volunteering trip?
You don't need technical skills like that of a professional builder. The works you will do are simple such as carrying stones, mixing sand and cement, painting the walls, etc. But if you have the technical skills to build a house, you are warmly welcome in doing more than simple activities.
If all the houses are damaged in the village, then how do you select which family we support?
Our own Managing Director comes from this village where this project focuses. Therefore, it becomes easier for us to know the most destructive areas where people have lost their shelters. So main focus would be for those who are very in need and is very economically low.
The main occupation of the villagers is farming, grazing animals, etc and due to this massive disaster, they have become not only homeless but jobless too so we will give the first priorities to such families.
Physical Fitness
How fit do I need to be for this tour? Is this trip for me?
This trip is suitable for average people who are moderately fit. Some physical fitness programs such as running, swimming, hiking is recommended before you embark on your journey as you will engage in rebuilding activities.
If you are moderately fit and want to help a devastated community to rebuild, then this trip is for you.
Accommodation
What accommodation options do I have??
In Kathmandu, you will stay at a three-star hotel. In the village, you will stay at a tented camp. A sleeping tent will be provided to you. All the accommodation will be in twin-sharing basis with same gender. But for the entire trip if you want to have a single room including a single tent, you need to pay extra.
What are the bathing and laundry facilities like in the village?
In the village area, there are no private facilities for bathing and washing clothes. There are spring water creeks, rivers and communal water source available for bathing and washing. While in Kathmandu, the hotel offers the attached bathroom with hot and cold water.
We will provide the shower tent for those who want to have private shower near by the camp especially for our female volunteers. Depending on the weather our kitchen team will prepare the bucket of hot water for the shower.
How is toilet facility in the village?
During your stay in a tented camp in village, we will provide you a common tented toilet. While in Kathmandu, the hotel will offer the room with attached toilet and bathroom.
What will the daily meals be comprised of?
During the camping in Gorkha, our local cook can prepare normal and special meals upon request. There is a wider variety of food available, including Western-style food, and you may request to eat at any point of the day. The camping price includes an all-you-can-eat food service.
Please note that lunch and dinner in Kathmandu is excluded in your trip price.
Important: It is common in Nepalese culture to offer food when receiving guests into the home; however, volunteers are advised not to accept any food from local villagers at any time. Please kindly reject the offer. Often time the food is not prepared properly or contains contaminated water and volunteers risk getting sick. If visiting a villager's house, or a local festival, it is recommended to take a guide from the Ace team to communicate this issue. If you have any special dietary needs, please let us know and we'll do the best in our ability to have this arranged.
I'm a Vegetarian, is that a Problem?
No problem at all because we can serve the vegetarian meals. We always recommend our volunteers to eat vegetarian meals to avoid the food poisoning.
Is there any electricity/communication/Internet while we are in the village?
Only very recently has the village started receiving electricity, which means you are now be able to charge your electronic devices. Internet facilities cannot be guaranteed though.
Please, remember to bring your adapters!
Practical Matters
Is there any Important Cultural Tips and Consideration for this trip?
To greet in a traditional manner, place your palms together in a prayer style and say "namaste" or "namaskar".
When talking to someone elder to you, you must address the person as "dai" (elder brother) for men, or "didi" (elder sister) for women. Raising your voice or shouting is also not acceptable, especially in public.
Dress conservatively, well shirted, to keep shoulders and knees covered in a temple. It is not acceptable to wear revealing and tight clothes like lycra, low-necks, tank tops and so on. This applies particularly to women. Public nudity, even while bathing, is punishable by law. When swimming in the river, it is suggested that women wear a one-piece swim suit. Men must wear trunks; Speedos are acceptable.
Always remove your shoes before entering a Nepali home or a temple.
The cow is a sacred animal in Nepal and injuring or killing them is an offence. You will find cows roaming freely all over the place.
Always use your right hand to accept what is being given to you. Likewise, use your right hand to offer food and other items. Left hand is considered polluted.
Avoid "disrespecting" the food by inadvertently touching it or bringing it into contact with a used plate or utensil. Using your own fork or spoon to serve more food is not acceptable; always wait to be served by the host. If you feel you have been given too much food, ask them to take some away before you commence eating; this is perfectly okay and is more appreciated than wasting food. Of eating, a tourist once noted: If you don't hold your hand over your plate, it doesn't matter how many times you tell people you're full – they will just keep heaping food on your plate. If holding your hand over your plate doesn't work, try bending your whole torso over the plate to block the incoming food with a little more bulk.
You are expected to wash your hands and mouth before dining.
It is normal to drink from a glass or a container without the lips touching the vessel. If you are not comfortable doing this, you may pour the water into a cup.
Kissing, hugging, snuggling and other forms of public displays of affection are frowned upon in public. Swearing, discussing or insinuating about sex in public is also strictly prohibited. It is also strongly suggested that any sensitive topic on religion and politics not be debated at lengths.
It is normal for boys and men to walk arm in arm. More often than not, these are signs of friendship and should not be subjected to sexual profiling.
It is impolite to step over someone's outstretched legs or to touch (or point at) someone with your foot.
Don't expect to find toilet paper in private houses, esp. in remote areas. Always be prepared with your own stock.
As with any country, Nepal operates on a different concept of time – things happen when they happen! The Nepalese people are said to have a casual and laid back approach to life.
Be prepared for lots of questions. Just walking in the streets you may be asked: "What's your name? Where are you from? How old are you? Where are you going?" – perhaps questions you may consider personal. Don't be affronted or consider it rude or an invasion of privacy. It's usually genuine curiosity, friendliness or a desire to practice their English. Respond with patience and in a cheerful manner. Concepts of privacy in some countries can be very different to your home country.
Giving alms is not advisable because it will encourage begging, particularly among children.
What is the language preference?
The main language is Nepali. English is the official second language of Nepal, but despite this, young students in the village speak only broken English, and the older generations will not speak at all.
It is for this reason that we recommend you learn some basic Nepali phrases before arriving in the village. It will help you communicate and get to know the villagers, as well as explain basic rules in your workshops.
Do I need to tip my guide and driver? How much would that be?
Tipping is expected. Your gratitude towards the trek guide and porters would be appreciated. You can tip your trekking guides and porters based on your satisfaction and enjoyment. Assuming you find it hard to choose, we suggest you spend at least 10% of your total trek cost tipping the whole nearby staff. During our pre-trip meeting in Kathmandu, you'll be likewise educated about the proportion of tipping guides and porters based on your group size.
How much additional money do I need per day?
You don't need much money in the village. However, you can carry some cash on you, about USD 10 to buy some snacks or other necessities. You need to change the USD in Kathmandu into local currency before going into the village or the mountains. You can change the money easily from the banks and money exchange counters nearby your hotels.
Is Ace the Himalaya's staff insured?
Our company insures all our trekking staff members, including guides, cooks, Sherpa, and porters. Please browse through our legal docment page to view insurance details.
Do your guides have Tour guide certificates from the Hotel Management and Tourism Center?
Yes, they have all received a 45-days training from the Hotel Management and Tourism Center in Nepal. The guides have also received high altitude first aid training from KEEP (Kathmandu Environmental Education Project). Please check Ace the Himalaya's team page
Transportation
What are the available mode of transportations?
All transportation inside Kathmandu will be in a private vehicle (a car or a minibus) including airport/hotel pick up and drop off. For transportation to and from the village, we will use Private tourist vehicles. The remote villages are not connected by tarred multi-lane roads. There are single-lane dirt tracks that run along the side of large hills, and are very bumpy, and prone to landslides, especially during the monsoon season (June – September). We assure you that all our drivers are very experienced in driving on these roads. We will make all necessary arrangements to ensure that you reach your destination safely.
Important: Transportation in the region may not always be reliable because stranded trucks and buses, car accidents, heavy rain, and landslides may block the roads for hours on end. You must always be prepared to trek to the destination (accompanied by our staff guides) during such unforeseen circumstances. In an event that the 4WD cannot take you to the final destination, there will be no refund of the transportation cost incurred because the cost will already be accounted for in advance. If trekking is necessary, you can be assured that the route trails through the most pristine and traditional villages, exposing you to the traditional Nepalese culture and lifestyle up close. Manaslu and the Ganesh Mountain ranges as well as parts of the Annapurna ranges are visible from the path and will make the trek worth it. Within the village, there is no public transportation. Depending on the location of accommodation and the project you are assigned to, you will have to walk anywhere from 20 minutes to an hour each day. However, these walks will have stunning views of surrounding villages, the opposite hills, distant Himalayan peaks, and the valley below.
Do we book our own international flights to and from Nepal?
Yes, you need to book your own international flights. We are a local agent and it would cost you significantly higher to book through us. Please find more information in the International Flight page.
Traveler Reviews
These full and frank reviews are from travelers who have traveled with Ace the Himalaya previously. The reviews and experiences shown here are from reputable travel websites like TripAdvisor, Google, Facebook, and Trust Pilot, etc.
What makes this trip different ?
Our CSR with Sambhav Nepal
Ace the Himalaya believes in giving back to the communities that surround and support tourism in Nepal. Ace provides logistical support and, if needed, cash donations to the projects of Sambhav Nepal (a local NGO).
Sambhav Nepal and Ace work together to plan volunteer programs that will bring in foreign volunteers and make use of their enthusiasm, time, and talents in a variety of projects.
Sustainability and Responsible Tourism
Of the few Travelife Partners in Nepal, Ace the Himalaya is one. We respect the procedures for sustainable tourism. Our excursions are socially and environmentally conscious, leaving the lowest possible impact in the Himalayas.
About 80% of Ace the Himalaya's staff members are natives of the regions where our trips are organized. It is one of our sustainable and responsible efforts to help local communities, support small businesses, and promote regional culture and way of life.