Everest Base Camp Biking Tour - 21 Days
Recommended by 99% of travelers
Everest Base Camp Biking tour is for adventurous cyclists wishing to immerse themselves in Tibetan culture with a backdrop of views of the Tibetan plateau.
Difficulty
Max. altitude
5,220 m/17,121 ft
Best season
Mar-Jul, Ayg-Nov
Trip Highlights
Hugely rewarding mountain biking in the Roof of the World, in arguably some of the most serene environments imaginable
Sightseeing in Kathmandu and Lhasa
Stunning flight from Kathmandu to Lhasa
Tasting exotic food like Yak cheese and butter tea in Tibet
Interacting with pilgrims and monks
Riding through high passes, including the Gyatso-La Pass (5,220m)
Longest down hill biking (on paved road) in the world
Visiting the Everest Base Camp and base of the Everest North Face via Rongbuk Valley
A farewell dinner at a typical Nepali restaurant on the day before departure to celebrate our trip success
Trip Overview
One of the most remote regions in the world, the cycling pilgrimage from Lhasa in Tibet, to Kathmandu in Nepal will quite possibly be a 'life changing' journey through time, scenery and physical demands. Our fully-supported mountain bike tour takes us along the Friendship Highway to the 'Roof-Top of the World', Everest Base Camp, and takes in the world's 2nd longest descent, and the former home of the Dalai Lama.
Starting in Lhasa at 3,650m, we traverse 1,100km over 5 panoramic passes exceeding 4,500m, finishing in the Kathmandu Valley where the oxygen is rich and the lands fertile. Depending upon your individual tastes and strengths, we'll average 70 km/day on our bikes. Our support vehicle is always available if you would rather take a day off the saddle. The terrain is 80% tarmac road and 20% non-technical off-road.
This expedition is for adventurous cyclists wishing to immerse themselves in Tibetan culture with a backdrop of ethereal views of the Tibetan plateau. On our journey through amazing Himalayan scenery, we visit some of the most significant monasteries of the region and come to understand the deep connection between Tibetan culture, religion and the mountains.
Everest Base Camp Biking tour includes an experienced bike guide cum mechanic fluent in English, equipment vehicle carrying all our personal equipment, cyclist support vehicle, and a bike mechanic with all the spares needed.
Short Itinerary
Day 01 :
Arrive in Kathmandu, Nepal (1,340m). Overnight at Hotel
Day 02 :
Pre-trip meeting and sightseeing around the Kathmandu valley. Overnight at Hotel.
Day 03 :
Ride from Kathmandu to Nagarkot via Bhaktaur (38km 2,168m). Overnight at Hotel.
Day 04 :
Ride back from Nagarkot to Kathmandu via Shanku (34km 1,340m). Overnight at Hotel.
Day 05 :
Fly from Kathmandu to Gonkar, then drive to Lhasa (3,650m). Overnight at Hotel.
Day 06 :
Ride around Lhasa for acclimatization and sightseeing. Overnight at Hotel.
Day 07 :
Drepung Monastery and Potala Palace sightseeing. Overnight at Hotel.
Day 08 :
Ride from Lhasa to Quxu (61km, 3,600m). Overnight at basic Teahouse/Guesthouse.
Day 09 :
Ride from Quxu to Nagarze (99km, 4,410m). Overnight at basic Teahouse/Guesthouse.
Day 10 :
Ride from Nagarze to Gyangze (105km, 4,020m). Overnight at Guesthouse.
Day 11 :
Ride from Gyangze to Shigatse (94km, 3,835m). Overnight at Guesthouse.
Day 12 :
Ride from Shigatse to Jidingzhen (75km, 3,905m). Overnight at basic Teahouse/Guesthouse.
Day 13 :
Ride from Jidingzhen to Lhatse (70km, 4,050m). Overnight at Guesthouse.
Day 14 :
Ride from Lhatse to Tingri/Xegar (74km, 4,320m), via Gyatso La Pass (5,220m). Overnight at basic Teahouse/Guesthouse.
Day 15 :
Ride from Tingri to Rongbuk (5,000m), EBC (5,150m), and back to Rongbuk (55km). Overnight at basic Teahouse/Guesthouse.
Day 16 :
Ride from Rongbuk to Old Tingri (69km, 4,350m). Overnight at basic Teahouse/Guesthouse.
Day 17 :
Ride from Old Tingri to Menbuxiang (72km, 4,685m). Overnight at basic Teahouse/Guesthouse.
Day 18 :
Ride from Menbuxiang to Nyalam (97, 3,750m). Overnight at basic Teahouse/Guesthouse.
Day 19 :
Ride from Nyalam to Dolalghat (Nepal), drive or ride up to Dhulikhel (115km, 1,600m). Overnight at Hotel.
Day 20 :
Ride from Dhulikhel to Kathmandu via Bhaktapur and Thimi (35km 1,340m). Overnight at Hotel.
Day 21 :
Transfer to the airport for your final flight departure
Departures & Availability
Looking for personalized experience? We organize privately guided journey which is mainly designed to fit your taste and interest. Please fill out the form below to get started.
Price Includes
Pick up from and drop off at the hotel and the airport on a private Tourist vehicle.

Twin sharing accommodation in a three star hotel in Kathmandu, breakfast included. (4 nights)

Twin sharing accommodation in a three star hotel in Nagarkot and Dhulikhel breakfast included. (2 nights in total)

Twin-sharing room in a Tibetan standard two-star hotel in Lhasa, Gyangze, Shigatse and Lhatse. Basic accommodation (dormitory room) for the rest of the trip while in Tibet.

Breakfast for the entire trip.

A farewell dinner on the night before departure.

Kathmandu – Lhasa airfare for the client and the mountain biking guide(s), including airport departure tax.

Tibet entry permission and Chinese visa. Monastery entry fees during bike sightseeing in Tibet.

Ground transportation to and from Kathmandu. SUVs and a support truck during biking in Tibet.

Guided city tour in Kathmandu on a private vehicle. Monument entry fees and permits included.

Ace the Himalaya's licensed English-speaking mountain biking guide(s). The number of guides and assistant guides is dictated by the group size.

Mountain bike for the number of days riding. The brands include Cube, Trek and Giant hardtail or full-suspension bikes, depending on your choice.

The required number of ground staff for the tour.

Food, accommodation, salary, insurance, equipment and medicine for our ground staff.

A down jacket and a sleeping bag provided by Ace the Himalaya (to be returned after the trek).

Free Ace the Himalaya duffel/kit bag and sunhat (yours to keep).

All government taxes and official expenses.
Price Excludes
International flight fare and airport departure tax
Travel insurance along with high-altitude emergency evacuation coverage
Nepal Entry Visa (Visa can be acquired easily after your arrival at Tribhuvan International Airport in Kathmandu with a fee of USD 50 for 30 days visa and USD 125 for 90 days visa)

Lunch and dinner in for entire trip – about USD 15 to 20 per person per day.

All items of personal nature like drinks, laundry etc.

Biking attire and other personal gears.

Tips for biking staff and driver. (Tipping is expected)

Any expenses other than the Price Include section
Day 01: Arrival in Kathmandu airport (1345meters).
Our airport representative will be receiving you at Tribhuvan International airport, Kathmandu and s/he will be displaying an Ace the Himalaya signboard outside the airport terminal. You will be then transffered to your respective hotel in our private tourist vehicle.
Day 02: Pre-trip meeting and sightseeing in Kathmandu
At around 8am, we host a pre-trip meeting at your hotel in Kathmandu and introduce your leader/guide. Please seek this opportunity to ask questions about the trek. This includes a final briefing and preparations for the trip. For the meeting, please make sure you bring passport, two copies of passport-size photos, and a readable copy of your travel insurance policy. During this meeting, please clear the due balance, if any, and sign the legally binding trip form as well as the non-liability disclaimer. Please inform us in advance if you will be arriving late and therefore are unable to attend the pre-trip meeting.
After the pre-trip meeting, your sightseeing trip will start at around 8:45am. You will have a private vehicle and a professional tour guide at your disposal. We visit Boudhanath Stupa, one of the biggest Buddhist shrines in the world, where we observe Buddhist monks praying in the monasteries surrounding the stupa. After Boudhanath Stupa we visit Pashupatinath, the most famous Hindu temple in the country, located on the banks of the holy Bagmati River. Here we see Hindu holy men (sadhus) meditating, pilgrims bathing and occasionally funeral pyres burning on the ghats. We then head towards Swayambhunath – also called the Monkey Temple – a Buddhist stupa perched atop a hillock on the western side. You get a magnificent view of the valley from here.
The rest of our day in Kathmandu is free for further exploration and some shopping in Thamel.
Day 03: Ride from Kathmandu to Nagarkot via Bhaktaur (38km 2,168m)
We endorse Chinese visas on this day and you check bikes and equipments, after which we ride due east to the medieval town of Bhaktapur, an ancient city full of Newari culture. There are many temples and squares here that we will have time to explore. It is one of the major attractions of the Kathmandu valley, and definitely not to be missed! From here we head north-east to the beautiful Nagarkot hilltop on an excellent and quiet tarmac road. Nagarkot is the best destination to acclimatize and warm up before Tibet tour.
Day 04: Ride back from Nagarkot to Kathmandu via Shanku (34km 1,340m)
We descent on Jeep tracks through the ancient village of Shanku where we will have lunch and then ride back to Thamel, Kathmandu. We lose elevation on the down hill tracks, which at some points require technical skills. You will find yourself amidst massive stretches of farms. In fact, a considerable amount of rice and vegetables supplied to Kathmandu comes from Sankhu.
Day 05: Fly from Kathmandu to Gonkar, then drive to Lhasa (3,650m)
After breakfast, drive to the airport for an hour flight to Gonkar. You will be met at Gonkar Airport by your Tibetan guide. After immigration formalities take a 1.5-hour drive along 93 km road leading to Lhasa lying at an altitude of 3,660m. It's advisable to rest and take it easy for the remainder of the day due to Lhasa's altitude.
Day 06: Ride around Lhasa for acclimatization and sightseeing
We will visit a few popular places such as Sera Monastery which is one of Lhasa's great monasteries that survived the Cultural Revolution better than most. We can get up close and personal to a 'Debate' where the monks will try and outwit their colleagues with questions on religion. Have a peaceful time watching pilgrims circumambulate from the comfort of a café overlooking the Barkor.
Breakfast, Lunch and Dinner
Day 07: Ride Drepung Monastery and Potala Palace for sightseeing
After a good breakfast we will start biking for Drepung Monastery cycling right in front and passing the Potala. The monastery is situated 25km to the west of Lhasa, this is to further acclimatize and adjust to the climate and altitude. Drepung Monastery the largest of the monasteries out of the great Gelugpa monasteries was home to around 10,000 monks during the Chinese takeover of Tibet in 1951. Once we reach the entrance to the monastery, we leave our bikes at the car park and climb up the stairs into the monastery.
Visit the famous Potala Palace. This is the cardinal landmark and a structure that deserves a place as one of the wonders of eastern architecture and it looks best from a distance. It takes about 3 hours of sightseeing at the Potala so we would advise on wearing comfortable attire, esp. walking shoes.
Day 08: Ride from Lhasa to Quxu (61km, 3,600m)
Biking towards Kathmandu starts on this day. After cycling through the busy roads for about 45 minutes we leave Lhasa behind. Please remember to always ride on the right side as there will be vehicles plying on this road. We follow the Brahmaputra River all the way down.
Overnight at a Guesthouse
Day 09:
Ride from Quxu to Nagarze (99km, 4,410m)
Biking over the Khamba-la pass (4,794 m), approx. 24km climb passing the old road between Gyantse and Lhasa the dazzling Yamdrok-tso (also known as Scorpion Lake) can be seen from the summit of the Kambha-la pass. The lake lies several hundred meters below the road, and in clear weather the lake is seen as a fabulous shade of deep turquoise. We will have lunch beside the beautiful Yamdrok Lake. After lunch we cycle down to the town of Nagarze.
Overnight at a Guesthouse
Day 10: Ride from Nagarze to Gyangze (105km, 4,020m)
Panoramic sight sweeping from the left hand side up to the front give great views of the Himalayas and glaciers upon reaching the summit of the Karo-La Pass. One can awe at the sight of the glacier which is approximately 50m below the pass. Bike over the Simi-La (4,330m), and then it's a pleasant gradual ride to Gyangze town. Visit the monasteries and Stupas contained within this historical town.
Overnight at a Guesthouse
Day 11: Ride from Gyangze to Shigatse (94km, 3,835m)
Leaving Gyantse, we also leave behind our 2 days of off-road aches and pain as we find ourselves on a newly paved road which is a long day ride that will take us across vast stretches of flat agriculture land to Shigatse, Tibet's second biggest town in the traditional capital of Tsang. The Tsang kings exercised their power from the towering heights of Shigatse turning this town in to an important trading town as well as an administrative center. We visit the Tashilhunpo Monastery on the way.
Overnight at a Guesthouse
Day 12: Ride from Shigatse to Jidingzhen (75km, 3,905m)
After a good breakfast, we'll enjoy the beautiful scenery as we ride to Jidingzhen. We'll call it a day as close to the base of the Tso-La pass as possible. This will be a good time to prepare physically and mentally for a couple of passes in the following days.
Overnight at a Guesthouse
Day 13: Ride from Jidingzhen to Lhatse (70km, 4,050m)
Today will be a tough ride, with an occasional paved road making the rest of the road a dusty one. You can, of course, hitch a ride on the support vehicle if you don't feel like riding the whole day. After we leave the Tso-La Pass (4,500m), we go down a long 9km descent and reach Lhatse, which is a small truck stop and is a dusty place but has some shops with well stocked shelves and few guesthouses.
Overnight at a Guesthouse
Day 14: Ride from Lhatse to Tingri/Xegar (74km, 4,320m), via Gyatso La Pass (5,220m)
In the morning after breakfast we cycle up to a 25km climbing towards the Gyatso-La Pass (5,220m), the highest pass of our trip. The ride to Gyatso-La is an interesting one as we will be in the middle of a gorge during the start of this particular ride accompanied by a river on the right hand side. Approximately 7km before reaching the summit we come to an opening where we can once again see the great mountains, but it will be very windy at this point until we cross the pass and descent down to Xegar.
Overnight at a Guesthouse
Day 15: Ride from Tingri to Rongbuk (5,000m), EBC (5,150m), and back to Rongbuk (55km)
Today we start our ride on a paved road up to the police check post. Here we would have to produce our passport to the authorities and after the check post we will turn off the Friendship Highway around 6km west of the Shegar checkpoint where our guide will sort out the permits for the Everest region. From here the path will be the toughest of bumpy roads. The road is very winding both up hill and down hill with sharp turns. On this particular road we would like to advise everyone to stay on the edge of the road at a safe pace because of heavy vehicle also using this road, which takes us to the Pang La pass (5200m), a rocky uphill. From here a superb panoramic view of Everest, Lhotse, Makalu and Cho Oyu can be seen on a clear day. We will bike downhill towards the river where after crossing it we will face the windiest place of our tour. We will cycle to Tashi Zong village.
Overnight at a Guesthouse
Day 16: Ride from Rongbuk to Old Tingri (69km, 4,350m)
After an hour ride from Rongbuk we take new route to Old Tingri via Long Jong La. Occasionally, the level of river gets high which will make us difficult to cross the river, in such case we will ride and drive to Tingri via Tashi Dzong and Pang La.
Overnight at a Guesthouse
Day 17: Ride from Old Tingri to Menbuxiang (72km, 4,685m)
Today the biking takes us over the pass of Lalung-la, which offers spectacular view of Gaurishankar, Dorje Lhakpa, Shishapangma and Langtang. Please make sure that you check your brakes properly because we will be riding mostly downhill from here.
Overnight at a Guesthouse
Day 18: Menbuxiang to Nyalam (97, 3,750m)
We continue our descent southwards and after a few hours of biking we reach Nyalam which literary means 'The Gateway to Hell' in Tibetan. This is because the road drops from Nylam like a stone off the Tibetan plateau into a mossy gorge of waterfalls and cascades which during the monsoon creates a sea of clouds that submerges the road and thus giving the effect of an eerie scene out of a horror movie. Before reaching Nyalam just 10km off there is a place with the closest cultural sight which is Nyalam Pelgye Ling, a small temple that is associated with the Cave of Milarepa, the famous Buddhist mystic and composer of songs who lived during the late 11th to the early 12th century.
Overnight at a Guesthouse
Day 19: Ride from Nyalam to Dolalghat (Nepal), drive or ride up to Dhulikhel (115km, 1,600m)
This is our last day in Tibet as we head towards the border Zhangmu which also is known as Khasa in Nepali and Dram in Tibetan, then entering Nepal through Kodari (which also happens to be the only bungee jumping spot in Nepal). We descend rapidly to Barabise on the longest downhill of our tour on muddy, rocky and slippery road with a big drop on the right hand side into the river Bhote Kosi. We will have lunch at Barabise (870m) a small town with shops and basic hotels. From here after lunch we have to option to either ascend to Dhulikhel (1,600m) or hop on the support van to the hotel in Dhulikhel.
Day 20: Ride from Dhulikhel to Kathmandu via Bhaktapur and Thimi (35km 1,340m)
After 2.5 km ride from Dhulikhel, we leave the Arniko Highway behind. Follow the dirt road up to Bhaktapur. Continue the broken tarmac road to Thimi a popular town for handmade paper mask. Thimi is the major supplier of vegetables in the capital, Kathmandu city. Ride the last section of Valley rim through busy traffic and transfer to your hotel. A pleasant stroll and a last-minute shopping spree in Thamel and Basantapur. We host a farewell dinner in a typical Nepali-style restaurant with cultural performances (dancing and singing with costumes) tonight to celebrate our hard work and achievement in the biking trip.
You have the option to extend your trip to continue onto Chitwan jungle safari, Pokhara sight-seeing, trekking, rafting & bungee, Kathmandu valley shopping tour, scenic Everest flight, and other activities.
Day 21: Transfer to the airport for your final flight departure
The trip concludes – our airport representative will drop you at Kathmandu's Tribhuwan International Airport for your flight departure from Nepal.
Gears and Equipment
The following gives you a general idea of the personal items that you can bring for this biking trip. The personal items are of individual interest and choice. The most important fact that one should keep on mind is that one should have enough clothes to tackle the cold weather in the Himalayas.
In a tour, the vehicle transfers all the heavy items and equipment. But the Personal belongings of the clients which are required at any moment like money, water bottle, camera, suns cream and toilet paper etc. should be carried by yourself. It is therefore advisable that you pack the personal belongings into your daypack.
We will supply complimentary water and wind proof duffel bag, which you can use on the tour for your shopping purpose. The duffel bag is yours to keep.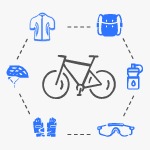 Riding Kit
Helmet
Bike gloves x 3 pairs
Biking glasses
Padded cycling shorts (to last at least 5 rides)
Long-sleeved base layers
Short-sleeved and long-sleeved cycling tops
Biking socks (at least 5 pairs)
Hat and non-biking gloves
Head torch
If you're bringing your own bike:
Brake pads specific to your bike x 2 sets
Rear mech hanger specific to your bike x 2
Bottle of dry lube
Four inner tubes, or spare bottle of fluid for
tubeless tyres (two for each tyre)
Quick link to suit your chain
For 29" wheels bring extra spare tubes; these are more difficult to find in Nepal
Please note: If you're bringing your own bike, you must make sure that you have it professionally serviced before the trip, and ask your bike shop to use dry lube on your chain.
General
4 seasons Sleeping bag (Optional/we can provide one if you need it but is to be returned after the trek)
Duffel or Rucksack bag or suitcase (We will provide one complimentary ACE duffel bag for you to keep.)
Daypack
Down Jacket (Optional/we can provide if you need one but is to be returned after the trek)
Upper Body - Head / Ears / Eyes
Warm wool or synthetic hat that cover your ears
Headlamp – Black Diamond and Petzl both make several good ones. Make sure to bring extra batteries and that they are lithium batteries so that they will last in the colder temperatures. These are indispensable for getting around at night, reading, etc. so, don't go cheap here.
A neck warmer is another piece of gear for extra warmth if you feel you will need it and is for cold season (optional).
Hand
1 pair liner gloves, thin wool or synthetic, useful alone on mild days or as a layer inside other gloves / mitts for additional warmth.
1 pair warm gloves (This is required if your are travelling in cold season i.e January, February, November and December).
Instant hand warmers are always nice in a pinch, but really shouldn't be necessary on the trek. Bringing appropriate hand protection as recommended above, should be sufficient (optional).
Core Body
T-shirts (2).
Fleece jacket or pullover.
Fleece Wind-Stopper jacket (optional).
Waterproof (preferably breathable fabric) shell jacket.
2 women sports bras, Synthetic, no cotton!
Lower Body – Legs
2 pairs nylon hiking shorts – Quick drying type, not cotton!
Underwear, stay away from cotton (4).
2 pairs lightweight long underwear – capilene or other synthetic..
1 pair cotton pants (loose jeans/khakis).
All clothing should be kept dry using waterproof stuff sacks or large puncture resistant plastic bags.
Feet
2 pairs of liner socks, synthetic or capilene.
2 pairs heavy weight socks to be worn over liner socks preferable for cold season.
2 pair light weight socks, a good option for the lower / warmer parts of the trail.
1 pair light trekking shoes or sneakers. Good for around the camp/lodges and in Kathmandu.
1 pair sandals (Optional).
Medicines and First Aid Kits
(Please note our guide will also carry the first aid kit bag during the trek. However we still recommend you to bring your personal first aid kit as well)
Extra Strength Excedrin for altitude related headaches.
Ibuprofen for general aches and pains.
Immodium or Pepto bismol capsules for upset stomach or diarrhea.
Diamox (commonly prescribed as Acetazolamide) 125 or 250mg tablets for altitude sickness. Please discuss with us before starting to take this medicine.
1 small personal sized first-aid kit with blister treatments such as mole skin, band-aids, some waterproof tape, anti-infection ointments, etc. Your guides will have more extensive medical gear, but you should have the basics for general use.
Miscellaneous, but Important !
Passport and extra passport photos (4 copies).
Airline ticket (Please make a copy and leave on at our office in KTM just in case if you need to change the date of your).
Durable wallet / pouch for travel documents, money & passport.
Lip balm. At least SPF 20, 2 sticks. A string taped to the stick is helpful, to hang around your neck and some are now being sold with a cord already attached. Handy as it avoids you from having to stop and look for it.
Sunscreen. SPF 40 is recommended and should be relatively new since it loses its' effectiveness over time.
Pocket knife or small Swiss Army type.
Water purification Iodine tablets or Polar-pure crystals.
Toiletry kit: Be sure to include toilet paper stored in a plastic bag, hand wipes, and liquid hand sanitizer, towel, soap, etc.
2 bandanas.
Optional
Favorite snack foods, no more than 2 pounds (Optional).
Paperback books, cards, mp3 player (there are a couple of stops where you could recharge. Avoid players with moving hardware as it may not function. Remember, keep these items light weight (Optional).
Binoculars (Optional).
1 light weight point & shoot camera or 1 large SLR. Digital cameras are ok, but you must keep the batteries warm when not in use (Optional).
Hydration bladder with drinking tube and tube insulator (Optional).
A pee bottle for men and pee funnel for woman, some swear by them to avoid that chilly late night trip (Optional).
1 small stainless steel thermos (Optional).
This list is only a guide. While you are required to bring everything on this list, there are numerous options, brands, and versions of each piece of equipment. Use your experience and the listed features to find the best gear for you. Some of the above equipments can be easily found in stores in Kathmandu for cheaper prices.
Trip Map / Elevation
Download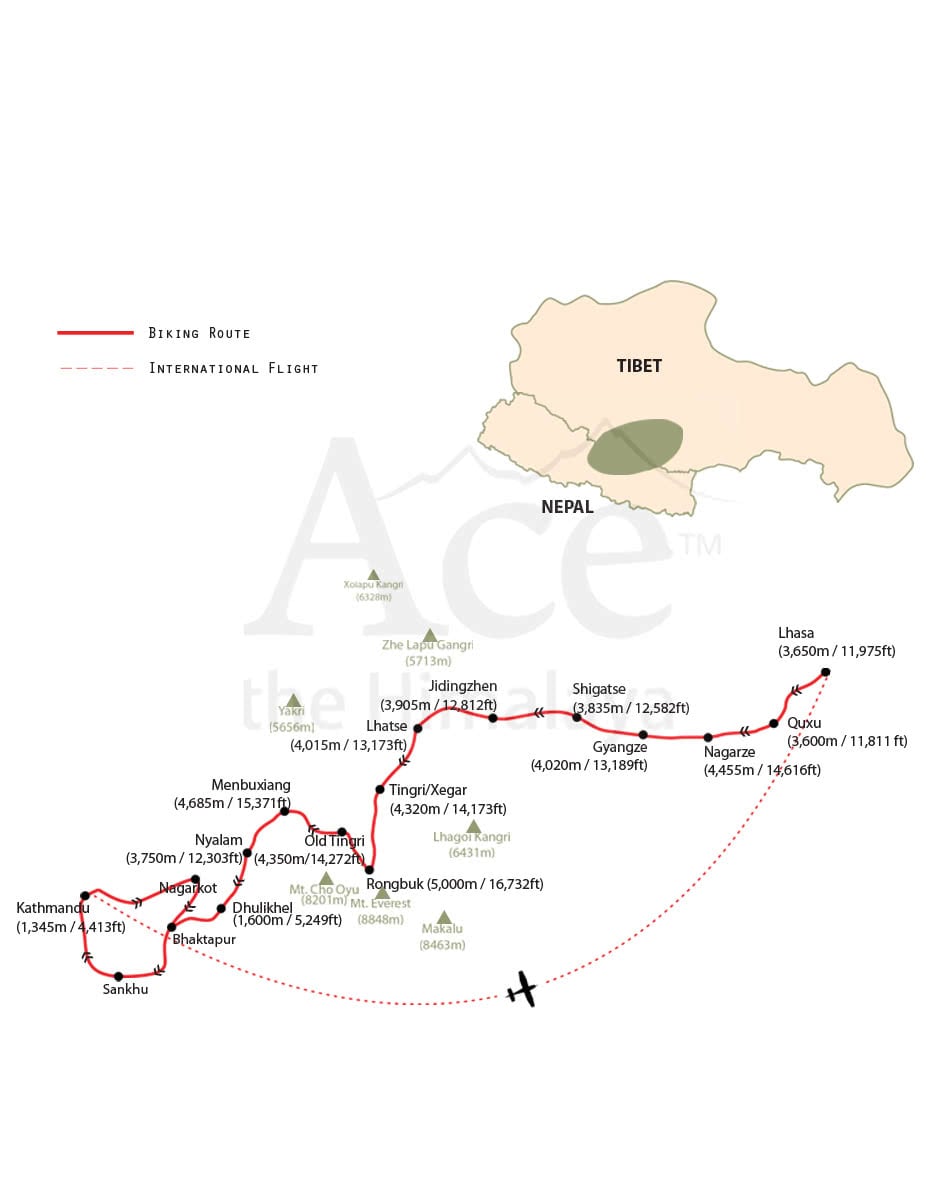 FAQs for Everest Base Camp Biking Tour
Why travel with Ace the Himalaya?
Ace has a reputation for successfully leading treks with knowledgeable leaders and staff taking care of all your travel needs. We are a certified sustainable travel company that also endorses the idea of giving back to the community by participating in various philanthropic activities. Here are 17 reasons to hike with Ace the Himalaya.
How fit do I need to be for this biking trip? Is this trip for me?
Lhasa to Kathmandu Biking Trip should only be undertaken by those with some previous mountain biking experience. You should be physically fit to brave the effects of higher altitudes as you ascend over 5,000m which involve some steep climbing against head winds. Biking at this level lasts for several weeks. The Lhasa to Kathmandu biking trip is a fantastic one in this category, where you'll be staying mostly in tea houses and/or camping en route. There are several high passes you will cross on paved road, including the Gyatso-La Pass at 5,220m. The picturesque views of the mountains, serene lakes and ancient settlements are sure to reward you on this strenuous trip.
Will somebody come to pick me up at the Airport upon my arrival?
Yes, our airport representative will be there to greet you at the airport. S/he will be displaying an Ace the Himalaya sign-board. Upon arrival, you will be transferred to your hotel.
What sort of accommodation can I expect in Kathmandu, Nagarkot, Dhulikhel, Lhasa and along the biking route?
We use twin sharing standard rooms from three/four star hotels in Kathmandu, Dhulikhel and Nagarkot with breakfast included. Note that higher star hotels in Tibet are very rare. We offer two star hotel in Lhasa, Gyangze, Shigatse and Lhatse and very basic accommodation (dormitory room) for the rest of the trip while in Tibet. All the accommodations are pre-booked before starting the trip. While in the tour, if you want to change the hotels, the additional cost can be paid directly to our guide.
We do our best to provide the best accommodation available but please do keep in mind that you are taking an adventure tour, and sometimes the arrangement may be basic especially along the Tibet to Nepal Highway. Traveling in Tibet is a fantastic experience but sometimes you have to put up with a bit of discomfort. To enjoy this trip you need to have an adventurous spirit and the ability to adapt to minor discomforts.
You could choose the camping option if you would like more convenience and privacy with all the foods on your demand but this can be a bit expansive and is not possible in guesthouses.
What sort of food can I expect in Biking route?
All the restaurants that we dine in Kathmandu, Dhulikhel and Nagarkot cater Continental, Chinese, Mexican, American based cuisine with some local influences, always plenty to choose from.
While in Tibet most guesthouses cook a delicious range of mostly vegetarian fare. Pasta, tuna bakes, noodles, potatoes, eggs, bread, soups, fresh vegetables (variety depends on the season) and even some desserts like apple pies, pancakes, and some interesting attempts at custard. You will find a lot of garlic recommended because it assists with acclimatization – try to eat some every day. In some places you may find some meat. You can always get hot chocolate, tea, and hot lemon drinks, as well as soft drinks, and treats like chocolate and crisps.
Please note that only breakfast are included in our trip package, make sure you carry enough money (USD 15 to USD 20 per day/Average USD 18 per day) to pay for the lunch and dinner.
What mode of transportation do you use?
Ace the Himalaya is all about providing you with local insights, lifestyle as well as adventure. Using a variety of private transport is an integral part of our Himalayan tours, enhancing the experience!
We use private tourist vehicles for sightseeing, city tours and pickups; whereas we use the best 4WD SUVs as our support vehicle across the Tibetan highland. These vehicles are extremely sturdy, spacious and reliable and they make the journey as comfortable as possible. For larger groups, we also use supported trucks to carry your luggage. We fly from Kathmandu to Lhasa, from where we begin our biking journey. We use our own Fleet service for Transportation.
What is the best season for this trip?
The best time for Lhasa to Kathmandu Biking Trip is between March and November.
What type of bike is required for this trip and what brands are available for hire?
Either hard-tail or full suspension mountain bikes will do fine. In some parts of the routes, you can take downhill shortcuts for which we strongly recommend full suspension bikes. (Your guide will let you know if there are any shortcuts you can take.)
All the brands we provide are properly serviced and fully functional standard hardtail rentals best suited for the trips. We provide full suspension bikes (if preferred by our clients) for an additional charge.
Trek: 3-, 4-, 6- and 8-series
Cube: Comp, LTD, CMPT, Reaction
Giant: ATX, Tralon
Other brands: Capic and V-Ket
Are hired bikes guaranteed for the trip?
Bikes are hired at the time of booking, and are included in the price. The frame size of the bike has to be matched with your height, and since there is a limited number of each size, we strongly suggest you provide us with this information well ahead. In case of any damage incurred to the bike or the equipments, the client will be liable to pay for the repair and/or replacement, depending on the nature of the damage.
What equipment and tools are included with the bike hire?
We provide a helmet, a pump, a spare tube, a water bottle and a repair kit with a rental bike.
What additional equipment is available upon request for an additional cost?
Cycle computer and a GPS unit for USD 2 and USD 5, respectively, per day per person.
Can I bring my own bike and accessories?
You definitely can! It is highly recommended that you have you bike thoroughly serviced before coming on the trip. Spare parts are available in Kathmandu, but may not always be compatible with your bike.
Most airlines are quite used to people travelling with bikes, and if a bike is properly boxed and within the luggage allowance, it is a relatively hassle-free experience. On arrival at your destination you will be met by your leader, and you will just need a baggage trolley to take your bike as far as the transfer vehicle.
Make sure the bikes are properly packed. You may do it yourself (here's a guide or if you're not sure, you could have a local bike shop pack it for you.
We take every care to ensure your bike is well treated, but it is normal for a bike to sustain minor scratches, resulting during the daily ride as well as loading and unloading from support/transport vehicles.
What is the procedure of checking in with a bike and what luggage weight allowance do I have?
Your bike is part of your baggage allowance on the plane, details of which are shown on your flight ticket, and maximum weights are usually between 20 and 25 kgs. A boxed bike weighs around 16 kg, so you need to pack carefully. Put heavy items in your hand baggage, wear your heavy/bulky jacket when you check in. Ace the Himalaya will not be liable for any excess baggage charges brought by the airline as a result of your exceeding the baggage allowance, whether you have a hire bike or take your own bike. In practice excess luggage charges are rare for those who pack sensibly, even if you are a little over the specified limit.
few airlines impose specific standard bike carriage charges. All such charges are beyond our control, and to be paid by the client. Where we know of a bike carriage charge in advance, this will be added to the relevant trip notes. In the unlikely event of any of your luggage and or bike being misplaced or damaged while in the care of the airline, a Property Irregularity Report (PIR) must be filed with the appropriate airline on arrival. This is essential if you subsequently wish to make a claim against the airline or on your travel insurance. This must be done at the airport where your baggage arrived, or should have arrived.
Are there any bike maintenance and repairs while on the trip?
The support vehicle (where available) and the guide will carry the required repair tools and spares. We do recommend you carry some basic tools and spares (like a puncture kit and Allen keys). Our guides are also qualified mechanics and have ample experience maintaining bikes on the trips.
Can I bring my own saddle and pedals?
Yes. All the bikes are compatible with customized bike parts. The support team accompanying the group will be able help with any bike alterations or damage to the bike along the entire trip. Please inform us in advance if you plan to bring your own saddle and pedals.
Do we need to be experienced cyclists for longer tours?
No. The guide will carefully pace the ride to include rest and refreshment along the way. Where available, the support vehicle will accompany you and you can always hitch a ride if you need a break.
Can I charge my digital camera or other equipment on my trip?
These facilities will be available in some of the places in your hotel/teahouse at reception by paying some service charges. Remember to bring travel adapters!
Are there any communication facilities during the trip?
The commutations service in Nepal is really good and phone and Internet are available in Kathmandu, Dhulikhel and Nagarkot at your hotel.
Communication facilities in Tibet have been improved over the past few years. All the hotels we use in Lhasa, Gyantse and Shigatse have international IDD phone and fax services. Phone calls can also be made from public booth in bigger towns. Internet cafes are also available at bigger towns, check with your guide for the best cyber cafes in each town.
You can also have a roaming facility added to your mobile phone as mobile phones work fine in Tibet. If you buy a Chinese SIM card at the border, you could stay in touch with your family and friends most of the time. Please ask us for the latest facilities and reserve the Chinese SIM card for the trip.
Can I use credit cards in the places I visit in trekking?
In Kathmandu and Lhasa yes – to some extent. Once you are out of the cities, all you need is cash.
Besides Chinese Yuan, only US dollars can be accepted in Tibet. Also shops that accept American currency are very limited and you might not be able to get a good deal for an exchange rate. Credit cards can only be used at some hotels in Lhasa. The Bank of China also accepts credit cards. ATM is not widely available. Exchanging your money to Chinese currency will be the best option for you, which can be done at the Bank of China. While changing money at the local money exchange centers, please make sure that you are accompanied by your guide and do consult him as you may easily be duped with counterfeit notes.
How much additional money do I need per day?
It depends on your spending habits. Generally, you can allocate USD 15 to USD 20 for a lunch and a dinner.
Tibet is becoming more expensive every year. There are many shops in Lhasa, Shigatse and Gyantse that sell traditional Tibetan handicrafts. We recommend you to bring extra money to spend on souvenirs.
Do I need to tip my guide and porters? How much would that be?
This is a difficult thing to gauge. We have seen everything from USD 20 to USD 1000 per person for guides and porters. Tipping is not required, but a small gesture of thanks to your guides and local porters thanks for their help. The level of the tip should reflect the level of satisfaction from and personal involvement with your guide and support staffs.
Is the water fine to drink? Do I need to bring purifying tablets/filter?
In main town (Kathmandu, Lhasa, Nagarkot, Dhulikhel) bottled water is readily available. You will need to purify the spring or river water in many places in Tibet, so please bring the good purifying aid with you. We recommend you to drink minimum four little of water every day.
Is Ace the Himalaya's staff insured?
Our company insures all our trekking staff members, including guides, cooks, Sherpa, and porters. Please browse through our legal docment page to view insurance details.
What essential documents do I need to bring with me on tours?
Here are some documents that you will need to carry with you:
· Valid Passport – must be valid for up to 6 months after you return from your tour (Keep a separate photocopy)
· Travel insurance (Keep a separate photocopy)
· Cash and Traveller's Cheques (Keep numbers and proof of purchase separately)
· Flight tickets
· Emergency contact numbers for T/C's, banks, insurance, family contacts
Can I add extra days to my trip?
A holiday should never be about making it to the final point quickly. Along your trek we can add days at your request with additional costs to cover guides, porters, accommodation and food.
I want to extend my holiday, any recommendations?
Yes, you can extend your holiday. Ace the Himalaya offers many options and alternatives for your holiday extension. For more information, you can visit our Day trips pages.
What immunizations will I need?
COVID-19 vaccination (Negative PCR report in case of unvaccinated travelers.)
Typhoid vaccination is recommended but not required
We suggest you have a dental checkup before your trip and know your blood type. It is helpful if you inform us of any medical condition that is relevant so we may convey this information in the event of an emergency. Ace the Himalaya keeps your medical condition confidential unless treatment is necessary.
Traveler Reviews
These full and frank reviews are from travelers who have traveled with Ace the Himalaya previously. The reviews and experiences shown here are from reputable travel websites like TripAdvisor, Google, Facebook, and Trust Pilot, etc.
What makes this trip different ?
Our CSR with Sambhav Nepal
Ace the Himalaya believes in giving back to the communities that surround and support tourism in Nepal. Ace provides logistical support and, if needed, cash donations to the projects of Sambhav Nepal (a local NGO).
Sambhav Nepal and Ace work together to plan volunteer programs that will bring in foreign volunteers and make use of their enthusiasm, time, and talents in a variety of projects.
Sustainability and Responsible Tourism
Of the few Travelife Partners in Nepal, Ace the Himalaya is one. We respect the procedures for sustainable tourism. Our excursions are socially and environmentally conscious, leaving the lowest possible impact in the Himalayas.
About 80% of Ace the Himalaya's staff members are natives of the regions where our trips are organized. It is one of our sustainable and responsible efforts to help local communities, support small businesses, and promote regional culture and way of life.