Chitwan Jungle Safari - 3 Days
Recommended by 99% of travelers
Chitwan Jungle Safari bring you to the land of forest and grass extended over more than 2600 km sq and was home to about 800 rhinos
Difficulty
Activity
Sightseeing & Jungle Safari
Max. altitude
1,400 m/4,593 ft
Best season
Jan-Jun, Sep-Dec
Start/End Point
Kathmandu
Chitwan Jungle Safari Highlights
Exploring the wildlife of Chitwan National Park.
Jungle Safari in Chitwan national park
Sighting unique birds through Bird Watching.
Discover Tharu life and culture through a village tour.
Trip Overview
Get ready for an exciting trip to Chitwan Jungle Safari, Nepal's top natural attraction and the country's pioneering national park. Established in 1973 as the inaugural national park in Nepal, this remarkable site was later designated as a World Heritage Site in 1984, solidifying its global significance.
It is the home of the more than 700 species of wildlife and a not yet fully surveyed number of butterfly, moth and insect species. At least 43 species of mammals and also kept the record of getting almost 543 species of bird. The variation of different species of birds and animals is the most interesting and exciting part for visiting Chitwan National Park.
The area is located in the central climatic zone of the Himalayas, where monsoon starts in mid June and eases off in late September. During these 14–15 weeks most of the 2,500 mm yearly precipitation falls – it is pouring with rain.
On the edge of the national park Sauraha is a well-known spot for tourists. Accessible from the nearby Bharatpur Airport, Sauraha offers a choice of hotels, lodges, restaurants and agencies that organize day trips into the protected area.
Short Itinerary
Day 01 :
Arrival at Chitwan National Park (415 m) via private tourist vehicle from Kathmandu – 5 to 6 hours. Overnight at a Resort.
Day 02 :
Jungle Safari & Wildlife activities inside the Chitwan National Park. Overnight at a Resort.
Day 03 :
Early morning activities in Chitwan National Park and same-day departure to Kathmandu (1,400 m) by tourist vehicle – 5 to 6 hours. Overnight at a Hotel
Note
You have an alternative option to take a flight to Bhadrapur, Chitwan from Kathmandu as well as Pokhara for an extra cost of USD 130. This will spare you a long drive to Chitwan. The cost includes flight fare and transfers to the resort which is around a 30 to 45 mins drive.
Read more
Departures & Availability
We do not have fixed departure date for this trip. This trip can only be organized upon your request. There is an option of private and tailor-made journey best suited for you, your family and friends. We have price discounts according to the group size, the bigger your group, the bigger your group discounts. We offer a discount of up to 10% for groups of two or more people.
Chitwan Jungle Safari Package Includes
Twin-sharing/double accommodation at a four star resort in Chitwan for 2 nights including Breakfast, Lunch, and Dinner with jungle activities in the national park.

All ground transportation by private tourist vehicle.

Guided tours and activities inside the Chitwan National Park.

Ace the Himalaya's licensed English-speaking guide
Entry permits and fees for all temples, parks, monasteries, and cultural and historical sites.
The required number of ground staff during the tour like Driver, Helpers etc.
All administrative expenses and government taxes
Price Excludes
Your travel insurance.

Accommodation & Meals in Kathmandu after the return from Chitwan.

Any beverages including bottled and boiled water
Tips for hostess and driver. (Tipping is expected).
Any expenses other than the Price Include section
Day 01: Arrival at Chitwan National Park via tourist vehicle from Kathmandu
Max. Altitude:
Chitwan (415 m)
We will drive to Chitwan National park on a private tourist vehicle from Kathmandu. During your drive in the highway you will come across picturesque Hills and Rivers.
The drive takes around six hours from Kathmandu. On reaching resort, you would be briefed by our Guest Relations Officer. After the lunch you would be going for Village tour. Meanwhile the dinner would be ready by the time you return to the resort.
Breakfast, Lunch, and Dinner included
Day 02: Jungle Safari & Wildlife activities inside the Chitwan National Park
After Breakfast, we will move ahead for the morning tour which will provide you with one of the best times to see the wildlife at its best with Jeep Safari/Jungle Walk.
Then after Lunch, we would go for a canoe ride. We will take local boats to watch crocodiles along the banks and visit the Elephant Breeding Centre. Late afternoon you would be entertained by the Tharu Cultural Program and finish off the day with dinner.
Breakfast, Lunch and Dinner included
Day 03: Early morning activities in Chitwan National Park and same day departure to Kathmandu by tourist vehicle
Max. Altitude:
Kathmandu (1,400 m)
Today is the last day of  Chitwan Jungle Safari trip, so after morning tea we will be going for bird watching as Chitwan is very famous also for the different species of birds, which is an attractive fact for the visitor.
After that we would be back to the resort, have breakfast and get ready to head towards Kathmandu in a tourist vehicle. Our representative will assist you with it.
Trip Map / Elevation
Download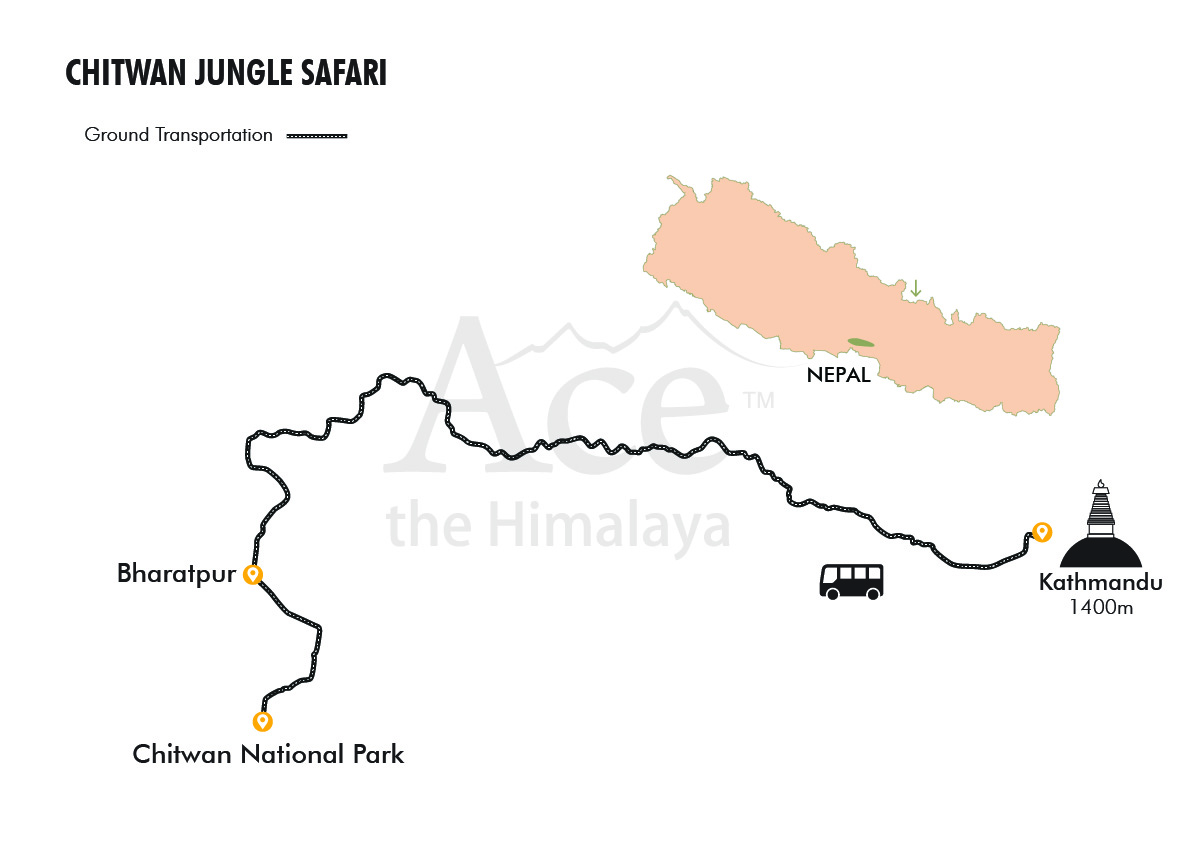 Traveler Reviews
These full and frank reviews are from travelers who have traveled with Ace the Himalaya previously. The reviews and experiences shown here are from reputable travel websites like TripAdvisor, Google, Facebook, and Trust Pilot, etc.
What makes this trip different ?
Our CSR with Sambhav Nepal
Ace the Himalaya believes in giving back to the communities that surround and support tourism in Nepal. Ace provides logistical support and, if needed, cash donations to the projects of Sambhav Nepal (a local NGO).
Sambhav Nepal and Ace work together to plan volunteer programs that will bring in foreign volunteers and make use of their enthusiasm, time, and talents in a variety of projects.
Sustainability and Responsible Tourism
Of the few Travelife Partners in Nepal, Ace the Himalaya is one. We respect the procedures for sustainable tourism. Our excursions are socially and environmentally conscious, leaving the lowest possible impact in the Himalayas.
About 80% of Ace the Himalaya's staff members are natives of the regions where our trips are organized. It is one of our sustainable and responsible efforts to help local communities, support small businesses, and promote regional culture and way of life.