Bhutan Multi Sports Tour - 11 Days
Recommended by 99% of travelers
Bhutan multi sports tour is perfect for thrill seekers, adventurers, active lifestyle enthusiasts and for those interested in immersing into the cultural delights of this unique Himalayan Kingdom.
Difficulty
Max. altitude
3,300 m/10,824 ft
Best season
Feb-May, Jun-Oct
Trip Highlights
Cultural exploration of Thimphu, Punakha, Gangtey and Paro
Cycling to the panoramic Dochula Pass (3,100 m)
Scenic downhills from Dochula Pass and Lawa la Pass
Rafting on the glacial meltwater fed Punatsang chu river
Panoramic mountain scenery and valleys
Hiking in Punakha, Gangtey and Paro
Homestay in Gangtey
Village exploration in Gangtey
Ancient Himalayan monasteries
Pristine environment of Bhutan
Trip Overview
Bhutan multi sports tour is perfect for thrill seekers, adventurers, active lifestyle enthusiasts and for those interested in immersing into the cultural delights of this unique Himalayan Kingdom.
Unlike other tours, this Bhutan multi sports tour has a bit of everything that includes cultural exploration, biking, rafting, hiking, village exploration of the land of thunder dragon. Throughout the Bhutan multi sports tour, you will explore the naturally, spiritually and culturally rich Bhutan that takes you to the unique expedition of the Himalaya.
Enjoy our exclusive Bhutan adventure tour.
Short Itinerary
Day 01 :
Arrive in Paro and transfer to Thimphu. Overnight at a hotel.
Day 02 :
Thimphu Sightseeing (15 to 20 km). Overnight at a hotel.
Day 03 :
Ride the Thimphu to Punakha (65 km). Overnight at a hotel.
Day 04 :
Sightseeing, walking and cycling around Punakha (20 km). Overnight at a hotel.
Day 05 :
Hiking in Punakha and rafting. Overnight at a hotel.
Day 06 :
Ride from Punakha to Gangtey (71 km). Overnight at a hotel.
Day 07 :
Biking (15 Kms) and walking aroung Gangtey valley. Overnight at a farmhouse.
Day 08 :
Downhill ride from Gangtey to Wangdi (60 Km). Overnight at a hotel.
Day 09 :
Drive 38 Kms to Dochula pass and drive or ride 55 Kms to Paro. Afternoon sightseeing in Paro. Overnight at a hotel.
Day 10 :
Hike to the Tigers Nest Monastery / 5 hours & Sightseeing. Overnight at hotel
Day 11 :
Transfer to international airport for final departure.
Departures & Availability
We do not have fixed departure date for this trip. This trip can only be organized upon your request. There is an option of private and tailor-made journey best suited for you, your family and friends. We have price discounts according to the group size, the bigger your group, the bigger your group discounts. We allow complete flexibility on your departure date, please choose your preferable date.
Price Includes
All (international and domestic) airport transfers on a tourist vehicle

Guided city tour in Thimpu and Paro by private tourist vehicle.

Mountain bike for the number of days riding. We use Trek 4300D and Trek Marlins, please do send us your height in advance so that we can ready the appropriate bike size. (You also have options available to bring along your own bikes)

Standard government-approved accommodation (in twin sharing rooms) for the duration of the tour.

Full-board meals – breakfast, lunch, dinner and tea & snacks – for the duration of your stay.

Traditional guesthouse accommodation during the stay at farm house.

Drinking water for the duration of the tour.

Country presentation and tour Briefing on the evening of Day1 with welcome drinks.

Licensed English-speaking Bhutanese tour guides.

Private transportation and a designated driver within Bhutan. Toyota 4WD luggage vans and light trucks for group travel. Luggage will be hauled by horses, mules or yaks at higher elevations.

Monument and museums entrance fees for all sightseeing locations detailed in the itinerary.

Rafting on the Mochu river (female river).

Cultural afternoon/evening sessions with traditional mask and folk dances (with beverages). Only for group tours.

Bhutan visa fees and processing assistance.

Government royalty (35% of $200), which goes to the country's health and education projects.

All route access and monument entry permits and fees.

All government taxes, official expenses and tourist service charges.
Price Excludes
International airfare and airport departure tax.

Travel insurance along with high-altitude emergency evacuation coverage

Tips for tour guides, porters, driver, hotel lobby and in restaurants. (Tipping is expected)

Expenses of personal nature, such as laundry.

Alcoholic and cold drinks.

Any expenses other than the Price Include section
Day 01: Arrive in Paro and transfer to Thimphu
The flight to Bhutan offers scenic views of some of the highest peaks in the world. Paro is at an altitude of 2280m above sea level and this valley serves as an ideal area for rice, apples, potatoes and vegetable growing.
Our tour guide will meet you at Paro airport after which we take an hour long scenic drive drive to the capital, the drive takes us past rice fields & wayside mountain villages.
After a brief rest at your hotel in Thimphu, we embark on a leisurely exploration/walking tour of the Thimphu market area. We will also take some moment to witness a game of the national pastime at the local archery range.
Breakfast, Lunch and Dinner included
Day 02: Thimphu Sightseeing. Distance: 20 Km
In the morning, we visit the Institute for Zorig Chusum (commonly known as Painting School) where students undertake a six year course on the 13 traditional arts and crafts of Bhutan ( Open :Mon- Sat)
Folk Heritage Museum: The museum opened in 2001 and provides fascinating insights into Bhutanese material culture and way of life.
National Library, which holds a vast collection of ancient Buddhist texts and manuscripts, some dating back several hundred years, as well as modern academic books mainly on Himalayan culture and religion.
Bhutan is much known for its colorful stamps on varying themes therefore a visit to a post office is a must, The display gallery at the Bhutan Posts offers a good opportunity to pick up postcards and stamps. Depending on the factor of time and interest we can also visit the adjoining Bhutan National Bank to observe the banking system.
We can also take a brief moment in the afternoon to visit the Dordenma at the
" Buddha Point " at 51m this is one of the largest statues of Buddha in the world. The vantage point here offers unobstructed view of the capital city.
National Memorial Chorten: The building of this Thimphu landmark was envisaged by the third king, His Majesty Jigme Dorji Wangchuck, as a monument to world peace and prosperity. Completed in 1974 after his untimely death, it is both a memorial to the Late King ("the Father of modern Bhutan") and a monument to world peace. The paintings and statues inside the monument provide a deep insight into Buddhist philosophy.
We visit the weekend farmers market ( Open : Fri – Sun) in Thimphu where farmers & traders from all over the country converge each weekend to sell their produce consisting of farm produce & items of daily use. This experience will provide some insight into the Bhutanese culinary culture.
Later in the day we take a leisurely stroll in Thimphu Bazaar.
In the afternoon we take some time off to check our cycling/biking equipment, also test the bikes in preparation for the biking adventure across the country and also enjoy a test ride to the Buddha point, the site of the world's biggest statue of Buddha.
Breakfast, Lunch and Dinner
Day 03: Ride the Thimphu to Punakha. Distance: 65 Km.
In the morning we start the scenic ride to Punakha(1200m) over the Dochula pass (3050m), for those less inclined to ride the 21km to the pass, there will also be options available to transport the bikes to the pass and downhill from there. This pass offers a panoramic view of the eastern Himalayan ranges on the clear days. Stop briefly here to take in the view and admire the 108 stupas built to honour His Majesty the King, world peace and for the benefit of all living beings.
Enjoy an exciting downhill from the pass all the way till the alluvial Punakha Valley,en-route stop at the Royal Botanical Park and view the many rare species of flora and some fauna on display.
Along the way, In case if there are any local fruits in season we stop by the wayside farmers market at Lobesa to sample some fresh organic fruits. In the afternoon enjoy a short walk (rating : easy with no gradient – 1 hour round trip with sightseeing) or bike ride to Chimmi Lhakang, a temple dedicated to the divine madman/god of fertility. Walk past villages and rice fields to Chimi Lhakhang-temple of the Divine Madman who is popularly known as Drukpa Kinley. He inherited the Divine madman title since he revolted against the orthodox Buddhism in his time. He is revered as a symbol of fertility and most childless couples visit this temple to seek its blessing.
Breakfast, Lunch and Dinner
Day 04: Sightseeing, cycling and walking around Punakha. Distance: 20 Km
Explore and experience the architectural grandeur of the "castle of great happiness". The Castle of great happiness is a massive stricture built on the confluence of two river Phochu (male river) and Mochu (female river). Punakha was the capital of Bhutan until 1955 and the Dzong still serves as the winter residence of the central monastic body. The coronation of the Kings of Bhutan and royal wedding ceremonies are held in the Dzong.
Enjoy a walk across the longest suspension bridge in the Kingdom followed by a picnic lunch by the scenic and tranquil riverside of Punakha.
We then ride to the north eastern villages of the Punakha valley and enjoy meeting farmers and observe activities in the agricultural lands.
Breakfast, Lunch and Dinner
Day 05: Explore around Punakha.
We begin the day with an eassy day hike ( 1 to 2 hours for the round trip) to the glorious Khamsum Yulay Namgyel Temple located north of the valley, the viewing platform on the roof of this magnificent landmark offers picturesque view of the northern Bhutan Himalayas and the panoramic valley of Punakha to the south.
After a nice picnic lunch, we spend the afternoon rafting on the mochu river (female river) Punakha river or the Pho Chu ( male river), with its approx 16 km course with about 15 rapids of class 2-4 is the most popular for rafting in Bhutan followed by Mo Chu river with 10 Km course comprising around 10 rapids with 2 – 2+ rapids. We will be rafting at either one of the courses depending on the prevailing conditions.
Breakfast, Lunch and Dinner
Day 06: Ride from Punakha to Gangtey. Distance: 71 Km
The 71 km ride today is quite challenging owing to the ascent to the black mountains however our back up van will be trailing behind to render support and encouragement along the way. Again, there will be options to transport the bikes from Punakha till the lawa la pass (3300m) and downhill to the valley, the pass is located just ahead of the Gangtey valley (3000m).
We will be arriving at the enchanting valley of Gangtey in the early afternoon.
Breakfast, Lunch and Dinner
Day 07: Biking (15 Km) and walking around Gangtey Valley
In the morning visit the Gangtey Monastery a 16th century monastery which exemplifies the traditional architecture and vibrant buddhist traditions of Bhutan.
We then visit the Crane Information center in Phobjikha valley to learn more about the highly endangered black necked cranes.
We then walk the beautiful nature trail which runs across the roosting area of the highly endangered black-necked crane that flock here each year from November until April.
We will take advantage of todays rest day with a picnic lunch in the picturesque meadows of the Phobjikha valley.
We will be spending the night at a farm house to enjoy some charming local hospitality, this is also an ideal opportunity to observe the local way of living in this remote part of the country.
Breakfast, Lunch and Dinner
Day 08: Ride from Gangtey to Wangdi (Ride and Hike). Distance: 60 Km
In the morning we retrace the route to the tranquil and picturesque Dochula Pass and then onto Thimphu for the overnight. The ride today will be the toughest on the route due to the climb until the Dochula Pass, our support vehicle/tour vehicle will also trail behind in case of any support requirement.
Breakfast, Lunch and Dinner
Day 09: (Ride/drive) from Wangdi to Paro and sightseeing in Paro.
In the morning we drive the scenic route to the Dochula Pass into Paro valley. From Dochula there will be options available to either ride the 55 Kms or drive to Paro
In the afternoon, we explore the Paro Rimpung Dzong (fortress/castle) built in 1646 by Shabdrung Ngawang Namgyal the first spiritual and temporal ruler of Bhutan, the Dzong houses the monastic body and district administration En-route, we take the traditional walk (15 mins) route across the 16th century cantilever bridge.
Visit the National Museum Explore the National Museum.It houses some of the finest specimens of arts including masterpieces of bronze and paintings. The Museum with its extensive collections interprets history and culture of Bhutan through its exhibits.
Evening at leisure or enjoy a stroll in town.
Breakfast, Lunch and Dinner
Day 10: Hike to the Tigers Nest Monastery 5 Hour hike & Sightseeing.
Tiger Nest Monastery; one of the most venerated places precariously perched on the side of a cliff 900m above the Paro valley floor. Guru Rinpoche arrived at this cliff face on a back of tigress and meditated here in a cave, hence it is called 'Tiger's Nest'. This site has been recognized as the most spiritual of sites in Bhutan and many eminent saints have meditated in this area. We will have lunch and refreshments at the cafeteria which offers an imposing view of the cultural landmark of Tigers Nest.
We will also have adequate time for leisurely stroll in the Paro market area in the late afternoon & enjoy an evening at a local tea house or a café or spend some quiet time at the hotel .
Breakfast, Lunch and Dinner
Day 11: Transfer to International Airport for final departure.
We check in two hours prior to flight departure to ensure the best seats on board, best suited to take in the panoramic view of the Himalayas.
We bid you goodbye and happy travels.
Your tour ends.
Gears and Equipment
All you need to bring for this Tour is simply some comfortable clothes; there is no any requirement of  special equipment on the tour. However for your ease, the following gives you the general idea about the personal items you need to manage for the trip. The personal items referred here are optional and depends upon your choice. The most important factor to be considered while choosing the equipments and your Bag-pack, is the time of the year you are travelling.
In a tour, the vehicle transfers all the heavy items and equipments. But the Personal belongings of the clients which is required at any moment like money, water bottle, camera, suns cream and toilet paper etc. should be carried by yourself. It is therefore advisable that you pack the personal belongings into your daypack.
If you are going bhutan from kathmandu, we will supply complimentary water and wind proof duffel bag, which you can use on the tour for your shopping purpose. The duffel bag is yours to keep.
List of Recommended Equipment
Daypack
Personal bike saddles / accessories if required for your own convenience
Down Jacket (Optional/You can rent one if you really need)
Warm wool or synthetic hat that cover your ears (only if you are travelling in the cold season i.e January, February, October, November and December)
Goggles or sunglasses for sunbeam, dust and wind.
A neck warmer is another piece of gear for extra warmth if you feel you will need it and is for cold season i.e January, February and December.(optional)
1 pair warm gloves (This is required if you are travelling in cold season i.e January, February and December).
T-shirts (3).
Waterproof (preferably breathable fabric) shell jacket (preferable if you are travelling in rainy season from June to September.)
1 pair cotton pants (loose jeans/khakis), 1 pair shorts.
2 pairs lightweight long underwear/thermals (if you are traveling in winter January, February and December).
2 pairs of liner socks, synthetic or capilene.
1 pair light camping shoes or sneakers.
1 pair sandals (Optional).
Medicines and First Aid Kits
Please note our guide will also carry the first aid kit bag during the trip. However we still recommend you to bring your personal first aid kit as well
Riding Kit
Helmet ( available in Bhutan)
Bike gloves
Biking glasses
Padded cycling shorts (to last at least 5 rides)
Long-sleeved base layers
Short-sleeved and long-sleeved cycling tops
Biking / Hiking socks (at least 5 pairs)
Hat and non-biking gloves
Head torch
If you're bringing your own bike
Brake pads specific to your bike x 2 sets
Rear mech hanger specific to your bike x 2
Bottle of dry lube
Four inner tubes, or spare bottle of fluid for
tubeless tyres (two for each tyre)
Quick link to suit your chain
For 29" wheels bring extra spare tubes; these are more difficult to find in Bhutan, if you are bringing your own bike
Please note: If you're bringing your own bike, you must make sure that you have it professionally serviced before the trip, and ask your bike shop to use dry lube on your chain.
Miscellaneous, but Important
Passport
Airline ticket (Please make a copy and leave on at our office in KTM just in case if you need to change the date of your).
Durable wallet / pouch for travel documents, money & passport.
Lip balm. At least SPF 20, 2 sticks. A string taped to the stick is helpful, to hang around your neck and some are now being sold with a cord already attached. Handy as it avoids you from having to stop and look for it.
Sunscreen.
Toiletry kit. Be sure to include hand wipes, and liquid hand sanitizer
2 bandanas.
This list is only a guide. While you are required to bring everything on this list, there are numerous options, brands, and versions of each piece of equipment. Use your experience and the listed features to find the best gear for you.
Trip Map / Elevation
Download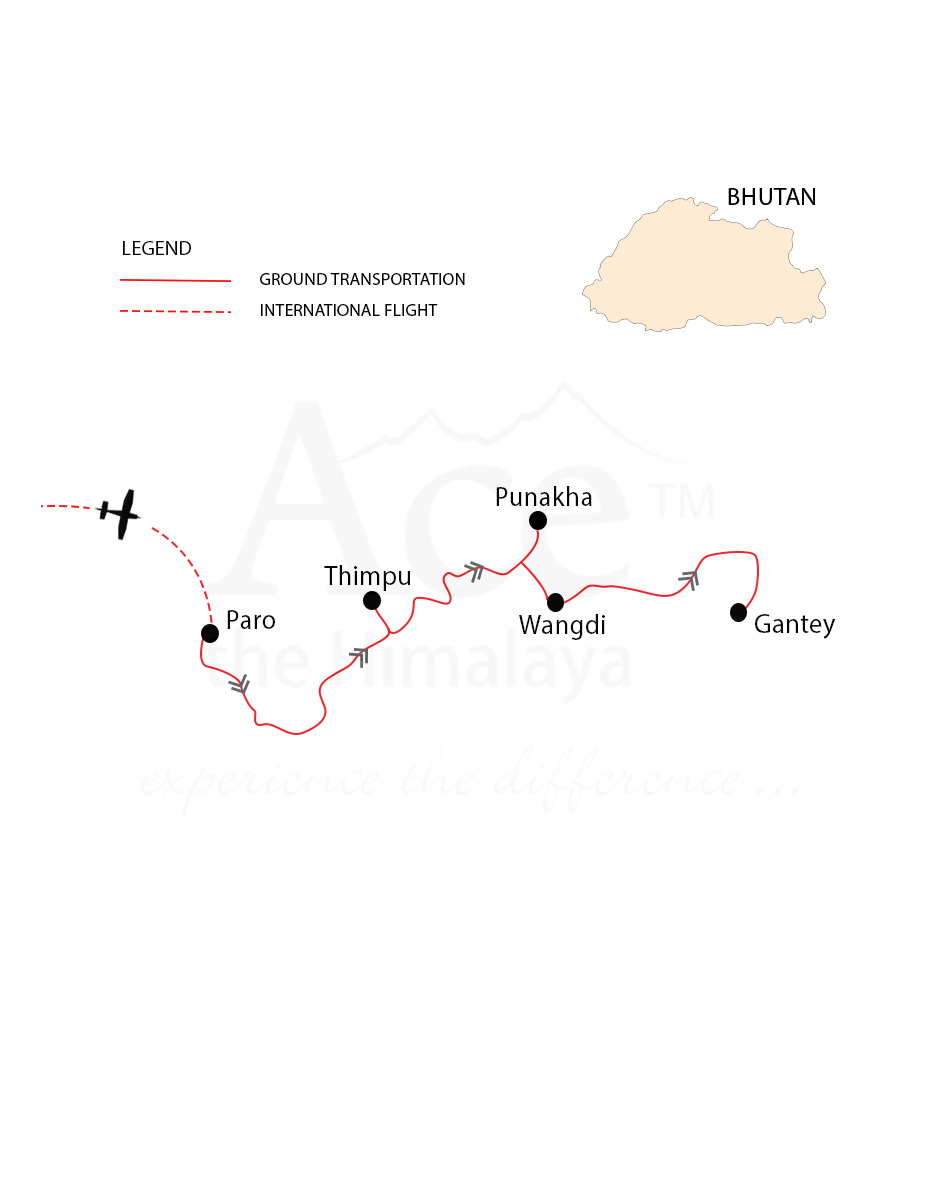 FAQs for Bhutan Multi Sports Tour
General
Why trek with Ace the Himalaya?
Ace has a reputation for successfully leading treks with knowledgeable leaders and staff taking care of all your travel needs. We are a certified sustainable travel company that also endorses the idea of giving back to the community by participating in various philanthropic activities. Here are 17 reasons why you should choose Ace the Himalaya for your next adventure!
What essential documents do I need to bring with me on tours?
Here are some documents that you will need to carry with you:
Valid Passport – must be valid for up to 6 months after you return from your tour (Keep a separate photocopy)
Travel insurance (Keep a separate photocopy)
Cash and Traveller's Cheques (Keep numbers and proof of purchase separately)
Flight tickets
Emergency contact numbers for T/C's, banks, insurance, family contacts
What type of bike is required for this trip and what brands are available for hire?
Either hard-tail or full suspension mountain bikes will do fine. In some parts of the routes, you can take downhill shortcuts for which we strongly recommend full suspension bikes. (Your guide will let you know if there are any shortcuts you can take.)
All the bikes we provide are properly serviced and fully functional standard hardtail rentals best suited for the trips. We provide full suspension bikes (if preferred by our clients) for an additional charge.
Trek: 4300D and Trek Marlins backed with spare parts and bike mechanic.
Can I bring my own bike and accessories?
You definitely can! It is highly recommended that you have your bike thoroughly serviced before coming on the trip.
Most airlines are quite used to people travelling with bikes, and if a bike is properly boxed and within the luggage allowance, it is a relatively hassle-free experience. On arrival at your destination you will be met by your leader, and you will just need a baggage trolley to take your bike as far as the transfer vehicle.
Make sure the bikes are properly packed. You may do it yourself (here's a guide or if you're not sure, you could have a local bike shop pack it for you).
We take every care to ensure your bike is well treated, but it is normal for a bike to sustain minor scratches, resulting during the daily ride as well as loading and unloading from support/transport vehicles.
Weather and Temperature
What is the best season for this tour?
February,March, April, May,June, July, August, September and October. The downhills on the bike rides gets cold in November, December and January
Arrival and Visas
Do I need to obtain VISA for Bhutan?
We will handle the visa procedures for you. The Govt. will sanction the VISA only after the receipt of full payment in advance. The visa fee is included with our tour price. Actual Bhutan VISA will be stamped in your passport on arrival on Paro airport. Without visa clearance number, tourists cannot board the flight or enter the country.
The Ministry of Foreign Affairs forwards a copy of this visa clearance to the concerned Druk Air stations and other entry points; we also fax a copy of the visa clearance document to our clients for their reference. While the actual visa is stamped on arrival, the initial visa clearance is also required at the time of issuing Druk Air Tickets.
All you need is to carry 2 copies of original passport-sized photographs, which are required on arrival in the country. Please e-mail us the clear color copy of the passport for the visa procedures.
Will somebody come to pick me up at the airport upon my arrival?
Yes, our airport representative will be there to greet you at the airport. S/he will be displaying a sign board with your name on it at outside the airport terminal. Upon arrival, you will be transferred to your hotel by our tourist vehicle.
Payments and extra costs
How much additional money do I need per day?
It depends on your spending habits. Generally, all the foods, accommodation and hot drinks are included in the price. You can allocate USD 10 to USD 15 for chocolates and a few drinks during the trip.
Can I use credit cards in the places visited in tour?
Yes, credit cards are accepted at all the hotels however we suggest you to bring along some cash for expenses personal in nature such as shopping, bar bills etc.
Who Can Participate?
How fit do I have to be for this trip?
This is a moderate level trip and can be enjoyed by most people however a fair amount of fitness will be required so that you can enjoy the trip even more. Our sweeper vehicles will always be trailing behind on the rides should you choose to ride part of the journey and ride in the vehicle so that you can minimize the exertion and maximize the enjoyment.
Accommodation
What sort of accommodation can I expect in Paro, Thimpu, Punakha, Gantey and Dochula?
The hotels are of deluxe 3 star standard while the homestay in Gangtey is government approved. All accommodation we use are carefully selected based on our own experience, feedback from past guests, quality of accommodation/rooms/bathrooms, quality of meals/restaurant, convenient location/views, efficient services, traditional ambiance/architecture and other facilities such as WiFi access/room amenities/heating/en-suite bathrooms/toilet, etc.
What sort of food can I expect?
Most of the restaurants serve Bhutanese, Indian, Chinese and Continental cuisine with plenty to choose from. If you have any special dietary requirements please advise us in advance so that we can make the necessary arrangements.
I'm a Vegeterian, is that a Problem?
No problem at all because our restaurants and hotels will serve a variety of vegetarian and meat based meals. We always recommend our guests to enjoy vegetarian meals to avoid food poisoning, eating heavy meals and non- vegetarian meals at the high altitude is not really safe for the stomach.
Will it be possible to get any clothes washed along the way, to enable load to be kept as light as possible?
Yes, all the hotels we will be staying at has laundary facilities available. However, please be sure to check the delivery time before you handover your laundry.
What opportunities will I have for shower along the trek?
There will be cold and hot shower facilities available 24X7 at all the hotels. We will also be enjoying a traditional hot stone bath at the farmhouse in Gangtey.
Can I charge my digital camera or other equipments on my trip?
Yes, all the places we will stay have electrical sockets. The voltage rating in Bhutan is 220V+
Health and Safety
Is Ace the Himalaya's staff insured?
Our company insures all our trekking staff members, including guides, cooks, Sherpa, and porters. Please browse through our legal docment page to view insurance details.
What immunizations will I need?
No vaccinations are compulsory for traveling in Bhutan but we do recommend you are covered for diphtheria & TB, hepatitis A, hepatitis B, malaria, typhoid, polio and tetanus.
If you have any pre-existing medical conditions which might affect you on tour, you make these known to your tour leader and Ace the Himalaya at the time of your booking.
Practical Matters
What is your cancellation policy?
Notice should be provided 20 days before the trip start date in case of cancellation. The trip can be canceled for justifiable reasons. Once the trip is canceled, a fee of 30% of the trip cost is retained for administrative costs.
However, the trip amount is entirely non-refundable if the cancellation is not made before the 20 days as per our terms and conditions. For submitting a claim to your insurance company after the cancellation, we can assist with documentation such as a receipt of monies paid. Refund will not be provided for unused accommodation in case of trip cancellation caused by personal reasons/sickness/weather.
More information about our cancellation policy can be found here in Terms and Conditions page.
Do I need to tip my guide and porters? How much would that be?
This is a difficult thing to gauge. We have seen everything from USD 20 to USD 1000 per person for guides and porters. Tipping is not required, but a small gesture of thanks to your guides and local porters thanks for their help. The level of the tip should reflect the level of satisfaction from and personal involvement with your guide.
Are there any communication facilities during the trip?
Telephones and Internet and international calls are readily available in most of the town for this trip.
Are there any photography restrictions?
You will have many photo opportunities during the trip. Please ask for permission before taking a person's photo. Photography in, monasteries, shrine rooms of Dzongs and religious institutions is generally not permitted, but outdoor photography is. To be sure when visiting such places, you may consult with your guide just to make sure. Carry plenty of films and batteries. Photo shops in Bhutan do not sell equipment or accessories.
Can I add extra days to my trip?
No, because we can't change your Druk air flight once it is booked.
Is there a minimum and a maximum number for your groups?
We cater to all group sizes, while maintaining the field staff ratio to give you the best quality and experience.
Transportation and flights
Do we book our international flights and Druk air flights?
Yes, you need to book your own International flights. We are a local agent and it would cost you significantly higher to book through us. Please find more information in the International Flight page.
Druk air is the only airline to and from Bhutan. We can ebook the Druk air flight to and from Bhutan and e-mail you the e-ticket.
Druk air flight cost is not included in the trip price. Druk air flights cost are different as per the flights sectors that you are taking. Druk air offer flights from following location. We recommend you to book your flight to Bangkok as they have every day flight to Paro and from Paro as well.
Please let us know which route is more convenient to you, the cost of the flights are as below. Please contact us for the up-to-date Druk air flight rate.
Bangkok – Paro – Bangkok = US$890
New Delhi – Paro- New Delhi = US$875
Calcutta – Paro- Calcutta = US$510
Kathmandu – Paro- Kathmandu = US$520
Bangkok – Paro – Kathmandu = US$ 860
Bangkok – Paro – New Delhi = US$ 875
What mode of transportation do you use?
Ace the Himalaya is all about providing you with local insights, lifestyle as well as adventure. Using a variety of private transport is an integral part of our Himalayan tours, enhancing the experience!
We use private tourist vehicles for sightseeing, city tours and pickups; whereas we use the best 4WD SUVs as our support vehicle. These vehicles are extremely sturdy, spacious and reliable and they make the journey as comfortable as possible. For larger groups, we also use supported trucks to carry your luggage.
Are there any weight restrictions on Druk air flights?
Druk Air allows only up to 20 kgs of luggage per person, after which the excess baggage charge is USD 5 per kg.
I want to extend my holiday, any recommendations?
Yes, you can extend your holiday. Ace the Himalaya offers many options and alternatives for your holiday extension. For more information, you can visit our Day trips pages.
Traveler Reviews
These full and frank reviews are from travelers who have traveled with Ace the Himalaya previously. The reviews and experiences shown here are from reputable travel websites like TripAdvisor, Google, Facebook, and Trust Pilot, etc.
What makes this trip different ?
Our CSR with Sambhav Nepal
Ace the Himalaya believes in giving back to the communities that surround and support tourism in Nepal. Ace provides logistical support and, if needed, cash donations to the projects of Sambhav Nepal (a local NGO).
Sambhav Nepal and Ace work together to plan volunteer programs that will bring in foreign volunteers and make use of their enthusiasm, time, and talents in a variety of projects.
Sustainability and Responsible Tourism
Of the few Travelife Partners in Nepal, Ace the Himalaya is one. We respect the procedures for sustainable tourism. Our excursions are socially and environmentally conscious, leaving the lowest possible impact in the Himalayas.
About 80% of Ace the Himalaya's staff members are natives of the regions where our trips are organized. It is one of our sustainable and responsible efforts to help local communities, support small businesses, and promote regional culture and way of life.