Kathmandu Cultural Heritage Tour - 3 Days
Recommended by 99% of travelers
A short trip that takes you on a discovery of medieval kingdoms - Kathmandu & Bhaktapur.
Difficulty
Activity
Cultural Tour & Sightseeing
Max. altitude
1,400 m/4,593 ft
Best season
Jan-Jun, Sep-Dec
Trip Highlights
Discover UNESCO World Heritage Sites.
Explore the local market Ason and tourist hub Thamel.
Walk through the cobbled street of a royal square-Bhaktapur Durbar Square.
Complimentary farewell dinner with cultural performance.
Trip Overview
Embark on an amazing three-day Kathmandu Cultural Heritage Tour and experience Nepal's rich history like never before. Nepal is famous for its wonderful cultural treasures, and Kathmandu, the capital city, is a special place filled with ancient temples, peaceful monasteries, and charming old cities.
During this journey, you'll get to explore two medieval cities: Bhaktapur and Kathmandu (also known as Basantapur). Imagine walking down streets that have seen centuries of stories unfold, a real-life time machine taking you back in time.
One of the most exciting parts of this adventure is visiting the majestic royal Durbar Square, built long ago by wise Malla kings. As you walk through this square, you can almost feel the presence of ancient rulers and their grand palaces.
But that's not all – get ready to discover some truly magical places. Pashupatinath is like a sacred haven, where people have been coming to worship for ages. The prayers, the rituals, and the peaceful surroundings will fill your heart with a sense of wonder.
Boudhanath, a massive and awe-inspiring stupa, stands tall, watching over the city with its big, kind eyes. This place has an incredible power to bring people together in harmony and reflection.
Imagine climbing up to Swoyambhunath, known as the 'Monkey Temple', situated on a hill. From there, you'll see a breathtaking view of the city. It's like reaching for the sky and connecting with the spirit of this wonderful land.
And don't miss out on the local life! Ason Bazaar, a bustling market, used to be a key spot for traders traveling along an ancient salt route. Today, it's a vibrant place where you can meet friendly locals and feel the heartbeat of Nepal's past and present.
Your journey ends in Thamel, a lively and colorful neighborhood right in the heart of Kathmandu. Here, cultures from around the world come together, creating an atmosphere of excitement and unity. It's a reminder that we're all part of one big, beautiful world.
So, get ready for a fantastic adventure that takes you through Nepal's history, spirituality, and vibrant local culture. As you explore Bhaktapur, stand in awe at Durbar Square, and feel the magic of Pashupatinath, Boudhanath, and Swoyambhunath, you're not just a tourist – you're a part of Nepal's incredible story.
Short Itinerary
Day 01 :
Arrive at Tribhuvan International Airport in Kathmandu (1,400 m) and explore the local market. Overnight at a Hotel.
Day 02 :
Guided Sightseeing in Kathmandu & Bhaktapur. Overnight at a Hotel.
Day 03 :
Transfer to the International Airport for your Final Departure.
Departures & Availability
Our groups are small with maximum 14 people. We create groups of independent travelers, friends and families which maintains close interpersonal connection, engage more and get into depth of the journey. Choose a date from the calendar to reserve your spot.
We do not have fixed departure date for this trip. This trip can only be organized upon your request. There is an option of private and tailor-made journey best suited for you, your family and friends. We have price discounts according to the group size, the bigger your group, the bigger your group discounts. We allow complete flexibility on your departure date, please choose your preferable date.
Price Includes
All (international and domestic) airport transfers on a tourist vehicle

Twin-sharing/double accommodation in a 3-star hotel for 2 nights in Kathmandu including breakfast (Private room accommodation can be organized at an extra cost)

All ground transportation by private tourist vehicle

Guided city tour in Kathmandu

Ace the Himalaya's licensed English-speaking guide
The required number of ground staff during the tour like Driver, Helpers etc.
Wages, accommodation, meals, gear, insurance, and medications for all staff
Entry permits and fees for all temples, parks, monasteries, and cultural and historical sites.
A farewell dinner on the last night in Nepal
All administrative expenses and government taxes
Price Excludes
International flight fare and airport departure tax

Lunch and dinner in Kathmandu– about USD 15 to USD 20 per person per day.

Any beverages including bottled and boiled water
Tips for hostess and driver. (Tipping is expected).
Nepal Entry Visa (Visa can be acquired easily after your arrival at Tribhuvan International Airport in Kathmandu with a fee of USD 50 for 30 days visa and USD 125 for 90 days visa)
Your travel insurance.
Any expenses other than the Price Include section
Kathmandu Cultural Heritage Tour Itinerary
Expand All
Day 01: Arrival at the Tribhuwan International Airport in Kathmandu and explore the local market
Max. Altitude:
Kathmandu (1,400 m)
One of our officials will greet you at the Tribhuvan International Airport, Kathmandu, upon your arrival. We will take you to the hotel in our private tourist vehicle. Pre-trip meeting will be done and you will meet with your trip guide. Make sure to confirm your queries about trekking in the mountains.
After checking in at the hotel and a brief rest our guide will take you for a walk through Thamel (a popular tourist hub) and Ason, a bustling bazaar that was once an important stopover for traders traveling along the old Tibet trade route. Shop for curios and souvenirs.
Note: If you arrive after 4 pm, there will be a briefing about the trip with our guide. It will be a short pre-trip meeting. Make sure to confirm your queries about the trip. If you arrive before 4 pm, a pre-trip meeting will be organized at our office on the same day. Meet and greet with our trip guide.
Be sure to bring the following documents to the meeting; two copies of passport-sized photos and a readable copy of your travel insurance policy
Read more
Day 02: Guided Sightseeing in Kathmandu and bhaktapur
After an early breakfast, our guide will take you to the famous UNESCO World Heritage Sites .
Swoyambhunath (Monkey Temple)
Situated on a hill, Swoyambhunath is both a Buddhist and a Hindu Temple. The origin of Kathmandu valley is closely linked to this temple. Also known as Monkey Temple, the sprawling tree-filled grounds of the temple is home to many monkeys.
Pashupatinath Temple
Pashupatinath Temple is one of the holiest Hindu shrines in the world. Dedicated to Lord Shiva, the temple lies 5 kms east of the city center. The richly-ornamented pagoda houses the sacred Linga, or phallic symbol, of Lord Shiva.
Boudhanath Stupa
Boudhanath Stupa is an important Buddhist pilgrimage site. The white domed stupa stands on a giant mandala. Built during the 5th century, Boudhanath is an important centre of Tibetan Buddhism.  Legend has it that the bones of Kasyapa Buddha(one of Buddha's incarnations) lies at the base of this stupa.
Bhaktapur Durbar Square
Bhaktapur Durbar Square lies in Bhaktapur, one of the three medieval cities in Kathmandu Valley. The royal square, which was built by the Malla royals, houses some of the best examples of ancient Newari art and architecture.  The five-tiered pagoda temple  Nyatapola, Palace of 55 Windows, Vatsala Temple, Bhairavnath Temple, Duttaraya Temple, Pujari Math, Golden Gate etc are all cultural treasures of this beautifully preserved UNESCO World Heritage Site.
Before departure, enjoy a complimentary farewell dinner at a fine restaurant.
Breakfast, and farewell dinner included
Day 03: Transfer to the International Airport for your Final Departure
It's the end of our exciting Kathmandu Cultural Heritage Tour. Today we conclude our Kathmandu cultural heritage tour. One of our airport representatives will accompany you to the International Airport for your flight back home. We bid you farewell, and hope you'll travel to Nepal again
Gears and Equipment
All you need to bring for this tour is simply some comfortable clothes. There is no requirement for special equipment on the tour. However, for your ease, the following gives you a general idea about the personal items you need to manage for the trip.
The personal items referred to here are optional and depend upon your choice. The most important factor to be considered while choosing the equipment and your backpack is the time of the year you are traveling.
We will supply complimentary water to hydrate yourself during the tour.
Therefore, this list is only a guide. You can use the list as a reference. There are numerous options, brands, and versions of each piece of clothing and equipment. Use your experience and the listed features to find the best gear for you. Some of the above equipment can be easily found in stores in Kathmandu.
(Please note that winter wears are only necessary if in case you're traveling in the month of Nov – Dec)
General
Rucksack bag or suitcase
Day pack Warm wool or synthetic hat that covers your ears
A pair of pair warm gloves
T-shirts, cotton pants (loose jeans/khakis), shorts, and a waterproof shell jacket (preferable if you are traveling in the rainy season from June to September)
Lightweight long underwear/thermals
Light camping shoes or sneakers
Sandals/flip-flops (Optional)
Sunglasses
Neck gaiter
Daypack (35-45 liters recommended) with rain cover
Wool or technical fabric liner gloves
Liner socks (optional such as silk)
Medicines And First Aid Kits
(Please note our guide will also carry the first-aid bag during the tour. However, we still recommend you bring your personal first-aid kit as well.)
Ibuprofen for general aches and pains
Immodium or Pepto Bismol capsules for upset stomach or diarrhea
One small-sized first-aid kit with blister treatments such as mole skin, band-aids, some waterproof tape, anti-infection ointments, etc
Other Essentials
Passport
Extra copies of passport-sized photos
Reusable water bottle
Toiletry kits
Lip balm
Sunscreen
Waterproof/dry bags for carrying important documents and money
Airline tickets (Please leave a copy at our office in Kathmandu. This can be useful if there is a change in the date of the flight.)
Optional
Once in Nepal, if you have the time, you can purchase supplies you need while touring. Thamel, Kathmandu's tourist hub, is home to many shops where you can get a variety of reasonably priced equipment.
Power bank or extra batteries
Cameras and mobile phone
Binoculars
Cards/book
Important Information
We give you a free duffel bag and baseball cap during your pre-trip meeting in Kathmandu. The duffel bag will be used to pack your touring supplies.
This list is only a guide. You can use the list as a reference.
There are numerous options, brands, and versions of each piece of clothing and equipment.
Use your experience and the listed features to find the best gear for you.
Some of the above equipment can be easily found in stores in Kathmandu.
Note: Some clothing, especially form-fitting, figure-hugging items made of elastic material (like yoga pants), may offend locals. Therefore, if you choose to wear these clothes for comfort, please make sure to wear something over them.
Trip Map / Elevation
Download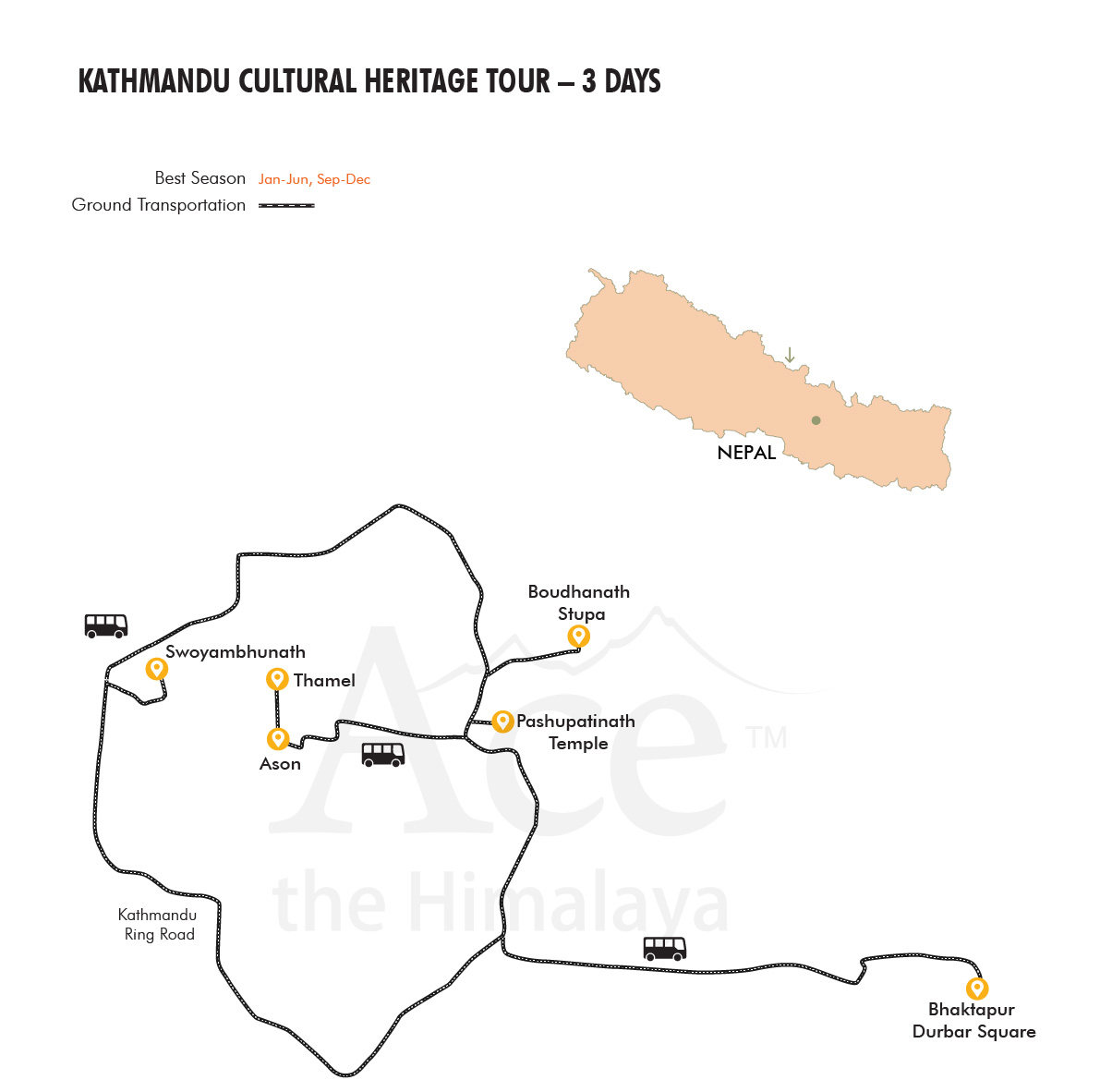 FAQs for Kathmandu Cultural Heritage Tour
General
Why travel with Ace the Himalaya?
Ace has a reputation for successfully leading treks with knowledgeable leaders and staff taking care of all your travel needs. We are a certified sustainable travel company that also endorses the idea of giving back to the community by participating in various philanthropic activities. Here are 17 reasons to hike with Ace the Himalaya.
Is Nepal open to travelers following the Covid-19 pandemic?
Indeed, Nepal is entirely open. Travelers are welcome in Nepal without any restrictions. Arriving travelers can obtain a visa on arrival at the Kathmandu airport as well.
What are the conditions to travel to Nepal post Covid-19?
Traveling to Nepal is now hassle-free. You don't need a vaccination certificate or negative PCR test, but check with your airlines and transit countries for any specific requirements.
We suggest you look at the Nepal immigration site https://www.immigration.gov.np for the most up-to-date information.
What additional documents do I need?
Two passport-sized photos (2×2 inch) to give to our office staff
A copy of your international flight ticket to give to our office staff
A copy of travel insurance to give to our office staff
Do we book our own international flights to and from Nepal?
Yes, you need to book your own international flights. We are a local agent and it would cost you significantly higher to book through us. Please find more information in the International Flight page.
Can the guide speak English?
Our guides are fluent in English. All the guides that we assign speak and understand English. They'll share with you the fascinating stories, traditions, and folklore of the mountains. The guides will also help you communicate with the locals since many shopkeepers and hosts of teahouses don't speak English.
Is hiring a guide necessary?
You can tour without a guide. A guide is available to help you with your sightseeing by providing knowledge and insights about the locations you visit. Our tour leaders are qualified experts.
When talking about their trip, our guests frequently remark on how much fun they had and how crucial their guide was to making it successful.
Weather and Temperature
What is the best season for this trip?
The best season for this tour is anytime between January to June and September to December.
What kind of weather and temperature can I expect in Tour?
It depends on the season you're traveling. During winter (December to February), it is colder at night and relatively warmer during the day, with the temperature ranging from 4°C at night to 22°C. Between March and May, the weather stays perfect as the temperature averages 25°C during the day. From September to December, following the monsoon, the temperature gets cooler and allows for a great time to travel. The average temperature during this season is 20°C. The vehicles and the hotels during the trip will be air-conditioned making your travel very comfortable.
Arrival and Visas
Is it possible to obtain a visa for Nepal upon arrival at the airport?
Yes, you can obtain a Nepal visa upon your arrival at the airport. There are kiosks in the arrival hall that you use to complete the necessary forms.  The cost is USD 30 for a 15-day tourist visa, including numerous entries, or USD 50 and USD 125 for a 30-day or 90-day tourist visa including numerous entries respectively. You should carry cash (USD) with you to pay your visa fees quickly and easily, as digital payments are frequently unavailable.
Who will come to pick me up at the airport upon my arrival?
Our staff will be waiting for you outside the airport terminal with our signboard (Ace the Himalaya). You will be accompanied to a hotel in a private tourist vehicle.
Payments and Extra Costs
How much additional money do I need per day?
Typically, USD 50 to 100 a day will be enough to buy lunch, dinner, chocolates, and a few drinks. Expenses other than this depending on your spending habits.
Is it possible to reserve a trip now and pay a deposit later, or do I have to pay a deposit at booking/reservation?
When you book, you must pay a 30% deposit to secure your itinerary. The remaining balance can be paid upon your arrival at Kathmandu or before arrival. US Dollars cash and credit cards (Visa, Master, and American Express) are accepted once in Nepal. Please note a 4% transaction fee will be added for all credit card transactions.
How do I pay the remainder of my balance upon arrival in Kathmandu? US Dollars cash or credit card?
You can make payments via US Dollars cash or credit card (Visa, Master, and American Express). A 4% transaction fee is added if paying with a credit card. Thus, we encourage you to pay with USD cash if you are planning to pay upon your arrival in Kathmandu.
We prefer you pay with larger bills (USD 50 or 100).  Please note that the cash should not be older than 2009 and in good condition, as banks do not accept worn, torn, or crumpled bills.
Can I use credit cards in the places I visit?
ATMs are available in Kathmandu. Major credit cards are accepted in all places but you need to pay 4% extra as bank levy, which might make cash more preferable.
How fit do I need to be for this tour? Is this trip for me?
This cultural tour is suitable for any kind of person, no previous experience is required.
Physical Fitness
How fit do I need to be for this tour? Is this trip for me?
This cultural tour is suitable for any kind of person, no previous experience is required.
Tour Preparation and Packing
What are the procedures after I make my deposit?
After making the deposit, one of our staff will email you for further information. We will require a copy of your passport photo page and your arrival/departure flight details. We will also provide you with additional trip information.
What are the necessary items that I should pack for my trip?
You can find the necessary items to pack for the tour in the Equipment Section.
What about my passport, medications, and belongings?
Bring copies of your passport, insurance papers, and other essential items in your carry-on during your flight. If you need to take medications daily, keep them in your daypack with your other essential possessions.  You can store other non-trekking essentials in the office of Ace the Himalaya or at the hotel in Kathmandu.
Accommodation
What kind of lodging is available in this trip?
In Kathmandu, we use three-star hotels including breakfast. We use Hotel Thamel House, Gaju Suite Hotel, Hotel Jampa, or comparable-class lodging in Kathmandu.  You can upgrade the accommodation to a five-star hotel for the entire trip for an additional charge.
Is it possible to have private rooms during the trip?
Yes, private rooms can be arranged at an additional cost.
What sort of food can I expect in the tour?
Our package includes breakfast at the hotel. Any other meals/food items including; lunch and dinner, are to be paid for by yourself.
You'll have varied options for lunch and dinner as many restaurants in Kathmandu provide Continental, Chinese, Mexican, and American-based cuisines with some local influences.
Can I charge my electronic equipment during the trip?
These facilities are available in all the places in your hotel. Remember to bring your adapters!
Will it be possible to get any clothes washed/laundry?
Laundry service is easily available at your hotel and there are many laundry stores in Kathmandu.
Please note that laundry service is not included in the package price.
Is the water fine to drink? Do I need to bring purifying tablets/filter?
Bottled water is available in all places. If you wish to drink normal water, you are suggested to use purifying aid, which you need to bring with you.
Health and Safety
Do your guides have Tour guide certificates from the Hotel Management and Tourism Center?
Yes, they have all received a 45-days training from the Hotel Management and Tourism Center in Nepal. The guides have also received high altitude first aid training from KEEP (Kathmandu Environmental Education Project). Please check Ace the Himalaya's team page
Is Ace the Himalaya's staff insured?
Our company insures all our trekking staff members, including guides, cooks, Sherpa, and porters. Please browse through our legal docment page to view insurance details.
What vaccinations will I need?
COVID-19 vaccination (Negative PCR report in case of unvaccinated travelers.)
Typhoid vaccination is recommended but not required
We suggest you have a dental checkup before your trip and know your blood type. It is helpful if you inform us of any medical condition that is relevant so we may convey this information in the event of an emergency. Ace the Himalaya keeps your medical condition confidential unless treatment is necessary.
How fit do I need to be for this tour? Is this trip for me?
This cultural tour is suitable for any kind of person.
Practical Matters
What is your cancellation policy?
Notice should be provided 20 days before the trip start date in case of cancellation. The trip can be canceled for justifiable reasons. Once the trip is canceled, a fee of 30% of the trip cost is retained for administrative costs.
However, the trip amount is entirely non-refundable if the cancellation is not made before the 20 days as per our terms and conditions. For submitting a claim to your insurance company after the cancellation, we can assist with documentation such as a receipt of monies paid. Refund will not be provided for unused accommodation in case of trip cancellation caused by personal reasons/sickness/weather.
More information about our cancellation policy can be found here in Terms and Conditions page.
Are there any volunteer projects that we could visit after the tour?
Ace the Himalaya is one of the prime supporters of the social organization Sambhav Nepal. There are several on-going projects in a village called Arupokhari (Gorkha district) which you are more than welcome to visit or even volunteer at. You will be able to gain a different insight into the lives of the people in the hills and also make a difference!
Click here to learn more about our volunteer programs
Is there any communication while we are on tour?
There are telephones and internet facilities available so you can always stay in contact with your family.
Do I need to tip my guide and driver? How much would that be?
Tipping is expected and appreciated. You can tip your trekking guides and driver based on your satisfaction and enjoyment. It is a small gesture of thanks to the field staff towards the end of the tour USD 20 per guide and USD 10 per driver per day is recommended per group, but it is entirely up to your wishes.
Does it cost an extra amount if I am a solo traveler?
If you are a solo traveler and book one of our published dates, there is no additional fee. If you sign up for a private trip or change the trip date from one of our published trip dates, you will be charged an additional fee.
Who else will be joining my touring group?
If there are any, you will be allocated to a touring group. The details of the personal data of your group members cannot be disclosed.
However, feel free to contact us if you have queries about other travelers in the group and we shall give you a general idea of the ages, nationalities, and sex of your group members. Chances are you will be touring with others unless you have booked a private trip.
Can I add extra days to my trip?
Sure, you can add days as per your convenience only you might be charged a little extra for a day's extension.
I want to extend my holiday, any recommendations?
Yes, you can extend your holiday. Ace the Himalaya offers many options and alternatives for your holiday extension. For more information, you can visit our Day trips pages.
Transportation and Flights
Do I need to book my international flights for the travel to Nepal?
Yes, you must book your international flights. We are a local agency and do not make international flight arrangements. You can easily browse through flight tickets in airlines sites to book ones most feasible for you.
What form of transportation do you utilize?
We utilize private tourist vehicles for touring, city visits, and airport pickups. Based on the group size, we use cars, minibuses, or vans. We use 4WD when necessary.
Traveler Reviews
These full and frank reviews are from travelers who have traveled with Ace the Himalaya previously. The reviews and experiences shown here are from reputable travel websites like TripAdvisor, Google, Facebook, and Trust Pilot, etc.
What makes this trip different ?
Our CSR with Sambhav Nepal
Ace the Himalaya believes in giving back to the communities that surround and support tourism in Nepal. Ace provides logistical support and, if needed, cash donations to the projects of Sambhav Nepal (a local NGO).
Sambhav Nepal and Ace work together to plan volunteer programs that will bring in foreign volunteers and make use of their enthusiasm, time, and talents in a variety of projects.
Sustainability and Responsible Tourism
Of the few Travelife Partners in Nepal, Ace the Himalaya is one. We respect the procedures for sustainable tourism. Our excursions are socially and environmentally conscious, leaving the lowest possible impact in the Himalayas.
About 80% of Ace the Himalaya's staff members are natives of the regions where our trips are organized. It is one of our sustainable and responsible efforts to help local communities, support small businesses, and promote regional culture and way of life.