Scenic Mountain Flight (Everest Flight) - 1 Day
Recommended by 99% of travelers
Mountain flights offer the closest possible aerial views of Mt Everest, Kanchenjunga, including many other snow-capped mountains and the Tibetan Plateau.
Start/End Point
Kathmandu
Trip Highlights
Un-obstructed view of Mt. Everest and many other 8000 meters peaks.
Bird's Eye View of Kathmandu Valley
Breathtaking Mountain glaciers
Photograph the landscapes of Nepal
Trip Overview
We recommend a mountain flight for travelers who want to be in the camera range of the highest peaks in the world. Cruising this close to the awe-inspiring massifs of rock and ice is an out-of-this-world experience. The Everest mountain flight offers the closest possible aerial views of Mt Everest, Kanchenjunga, including many other snow-capped mountains and the Tibetan Plateau.
Mountain flight is offered by a host of airlines. We offer mountain flights by Buddha Air, (19 seaters), American Beech 1900D aircraft and Yeti Air (a 19-seater DeHavill), and DHC-6/300 Series Twin Otter. We have found these to offer the best mountain flight services.
All the flights leave Kathmandu between 7.00 and 9.30 a.m. So, our private vehicle will pick you up at your hotel early around 5 to 6 am depending on your flight time. After the flight, the same vehicle will drop you off at the hotel as well.
You can enjoy a seemingly endless chain of snow-capped peaks as you fly above the clouds, over glaciers and lakes, rivers, and gorges from your private individual window. The clear, non-tinted window offers a great opportunity to experience and photograph the aerial view of the Kathmandu valley and the landscapes of Nepal.
Flight Duration: 50 minutes to 1 hour
Departures & Availability
Our groups are small with maximum 14 people. We create groups of independent travelers, friends and families which maintains close interpersonal connection, engage more and get into depth of the journey. Choose a date from the calendar to reserve your spot.
We do not have fixed departure date for this trip. This trip can only be organized upon your request. There is an option of private and tailor-made journey best suited for you, your family and friends. We have price discounts according to the group size, the bigger your group, the bigger your group discounts. We offer a discount of up to 10% for groups of two or more people.
Price Includes
Pick up and drop by a private tourist vehicle.

All our government taxes.

Tourist service charges.
Price Excludes
Any expenses other than the Price Include section
Trip Map / Elevation
Download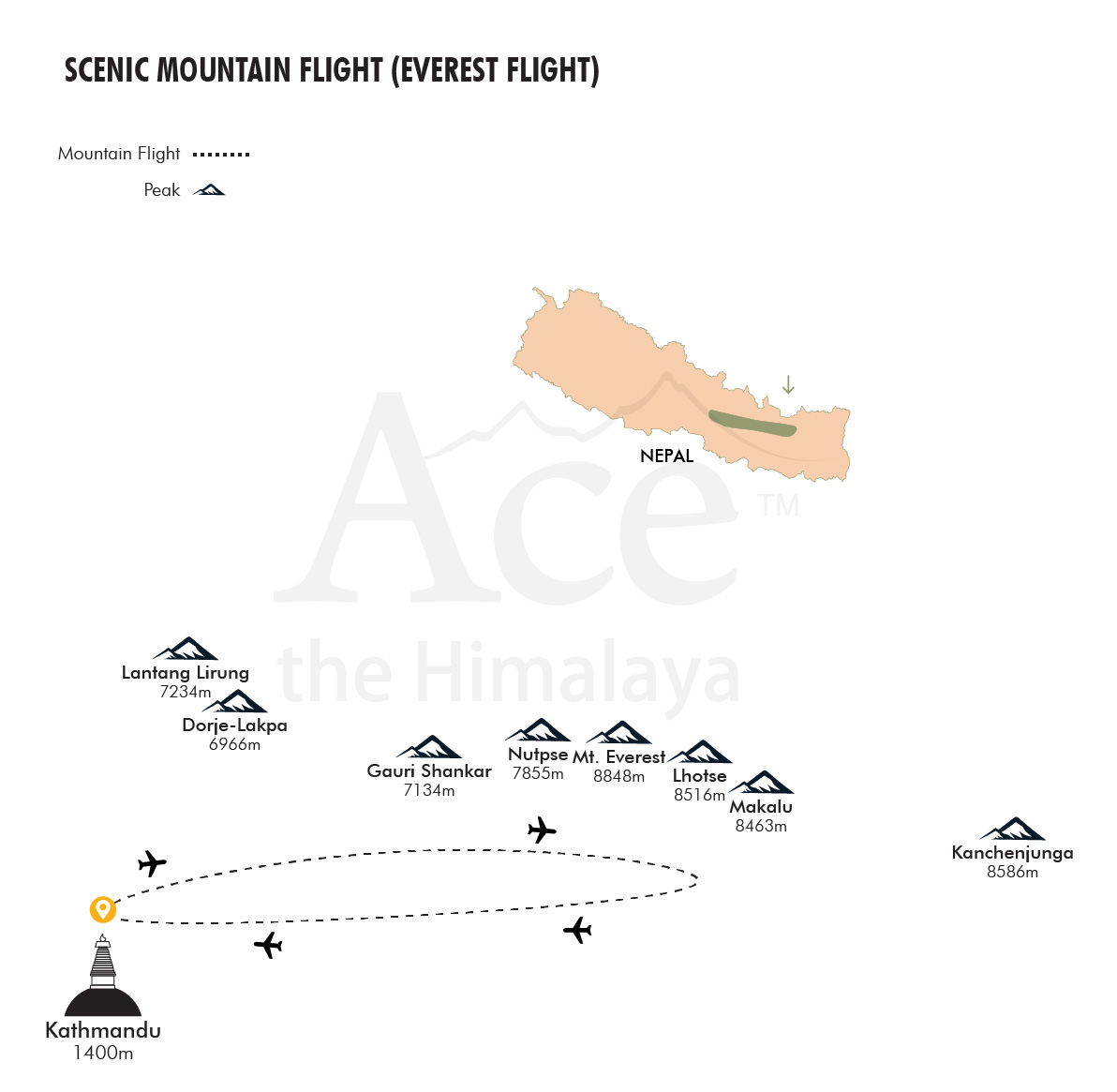 Traveler Reviews
These full and frank reviews are from travelers who have traveled with Ace the Himalaya previously. The reviews and experiences shown here are from reputable travel websites like TripAdvisor, Google, Facebook, and Trust Pilot, etc.
What makes this trip different ?
Our CSR with Sambhav Nepal
Ace the Himalaya believes in giving back to the communities that surround and support tourism in Nepal. Ace provides logistical support and, if needed, cash donations to the projects of Sambhav Nepal (a local NGO).
Sambhav Nepal and Ace work together to plan volunteer programs that will bring in foreign volunteers and make use of their enthusiasm, time, and talents in a variety of projects.
Sustainability and Responsible Tourism
Of the few Travelife Partners in Nepal, Ace the Himalaya is one. We respect the procedures for sustainable tourism. Our excursions are socially and environmentally conscious, leaving the lowest possible impact in the Himalayas.
About 80% of Ace the Himalaya's staff members are natives of the regions where our trips are organized. It is one of our sustainable and responsible efforts to help local communities, support small businesses, and promote regional culture and way of life.