Kathmandu Valley Rim Biking - 8 Days
Recommended by 99% of travelers
Kathmandu Valley Rim biking, A pleasant, fabulous ride takes you to the medieval civilization in and around the vicinity of Bhaktapur, with time.
Difficulty
Max. altitude
2,215 m/7,267 ft
Best season
Jan-Jun, Sep-Dec
Start/End Point
Kathmandu
Trip Highlights
Sightseeing in and around Kathmandu, including the three primary Palace (or "Durbar") Squares in Basantapur, Bhaktapur, and Patan.
Tasting the delicious trout fish (locally farmed) available throughout the route to Kakani.
Sunrise from Nagarkot with a magnificent view of the Himalayas.
Riding along the lush paddy fields and traditional plantation and harvesting.
Visiting ancient temples, Palaces, and villages to experience the local culture and age-old traditions on single trails and jeep tracks.
Sightseeing at Budhanilkantha of Sleeping Vishnu, a Hindu deity.
A relaxing time in the outskirt town of Godavari and visiting the pleasant Godavari Botanical Garden.
A farewell dinner at a typical Nepali restaurant on the day before departure to celebrate our trip's success.
Trip Overview
The Kathmandu Valley Rim Biking offers some great mountain biking trails. We travel along little-used dirt roads away from the hustle and bustle of the city. A delightful world of wooded slopes, small villages, and hidden temples is only a short bike ride away. The views include all of the principal peaks of the Nepal Himalaya – from Makalu to the Annapurnas.  The ride provides some excellent easy to semi-technical single-track riding along old jeep roads.
Throughout the Kathmandu Valley biking trip, we will experience all the sights, sounds, tastes, and smells that makeup life in Nepal's 'Middle Hills'. We will visit the historic cities of Panauti and Bhaktapur, along with the hill resort of Nagarkot with its sunrise view of the Himalayas. We will witness temples, monasteries, and picturesque villages tucked away in the forests along the way. We are so close to the chaos of Kathmandu, yet so far off the beaten tourist trail.
This is a fun but challenging trip, suitable for those with some off-road biking experience since a couple of trails are technical. There are also some long climbs rewarded by even bigger descents. With the mornings spent cycling above a sea of clouds, it would not be an exaggeration to call this a heaven for all levels of mountain bikers!
Short Itinerary
Day 01 :
Arrival at Tribhuvan International Airport in Kathmandu (1,400 m) and transfer to hotel. Overnight at hotel.
Day 02 :
Pre-trip meeting and Drive to Kakani (2,100 m) and ride to Dandaganun (Budanilkantha). Overnight at Shivapuri Retreat.
Day 03 :
Ride to Chisapani (2,215 m) from Budanilkantha. Overnight at a guesthouse.
Day 04 :
Ride to Nagarkot (1,932 m) from Chisapani. Overnight at a hotel.
Day 05 :
Ride to Namobuddha (1,750 m) from Nagarkot via Dhulikhel (1,550 m). Overnight at Namobuddha Resort.
Day 06 :
Ride to Balthali (1,445 m) from Namobuddha. Overnight at a resort.
Day 07 :
Ride to Panauti village (1,504 m) from Balthali and drive to Bhaktapur Durbar Square. Drive back to Kathmandu after sightseeing and lunch at Bhaktapur. Farewell dinner in the evening. Overnight at a hotel.
Day 08 :
Transfer to the International Airport for your Final Departure.
Note
Our standard itinerary might differ slightly due to unpredictable happenings and events out of our control. Factors such as flight cancellation/delay, unfavorable weather, natural calamities, newly implemented government rules, political affairs, health conditions, etc., are possible. In these times, we look for your cooperation and flexibility.
Also, it is best if you book your international flights with spare days in Nepal before and after your trek in case of any flight delays or cancellations due to weather. Moreover, you have options to customize this trip where you can add on a sightseeing tour in Kathmandu, other adventure sports or day trips around the country.
Read more
Departures & Availability
Looking for personalized experience? We organize privately guided journey which is mainly designed to fit your taste and interest. Please fill out the form below to get started.
Price Includes
All (international and domestic) airport transfers on a tourist vehicle

Twin-sharing/double accommodation in a 3-star hotel for 2 nights in Kathmandu including breakfast (Private room accommodation can be organized at an extra cost)

Twin-sharing/double accommodation in a 2 or 3-star hotel in Nagarkot for 1 night including breakfast.

Twin-sharing/double accommodation in a 2 or 3-star hotel in Budhanilkantha, Namobuddha, Balthali, and Panauti village including breakfast.

Twin-sharing/double tourist standard guesthouse accommodation in Chisapani including breakfast.

A farewell dinner on the last night in Nepal

All ground transportation by Private tourist vehicle.

Entry permits and fees for all temples, parks, monasteries, and cultural and historical sites.

Ace the Himalaya's licensed English-speaking mountain biking guide(s). The number of guides and assistant guides is dictated by the group size.

Mountain bike for the number of days riding. The brands include Cube, Trek and Giant hardtail or full-suspension bikes, depending on your choice.

Wages, accommodation, meals, gear, insurance, and medications for all staff
Filtered water in the trails using Katadyn Pocket Water Filter
1 Ace the Himalaya's duffel/kit bag, trekking map, sun hat, and trip completion certificate
A farewell dinner on the last night in Nepal
All administrative expenses and government taxes
Price Excludes
Meals (lunch and dinner) – about USD 15 to 20 per person per day.

International flight fare and airport departure tax
Any beverages including bottled and boiled water
Travel insurance along with high-altitude emergency evacuation coverage
Nepal Entry Visa (Visa can be acquired easily after your arrival at Tribhuvan International Airport in Kathmandu with a fee of USD 50 for 30 days visa and USD 125 for 90 days visa)

Biking attire and other personal gears.

Tips for biking staff and drivers.

Any expenses other than the Price Include section
Day 01: Arrival at Tribhuvan International Airport in Kathmandu and transfer to hotel
Max. Altitude:
Kathmandu (1,400 m)
Our airport representative will be receiving you at Tribhuvan International airport, Kathmandu and s/he will be displaying an Ace the Himalaya signboard outside the airport terminal. You will be then transferred to your respective hotel in our private tourist vehicle.
Day 02: Pre-trip meeting and Drive to Kakani and ride to Dandaganun (Budanilkantha)
Max. Altitude:
Kakani (2,100 m)
We host a pre-trip meeting at your hotel in Kathmandu which includes a final briefing and preparations for the trip. After the meeting, we prepare our equipment and backpack and then ride off to Kakani. We head through the bustling back streets of Thamel and on to good wide undulating jeep tracks alongside the Nagarjun forest. On the way, taste the delicious trout fish farmed locally – which gives the route the name "Trout Highway". We bike mostly uphill to Kakani, which is at 2,100m in elevation. Once at our destination, we enjoy the stunning views of the Ganesh and Langtang mountains.
Overnight at a Guesthouse
Day 03: Ride to Chisapani from Budanilkantha
Max. Altitude:
Chisapani (2,215 m)
The early morning breakfast prepares us for the long day ahead. We head out on the trail from Budanilknatha toward Shivapuri National Park. The paved uphill road will give way to an off-road jeep track once we enter the Shivapuri National Park and then we head towards Mulkharka from where we follow the jeep track up and down into the heart of the national park.
Part of the route is on the Helambu trekking trail. Our final destination is Chisapani which rounds off a challenging day. The village is a mixed settlement of Brahmins, Gurungs, and Sherpas. The village also commands a beautiful view of the large section of the Himalayan range, which emits an ethereal glow in the setting sunlight.
Overnight at a Guesthouse
Day 04: Ride to Nagarkot from Chisapani
Max. Altitude:
Nagarkot (1,932 m)
Early morning after having breakfast, we now move towards Nagarkot riding down the jeep trail 12 km and passing through the jungle and mountains on the North as a backdrop till the next junction where we rest for lunch—descending down up to a jeep trail onto a smooth path for 7km. Riding upwards we reach Nagarkot, another hill station with a splendid view of the Himalayas and sunset in the background.
Day 05: Ride to Namobuddha from Nagarkot via Dhulikhel
Max. Altitude:
Namobuddha (1,750 m) & Dhulikhel (1,550 m)
Today we ride past the narrow roads toward Dhulikhel. Passing through the different jungles and riding downhill, along beautiful small villages head off to Nala from where the road leads you to the historical town of Dhulikhel. From Dhulikhel, we ride on the route to the sacred Buddhist monastery Namobuddha where we stay the night.
Day 06: Ride to Balthali from Namobuddha
Max. Altitude:
Balthali (1,445 m)
Today, we continue biking from Namobuddha to the traditional village of Balthali with ancient architecture of the houses and innumerable temples welcome us. This definitely allows for a great spot for sightseeing. The greenery and the farms make our ride very pleasant. The village of Balthali is tucked away behind the forest of Panauti and is considered as a naturally and culturally rich destination. The cozy hotel you'll be at sports a bird's eye view of green terrace field, massive surrounding hills and faint streaks of the Himalayas to the north.
Day 07: Ride to Panauti village from Balthali and drive to Bhaktapur Durbar Square. Drive back to Kathmandu after sightseeing and lunch at Bhaktapur
We descend on the mixed jeep tracks and paved road to Panauti, another ancient village, then ride down to Bhaktapur. Listed as a UNESCO world heritage site, Bhaktapur Durbar Square is a collection of pagoda and shikhara-style temples grouped around a fifty-five-window palace of brick and wood. The main attractions include the Lion gate, the Golden gate, the Palace of fifty-five windows, art galleries, and the statue of King Bhupatindra Malla. You get to experience the culture of Nepal at its finest in Bhaktapur and also the legendary "Jujudhau," locally made yogurt. After sightseeing here, we head to Kathmandu.
Breakfast and Farewell dinner included
Day 08: Transfer to the International Airport for your Final Departure
The trip concludes – our airport representative will drop you at Kathmandu's Tribhuvan International Airport for your flight departure from Nepal.
Gears and Equipment
The following gives you a general idea of the items you can bring for this biking trip. The personal items are of individual interest and choice. The most important fact that one should keep in mind is that one should have enough clothes to tackle the cold weather in the Himalayas.
During your biking trip, a support vehicle will carry the required repair tools and spares. We do recommend you bring some essential tools and spares (like a puncture kit and Allen keys). Personal belongings that you may need for the day like money, a water bottle, rain gear, a camera, sun cream, toilet paper, etc. should be carried by you. So you are briefed to pack items in two different bags.
We will supply a windproof duffel bag you can use on the trip.
Riding Kit
Helmet
Bike gloves x 3 pairs
Biking glasses
Padded cycling shorts (to last at least 5 rides)
Long-sleeved base layers
Short-sleeved and long-sleeved cycling tops
Biking socks (at least 5 pairs)
Hat and non-biking gloves
Head torch
If you're bringing your own bike:
Brake pads specific to your bike x 2 sets
Rear mech hanger specific to your bike x 2
Bottle of dry lube
Four inner tubes, or spare bottle of fluid for
tubeless tyres (two for each tyre)
Quick link to suit your chain
For 29" wheels bring extra spare tubes; these are more difficult to find in Nepal
Please note: If you're bringing your own bike, you must make sure that you have it professionally serviced before the trip, and ask your bike shop to use dry lube on your chain.
List of Recommended Equipment for the Biking Trip
Duffel or Rucksack bag or suitcase (We will provide one complimentary ACE duffel bag for you to keep.)
Daypack
Warm wool or synthetic hat that covers your ears (only if you are traveling in the cold season i.e January, February, and December)
Goggles or sunglasses for sunbeams, dust, and wind.
A neck warmer is another piece of gear for extra warmth if you feel you will need it and is for the cold season i.e January, February, and December. (optional)
1 pair of warm gloves (This is required if you are traveling in the cold season i.e January, February, and December).
T-shirts (2).
Waterproof (preferably breathable fabric) shell jacket (preferable if you are traveling in the rainy season from June to September.)
1 pair of cotton pants (loose jeans/khakis), 1 pair of shorts.
2 pairs of lightweight long underwear/thermals (if you are traveling in winter January, February, and December).
2 pairs of liner socks, synthetic or Capilene.
1 pair of light camping shoes or sneakers.
1 pair of sandals (Optional).
First Aid Kits and Medications
(Note: Guides carry medications and first aid kits during the trip. However, personal kits and medications are highly recommended.)
Sunscreen
Lip balm
ointment
Other Essentials
Passport
Extra copies of passport-sized photos
Reusable water bottle
Toiletry kits
Water purification tablets or UV water purifier (if you plan to treat water)
Hydration bladder
Towel
Pillowcase
Toilet paper (2 rolls)
High protein snacks (such as protein bars or nuts)
Waterproof/dry bags for carrying important documents and money
Airline tickets (Please leave a copy at our office in Kathmandu. This can be useful if there is a change in the date of the flight.)
This list is only a guide. While you are required to bring everything on this list, there are numerous options, brands, and versions of each piece of equipment. Use your experience and the listed features to find the best gear for you. Some of the above equipments can be easily found in stores in Kathmandu for cheaper prices.
Trip Map / Elevation
Download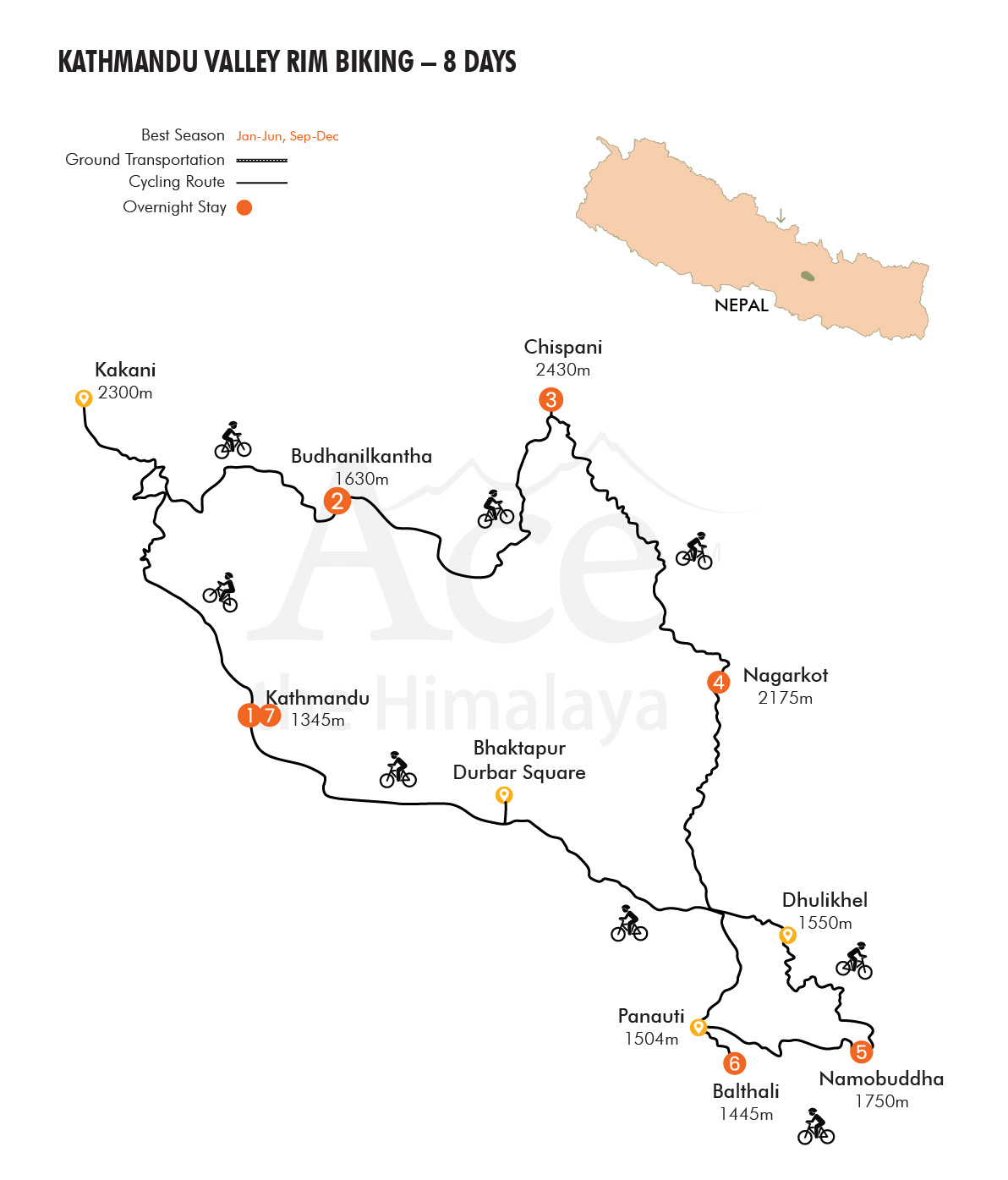 FAQs for Kathmandu Valley Rim Biking
General
Why travel with Ace the Himalaya?
Ace has a reputation for successfully leading treks with knowledgeable leaders and staff taking care of all your travel needs. We are a certified sustainable travel company that also endorses the idea of giving back to the community by participating in various philanthropic activities. Here are 17 reasons to hike with Ace the Himalaya.
Is Nepal open to travelers following the Covid-19 pandemic?
Indeed, Nepal is entirely open. Travelers are welcome in Nepal without any restrictions. Arriving travelers can obtain a visa on arrival at the Kathmandu airport as well.
What are the conditions to travel to Nepal post Covid-19?
Traveling to Nepal is now hassle-free. You don't need a vaccination certificate or negative PCR test, but check with your airlines and transit countries for any specific requirements.
We suggest you look at the Nepal immigration site https://www.immigration.gov.np for the most up-to-date information.
What additional documents do I need?
Two passport-sized photos (2×2 inch) to give to our office staff
A copy of your international flight ticket to give to our office staff
A copy of travel insurance to give to our office staff
What should I know about booking my flights to/from Nepal? Do I need to plan extra days in case of delays?
The best course of action is to add a day or two before and after your intended trek days in case of flight delays or cancellations. It also gives you time to buy clothing equipment and gear required before your trip.
Please be aware that Ace the Himalaya is not responsible for any inconveniences or missed international flights resulting from unforeseen events like airport changes, flight delays or cancellations, etc.
Can the guide speak English?
Our guides are fluent in English. All the guides that we assign speak and understand English. They'll share with you the fascinating stories, traditions, and folklore of the mountains. The guides will also help you communicate with the locals since many shopkeepers and hosts of teahouses don't speak English.
What immunizations will I need?
COVID-19 vaccination (Negative PCR report in case of unvaccinated travelers.)
Typhoid vaccination is recommended but not required
We suggest you have a dental checkup before your trip and know your blood type. It is helpful if you inform us of any medical condition that is relevant so we may convey this information in the event of an emergency. Ace the Himalaya keeps your medical condition confidential unless treatment is necessary.
What type of bike is required for this trip and what brands are available for hire?
Either hard-tail or full suspension mountain bikes will do fine. In some parts of the routes, you can take downhill shortcuts for which we strongly recommend full suspension bikes. (Your guide will let you know if there are any shortcuts you can take.)
All the brands we provide are properly serviced and fully functional standard hardtail rentals best suited for the trips. We provide full suspension bikes (if preferred by our clients) for an additional charge.
Trek: 3-, 4-, 6- and 8-series
Cube: Comp, LTD, CMPT, Reaction
Giant: ATX, Tralon
Other brands: Capic and V-Ket8
Can we hire bikes for the trip?
Yes, bikes can be hired at the time of booking. The bike's frame size has to match your height, and since there is a limited number of each size, we strongly suggest you provide us with this information well ahead. In case of any damage incurred to the bike or the equipment, the client will be liable to pay for the repair and replacement, depending on the nature of the damage.
What equipment and tools are included with the bike hire?
We provide a helmet, a pump, a spare tube, a water bottle and a repair kit with a rental bike.
What additional equipment is available upon request for an additional cost?
Cycle computer and a GPS unit for USD 2 and USD 5, respectively, per day per person. You can see more in the equipment section.
Can I bring my own bike and accessories?
Yes, it is highly recommended that you have your bike thoroughly serviced before coming on the trip. Spare parts are available in Kathmandu, but may not always be compatible with your bike.
Most airlines are quite used to people traveling with bikes, and if a bike is properly boxed and within the luggage allowance, it is a relatively hassle-free experience. On arrival at your destination, you will be met by your leader, and you will just need a baggage trolley to take your bike as far as the transfer vehicle.
Make sure the bikes are properly packed. You may do it yourself (here's a guide or if you're not sure, you could have a local bike shop pack it for you.
We take every care to ensure your bike is well treated, but it is normal for a bike to sustain minor scratches, resulting during the daily ride as well as loading and unloading from support/transport vehicles.
What is the procedure of checking in with a bike and what luggage weight allowance do I have?
Your bike is part of your baggage allowance on the plane, details of which are shown on your flight ticket, and maximum weights are usually between 20 and 25 kgs. A boxed bike weighs around 16 kg, so you need to pack carefully. Put heavy items in your hand baggage, wear your heavy/bulky jacket when you check in. Ace the Himalaya will not be liable for any excess baggage charges brought by the airline as a result of your exceeding the baggage allowance, whether you have a hire bike or take your own bike. In practice, excess luggage charges are rare for those who pack sensibly, even if you are a little over the specified limit.
A few airlines impose specific standard bike carriage charges. All such charges are beyond our control, and to be paid by the client. Where we know of a bike carriage charge in advance, this will be added to the relevant trip notes. In the unlikely event of any of your luggage and or bike being misplaced or damaged while in the care of the airline, a Property Irregularity Report (PIR) must be filed with the appropriate airline on arrival. This is essential if you subsequently wish to make a claim against the airline or on your travel insurance. This must be done at the airport where your baggage arrived or should have arrived.
Are there any bike maintenance and repairs while on the trip?
The support vehicle (where available) and the guide will carry the required repair tools and spares. We do recommend you carry some basic tools and spares (like a puncture kit and Allen keys). Our guides are also qualified mechanics and have ample experience maintaining bikes on the trips.
What cycling gear do I need?
Safety and comfort are what you're looking for here. Here's a quick list of what you'll need for the trip:
Cycling helmet (included with the bike rent)
Touring shoes
Cycling gloves
Cycling shorts (1 to 3 pair)
Socks – wool or synthetic (2 or 3 pair)
Leg warmers or tights for riding
Short-sleeved shirts (2)
Light, long-sleeved shirt for layering and sun protection
Windcheater, rain gear, jacket and pants
Waterproof shoe covers
It is recommended that you carry a backpack with your valuables like camera and passport. Panniers are not suitable for the trips.
Can I bring my own saddle and pedals?
Yes. All the bikes are compatible with customized bike parts. The support team accompanying the group will be able help with any bike alterations or damage to the bike along the entire trip. Please inform us in advance if you plan to bring your own saddle and pedals.
Weather and Temperature
What is the best season for this trip?
The best time for Kathmandu Valley Rim Mountain Biking is from September to June. It is not very advisable to bike during the monsoon season from June to August except for Lhasa to Kathmandu mountain biking.
Arrival and Visas
Is it possible to obtain a visa for Nepal upon arrival at the airport?
Yes, you can obtain a Nepal visa upon your arrival at the airport. There are kiosks in the arrival hall that you use to complete the necessary forms.  The cost is USD 30 for a 15-day tourist visa, including numerous entries, or USD 50 and USD 125 for a 30-day or 90-day tourist visa including numerous entries respectively. You should carry cash (USD) with you to pay your visa fees quickly and easily, as digital payments are frequently unavailable.
Who will come to pick me up at the airport upon my arrival?
Our staff will be waiting for you outside the airport terminal with our signboard (Ace the Himalaya). You will be accompanied to a hotel in a private tourist vehicle.
Payments and Extra Costs
How much additional money do I need per day?
It depends on your spending habits. Generally, you can allocate USD 15 to USD 20 per day for a lunch and a dinner.
Is it possible to use credit cards in the places I visit during the biking trip
In Kathmandu and Pokhara, yes – to some extent. Once you are out of the cities, all you need is cash. Please change the currency to local Nepali Rupees before you go to the mountains.
Is it possible to reserve a trip now and pay a deposit later, or do I have to pay a deposit at booking/reservation?
When you book, you must pay a 30% deposit to secure your itinerary. The remaining balance can be paid upon your arrival at Kathmandu or before arrival. US Dollars cash and credit cards (Visa, Master, and American Express) are accepted once in Nepal. Please note a 4% transaction fee will be added for all credit card transactions.
How do I pay the remainder of my balance upon arrival in Kathmandu? US Dollars cash or credit card?
You can make payments via US Dollars cash or credit card (Visa, Master, and American Express). A 4% transaction fee is added if paying with a credit card. Thus, we encourage you to pay with USD cash if you are planning to pay upon your arrival in Kathmandu.
We prefer you pay with larger bills (USD 50 or 100).  Please note that the cash should not be older than 2009 and in good condition, as banks do not accept worn, torn, or crumpled bills.
How are the ATM and money exchange facilities in Kathmandu?
There are ATM and money exchange facilities almost every few meters in Thamel, where you will be staying in Kathmandu. So, you can easily use your cards to cash out limited sum of money to which a minimum charge is deducted by the ATM facility itself. You can easily exchange your foreign currencies in currency exchange centers for an exact rate.
Physical Fitness
How fit do I need to be for this biking trip? Is this trip for me?
For the Kathmandu Valley Rim Mountain Biking Trip, you need to be in good health and reasonably fit. Moderate trips are ideal for cycling enthusiasts who enjoy nature and culture, as well as occasional climbs and mud. Some experience is recommended for the Kathmandu Valley Rim biking trip. There are several ups and downs in this trip as you soar through some the most ancient Nepalese, popular hilltops with stunning views of the Himalayas, religious sites and serene gardens. Moderate biking trips include a mixture of paved roads, jeep tracks and single tracks. The highest elevation we'll reach in Kathmandu Valley Rim trip is Nagarkot at 2,175m above sea level.
Do we need to be experienced cyclists for longer tours?
No. The guide will carefully pace the ride to include rest and refreshment along the way. Where available, the support vehicle will accompany you and you can always hitch a ride if you need a break.
Preparation and Packing
What are the procedures after I make my deposit?
After making the deposit, one of our staff will email you for further information. We will require a copy of your passport photo page and your arrival/departure flight details. We will also provide you with additional trip information.
What sort of insurance do I need? How can I obtain a policy?
Travel insurance is mandatory for our hiking itineraries. We require your policy to have medical evacuation coverage for the maximum elevation of your itinerary.  Insurance may also cover additional costs in the event of a flight delay or cancellation caused by bad weather, medical costs, theft, loss, and damage to your items while traveling. Travel insurance can be obtained online by one of several travel insurance companies. Please note that insurance obtained from an airline at the time of booking your flight may not cover medical evacuation coverage.
What are the necessary items that I should pack for my trip?
You can find the necessary items to pack for the trip on the Equipment section. Gear and equipment can be bought or rented upon your arrival in Kathmandu. If you plan on buying or renting gear in Kathmandu, please allow extra time.
What about my passport, medications, and belongings?
Bring copies of your passport, insurance papers, and other essential items in your carry-on during your flight. If you need to take medications daily, keep them in your daypack with your other essential possessions.  You can store other non-trekking essentials in the office of Ace the Himalaya or at the hotel in Kathmandu.
Do you use porters on the trek or do we carry all of our own gear?
Whilst on the trek, our porter will take care of your luggage. All you need to carry is your small day bag for your personal belongings like camera, water bottle, sun cream etc.
Accommodation
What sort of accommodation can I expect in Kathmandu and along the biking route?
We use standard rooms at two or three-star hotels in Kathmandu with breakfast included.
Along the biking route, decent hotels are available but in more remote spots, guesthouses/lodges generally provide basic clean facilities with a mattress and a quilt or blanket. We can also offer you Ace the Himalaya sleeping bags if needed (to be returned after the trip). We usually provide single and double rooms.
Breakfast is included with the hotel and guesthouse but lunch and dinner are not included in the package price.
What sort of food can I expect in trekking?
All the restaurants that we dine at cater for Continental, Chinese, Mexican, American-based cuisine with some local influences, always plenty to choose from.
Is the water fine to drink? Do I need to bring purifying tablets/filter?
Bottled water is easily available at the lodges and teahouses, which you can buy at the cost of USD 1 at lower elevations to USD 4 at higher elevations per liter.
If you are planning to drink normal water all the way during the trek then, we use Katadyn filters to purify the natural water sources to make them safe to drink. This way, it is sustainable and pocket friendly as you need not buy bottled mineral water. You must carry a water bottle that can hold both hot and cold water and a hydration pack.
If the temperature drops too low for the Katadyn filter to function properly or if any technical issues occur, it is recommended to buy boiled water from the teahouse to ensure safe drinking water an alternative.
Can we get hot or boiled drinking water? Does it cost extra?
Yes, teahouses do provide hot boiled water for an extra charge of USD 2 to 5 per liter. The cost varies and increases at higher altitudes.
Can I charge my digital camera or other equipment on my trip?
Yes, you can charge your equipment during the trek for an additional cost. The cost will vary but is around USD 1-5 per charge. Two pins (type C) and three pins (type D) adaptors are highly recommended. Bring these adaptors or purchase them while you are in Kathmandu.
Health and Safety
Do your guides have the trekking guide certificates from the Hotel Management and Tourism Center? Have they received first aid training for high altitudes?
We provide licensed trekking guides with fluent English. Our guides are certified by the Hotel Management and Tourism Center after receiving 45 days of training. Similarly, the guides receive high-altitude training from Kathmandu Environmental Education Project (KEEP).
What are safety measures in place? What safety equipment do your guides carry on the trek to deal with sickness/accidents?
Our guides are well trained and certified in first aid. Throughout the journey, our guides will evaluate your condition and your oxygen level using an oximeter. Our head office receives continuous updates on your condition and location through the guides. In places without a phone signal, your situation will be updated through a satellite phone during emergencies.
Is Ace the Himalaya's staff insured?
Our company insures all our trekking staff members, including guides, cooks, Sherpa, and porters. Please browse through our legal docment page to view insurance details.
What vaccinations will I need?
COVID-19 vaccination (Negative PCR report in case of unvaccinated travelers.)
Typhoid vaccination is recommended but not required
We suggest you have a dental checkup before your trip and know your blood type. It is helpful if you inform us of any medical condition that is relevant so we may convey this information in the event of an emergency. Ace the Himalaya keeps your medical condition confidential unless treatment is necessary.
Practical Matters
Do I need to tip my guide and porters? How much would that be?
Tipping is expected and appreciated. You can tip your trekking guides and porters based on your satisfaction and enjoyment. We suggest you spend at least 10% of your total trek cost on tipping staff. You'll learn more about how much to tip your group's guides and porters during our pre-trip briefing in Kathmandu.
Is there a provision for a refund if I don't accomplish the trip?
Travelers occasionally fail to complete the journey for medical or personal reasons. In this situation, be aware that we do not issue any refunds for products purchased or unused trek days. We must pay our administration staffs, guides, and porters, purchase trekking permits, and all other booked accommodations in advance, so our expenses remain the same.
Who else will be joining my biking group?
If there are any, you will be allocated to a trekking group. The details of the personal data of your group members cannot be disclosed. However, feel free to contact us if you have queries about other trekkers in the group and we shall give you a general idea of the ages, nationalities, and sex of your group members. Chances are you will be trekking with others unless you have booked a private trip.
Are there any communication facilities during the trip?
There are telephones in most of the towns/villages along the routes from which you can make international calls. Internet and international calls are available at the hotel in Kathmandu, Nagarkot, Dhulikhel, Godhavari and Budanilkhanta.
All our guides are equipped with the local mobile phone. You may wish to pass the number of our guide to your family for the callback or you can make a call from the guide's mobile and pay him directly for the international call too.
Can I add extra days to my trip?
You can extend your trekking trip for an additional cost. Potential arrangements will be made if we get a request from your guide. This is applicable for private or solo trips as the itinerary can be easily adjusted. The addition of extra days is bound by the time when you are in a group. Therefore, discuss with your group and guide, what changes can possibly be made.
I want to extend my holiday, any recommendations?
Yes, you can extend your holiday. Ace the Himalaya offers many options and alternatives for your holiday extension. For more information, you can visit our Day trips pages.
Transportation and Flights
Do I need to book my international flights for the travel to Nepal?
Yes, you must book your international flights. We are a local agency and do not make international flight arrangements. You can easily browse through flight tickets in airlines sites to book ones most feasible for you.
What mode of transportation do you use?
Depending on the nature of the travel, the transportation to and from the destination varies from domestic flights to vehicular transportation. We drive you to Besisahar, the starting point of the biking trip, and from Beni the end point of biking, a jeep ride will be offered to you, and from Pokhara a tourist vehicle will bring you to Kathmandu. If you want to fly to Kathmandu, you can do so by paying an extra amount. We provide you only those options which enhance your local experience while allowing you to bike comfortably and efficiently. We use private tourist vehicles for sightseeing, city tours, and pickups. Depending on the group size we use cars, minibusses, or vans. For traveling along the narrow and bumpy roads of Nepal, we use 4WD and a private tourist vehicle. All the vehicles are usually air-conditioned unless we are traveling in cooler areas.
Traveler Reviews
These full and frank reviews are from travelers who have traveled with Ace the Himalaya previously. The reviews and experiences shown here are from reputable travel websites like TripAdvisor, Google, Facebook, and Trust Pilot, etc.
What makes this trip different ?
Our CSR with Sambhav Nepal
Ace the Himalaya believes in giving back to the communities that surround and support tourism in Nepal. Ace provides logistical support and, if needed, cash donations to the projects of Sambhav Nepal (a local NGO).
Sambhav Nepal and Ace work together to plan volunteer programs that will bring in foreign volunteers and make use of their enthusiasm, time, and talents in a variety of projects.
Sustainability and Responsible Tourism
Of the few Travelife Partners in Nepal, Ace the Himalaya is one. We respect the procedures for sustainable tourism. Our excursions are socially and environmentally conscious, leaving the lowest possible impact in the Himalayas.
About 80% of Ace the Himalaya's staff members are natives of the regions where our trips are organized. It is one of our sustainable and responsible efforts to help local communities, support small businesses, and promote regional culture and way of life.