Kathmandu and Lhasa Tour - 7 Days
Recommended by 99% of travelers
This tour is a combination of the best of two majestic and magical Himalayan cities-Kathmandu in Nepal and Lhasa in Tibet (China).
Difficulty
Max. altitude
3,660 m/12,004 ft
Best season
Mar-Jul, Ayg-Nov
Start/End Point
Kathmandu
Trip Highlights
Guided city tour in the Kathmandu valley
Guided sightseeing tours of cultural and historical hearts of Tibet including Lhasa, Potala Palace, Drepung Monastery
Scenic flights from Kathmandu – Lhasa – Kathmandu
Trip Overview
Flight to and from Kathmandu and Lhasa offers a fun-filled adventurous journey around cultural heritages and historical places of Nepal and Tibet. Lhasa, also known as 'Sunlight City', is regarded as the heart and soul of Tibet and hence is the number one tourist destination in Tibet. Visits to white and ochre fortress of Potala Palace and Jokhang temple can be a quite spiritually rejuvenating experience.
Potala Palace is a UNESCO world heritage and features an overwhelming array of intricate murals, temples, stupas, tombs of eight past Dalai Lamas, exquisite Tibetan Mandalas and other relics of Tibetan history. If you wish to glimpse into Tibetan culture, what could be more insightful than exploring Barkhor markets! As you wander around the markets, you witness Tibetan arts, culture, custom and tradition. With so much to see and explore in Lhasa, this Kathmandu Lhasa Tour will truly be an unforgettable experience.
Short Itinerary
Day 01 :
Arrival at the Tribuwan International Airport in Kathmandu (1,345m). Overnight at a hotel.
Day 02 :
Pre-trip meeting and sightseeing around the Kathmandu valley. Overnight at a hotel.
Day 03 :
Fly from Kathmandu to Lhasa (3,660m) . Overnight at a hotel.
Day 04 :
Guided sightseeing in Lhasa. Overnight at a hotel.
Day 05 :
Second day of guided sightseeing in Lhasa. Overnight at a hotel.
Day 06 :
Fly from Lhasa to Kathmandu. Overnight at a hotel.
Day 07 :
Transfer to the airport for your final flight departure.
Departures & Availability
Looking for personalized experience? We organize privately guided journey which is mainly designed to fit your taste and interest. Please fill out the form below to get started.
Price Includes
Pick up from and drop off at the hotel and the airport on a private tourist vehicle.

Twin sharing accommodation in a three star hotel in Kathmandu. (3 nights)

Twin sharing accomodation in two-star hotel in Lhasa.

Kathmandu – Lhasa – Kathmandu airfare and airport departure tax.

Ground transportation on private tourist vehicle

Guided city tour in Kathmandu on a private vehicle.

Sightseeing/monument entrance fees in Kathmandu (on Day 02).

Government-licensed English-speaking Tibetan tour guide in Tibet.

The required number of ground staff for the tour like helpers and drivers.

Food, accommodation, salary, insurance, equipment and medicine for our ground staff.

A down jacket and a sleeping bag provided Ace the Himalaya (to be returned after the trek).

Free Ace the Himalaya duffel/kit bag and sunhat (yours to keep).

Tibet entry permission, Chinese visa and monastery entry fees.

Farewell dinner in typical Nepali Restaurant with cultural dance show on second last day

All government taxes and official expenses.

USD 360 per person for entire trip to upgrade the four to five star hotel accommodation in Kathmandu and in Lhasa.
Price Excludes
International flight fare and airport departure tax
Travel insurance along with high-altitude emergency evacuation coverage
Nepal Entry Visa (Visa can be acquired easily after your arrival at Tribhuvan International Airport in Kathmandu with a fee of USD 50 for 30 days visa and USD 125 for 90 days visa)

Internet and telephone calls.

Lunch and dinner for entire trip – about USD 15 to 20 per person per day.

Item of Personal nature like alcohol, hot & cold drinks and laundry.

Personal clothing and equipment.(

Tips to trekking staff and driver
Any expenses other than the Price Include section
Day 01: Arrival in Kathmandu airport (1345meters).
Our airport representative will be receiving you at Tribhuvan International airport, Kathmandu and s/he will be displaying an Ace the Himalaya signboard outside the airport terminal. You will be then transffered to your respective hotel in our private tourist vehicle.
Day 02: Pre-trip Meeting and Sightseeing around Kathmandu valley.
In the morning, after breakfast, At around 8am, we host a pre-trip meeting at your hotel in Kathmandu and introduce your trek leader/guide. Please seek this opportunity to ask questions about your trek. We will also supply you with our trek Duffel Bag, T-shirt and a Cap. For the meeting, please make sure you bring passport, three copies of passport-size photos, and a readable copy of your travel insurance policy. During this meeting, please clear the due balance, if any, and sign the legally binding trip form as well as the non-liability disclaimer. Please inform us in advance if you will be arriving late and therefore are unable to attend the pre-trip meeting.
After the Pre-Trip meeting and breakfast, your sightseeing trip will start at 9.45 AM in the morning. We provide a private vehicle and professional tour guide. We visit Boudhnath Stupa, one of the biggest Buddhist shrines in the world, where we observe Buddhist monks in prayer in the monasteries surrounding the stupa. After Boudhnath Stupa we visit Pashupatinath, the most famous Hindu temple in the country, located on the banks of the holy Bagmati River. Here we see Hindu holy men (sadhus) meditating, pilgrims bathing and occasionally funeral pyres burning on the ghats. We also visit Bhaktapur Durbar Square, which is a collection of pagoda and shikhara – style temples grouped around a fifty-five-window palace of brick and wood. The attraction of the Bhaktapur Durbar Square are the the Lion gate, the Golden gate, the Palace of fifty five windows, art galleries, the Statue of King Bhupatindra Malla.
The rest of our time in Kathmandu is free for further exploration and some last-minute shopping in Thamel area near by your hotel. Later we will collect Tibet Visa and Travelling Permit.
Day 03: Fly from Kathmandu to Lhasa (3,660m)
Early morning transfer to the international airport for the hour-long flight to Lhasa. This stunning flight, on a China Southwest Airlines Boeing 757, takes us right across the main Himalayan range and provides us with magnificent mountain views. After landing at Gongar Airport and meeting our Tibetan guide, it is a further 2-hour drive by Land cruiser to Lhasa. It's advisable to rest and take it easy for the remainder of the day due to Lhasa's altitude.
Day 04: Guided sightseeing in Lhasa
We spend this day visiting several of Lhasa's many monasteries in the company of a guide and interpreter. One of these is the Sera Monastery, one of the best-preserved monasteries in Tibet, within its whitewashed walls and golden roofs, several hundred monks live and study. After lunch we'll visit the Norbulingka, the summer palace of the Dalai Lama, as well as the Jokhang Temple. This temple is possibly the most sacred shrine in Tibet and there is always a procession of devout Tibetans through the complex. Surrounding the Jokhang is the Barkor – a maze of narrow cobbled streets that is the central market of Lhasa.
Day 05: Second day of guided sightseeing in Lhasa
In the morning, we visit the Potala Palace which is the crown jewel of Lhasa. It is a spectacular ancient building, containing private quarters of the Dalai Lama as well as numerous grand state rooms and many important chapels. There has been a Palace on this site since the 5th or 6th century, but the present Palace was constructed in the 17th century. After lunch, we visit the Drepung Monastery, which was founded in the 14th century and was once the largest in the world, with a population of around 10,000 monks. These days that figure is down to several hundred, but there is still much here of interest as it was left relatively unscathed during the Cultural Revolution. Overnight at a hotel.
Day 06: Fly from Lhasa to Kathmandu
Transfer to Gongar Airport for your return flight to Kathmandu. You have the option to extend your trip to continue onto Chitwan jungle safari, rafting adventure, Kathmandu valley shopping tour, scenic Everest flight, mountain biking and other activities. In the evening we will have a farewell dinner in a traditional Nepalese restaurant with cultural performances. Your guide(s) and an office staff will accompany you. Overnight at a hotel in Kathmandu.
Breakfast and farewell dinner included
Day 07: Transfer to the airport for your final flight departure
The trip concludes – our airport representative will drop you to Kathmandu's Tribhuwan International Airport for your flight departure from Nepal.
Gears and Equipment
All you need to bring for this Tour is simply some comfortable clothes; there is no any requirement of  special equipment on the tour. However for your ease, the following gives you the general idea about the personal items you need to manage for the trip. The personal items referred here are optional and depends upon your choice. The most important factor to be considered while choosing the equipments and your Bag-pack, is the time of the year you are travelling.
In a tour, the vehicle transfers all the heavy items and equipments. But the Personal belongings of the clients which is required at any moment like money, water bottle, camera, suns cream and toilet paper etc. should be carried by yourself. It is therefore advisable that you pack the personal belongings into your daypack.
We will supply complimentary water and wind proof duffel bag, which you can use on the tour for your shopping purpose. The duffel bag is yours to keep.
List of Recommended Equipment
Duffel or Rucksack bag or suitcase (We will provide one complimentary ACE duffel bag for you to keep.)
Daypack
Warm wool or synthetic hat that cover your ears (only if you are travelling in the cold season i.e January, February and December)
Goggles or sunglasses for sunbeam, dust and wind.
A neck warmer is another piece of gear for extra warmth if you feel you will need it and is for cold season i.e January, February and December.(optional)
1 pair warm gloves (This is required if your are travelling in cold season i.e January, February and December).
T-shirts (2).
Waterproof (preferably breathable fabric) shell jacket (preferable if you are travelling in rainy season from June to September.)
1 pair cotton pants (loose jeans/khakis), 1 pair shorts.
2 pairs lightweight long underwear/thermals (if you are traveling in winter January, February and December).
2 pairs of liner socks, synthetic or capilene.
1 pair light camping shoes or sneakers..
1 pair sandals (Optional).
Medicines and First Aid Kits
(Please note our guide will also carry the first aid kit bag during the trek. However we still recommend you to bring your personal first aid kit as well)
Extra Strength Excedrin for altitude related headaches.
Ibuprofen for general aches and pains.
Immodium or Pepto bismol capsules for upset stomach or diarrhea.
1 small personal sized first-aid kit with blister treatments such as mole skin, band-aids, some waterproof tape, anti-infection ointments, etc. Your guides will have more extensive medical gear, but you should have the basics for general use.
Miscellaneous, but Important !
Passport and extra passport photos (4 copies).
Airline ticket (Please make a copy and leave on at our office in KTM just in case if you need to change the date of your).
Durable wallet / pouch for travel documents, money & passport.
Lip balm. At least SPF 20, 2 sticks. A string taped to the stick is helpful, to hang around your neck and some are now being sold with a cord already attached. Handy as it avoids you from having to stop and look for it.
Sunscreen.
Toiletry kit. Be sure to include hand wipes, and liquid hand sanitizer
2 bandanas.
This list is only a guide. While you are required to bring everything on this list, there are numerous options, brands, and versions of each piece of equipment. Use your experience and the listed features to find the best gear for you.
Trip Map / Elevation
Download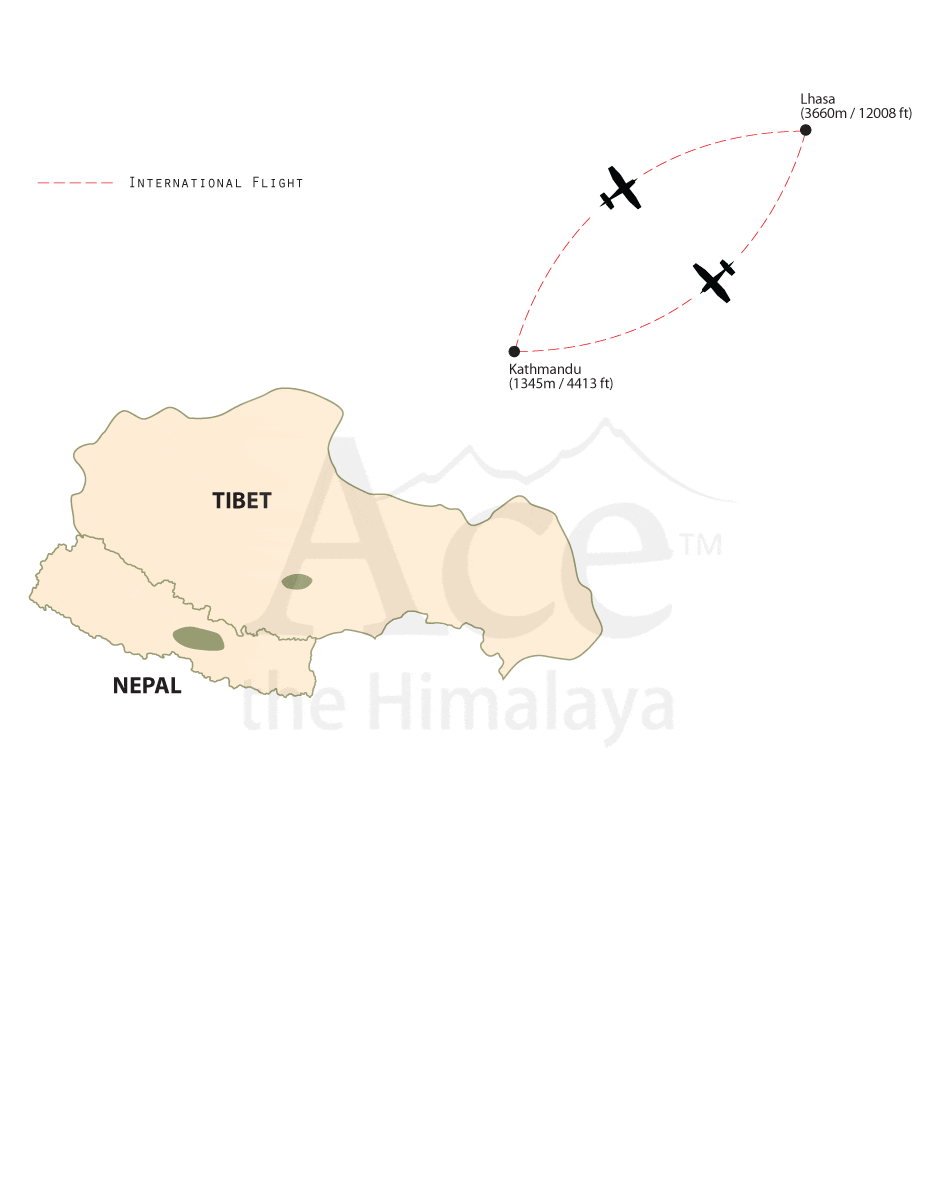 FAQs for Kathmandu and Lhasa Tour
General
Do you handel Tibet visa and travelling permit?
YES, we do handle all the procedure for Tibet Visa and Travelling permit. The process charge is all included in the trip price.
Are there any communication facilities during the tour?
Communication facilities in Tibet have been improved over the past few years. All the hotels we use in Lhasa have international IDD phone and fax services. Phone calls can also be made from public booth iand internet cafes are also available. Check with your guide for the best cyber cafes in each town.
You can also have a roaming facility added to your mobile phone as mobile phones work fine in Tibet. If you buy a Chinese SIM card at the border, you could stay in touch with your family and friends most of the time. Please ask us for the latest facilities and schemes on Chinese mobile phones.
Is there a minimum and a maximum number for your groups?
We cater to all group sizes, while maintaining the field staff ratio to give you the best quality and experience.
Do I need to tip my guide and porters? How much would that be?
This is a difficult thing to gauge. We have seen everything from USD 20 to USD 1000 per person for guides and porters. Tipping is not required, but a small gesture of thanks to your guides and local porters thanks for their help. The level of the tip should reflect the level of satisfaction from and personal involvement with your guide.
Is Ace the Himalaya's staff insured?
Our company insures all our trekking staff members, including guides, cooks, Sherpa, and porters. Please browse through our legal docment page to view insurance details.
What immunizations will I need?
COVID-19 vaccination (Negative PCR report in case of unvaccinated travelers.)
Typhoid vaccination is recommended but not required
We suggest you have a dental checkup before your trip and know your blood type. It is helpful if you inform us of any medical condition that is relevant so we may convey this information in the event of an emergency. Ace the Himalaya keeps your medical condition confidential unless treatment is necessary.
I want to extend my holiday, any recommendations?
Yes, you can extend your holiday. Ace the Himalaya offers many options and alternatives for your holiday extension. For more information, you can visit our Day trips pages.
Physical Fitness
How fit do I need to be for this tour? Is this trip for me?
The Kathmandu Lhasa Tour is suitable for the average traveler who is moderately fit, thus no previous experience is required.
Payments and extra costs
Can I use credit cards in the places I visit?
Besides Chinese Yuan, only US dollars can be accepted in Tibet. Also shops that accept American currency are very limited and you might not be able to get a good deal for an exchange rate. Credit cards can only be used at some hotels. The Bank of China also accepts credit cards. ATM is not widely available. Exchanging your money to Chinese currency will be the best option for you, which can be done at the Bank of China. While changing money at the local money exchange centers, please make sure that you are accompanied by your guide and do consult him as you may easily be duped with counterfeit notes.
How much additional money do I need per day?
It depends on your spending habits. USD 15 to 20 a day will be enough to buy lunch, dinner, bottles of water, chocolates and a few drinks during the tour.
Tibet is becoming more expensive every year. There are many shops in Lhasa, Shigatse and Gyantse that sell traditional Tibetan handicrafts. We recommend you to bring extra money to spend on souvenirs.
Do I need to tip my guide and porters? How much would that be?
This is a difficult thing to gauge. We have seen everything from USD 20 to USD 1000 per person for guides and porters. Tipping is not required, but a small gesture of thanks to your guides and local porters thanks for their help. The level of the tip should reflect the level of satisfaction from and personal involvement with your guide.
Arrival and Visas
Who will come to pick me up at the airport upon my arrival?
Our staff will be waiting for you outside the airport terminal with our signboard (Ace the Himalaya). You will be accompanied to a hotel in a private tourist vehicle.
Weather and Temperature
What is the best season for this tour?
The best time for Kathmandu to Lhasa Tour is between March and December.
What is the weather and the temperature like during the tour?
It depends on the season you're travelling. During winter (December to February), it is colder at night and relatively warmer during the day, with the temperature ranging from 1°C at night to 20°C. Between March and September, the weather stays prefect as the temperature averages 25°C during the day. From October to December, the temperature gets cooler and allows for a great time to travel. The average temperature during this season is 20°C. The vehicles and the hotels during the trip will be air-conditioned making your travel very comfortable.
Accommodation
What sort of accommodation can I expect in Kathmandu and Lhasa?
We use twin sharing standard rooms from three star hotels in Kathmandu with breakfast included. In Lhasa, accommodation will be in 2-star hotels. The hotel offer the room with breakfast.
There will be additional charge of USD 360 per person for entire trip to upgrade the four to five star hotel accommodation in Kathmandu and in Lhasa.
What sort of food can I expect in the tour?
All breakfasts are included in our package. Your guide will help you find good restaurants with reasonable price. A must are the small Tibetan restaurants which serve authentic Tibetan food. You can try ethnic Tibetan cuisine. Have some momos or gyantok, and wash it down with a cup of salted Tibetan butter tea. Meals will either be in the hotel or at a restaurant of your choice (where available). While on the road, lunch will be at one of the many Chinese tea shops along the way which generally serve a variety of noodle and vegetable dishes and meat where available. Expect to spend around USD 15 to 20 per day for meals.
Is the water fine to drink? Do I need to bring purifying tablets/filter?
In most places bottled water is readily available. If you wish to drink normal water, you need to use purifying aid, which you need to bring with you.
Transportation and Flights
What mode of transportation do you use?
Ace the Himalaya is all about providing you with local insights, lifestyle as well as adventure. Using a variety of private transport is an integral part of our Himalayan tours, enhancing the experience!
We use private tourist vehicles for sightseeing, city tours and pickups; whereas we use the best 4WD SUVs for the overland drive across the Tibetan highland. These vehicles are extremely sturdy, spacious and reliable and they make the journey as comfortable as possible. For larger groups, we also use supported trucks to carry your luggage. We use our own Fleet service for Transportation…Click to know more about our fleet service!
Do I need to book my international flights for the travel to Nepal?
Yes, you must book your international flights. We are a local agency and do not make international flight arrangements. You can easily browse through flight tickets in airlines sites to book ones most feasible for you.
Miscellaneous
Will it be possible to get any clothes washed/Laundry ?
Laundry service is easily available at your hotel by paying additional charge. Please note that laundry service is not included in the package price.
Can I charge my digital camera or other equipment on my trip?
These facilities will be available in your hotel. Remember to bring travel adapters!
Traveler Reviews
These full and frank reviews are from travelers who have traveled with Ace the Himalaya previously. The reviews and experiences shown here are from reputable travel websites like TripAdvisor, Google, Facebook, and Trust Pilot, etc.
What makes this trip different ?
Our CSR with Sambhav Nepal
Ace the Himalaya believes in giving back to the communities that surround and support tourism in Nepal. Ace provides logistical support and, if needed, cash donations to the projects of Sambhav Nepal (a local NGO).
Sambhav Nepal and Ace work together to plan volunteer programs that will bring in foreign volunteers and make use of their enthusiasm, time, and talents in a variety of projects.
Sustainability and Responsible Tourism
Of the few Travelife Partners in Nepal, Ace the Himalaya is one. We respect the procedures for sustainable tourism. Our excursions are socially and environmentally conscious, leaving the lowest possible impact in the Himalayas.
About 80% of Ace the Himalaya's staff members are natives of the regions where our trips are organized. It is one of our sustainable and responsible efforts to help local communities, support small businesses, and promote regional culture and way of life.