Everest Expedition via North Side - 63 Days
Recommended by 99% of travelers
Everest Expedition via North (Tibetan) side is the least expensive and easier way to climb Mt Everest (Highest Peak of the World).
Difficulty
Max. altitude
8,848 m/29,021 ft
Accomodation
Guesthouse & Tented Camps
Trip Highlights
Kathmandu city tour
Stunning flight from Kathmandu to Lhasa
Visit to Everest Base Camp and base of the Everest North Face via Rongbuk Valley
Step inside and experience life as the "mountain people" live, in the roof of the world
Sightseeing tour in Lhasa
Scenic drives Nepal/China Friendship Bridge to Kathmandu
Exclusive small team with a high guide to climber ratio
High Sherpa ratio – 1 Sherpa with every climber
Lead by experienced guides who have stood on the summit of Everest and other 8000 meters peaks
Best Sherpa, support staff and logistics
Trip Overview
Everest Expedition via North (Tibetan) side is the least expensive way to climb it. The trip begins in the ancient and colorful city of Kathmandu. On the Friendship Bridge, border Crossing between Nepal and Tibet. Upon entering Tibet, the clocks immediately go forward by 2 hours. Our secondary government liaison officer will meet us in Zhangmu. After clearing Tibetan customs and immigration, a Chinese bus takes us up the windy road through the rolling hills to Nyalam town at 3,750 meters, and a basic "hotel". The smaller towns in Tibet are generally simple and rustic places, and this one is no exception. The topography here is quite interesting in that we are perched in the transitional zone where the Tibetan plateau rams into the Himalaya, then drops into the forested valleys and jungles of Nepal, and finally out into the Gangetic plain of the Terai and India. We stay over one extra night in Nyalam, to help adjust to the altitude, and during our "rest-day" in Nyalam, we take advantage of the interesting surroundings to walk to the top of local hills and savor the first glimpses of the Himalayan Giants.
Everest North or South?
Ace the Himalaya run expeditions to both sides of the Everest – to the North Ridge and to the South Col route. We run an expedition to the South Col because this remains the most popular choice for first-time "Everest climber," as it gives the most assured means of reaching the top. Simply, the time spent at over 8,000 meters on the South side is less, as the summit is attempted from the South Col (just under 8,000 meters) in one push. On the North Ridge, the top camp is located at 8,400 meters, which means you will be exposed to the extremes of altitude for appreciably longer, spending at least one night there during the summit attempt. The south side has a good record of success, not least because a lot of people go that way, but also because of the momentum that these people generate, especially once the route to the top is opened by each year's first ascentionists.
However, the North Ridge has become more accessible in recent years, and for those able to cope with the tougher physical demands imposed by the route, it gives a more cost-effective means of getting to the top. It also avoids the Hilary Step, which can become an insurmountable obstacle purely because of the number of people trying to negotiate it on summit day. However, technical interest is similar, if not more sustained on the North Ridge, as longer passages are on rock, with a series of "Steps" to be negotiated on the way to the summit.
Short Itinerary
Day 01 :
Arrive at Kathmandu airport (1345meters). Overnight at hotel.
Day 02 :
Pre-trip Meeting and Sightseeing around Kathmandu valley. Overnight at hotel.
Day 03 :
Official formalities and Preparation day in Kathmandu. Overnight at hotel.
Day 04 :
Final Preparation day in Kathmandu. Overnight at hotel.
Day 05 :
Fly to Lhasa (3,600meters) from Kathmandu. Overnight at hotel.
Day 06 :
Sightseeing in Lhasa. Overnight at hotel.
Day 07 :
Second day of sightseeing in Lhasa. Overnight at hotel.
Day 08 :
Drive to Gyantse (3950meters) – 261 k.m. Overnight at hotel.
Day 09 :
Drive to Shigatse (3900meter) – 90 k.m. Overnight at hotel.
Day 10 :
Drive to Shegar (New Tingri) (4050meters) – 244 k.m. Overnight at hotel.
Day 11 :
Drive to Ronguk (5000meters) and  hike to Everest Base Camp (5150meters). Overnight at tented camp.
Day 12-16 :
Acclimatization and local exploration. Overnight at tented camp.
Day 17 :
Trek to First Interim Camp (5,680m). Overnight at tented camp.
Day 18 :
Trek to Second Interim Camp (6,088m). Overnight at tented camp.
Day 19 :
Trek to Advance Base Camp (6,440m). Overnight at tented camp.
Day 20-58 :
Climbing period of Everest 8848 meters from North Ridge. Overnight at tented camp.
Day 59 :
Packing personal equipment at base camp. Overnight at tented camp.
Day 60 :
Depart base camp and drive to Zangmu. Overnight at guesthouse.
Day 61 :
Drive Kathmandu from Zangmu. Overnight at hotel.
Day 62 :
Leisure day in Kathmandu. Overnight at hotel.
Day 63 :
Transfer to international airport for your final flight departure.
Departures & Availability
Looking for personalized experience? We organize privately guided journey which is mainly designed to fit your taste and interest. Please fill out the form below to get started.
Price Includes
Airport / Hotel / Airport pick up & drop by Tourist Vehicle.

Standard twin sharing accommodation in threer hotel in Kathmandu; Breakfast included. (6 nights)

Two star hotel accommodation in Lhasa and Gyantse with basic guesthouse accommodation in Shegar and Zangmu including Breakfast.

Guided city tour in Kathmandu by Tourist Vehicle.

Two star hotel accommodation in Lhasa, Gyantse and Shigatse with basic guesthouse accommodation in Shegar and Zangmu.

Full board meal during the trek, camping at base camp and Advance Base Camp, prepared by our cook with hot Tea & coffee.

All base camp and Advance base camp camping gears (We will provide fully water proof dining tents, kitchen gears, dining table, chairs, toilet tents, shower tent at the base camp and advance base camp)

High quality tents for all camps.

Insurance for all Nepali staffs and porters including helicopter rescue provision.

Boiled and purify drinking water for the trek and at base camp.

Expedition permits.

Liaison officer and his round trip flight, insurance, wages, expedition equipments etc.

High altitude climbing food, fuel, Gas above base camp (you are also advised to bring some high altitude food yourselves)

Guide, cook, porters, helpers up to base camp

Climbing Sherpas (1 member = 1 Sherpa Ratio on climbing day)

A well stocked first aid and medical kit sufficient to counter any possible mountaineering ailments, from headache to serious injury.

Extra Oxygen equipment for medical use only.

A portable hyperbaric chamber (Gamow bag)

Emergency communications on the mountain and satellite communications link for helicopter evacuation.

Oxygen 7 bottles per team climber and 4 bottles per Sherpa.

Mask regulator

Sightseeing/Monument entrance fees for entire trip.

Welcome dinner for members in Kathmandu.

Power supply at Base Camp for charging electronics (solar and generator backup)

Flight cost from Kathmandu – Lhasa including airport departure tax.

Chinese visa and permit. (We handle all the paperwork for the Chinese visa and all the Tibet travel and climbing permits)

All our government taxes and vat.

Farewell dinner party in Kathmandu.
Price Excludes
Lunch and dinner whilst in Kathmandu and while staying at hotel/guesthouse in Tibet.

International flight fare and airport departure tax
Travel insurance along with high-altitude emergency evacuation coverage
Nepal Entry Visa (Visa can be acquired easily after your arrival at Tribhuvan International Airport in Kathmandu with a fee of USD 50 for 30 days visa and USD 125 for 90 days visa)
Any beverages including bottled and boiled water

Personal trekking and climbing Equipment

Tips for trekking staff and driver (Tipping is expected)

Any expenses other than the Price Include section
Day 01: Arrive at Kathmandu airport (1345 meters).
Our airport representative will be receiving you at Tribhuvan International airport, Kathmandu and s/he will be displaying an Ace the Himalaya signboard outside the airport terminal. You will be then transffered to your respective hotel in our private tourist vehicle.
Day 02: Pre-trip meeting & sightseeing around Kathmandu valley.
In the morning, after breakfast, At around 8am, we host a pre-trip meeting at your hotel in Kathmandu and introduce your trek leader/guide. Please seek this opportunity to ask questions about your trek. We will also supply you with our trek Duffel Bag, T-shirt and a Cap. For the meeting, please make sure you bring passport, three copies of passport-size photos, and a readable copy of your travel insurance policy. During this meeting, please clear the due balance, if any, and sign the legally binding trip form as well as the non-liability disclaimer. Please inform us in advance if you will be arriving late and therefore are unable to attend the pre-trip meeting.
After the Pre-Trip meeting and breakfast, your sightseeing trip will start at 9.45 AM in the morning. We provide a private vehicle and professional tour guide. We visit Boudhnath Stupa, one of the biggest Buddhist shrines in the world, where we observe Buddhist monks in prayer in the monasteries surrounding the stupa. After Boudhnath Stupa we visit Pashupatinath, the most famous Hindu temple in the country, located on the banks of the holy Bagmati River. Here we see Hindu holy men (sadhus) meditating, pilgrims bathing and occasionally funeral pyres burning on the ghats. We also visit Bhaktapur Durbar Square, which is a collection of pagoda and shikhara – style temples grouped around a fifty-five-window palace of brick and wood. The attraction of the Bhaktapur Durbar Square are the the Lion gate, the Golden gate, the Palace of fifty five windows, art galleries, the Statue of King Bhupatindra Malla.
The rest of our time in Kathmandu is free for further exploration and some last-minute shopping in Thamel area near by your hotel.
Day 03: Official formalities in Kathmandu.
Formal briefing at the Ministry of Tourism. The expedition leader will check that everyone's equipment is in working order.
Day 04: Final preparation day in Kathmandu.
Final opportunity for last-minute purchases.
Day 05: Fly to Lhasa.
Early morning transfer to the Kathmandu International Airport for the hour-long flight to Lhasa. This stunning flight takes us directly across the main Himalayan range, providing magnificent mountain views. After landing at Gonggar Airport and meeting our Tibetan guide, Lhasa is a further two hour drive. The remainder of the day will be left unscheduled for participants to rest and adjust to Lhasa's higher altitude.
Day 06: Sightseeing in Lhasa
We spend today visiting several of Lhasa's many monasteries in the company of a guide and interpreter. One of these is the Sera Monastery, one of the best-preserved monasteries in Tibet. Several hundred monks live and study within its whitewashed walls and golden roofs. After lunch we'll visit the Norbulingka, the summer palace of the Dalai Lama, as well as the Jokhang Temple. This temple is possibly the most sacred shrine in Tibet and there is always a procession of devout Tibetans making their way through the complex. Surrounding the Jokhang is the Barkor, a maze of narrow cobbled streets that is the central market of Lhasa.
Day 07: Second day of sightseeing in Lhasa.
In the morning, we visit spectacular Potala Palace, which dominates the city of Lhasa. The building served as the seat of the Dalai Lama from the 17th century until 1959, and contains numerous grand state rooms and many important chapels. After lunch we visit the Drepung Monastery, founded in the 14th century and once the largest in the world, with a population of around 10,000 monks. These days that figure is down to several hundred, but there is still much at the monastery of interest, especially because it was left relatively unscathed during the Cultural Revolution.
Day 08: Drive to Gyantse.
We begin the day's 261 km journey heading towards Rongbuk Valley. Following the Friendship Highway, we cross the Khamba La at an elevation of 4794m, from where there are stunning views across the waters of Yamdrok-Tso Lake to the snowy summit of Nazin Kang Sa (7252m). As continue our journey west over another high pass, the Karo La (5045m), we can view the spectacular sight of a huge glacier tumbling down to within a few hundred meters of the road. After few hours we arrive in Gyantse (3950m), passing through beautiful valleys and colorful Tibetan villages.
Day 09: Drive to Shigatse.
This morning we visit the Gyantse Dzong, a fort dating back to the fourteenth century that offers amazing views of Gyantse and the surrounding valleys. Before leaving we also visit the famed Gyantse Kumbum. This magnificent tiered structure is the largest stupa in all of Tibet. In addition to its exquisite golden dome, the stupa is filled with Tibetan sculptures and paintings.
We continue the 90 km trip to Shigatse (3900m), the second largest city in Tibet. Shigatse is a laid back city that provides excellent opportunities for relaxation and exploration. After exploring the local market we will visit the Tashilhunpo Monastery, one of the largest functioning monasteries in Tibet.
Day 10: Drive to Xegar (New Tingri).
The views offered by this desert plateau provide wonderful entertainment as we travel 244km along the Friendship Highway on our way to Xegar (4050). This stretch runs through Tibet's most spectacular landscape. After passing through the small town of Lhatse we will cross Gyatmso La – with an elevation of 5220m, it is the highest pass on our journey. The land quickly descends to plains after Gyatmso La. While travelling through the plains we will see nomadic herders, quiet countryside, and secluded monasteries.
Day 11: Drive to Ronguk and hike to Everest Base Camp.
Today we leave the main Lhasa-to-Kathmandu highway and head due south toward Mt. Everest. We drive over the Pang La, which should provide our first good view of Everest, some 40 miles away. Then we descend to a village on the valley floor, continuing up the valley to the base camp (5150m). The road becomes increasingly rough, but the scenery grows all the more stunning as we round each corner. Finally we come to the awesome north face of Everest at the head of the valley before us. From the base camp it certainly seems very close, but it is still another twelve miles away.
Overnight at a tented camp
Breakfast, Lunch and Dinner
Day 12-16: Acclimatization and local exploration.
Four days will be spent at the base camp while our bodies adapt to the high altitude, allowing plenty of time to enjoy the views and photograph Everest. For those feeling up to it, there are plenty of hillsides to scramble up, and Rongbuk Monastery lays an eight kilometer (five mile) walk down the valley. Another sight not to miss is Tillman's Camp, an idyllic spot beside the majestic Central Rongbuk Glacier, which offers staggering views of the north side of Everest. While there's plenty to see in the valley, it's important not to overdo it during this period – there will be plenty of opportunity for exertion later. At this phase of the expedition, climbers should be adapting to the altitude, drinking plenty of fluids, resting, and enjoying the cuisine of the Sherpa cooking staff.
Overnight at a tented camp
Breakfast, Lunch and Dinner
Day 17: Trek to first interim camp.
The trek starts easily enough, crossing the pebble floodplain of the Rongbuk River, then weaving along a path between the glacier and the valley side. After about 2 hours we reach a good viewpoint and turn steeply up to the left, leaving the main central Rongbuk valley. This takes us up into what seems to be a fairly small subsidiary valley, but it soon opens up to reveal the amazing pinnacles of the East Rongbuk Glacier. It was the discovery of this path in 1922 that provided the key to climbing the north side of Everest. After no more than two hours since leaving the Rongbuk Valley, we make camp in a pleasant spot with plenty of space (5680m). The camp is located on the right bank, overlooking the river below, and is just short of the moraines and the toe of the glacier that lay ahead.
Overnight at a tented camp
Breakfast, Lunch and Dinner
Day 18: Trek to second interim camp.
Crossing small streams and moraines, we gain the opposite side of the valley and contour along it until the valley makes a definite swing north.
This will be the site of our interim camp for future journeys between base and advance base, but for now it marks the climb onto the glacier proper and the start of the Magic Highway. On subsequent journeys up the East Rongbuk Glacier, we will be fitter and better acclimatized, enabling us to complete the trek easily in two days.
The Magic Highway is a unique tongue of moraine that passes down the middle of the treacherous ice pinnacles of the East Rongbuk Glacier. The route is surprisingly level, with little height gain; most of the effort goes into adapting to the altitude change.
Once on the Magic Highway, the conditions become more difficult than during the previous day's walk, with ice and moraine constant companions from here onward. At the start of the season, the streams on the glacier will be slight, carrying little water. However, as the season progresses through spring, and toward summer, some of these streams will become torrents, requiring frequent route changes to cross them safely.
The highway eventually drifts in toward the east ridge of Changtse, where a lake often forms. The interim camp, reached after five hours of slow walking, is nestled close to the entrance of the cwm to the north of Changtse, close to this moraine lake.
Overnight at a tented camp
Breakfast, Lunch and Dinner
Day 19: Trek to advance base camp.
The reappearance of Everest is a pleasant distraction during the final climb, and as you round the corner toward the advance base camp (6440m) the whole northeast ridge can be seen, from the Raphu La to the summit. The shimmering triangle of snow highlighting the summit four kilometers away and two up will issues its siren's call until your footsteps cross it!
Overnight at a tented camp
Breakfast, Lunch and Dinner
Day 20-58: Climbing Mt. Everest from north ridge.
From this point on, it's not really possible to detail a climbing plan, because the pace will depend upon the leader and the particular team. For those who have experienced extreme altitude before, we aim to be as flexible as possible to allow for each climber's preferred acclimatization routine. For some, this may mean climbing as high as Camp 3 on the north ridge as quickly as possible, before diving back to the base camp for a long rest. Others might want to remain at a lower altitude longer, taking several trips to the North Col and sleeping there overnight but not going any higher at the start.
Whatever routine is adopted for acclimatization, once everyone is happy that they have achieved an optimum state of readiness, the team will return to the base camp for a long period of rest and refreshment.
After many days of resting and preparing, we return once more to ABC, using the single interim camp at the start of the Magic Highway. Again, we pause in ABC, to refresh and check equipment. When the weather is as fair as possible we head up. The route to the North Col is by now a well-known path, since we have ascended and descended its slopes a few times as part of our acclimatization process. We'll also find the meters slipping by more easily, with our sights now set on the mountain's pinnacle.
From Camp 1 on the North Col, the route turns to follow a long snow ramp, the north ridge proper, which rests like a gigantic flying buttress supporting the upper reaches of the mountain. Although this stretch never grows steep, it is prone to wind sweeping icily across the mountain. After a full day we reach Camp 2, located at the head of the ramp.
From here the route moves on to broken rocky ground of shattered shale, as the north ridge casts off its layers of snow. The route remains relatively easily-angled, although the gradient increases gently until the next camp is reached. This camp is located where the mass of the north ridge rams home hard against the bulk of the mountain, on rocky shelves. The day's trek is rewarded with stunning views over the glaciers below. What we viewed as large mountains towering above on the Magic Highway are now below, blending into the backdrop of the Tibetan Plateau and the flatlands beyond.
The top camp will give you an even greater sense of the world below your feet. The ascent continues on broken ledges, but these are easy to navigate, interlaced with shale and scree until snow runnels give out onto the north face proper. Once clear of the rocks and on more open slopes, you turn directly upwards, to arrive at the final camp at about 8,400 metres.
Summit day
Summit day begins before midnight! Leaving the tents in the still of the night, you clamber up a faint gully that leads to the ridge above. This line through the rocks is steeper than those traversed the day before, but the fixed ropes help lift you toward the skyline. Some scrambling will land you on the ridge at over 8,500 meters. The only thing now between you and the top is roughly 400 meters of ascent, three rock steps, and over a kilometer of ridge – the ultimate tightrope! As dawn breaks, you will see the awesome Kangshung Face falling off to your left – a mind-boggling drop into Tibet. For the main section, you remain on the right flank and traverse easily in places, but the route is punctuated by the first, second and third steps. The hardest of these is the second, which has a ladder and fixed rope to allow an ascent, which would be virtually impossible otherwise. Additionally, you can expect an airy traverse en route to gaining the top. Finally, you step onto the mountain yields and final summit snowfield previously witnessed from miles below, heralding your arrival to the Top of the World.
Overnight at a tented camps
Breakfast, Lunch and Dinner
Day 59: Packing personal equipment at base camp.
Overnight at a tented camp
Breakfast, Lunch and Dinner
Day 60: Depart from base camp and drive to Zangmu.
We return by the same remarkable road journey across the Tibetan plateau, staying the in Zangmu and preparing to cross back into Nepal at first light.
Day 61: Drive to Kathmandu.
Once back in Kathmandu, Ace the Himalaya will host an evening barbecue as a chance to celebrate the expedition, say farewell, and thank the Sherpas and team members for their support and friendship throughout the trip.
Day 62: Leisure day in Kathmandu and Farewell Dinner.
Ace the Himalaya will host an evening barbecue as a chance to celebrate the expedition, say farewell, and thank the Sherpas and team members for their support and friendship throughout the trip.
Breakfast and farewell dinner included
Day 63: Transfer to airport for flight departure.
An Ace airport representative will escort you to Kathmandu International Airport for your flight departure from Nepal.
Gears and Equipment
You will need clothing for dining in Kathmandu, trekking in the humidity and heat, and to protect you from the cooler temperatures in the mountains. This list is designed to help you choose the right gear for the demands of this trek and are the minimum required for this trip.
You are expected to provide the following personal equipment. These items are mandatory for survival in the mountains, so make sure you have everything on the list.
The emphasis on equipment necessary for mountain travel follows two simple tenets: Lightweight and Functional. Since you will be carrying all of your gear and a portion of the group gear, the items you choose to take should be lightweight, dependable, and adaptable to a variety of extreme conditions. The quality of the equipment you choose has a lot to do with how warm, dry, and safe you will remain so be critical of quality and the proper fit of clothing. Comfort lends itself to a more enjoyable experience!
The layering system outlined is usually sufficient for most people, but if you tend to be colder, bring one extra medium layer such as a vest, which would be ideal for extra warmth around camp. When making the final decision as to what goes into your pack, remember that it's a fine science of taking just enough clothes and accessories to do the job, while not over-burdening yourself with items you probably will not use.
Cotton clothing must be avoided because it dries very slowly and is a poor insulator when wet. Instead, choose wool or synthetic fabrics that "wick" the sweat and moisture away from your skin to keep you much warmer.
We will supply complimentary water and wind proof duffel bag which you can use on the trek and is carried by porter/s. The duffel bag is yours to keep after the trek. You can leave your bag with your non-trek items at the hotel in Kathmandu and collect them after the trek.
All the equipments like Base camp tents, kitchen accessories and all the group climbing equipments ( climbing rope, ice screw, snow bar, ice hammer) is provided by the company.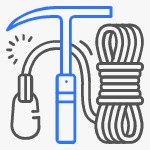 Climbing gear
The Following equipments are essential for climbing.
Alpine climbing harness. Must have adjustable leg loops and fit over all clothing.
2 locking carabiners. Large, pear-shaped carabiner is best, screw gate type recommended
3 regular carabiners. Lightweight; BD Hot wire are recommended.
Ice axe w/leash. Light weight (Grivel Air tech, Black Diamond Raven, or Charlet Moser Snow Walker). Under 5'7" use 60cm; 5'7"- 6'2" use 65cm; over 6'2" use 70cm.
Plastic Mountaineering boots (Koflach Degree, Lowa Civetta, or Scarpa Alpha) or Leather Double Mountaineering boots (La Sportiva Olympic Mons, Boreal GI or equivalent; must be mountaineering/crampon compatible)
Crampons. Must be fit to plastic boots prior to trip, new-matic type recommended; include a simple repair kit (Grivel G12, Black Diamond Contact, or Charlet Moser Super 12)
Adjustable trekking poles.
Belay/rappel device (Figure 8 preferred)
Upper Body
2 cotton t-shirt.
1 polypropylene t-shirt.
2 long sleeve polypropylene shirts. Lightweight, light colored for sunny days.
2 women sports bras. Synthetic, no cotton!
1 Softshell. Marmot Dri-clime Wind Shirt, Patagonia Stretch Zephur or Krushell Jacket (R2 pullover acceptable).
Down/synthetic sweater or vest. Patagonia Puffball Jacket or Sweater preferred; R4 Jacket acceptable
Hard shell jacket with hood. Water proof and breathable. Gore-Tex or equivalent is best, roomy enough to fit over multiple layers.
1 expedition down parka with hood. This is probably your most important piece of clothing! It is important that your jacket is 700+ fill down, baffle construction (not sewn through seams) and has a thick insulated hood
Hand Wear
You will require two systems: one glove system for lower on the mountain and a mitten overmitt system for the cold temperatures encountered on summit day.
2 pair liner gloves. Thin wool or polypropylene.
1 pair warm gloves. Fleece or wool.
1 pair expedition shell gloves.
1 pair modular expedition shell mitts. Or Pro Mitts. If they do not have wrist straps consider sewing one on so that you can either attach it to your jacket or cinch the strap to your wrist so that you do not lose your mittens in high winds.
Head Gear
Warm hat. Wool or synthetic that covers your ears.
Balaclava
Face mask.
Shade hat or baseball cap.
Glacier glasses. 100% UV protection with side shields and a hard-sided storage case (e.g. Julbo or Cebe)
1 pair extra sunglasses (also with UV protection in case your 1st pair breaks).
1 ski goggles with UV protection
If you require prescription glacier glasses, you can get your lenses modified to your prescription.
Lower Body
4 pair of liner socks. Polypropylene or Capilene.
3 pair lightweight trekking socks.
2 pair medium-heavy wool socks. Check boot fit with liner and wool socks on.
1 pair nylon shorts.
1 pair nylon pants for trekking and around camp.
2 pair lightweight long underwear bottoms
1 pair fleece pants with side zipper or "puff-ball pants"
1 pair soft shell pants (e.g. Patagonia Guide pants or OR Granite Pants. Schoeller fabrics).
1 pair of hard shell pants. Waterproof/breathable with full side zips, Gore-Tex or equivalent is best.
1 pair gaiters. Make sure they will fit over plastic boots (OR Crocodiles or equivalent).
1 pair down booties (optional).
1 pair trail shoes for the hike to base camp and use at camp
1 pair sandals or tennis shoes for Kathmandu and in camp
All clothing should be kept dry using waterproof stuff sacks or large plastic bags.
Pack
1 lightweight internal frame pack (approx 4,000 cubic inches).
1 daypack is optional for the approach hike, possible use on summit day and carry-on pack. If you plan to use it for your summit pack it must be large enough for your down jacket, misc. clothes, food and water. The Lowe Alpine Neutrino or Black Diamond Speed 28 are excellent, lightweight (16 oz.) choices.
1 large (7,500+cu.in.) duffel bag for gear, must be durable for use on pack animals
Small padlock for duffel bag.
1 small duffel bag for luggage storage in Kathmandu. We will supply complimentary duffel/kit bag for the item you buy in Kathmandu.
Sleeping Gear
1 down sleeping bag rated to -10 F (Gore Dryloft or similar fabric helps protect down and dark colors speed drying time)
Sleeping pad. Full length closed cell foam (mandatory) and/or Therma-Rest for extra warmth and comfort
Miscellaneous
1 first-aid kit with ibuprofen and any other doctor recommended medications.
Lip balm. At least SPF 20, 2 sticks. A string taped to the stick is helpful to hang around your neck
Sunscreen. At least SPF 40
Headlamp. Petzl Myobelt 3 or Black Diamond Polar Star.
3 Water bottles. 1 liter wide-mouth Nalgene (1 is a pee bottle).
Hydration bladder with drinking tube for lower mountain (optional)
1 water bottle insulator.
Plastic mug w/snap-on lid, 16 oz. or larger.
Bowl and spoon. Plastic, small Tupperware works well. Lexan spoons are best.
Pocket knife. Small Swiss-army type.
Water purification. Iodine tablets or Polar-pure crystals
Toiletry kit. Be sure to include toilet paper stored in a plastic bag.
3-4 Large plastic bags, for keeping miscellaneous gear dry.
Nylon stuff sacks. For food and gear storage (OR has a good selection); large Ziplocs are useful also.
Bandana.
Camp towel.
Ear plugs.
Hand wipes.
1 small stainless steel thermos (optional).
Favorite snack foods (no more than 2 pounds).
Paperback books, cards, Walkman, etc.
Binoculars (optional for viewing the route from the lower camps).
Camera. 1 light weight point & shoot on the mountain, 1 large SLR type is optional for the trek in and base camp.
Fanny pack or wallet for travel documents, money & passport.
Passport and passport photos
Airline ticket (Please leave your airline ticket at our office in Kathmandu because we may required changing the date of your departure from Kathmandu)
This list is only a guide. While you are required to bring everything on this list, there are numerous options, brands, and versions of each piece of equipment. Use your experience and the listed features to find the best gear for you. Some of the above equipments can be easily found in stores in Kathmandu for cheaper prices.
Please Note: Tight fitting, figure-hugging clothing, such as those made with Lycra can often be offensive to locals, especially to women. If you find these items comfortable as a base layer, please pack something to wear on top of them.
FAQs for Everest Expedition via North Side
General
Do your guides have the trekking guide certificates from the Hotel Management and Tourism Center? Have they received first aid training for high altitudes?
We provide licensed trekking guides with fluent English. Our guides are certified by the Hotel Management and Tourism Center after receiving 45 days of training. Similarly, the guides receive high-altitude training from Kathmandu Environmental Education Project (KEEP).
Do you use yaks/porters on the trek or do we carry all of our own gear?
Depending on the group size we use both porter or Yaks to carry your luggage. All you need to carry is your small day bag for your personal belongings like camera, water bottle, sun cream etc only.
Can I add extra days to my trip?
Holiday should never be about making it to the final point quickly. Along your trip we can add days at your request with additional costs to cover guides, porters, accommodation and food.
Can I rent climbing equipment from you?
Yes. Please contact us for the price. However we strongly suggest bringing the good quality equipment yourself. It is hard to find good quality brand new climbing equipment in Nepal.
What kind of guide do you have for climbing?
We have experienced local Sherpa guides, who have scaled the mountains of over 7,000 and 8,000 meters including Shishapangma multiple times.
What immunizations will I need?
COVID-19 vaccination (Negative PCR report in case of unvaccinated travelers.)
Typhoid vaccination is recommended but not required
We suggest you have a dental checkup before your trip and know your blood type. It is helpful if you inform us of any medical condition that is relevant so we may convey this information in the event of an emergency. Ace the Himalaya keeps your medical condition confidential unless treatment is necessary.
Are there any volunteer projects that we could visit after the tour?
Ace the Himalaya is one of the prime supporters of the social organization Sambhav Nepal. There are several on-going projects in a village called Arupokhari (Gorkha district) which you are more than welcome to visit or even volunteer at. You will be able to gain a different insight into the lives of the people in the hills and also make a difference!
Click here to learn more about our volunteer programs
Is there a minimum and a maximum number for your groups?
We cater to all group sizes, while maintaining the field staff ratio to give you the best quality and experience.
What is your cancellation policy?
Notice should be provided 20 days before the trip start date in case of cancellation. The trip can be canceled for justifiable reasons. Once the trip is canceled, a fee of 30% of the trip cost is retained for administrative costs.
However, the trip amount is entirely non-refundable if the cancellation is not made before the 20 days as per our terms and conditions. For submitting a claim to your insurance company after the cancellation, we can assist with documentation such as a receipt of monies paid. Refund will not be provided for unused accommodation in case of trip cancellation caused by personal reasons/sickness/weather.
More information about our cancellation policy can be found here in Terms and Conditions page.
What kind of insurance do I need?
We invest in insurance coverage for commercial liability and medical and disability insurance for our employees and Sherpas while participating on our programs. We cannot insure you for your personal needs, but we do expect you to be as fiscally responsible as we are. We strongly recommend that you insure yourself against potentially expensive difficulties that may arise. First, trip cancellation insurance may provide financial relief should you be forced to withdraw from the climb before it even happens. Next, make sure you have adequate traveler's medical and evacuation insurance for coverage should you have a problem during the trip. Medical care and evacuation from mountain can be expensive.
I want to extend my holiday, any recommendations?
Yes, you can extend your holiday. Ace the Himalaya offers many options and alternatives for your holiday extension. For more information, you can visit our Day trips pages.
Is Ace the Himalaya's staff insured?
Our company insures all our trekking staff members, including guides, cooks, Sherpa, and porters. Please browse through our legal docment page to view insurance details.
Do we book our own international flights to and from Nepal?
Yes, you need to book your own international flights. We are a local agent and it would cost you significantly higher to book through us. Please find more information in the International Flight page.
Arrival and Visas
What if I arrive early or depart late?
As long as possible, we request you to arrive in Kathmandu on the assigned date, to assure your baggage makes it on time, and you have time to recover from jet lag before trekking. It is hard to catch the group if you are arriving late and still waiting for lost baggage! We can arrange extra nights in the hotel. Many people depart from our Nepal expeditions later, to enjoy the sights and sounds of Kathmandu, but do keep in mind that this is long expedition and we find that people want to head home as quickly as possible after the climb finishes.
Is it possible to obtain a visa for Nepal upon arrival at the airport?
Yes, you can obtain a Nepal visa upon your arrival at the airport. There are kiosks in the arrival hall that you use to complete the necessary forms.  The cost is USD 30 for a 15-day tourist visa, including numerous entries, or USD 50 and USD 125 for a 30-day or 90-day tourist visa including numerous entries respectively. You should carry cash (USD) with you to pay your visa fees quickly and easily, as digital payments are frequently unavailable.
Expedition
Do your climbing guides are trained and have done this peak previously?
YES all our climbing guides are licensed by the Nepal Mountaineering Association. They are experienced in many 6000 and 7000 meters peaks and also been to 8000 meters peaks few times. We only provide the Sherpa who been to Everest North side multiple times previously.
How will the Expedition operate?
After meeting all your team and crew in Kathmandu we fly directly to Lhasa. After exploring Lhasa and Potala Palace with lots of sights and monasteries, we drive to base camp and after some rest and preparation we begin the ascent. Base camp will be a collection of sleeping tents, as well as a large kitchen and dining tent. We utilize the services of specially trained Sherpa cooks and we import a lot of high quality food to supplement the local produce available. The guides and Sherpas will fix rope on the route and stock the camps with provisions and equipment. By utilizing fixed rope we can climb in average weather, and, if necessary descend to base camp with little problem in case of a major storm. Two or three climbing Sherpas will assist with the load carrying but no more will be engaged in order to avoid clogging the route and spoiling the nature of the climb. When the fixed line is in place, and the two camps are established and stocked, we will climb back up the ropes and make a bid for the summit. Sufficient supplies will be available to support all members. Guides and Sherpas will carry all group gear but members are expected to carry their own personal gear. Radios will be used to co-ordinate the movements on the mountain and provide a safety back-up for the lead team.
I want to climb Everest, but there are so many options and the cost is high! Why should I choose Ace the Himalaya? What makes you different to other companies out there?
As we all know that when you make a decision to climb the Everest it is one of the most financially challenging trips to come on. Our prices compared to other outfitters that provide the same product, services, if not a lesser product are actually less! We invite you to shop around and compare, both in price and quality. We feel strongly that you will find us to be the best in the business.
One of the main things that set us apart is our attention to detail. Nowhere else you will find a team of people more dedicated to your success! From the time you contact the office to the time you step on the mountain, our customer service is the best. Another most important reason to choose is our community service.
Our trip prices are much more reasonable compare to many global based companies; it is not because we are economical in service in which we operate. We are local operator therefore we DO NOT re-sell or use second party or agency. Many international companies will take anything from one third to three quarters of the profits this is how your trip price makes huge unusual.
Can my friends and family come along to base camp for the climbing?
Sure! This is one of the best parts points to start the expedition. Having family and friends trek to base camp to see you off on your journey. Base camp for non-climbers is not a very hospitable place, but we strive to make your guests comfortable and welcome. Guests for the duration of the expedition are allowed on a case by case basis. The reason for this is simple. On the trip, our job is to be climbing; spending time just at base camp can be quite boring sometimes, so we usually encourage guests to trek in at the beginning or end of the expedition, to join you during the most exciting parts of the trip! Contact us for details.
Are the skills/prior experiences required for this climb?
Simply, You cannot just decide to write a cheque and go and climb Mt. Everest! A comprehensive climbing resume is required to join our team. The most required factor on our 'Ace Everest Expedition' is that the participants must have a solid understanding of mountaineering skills. This should include previous high altitude experience of at least 6,000 meters, mixed with a multitude of Alpine mountaineering and, preferably, you will have taken part in a previous 8,000 meters expedition. Please let us know if you want us to arrange training program in some of the 6000 and 7000 meters peaks in Himalaya before your Everest expedition begin. Our Three Peaks Climbing Courses or Pumori Expedition is appropriate for preparing Everest expedition.
By our experience, we have found that those who have been to 7000 to 8,000 meters peak previously have a considerably better chance of getting to the top of Everest. We would strongly advise you to climb one of the other 7000 or 8,000 meters peaks before going to Everest, as this is the best way of ensuring the money you spend on Everest will be rewarded by a successful ascent and a safe return home. Exceptionally, however, climbers who have not had the chance of climbing 7000 to 8,000 meters peak may consider Everest if they have a compensating depth of experience.
As the trip is so long, can I bring food and other gear not on the list?
Of course! Most people on the climbing, members end up bringing "the kitchen sink"!
Is there a private trip option too? If yes, how does that work and what are the costs?
Taking as your Everest expedition is a once in a lifetime experience, we wanted to make sure you have every possible advantage. Some clients enjoy the added privacy and schedule flexibility that a private expedition allows. A private means you will have your own guides, your share of the Sherpa carry staff, a private dining tent, and optional private communication facilities. This allows you to climb at your own pace, and enjoy the mountain on your own terms. The costs vary depending on how many clients there are in your private group. Please contact the office for details.
Could I have my own personal Sherpa?
Additional Personal Sherpas (who have successfully climbed Mount Everest) are available for hire, the cost will US$1500 extra (includes all their costs) to climb with an individual who desires someone to climb with them on a personal basis.
What is the conditioning level needed for this climb?
You should be in the best shape of your life! This is our longest expedition of the year. It requires patience, stamina, mental fortitude, and a strong will. Summit day can sometimes be over 20 hours long! Day by day the challenges are different, but the more prepared you are, both mentally and physically, the smoother your trip will go.
In a team, how many climbers will be on this climbing?
Maximum 10 members can be included on our Ace Shishapangma Expedition. This is to ensure that we can maintain safety and our attention on detail. There may be more in base camp and in the camps on the mountain if there are private expeditions, but they will generally travel separately from the main team.
Can I contact other climbers or guides for this climbing?
Yes, we encourage that. Perhaps there may be someone in your area that can become a training partner, perhaps they can help you source some hard to find gear. The bottom line is that it's a good idea to have some contact with folks that you will share this experience with.
How heavy will my pack be?
It will depend on the day. On a "carry" day, where you are moving your personal gear between camps, your pack can be 20-40lbs, equal to 9-18kg , sometimes higher if you choose to carry more of your equipment. On "move" days, the weight goes down significantly, to 10-15lbs., 5-7kg.
Accommodation
What kind of accommodation should I expect in Tibet and climbing? Is there a single room option on this trip?
Travelling in Tibet is one of the best experiences in life, the travelers are required to know that Tibet is located in a very high altitude. It is natural that most of the travelers have the more expectations while travelling any part of the world in terms of hotels, accommodations and the services as a whole. But what we have to consider that world is not perfect and no one is perfect. Since, Tibet is located in very high altitude, the hotels, accommodations and other services can't be expected deluxe similar to Kathmandu all the moment. We normally provide two star (as per Tibetan stander) hotel accommodation in Lhasa but the accommodation outside of Lhasa can be very basic and some time even dormitory style. All the accommodations are pre-booked before starting the trip. While in the tour, if you want to change the hotels, the additional cost should paid by you to our guide directly.
You will have your own tent in base camp, but on the mountain and while one the 4WD tour in Tibet, you will be sharing a room with others. We generally book you in to a single room in the hotel in Kathmandu. A single supplement is available. Please contact us for further details.
What kind of food do you have on the mountain? Or at the base camp?
All these will depend on what camp we are in. In the base camp, we import tons of food from Kathmandu. So don't be surprised by our sushi nights, fresh muffins, yoghurt for breakfast, and pizza! On the mountain, we usually have a wide variety of meals; these are significantly tastier than freeze dried, as they are real food and ready to heat and eat! At our advanced base camp, we have Sherpa cook staff, who prepare more 'base camp like' food. Pizza, pasta, eggs and bacon! We work hard to make sure our food is second to none.
We will arrange hotel and guesthouse accommodation including breakfast below base camp, however lunch and dinner in the hotel and guesthouse is not covered by our package price, you will be spending roughly US$ 14 to USU 18 per day for the lunch and dinner. From base camp and above until you return to base all the foods are provided.
How long will be a typical day on the mountain?
It depends on the day and your level of acclimatization. At the beginning of the trip, everything seems slower and longer, but as you get more adjusted to the mountain, the days go quicker. Average days can be 5-12 hours long. Summit day can be up to 15 hours long.
Is communication possible on the expedition? If yes, what its type?
Experience has shown how important it is on Everest to be able to talk to every team member, at all times. If you join Ace the Himalaya on Everest, you will have a dedicated radio. Each Sherpa will also have his own radio, so that at all times we can keep in touch with everyone, and everyone can keep in touch with each other.
Base Camp is equipped with a lap top and high speed satellite connection. The satellite communications are also used to send back regular reports, every couple of days, to Ace the Himalaya office. Expedition updates are then posted on the web and/or are sent to family and friends via email.
What sort of hotels do we stay at in Kathmandu?
We use standard rooms from three/four star hotels in Kathmandu with breakfast included. Hotel Vaishali, Samasara Resort are the examples of the hotel that we use in Kathmandu.
What time should I arrive and where do I meet my guides?
There will be an Ace the Himalaya representative at the airport to meet you, and the first of many team briefing occurs in the evening of day 1 and 2 in Kathmandu with our local Sherpa guides.
Will it be possible to get any clothes washed along the way, to enable load to be kept as light as possible?
Laundry service is difficult to find, except in cities. For other trips, laundry is done by self at the taps.
What opportunities will I have for shower along the trek?
In major places, we arrange guesthouse with hot shower. And in rest of the places, hotel water in bucket will be provided for shower. We will also have the shower tent at the base camp.
Payment and Extra Costs
How much should I budget for this expedition? How much cash should I plan to bring?
Since this is our biggest and longest trip, we usually suggest our expedition members to bring USD$800 -$1000 . This will cover everything from gifts, to bottled drinks, tips, and anything else that catches your eye on the trail. ATM cash machines work in Kathmandu, but only pays the local currency, Rupees.
How much should I tip my guide staff?
This is a difficult thing to gauge. We have seen everything from 20USD to 15,000USD for an Everest expedition tip. Tipping is not must, but a small way to show your guides thanks for their help. The level of the tip should reflect the level of personal involvement with your guide. Recommended tipping and Sherpa bonuses are as follow:
Allow $80-150 for general non-sherpa crew who stay at base camp.
Allow $150-250 for sherpas who go up to the base camp.
Summit climbing Sherpa US$ 400 – 600 per Sherpa
Can I use US$ in Tibet?
Besides Chinese Yuan, only US dollars can be accepted in Tibet. Also shops that accept American currency are very limited and you might not be able to get a good deal for an exchange rate. Credit cards can only be used at some hotels. The Bank of China also accepts credit cards. ATM is not widely available. Exchanging your money to Chinese currency will be the best option for you, which can be done at the Bank of China (exchange rate between USD & RMB is 1:7.5 at the time of writing this text). While changing money at the local money exchange centers, please make sure that you are accompanied by your guide and do consult him as you may easily be duped with counterfeit notes.
Tibet is becoming more expensive every year. There are many shops in Lhasa, Shigatse and Gyantse that sell traditional Tibetan handicrafts. We recommend you to bring extra money to spend on souvenirs.
Traveler Reviews
These full and frank reviews are from travelers who have traveled with Ace the Himalaya previously. The reviews and experiences shown here are from reputable travel websites like TripAdvisor, Google, Facebook, and Trust Pilot, etc.
What makes this trip different ?
Our CSR with Sambhav Nepal
Ace the Himalaya believes in giving back to the communities that surround and support tourism in Nepal. Ace provides logistical support and, if needed, cash donations to the projects of Sambhav Nepal (a local NGO).
Sambhav Nepal and Ace work together to plan volunteer programs that will bring in foreign volunteers and make use of their enthusiasm, time, and talents in a variety of projects.
Sustainability and Responsible Tourism
Of the few Travelife Partners in Nepal, Ace the Himalaya is one. We respect the procedures for sustainable tourism. Our excursions are socially and environmentally conscious, leaving the lowest possible impact in the Himalayas.
About 80% of Ace the Himalaya's staff members are natives of the regions where our trips are organized. It is one of our sustainable and responsible efforts to help local communities, support small businesses, and promote regional culture and way of life.