Trishuli River Rafting - 1 Day
Recommended by 99% of travelers
Trishuli River Rafting is for those looking for a short river rafting trip,with some really exciting rapids, beautiful scenery and peaceful environment.
Difficulty
Best season
Feb-Jun/Sep-Nov
Trip Highlights
Beautiful scenic view.
Wild experience of unsullied beaches.
Impressive gorges and exciting rapids.
Trip Overview
Trishuli River Rafting is an excellent river for those looking for a short river rafting trip, without a huge challenge but with some really exciting rapids, beautiful scenery, and a relatively peaceful environment. It not only gives you the thrill and the chill down the spine but it also mesmerizes you with the insight into the beautiful hills, greenery around, the Mankamana cable car, and the road alongside.
Trishuli river is located on the west of Kathmandu, on the way to famous beautiful destinations Pokhara and Chitwan National Park. You can also do this trip on the way back as it lies on the route of most treks in the Annapurna region as well. Otherwise, you can reach there within a 3 to 5 hours drive from Kathmandu, where you will be picked up from your hotel at around 7:30 am after breakfast by a private tourist vehicle. The cost of this rafting trip might vary depending on where you are planning to start the trip as the transport cost is more than that of rafting.
Departures & Availability
Our groups are small with maximum 14 people. We create groups of independent travelers, friends and families which maintains close interpersonal connection, engage more and get into depth of the journey. Choose a date from the calendar to reserve your spot.
Looking for personalized experience? We organize privately guided journey which is mainly designed to fit your taste and interest. Please fill out the form below to get started.
Price Includes
Rafting equipment i.e. boat, lifejacket, paddle, waterproof bag, etc.

Lunch during the day.

Hotel pick up & drop off by a private tourist vehicle.

All local permits and entrance fees.

Wages, meals, gear, insurance, and medications for all staff.

Photo and video of your adventure (which will be provided to you via E-mail)

All administrative expenses and government taxes
Price Excludes
Your travel insurance.
Any beverages including bottled and boiled water
Tips for hostess and driver. (Tipping is expected).
Any expenses other than the Price Include section
Day 01: Drive to Charaudi, Engage in Rafting and Return to Kathmandu
Duration:
3-4 hrs rafting
You will be picked up at your hotel after breakfast at around 7:30 am by a private tourist vehicle. Then, a drive of 3 to 4 hours from Kathmandu takes us to the starting point of rafting, Charaudi which is 85 km away. After the guide briefs us about rafts and the river, the trip hits a few class 2 or 3 rapids called "LADIES DELIGHT" and then we stop for the lunch. After lunch white water hits a class 2 to 3 rapid called "UPSET" and "SURPRISE". At Mugling we stop and have hot tea/coffee with snacks. The rafting duration lasts about 3 to 4 hours. After the end of the rafting, we drive back to Kathmandu.
Trip Note
If you are a non-swimmer, or not very confident in the water, we will be providing you with a life jacket to make sure u are safe and secure. Also, it is essential that you inform us of any medical conditions that may affect your well-being on the trip.
Factors such as local politics, transport, weather, etc. may also affect the itinerary for which our rafting staff will customize the changes if needed.
The necessary items like personal shoes, warm clothes, towels, sunblock, and a waterproof camera should be carried. Essentials can be stored in a waterproof bag during rafting as well.
This one-day rafting trip can be arranged before or after your trekking and tours. You can request add-on rafting while booking on your spare days. The trip can be extended up to two days as well depending on your preference and schedule. You can spend overnight in River Fun Beach Resort which gives you an additional rafting day at the Trishuli river.
Read more
Trip Map / Elevation
Download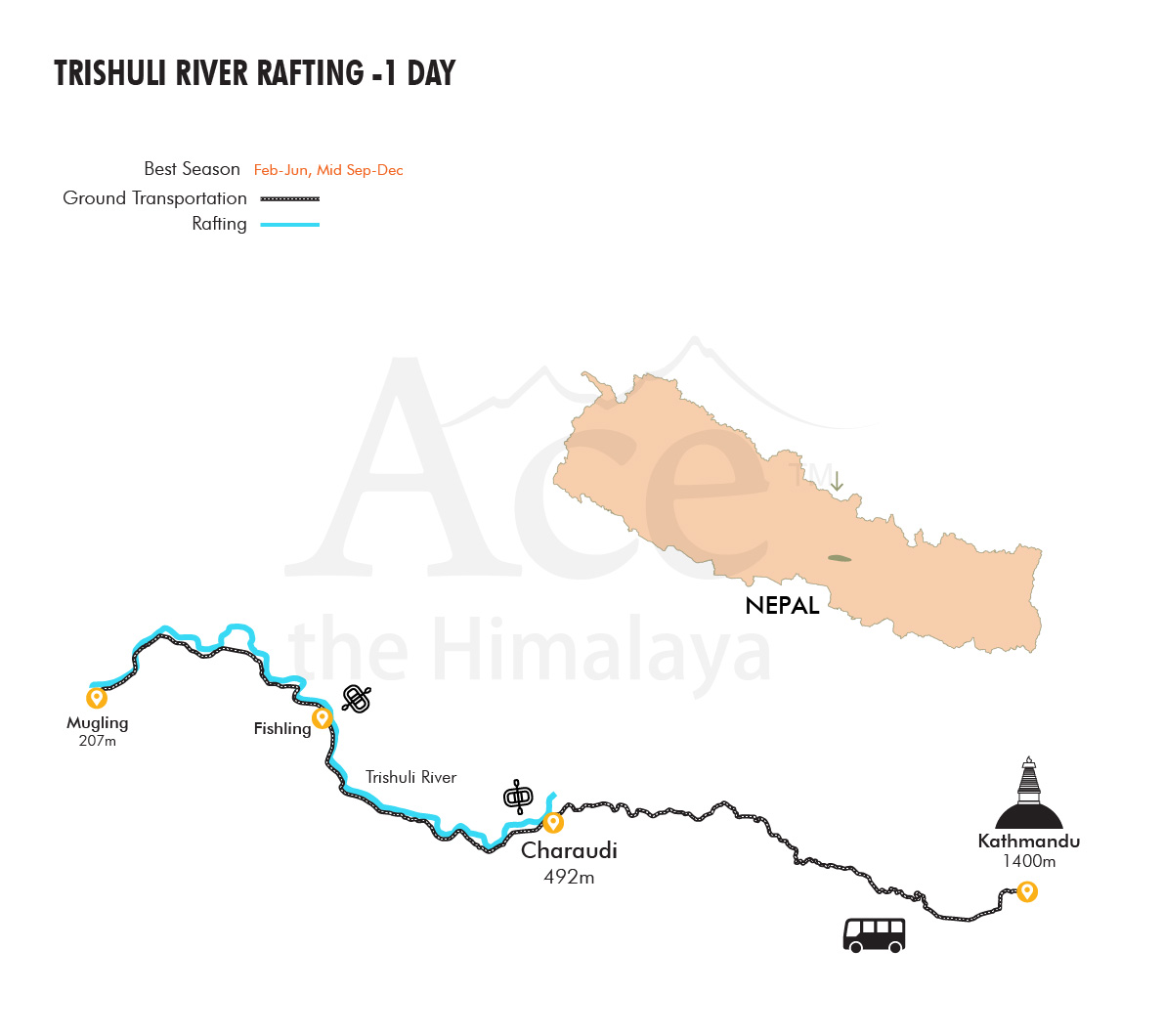 Traveler Reviews
These full and frank reviews are from travelers who have traveled with Ace the Himalaya previously. The reviews and experiences shown here are from reputable travel websites like TripAdvisor, Google, Facebook, and Trust Pilot, etc.
What makes this trip different ?
Our CSR with Sambhav Nepal
Ace the Himalaya believes in giving back to the communities that surround and support tourism in Nepal. Ace provides logistical support and, if needed, cash donations to the projects of Sambhav Nepal (a local NGO).
Sambhav Nepal and Ace work together to plan volunteer programs that will bring in foreign volunteers and make use of their enthusiasm, time, and talents in a variety of projects.
Sustainability and Responsible Tourism
Of the few Travelife Partners in Nepal, Ace the Himalaya is one. We respect the procedures for sustainable tourism. Our excursions are socially and environmentally conscious, leaving the lowest possible impact in the Himalayas.
About 80% of Ace the Himalaya's staff members are natives of the regions where our trips are organized. It is one of our sustainable and responsible efforts to help local communities, support small businesses, and promote regional culture and way of life.