Tibet Heritage Tour - 8 Days
Recommended by 99% of travelers
This amazing tour in the culturally rich wonderland takes the travellers to the jewels of Tibet.
Difficulty
Max. altitude
5,560 m/18,241 ft
Best season
Mar-Jul, Aug-Nov
Trip Highlights
Acquaintance with Tibetan cultural
The amazing city of Lhasa
Potala Palace, the former residence of Dalai Lama
Explore Buddhist monasteries
Visit to Yamdrok Lake and Karola Glacier
Drive through splendid Tibetan landscapes
Trip Overview
This amazing tour in the culturally rich wonderland takes the travellers to the jewels of Tibet. After an astonishing flight, take 4-hour drive across the top-of-the-world landscape to reach Lhasa, the crown jewel. Lhasa translates to the "Place of the Gods". For over centuries, the splendid city has been the centre of the Tibetan Buddhist with the magnificent Potala Palace as the seat of Dalai Lama.
We will take a drive to the places near Lhasa and the drive itself is a major attraction. We will visit many Buddhist monasteries. Part of the exploration includes: Yamdrok Lake, one of the largest sacred lakes in Tibet, and Karola Glacier, an imposing glacier at the elevation of 5,560 meters. This trip is a perfect mix of cultural and natural sightseeing in a magical land.
Short Itinerary
Day 01 :
Arrive at Lhasa (3,650 m). Overnight at a Hotel.
Day 02 :
Guided City Tour of Lhasa. Overnight at a Hotel.
Day 03 :
Drive to Tsedang (3,580 m) – 290 km/10 hours. Overnight at a Hotel.
Day 04 :
Guided Tour of Tsedang. Overnight at a Hotel.
Day 05 :
Drive to Gyantse (3,900 m) – 350 km/8 hours. Overnight at a Hotel.
Day 06 :
Drive to Shigatse (3,900 m) – 100 km/3 hours. Overnight at a Hotel.
Day 07 :
Drive to Lhasa (3,650 m) – 280 km/8 hours. Overnight at a Hotel.
Day 08 :
Transfer to the International Airport for Your Final Flight Departure.
Departures & Availability
Looking for personalized experience? We organize privately guided journey which is mainly designed to fit your taste and interest. Please fill out the form below to get started.
Price Includes
Pick up from and drop off at the hotel and the airport on a private tourist vehicle.

Twin-share accommodation at two-star hotels in Tibet with breakfast included (7 nights only)

All ground transportation in tourist vehicle (car/van/minibus)

Authorized English-speaking Tibetan guide

Guided sightseeing as mentioned in the itinerary

Tibet travelling permit (We will mail the permit for those who are flying from China to Lhasa and we will provide the hard copy in Kathmandu for those who traveling via Kathmandu.)

Sightseeing entrance fees for all the sites mentioned in the itinerary

Everest region entrance fee

The required number of ground staff for the tour like helpers and drivers

Food, accommodation, salary, insurance, equipment and medicine for our ground staff

All government taxes, vat and tourist service charges

All official expenses
Price Excludes
International flight fare and airport departure tax
Travel insurance along with high-altitude emergency evacuation coverage
Nepal Entry Visa (Visa can be acquired easily after your arrival at Tribhuvan International Airport in Kathmandu with a fee of USD 50 for 30 days visa and USD 125 for 90 days visa)

Internet and telephone calls.

Lunch and dinner for entire trip – about USD 15 to 20 per person per day.

Item of Personal nature like alcohol, hot & cold drinks and laundry.

Personal clothing and equipment.

Tips to trekking staff and driver
Any expenses other than the Price Include section
Day 01: Arrival in Kathmandu airport (1345meters).
Welcome to Lhasa! Today upon your Lhasa arrival, you will be greeted by your Tibetan guide and escorted to hotel. Rest of the day you will have a good rest to acclimatize the high altitude.
Day 02: Guided City Tour of Lhasa
Today you will visit the famous Potala Palace, Jokhang Temple, Barkhor Street.
Potala Palace
Which is known as the cardinal landmark of Tibet and the residence of the Dalai Lama lineages. Stands 13 stories high and owes over 1,000 rooms, 10,000 shrines and 200,000 statues, the Potala Palace formed a small world in it.
Jokhang Temple
Listed on UNESCO's World Heritage list in 2000 as part of the Potala Palace,Jokhang Temple is the ultimate pilgrimage destination for Tibetan Pilgrims. The temple is a four-storey timber complex with a golden top, with the combination of Tang Dynasty, Tibetan and Nepal architectural styles. Every day, pilgrims come from every corner of Tibet worship here, make it a perfect site for photographers.
Barkhor Street
As the oldest street in Lhasa, Barkhor Street is considered as the center of the old city, and a perfect place to learn Tibetan culture, economy, religion, and arts. The street is full of handicrafts, such as ornaments, knives, tangka, religious musical instruments, gold and silver ware, masks and a lot more. If you intend to buy some souvenirs for friends or family, Barkhor Street will be an ideal place.
Drepung Monastery
Located 5 kilometers (3.1 miles) from the western suburb of Lhasa, Drepung Monastery is known as the most important monastery of Gelugpa in Tibetan Buddhism. It is considered one of the 'Three Great Monasteries' (the other two are the Ganden Monastery and the Sera Monastery. Seen from afar, its grand, white construction gives the appearance of a heap of rice. As such, it was given the name 'Drepung', which, in the Tibetan language, means 'Collecting Rice.
Day 03: Drive to Tsedang (3,580 m) - 290 km/10 hours
Today we will drive 290 km drive to visit Samye Monastery, then drive to Tsedang, the capital of Shannan Prefecture, located in Yarlung Valley.
Samye Monastery: Located in the quiet piedmont area of the Shannan Region, the Samye Monastery is the first temple to be built in Tibet and the first complete with the three Buddhist jewels of Buddha, Dharma and Sangha. With these unique features, this splendid temple has become an attraction for visitors from near and far.
Day 04: Guided Tour of Tsedang
Today, you will will visit Yumbulangkang Palace, Trandruk Monastery.
Yumbulakang Palace
Lying 12km southwest of Tsedang Country, it is regarded as the first palace of Tibet's history and one of the oldest buildings in Tibet. The castle is divided into front and rear precincts. The front is a 3-storey building while the rear is dominated by a tall tower, like a castle, standing on the top of the Watchtower, you will get the panoramic view of the entire valley.
Trandruk Monastery
Located 5km south of Tsedang, Trandruk Monastery is one of the earliest Buddhist monasteries in Tibet. According to legend, the monastery could only be built after Songtsen Gampo turned into a roc and conquered an evil dragon. The name "trandruk" means roc conquering a dragon.
Day 05: Drive to Gyantse (3,900 m) - 350 km/8 hours
Today we have to drive to Gyantse. On the way, we will pass over the Gampala pass (4790 m), and tourists will have a visit of Yamdrok Lake and Karola Glacier.
Yamdrok Lake
Which is one of the 3 most sacred lakes in Tibet. It is a lake of 72 km long, fed by numerous small streams and surrounded by snow covered mountains. The two long arms of water, making it look like a scorpion from the sky. According to legend, Yamdrok Lake is the transformation of a goddess.
Karola Glacier
At 5,560m above sea level, and with an area of 9.4 sq km, this imposing glacier is visible from the highway which links Lhasa and Shigatse. The glacier has been divided into black and white layers due to smoke pollution from motor vehicles, which gives a distinctive colors to this great glacier.
Day 06: Drive to Shigatse (3,900 m) - 100 km/3 hours
Today we will visit the famous Pelkor Monastery, then drive to Shigatse for overnight.
Pelkor Chode Monastery
Founded in 1418, Pelkor Chode Monastery is the main monastery in Gyantse of Tibet. The highlight inside is the Kumbum, which has 108 chapels in its four stories. As an important center of the Sakya sect of Tibetan Buddhism, In 1904, the Gyangtse town and the Pelkor Chode Monastery were attacked by British army, although most of the damage was later restored, bullet holes from this attack still remain in the monastery.
Breakfast and farewell dinner included
Day 07: Drive to Lhasa (3,650 m) - 280 km/8 hours
Today we will visit Tashilumpo Monastery and then we will drive back to Lhasa.
Tashilunpo Monastery: As one of the Six Big Monasteries of Gelugpa sec, Tashilunpo Monastery is the manjor attraction in Shigatse and regarded as the Tibetan Buddhist centre of Rear Tibet. Founded by the First Dailai Lama in 1447, the monastery was expanded by successive Panchen Lamas. Covering an area of nearly 300,000 square meters and accommodating 800 lamas, Tashilhunpo monastery is a must-see spot for travelers and buddhist followers and plays a very important role for Tibetan Tourism.
Day 08: Transfer to the International Airport for Your Final Flight Departure
Today our guide will send you to train station or airport for your next destination. Your lifetime Tibet tour is completed now.
Gears and Equipment
All you need to bring for this tour is simply some comfortable clothes. There is no any requirement of special equipment. However, for your ease, the following list gives you a general idea about the items needed for this trip. The most important factor to be considered while packing for this trip is the time of the year you are traveling.
The clothing you bring will need to allow for both the warmth of the days and the chill of the nights. Following items are recommended to carry on the trip for your own protection and safety.
Clothing
Sleeping bag (Optional)
Down jacket
Suitcase
Daypack
Warm wool or synthetic hat that covers your ears
Sunglasses with UV protection
Sunhat
Neck warmer/scarf
Warm gloves
Fleece jacket
T-shirts
Waterproof shell jacket and pants
Pants (Loose jeans/khakis/cotton)
Lightweight thermal tops and bottoms
Liner socks
Shoes or sneakers
Sandals
Medicines and First Aid Kits
It will be better if your personalized first-aid kit includes these:
Ibuprofen for general aches and pains
Immodium or Pepto bismol capsules for upset stomach or diarrhea
Diamox (commonly prescribed as Acetazolamide) 125 or 250mg tablets for altitude
sickness
Anti-infection ointments
Band-aids
Lip balm
Sunscreen
Hand sanitizer
Miscellaneous, but Important !
Passport and extra passport photos (3 copies)
Airline ticket (Please make a copy and leave on at our office in KTM just in case if you need to change the date of your)
Durable wallet/pouch for travel documents, money & passport
Travel insurance policy
Credit cards and cash
Water bottle
This list is only a guide. While you are required to bring everything on this list, there are numerous options, brands, and versions of each piece of equipment. Use your experience and the listed features to find the best gear for you.
Note: Tight fitting, figure-hugging clothing such as those made with Lycra can often be offensive to locals, especially to women. If you find these items comfortable as a base layer, please pack something to wear on top of them.
Trip Map / Elevation
Download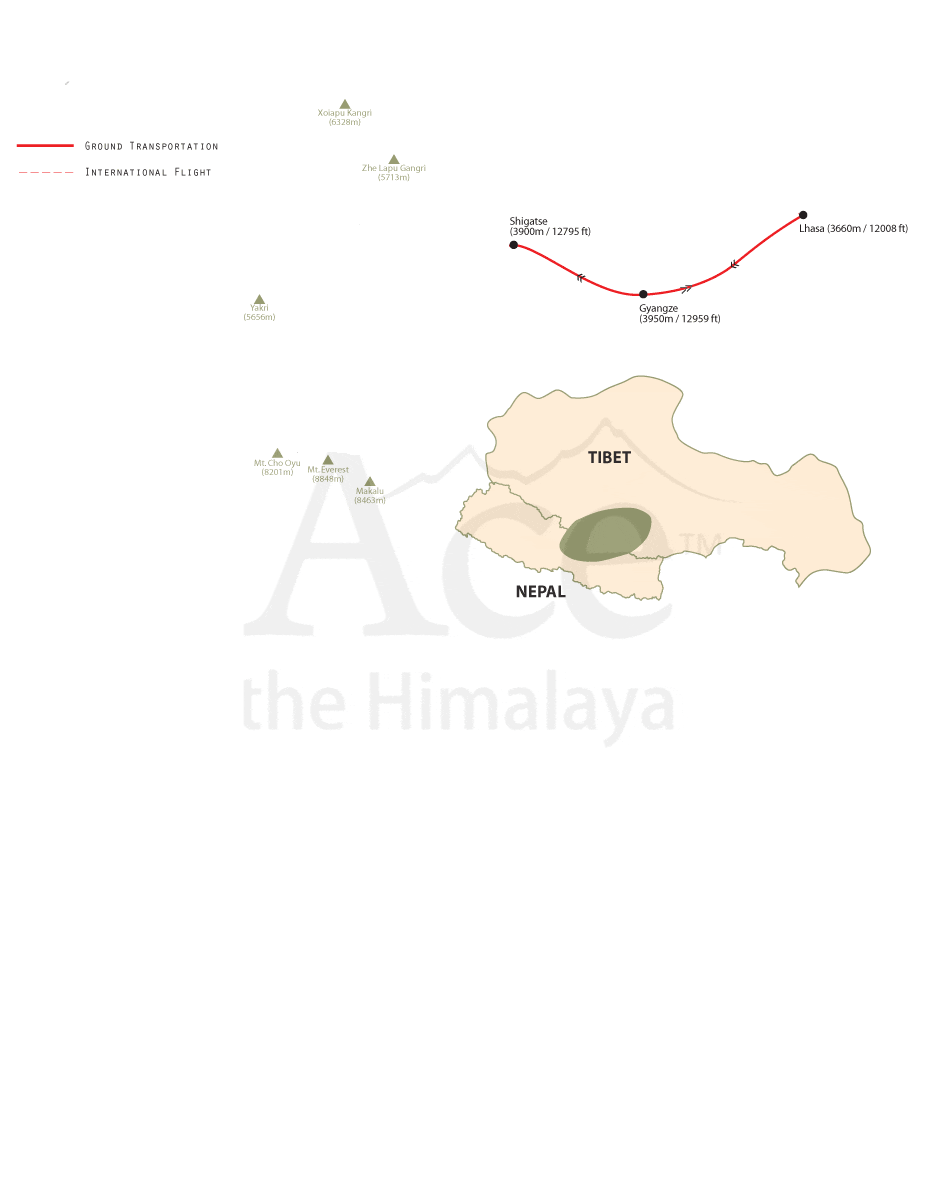 FAQs for Tibet Heritage Tour
General
Do you handel Tibet visa and travelling permit?
Yes, we do handle all the procedure for Tibet travelling permit if you travel to Tibet via Nepal. The processing fee is all included in the trip price.
Those who are traveling from China to Tibet should get the Chinese visa from the Chinese Embassy in your home/resident country. You will then need to e-mail us the scan copy of the Chinese visa. We will apply for the Tibet travelling permit. Once we receive the hard copy of the visa from the Tibetan authority, then we will mail the copy to your country or your hotel address in China. If you are flying to Tibet via China, then please consider staying one night in China. So you can collect the permit for Tibet at your hotel.
Are there any communication facilities during the tour?
Communication facilities in Tibet have been improved over the past few years. All the hotels we use in Lhasa have international IDD phone and fax services. Phone calls can also be made from public booth iand internet cafes are also available. Check with your guide for the best cyber cafes in each town.
You can also have a roaming facility added to your mobile phone as mobile phones work fine in Tibet. If you buy a Chinese SIM card at the border, you could stay in touch with your family and friends most of the time. Please ask us for the latest facilities and schemes on Chinese mobile phones.
Is there a minimum and a maximum number for your groups?
We cater to all group sizes, while maintaining the field staff ratio to give you the best quality and experience.
Is Ace the Himalaya's staff insured?
Our company insures all our trekking staff members, including guides, cooks, Sherpa, and porters. Please browse through our legal docment page to view insurance details.
What immunizations will I need?
COVID-19 vaccination (Negative PCR report in case of unvaccinated travelers.)
Typhoid vaccination is recommended but not required
We suggest you have a dental checkup before your trip and know your blood type. It is helpful if you inform us of any medical condition that is relevant so we may convey this information in the event of an emergency. Ace the Himalaya keeps your medical condition confidential unless treatment is necessary.
I want to extend my holiday, any recommendations?
Yes, you can extend your holiday. Ace the Himalaya offers many options and alternatives for your holiday extension. For more information, you can visit our Day trips pages.
Physical Fitness
How fit do I need to be for this tour? Is this trip for me?
The Tibet Heritage Tour is suitable for the average traveler who is moderately fit, thus no previous experience is required. Some physical fitness programs such as running, swimming, hiking is recommended before you embark on this journey. Persons suffering from a pre-existing medical condition must seek medical advice/consent before considering the trek. Whilst on the tour, it is common to experience some discomfort before being fully acclimatized to high altitudes.
Payments and extra costs
Can I use credit cards in the places I visit?
Besides Chinese Yuan, only US dollars can be accepted in Tibet. Also shops that accept American currency are very limited and you might not be able to get a good deal for an exchange rate. Credit cards can only be used at some hotels. The Bank of China also accepts credit cards. ATM is not widely available. Exchanging your money to Chinese currency will be the best option for you, which can be done at the Bank of China. While changing money at the local money exchange centers, please make sure that you are accompanied by your guide and do consult him as you may easily be duped with counterfeit notes.
How much additional money do I need per day?
It depends on your spending habits. USD 15 to 20 a day will be enough to buy lunch, dinner, bottles of water, chocolates and a few drinks during the tour.
Tibet is becoming more expensive every year. There are many shops in Lhasa, Shigatse and Gyantse that sell traditional Tibetan handicrafts. We recommend you to bring extra money to spend on souvenirs.
Do I need to tip my guide and porters? How much would that be?
This is a difficult thing to gauge. We have seen everything from USD 20 to USD 1000 per person for guides and porters. Tipping is not required, but a small gesture of thanks to your guides and local porters thanks for their help. The level of the tip should reflect the level of satisfaction from and personal involvement with your guide.
Arrival And Visas
Who will come to pick me up at the airport upon my arrival?
Our staff will be waiting for you outside the airport terminal with our signboard (Ace the Himalaya). You will be accompanied to a hotel in a private tourist vehicle.
Weather and Temperature
What is the best season for this tour?
The best time for Tibet Heritage Tour is between March and October.
What is the weather and the temperature like during the tour?
The weather in the mountains is notoriously difficult to predict. Nights are generally cooler than the daytime. It is also important to make sure that you can stay warm and dry in just about any conditions. Expect the unexpected! Depending on the season the temperature could range from -15°C to 20°C.
Accommodation
What sort of accommodation can I expect in Tibet?
We use twin-sharing rooms at two-star hotels in all the places in Tibet with breakfast included.
What sort of food can I expect in the tour?
All breakfasts are included in our package. Your guide will help you find good restaurants with reasonable price. A must are the small Tibetan restaurants which serve authentic Tibetan food. You can try ethnic Tibetan cuisine. Have some momos or gyantok, and wash it down with a cup of salted Tibetan butter tea. Meals will either be in the hotel or at a restaurant of your choice (where available). While on the road, lunch will be at one of the many Chinese tea shops along the way which generally serve a variety of noodle and vegetable dishes and meat where available. Expect to spend around USD 15 to 20 per day for meals.
Is the water fine to drink? Do I need to bring purifying tablets/filter?
In most places bottled water is readily available. If you wish to drink normal water, you need to use purifying aid, which you need to bring with you.
Transportation and Flights
What mode of transportation do you use?
Ace the Himalaya is all about providing you with local insights, lifestyle as well as adventure. Using a variety of private transport is an integral part of our Himalayan tours, enhancing the experience!
We use private tourist vehicles for sightseeing, city tours and pickups. These vehicles are extremely sturdy, spacious and reliable and they make the journey as comfortable as possible.
Do we book our own international flights to and from Lhasa?
Flights to and from Lhasa aren't included in the package. However, we can book the flights for you whether you are travelling via Nepal or China.
There are regular flights from Kathmandu, Nepal to Lhasa except on Tuesday. And, from China, there are daily flights from Beijing, Shanghai and Guangzhou.
Miscellaneous
Is laundry service available?
Laundry service is easily available at your hotels. Please note that laundry service is not included in the package price.
Can I charge my digital camera or other equipment on my trip?
These facilities will be available in your hotel. Remember to bring travel adapters!
Traveler Reviews
These full and frank reviews are from travelers who have traveled with Ace the Himalaya previously. The reviews and experiences shown here are from reputable travel websites like TripAdvisor, Google, Facebook, and Trust Pilot, etc.
What makes this trip different ?
Our CSR with Sambhav Nepal
Ace the Himalaya believes in giving back to the communities that surround and support tourism in Nepal. Ace provides logistical support and, if needed, cash donations to the projects of Sambhav Nepal (a local NGO).
Sambhav Nepal and Ace work together to plan volunteer programs that will bring in foreign volunteers and make use of their enthusiasm, time, and talents in a variety of projects.
Sustainability and Responsible Tourism
Of the few Travelife Partners in Nepal, Ace the Himalaya is one. We respect the procedures for sustainable tourism. Our excursions are socially and environmentally conscious, leaving the lowest possible impact in the Himalayas.
About 80% of Ace the Himalaya's staff members are natives of the regions where our trips are organized. It is one of our sustainable and responsible efforts to help local communities, support small businesses, and promote regional culture and way of life.