Day Tour to UNESCO Heritage Sites - 1 Day
Recommended by 99% of travelers
Day Tour to UNESCO Heritage Sites is perfect for you to experience Kathmandu in its finest glory with sightseeing of world's heritage sites like Bhaktapur Durbar Square, Pashupatinath, and Boudhanath.
Difficulty
Start/End Point
Kathmandu
Trip Highlights
Tour of the city of temples- Kathmandu.
Experience the culture, heritage, and essence of Kathmandu city.
Sightseeing of some of the world's heritage sites- Bhaktapur Durbar Square, Pashupatinath, and Boudhanath.
Stroll along one of the oldest markets of Kathmandu- Ason.
Trip Overview
Kathmandu, the capital city of Nepal is very rich in cultural and historical beauty. Kathmandu valley day tour will give you immense satisfaction with its unique culture and the importance it possesses. This full-day excursion is perfect for you to experience Kathmandu in its finest glory.
We have planned this trip for you in such a way that you get a chance to visit most of the cultural world heritage sites that are inside the Kathmandu valley. A private tourist vehicle will pick you up at around 8-8:30 am at your hotel after breakfast. Then, we visit the Hindu and Buddhist sites- Bhaktapur Durbar Square, Pashupatinath, and Boudhanath. Finally, we end our day with a stroll along the oldest market in town- Ason.
Bhaktapur Durbar Square
We will start our day with sightseeing in Bhaktapur Durbar Square, a collection of pagoda and shikhara-style temples grouped around a 55-window palace of brick and wood. The attraction of the Bhaktapur Durbar Square is the Lion Gate, the Golden Gate, the 55-window palace, art galleries and the statue of King Bhupatindra Malla.
Pashupatinath Temple
Pashupatinath is one of the most sacred Hindu shrines in the world and lies 5 km east of the city center. The richly-ornamented pagoda houses the sacred Linga, or phallic symbol, of Lord Shiva.
Boudhanath Stupa
It is a 2500-year-old Buddhist stupa in the Valley built in the 5th century with four pairs of eyes of Lord Buddha in four cardinal directions keeping an eternal watch over the people and their doings. You will find Buddhist pilgrims from Tibet going around the stupa spinning the prayer wheels.
Ason Market
Ason is a very popular and crowded local market in Kathmandu. It is inhabited by mainly Newar people (indigenous people of Kathmandu). Meanwhile, people from all over the nation and even foreigners are regular customers and visitors there.
Get more ideas on what to do on the Kathmandu Travel Guide.
Book your flights to Kathmandu today.
Note
You can add this one-day tour before and after any of your trips or whether you have any spare days left in the city. This full-day excursion is perfect for you to start off your visit to Nepal or if you want a relaxing day in and around the town.
Read more
Departures & Availability
Our groups are small with maximum 14 people. We create groups of independent travelers, friends and families which maintains close interpersonal connection, engage more and get into depth of the journey. Choose a date from the calendar to reserve your spot.
We do not have fixed departure date for this trip. This trip can only be organized upon your request. There is an option of private and tailor-made journey best suited for you, your family and friends. We have price discounts according to the group size, the bigger your group, the bigger your group discounts. We offer a discount of up to 15% for groups of two or more people.
Price Includes
All ground transportation by Air-conditioned private tourist vehicle.

Ace the Himalaya's licensed English-speaking guide
Entry permits and fees for all temples, parks, monasteries, and cultural and historical sites.
The required number of ground staff during the tour like Driver, Helpers etc.
All administrative expenses and government taxes
Price Excludes
Meals including Breakfast, lunch, and dinner

Any beverages including bottled and boiled water
Tips for hostess and driver. (Tipping is expected).
Any expenses other than the Price Include section
Trip Map / Elevation
Download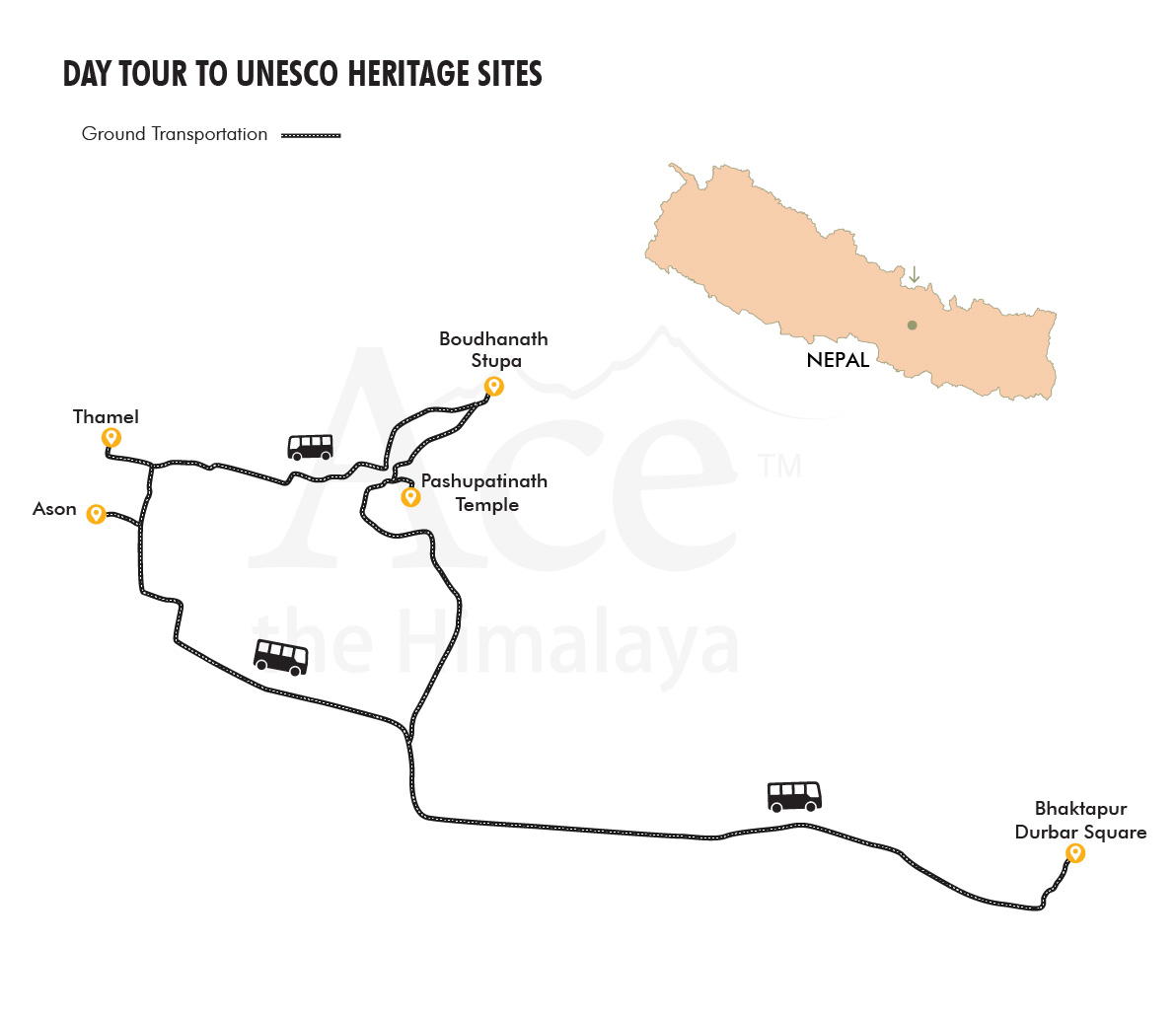 Traveler Reviews
These full and frank reviews are from travelers who have traveled with Ace the Himalaya previously. The reviews and experiences shown here are from reputable travel websites like TripAdvisor, Google, Facebook, and Trust Pilot, etc.
What makes this trip different ?
Our CSR with Sambhav Nepal
Ace the Himalaya believes in giving back to the communities that surround and support tourism in Nepal. Ace provides logistical support and, if needed, cash donations to the projects of Sambhav Nepal (a local NGO).
Sambhav Nepal and Ace work together to plan volunteer programs that will bring in foreign volunteers and make use of their enthusiasm, time, and talents in a variety of projects.
Sustainability and Responsible Tourism
Of the few Travelife Partners in Nepal, Ace the Himalaya is one. We respect the procedures for sustainable tourism. Our excursions are socially and environmentally conscious, leaving the lowest possible impact in the Himalayas.
About 80% of Ace the Himalaya's staff members are natives of the regions where our trips are organized. It is one of our sustainable and responsible efforts to help local communities, support small businesses, and promote regional culture and way of life.