Embarking on the iconic Everest Base Camp trek? Whether you've meticulously planned for years or made a spontaneous decision just a month ago, our blog has the essential Everest Base Camp trek packing list to ensure you're fully prepared for the journey ahead!
We understand that amidst the excitement of planning, certain critical details may have slipped your mind.
That's precisely why we have brought this blog to provide you with all the invaluable insights regarding what to pack for the Everest Base Camp Trek.
So, gather your gear, and let us delve into the world of Everest exploration together!
Also, please remember Everest Base Camp Trek Packing list may vary according to the season you're traveling in and your personal preferences as well.
However, this equipment list is not limited to Everest Base Camp Trekking but can be used in various other high-altitude trekking (including Annapurna Base Camp, Everest High Passes Trek, Gokyo Lake Trek, Langtang Valley Trek, Manaslu Base Camp, etc.) but make sure that you're carrying the right gear at the right season.
Finally, now let's jump into the Everest Base Camp Trek Packing List:
General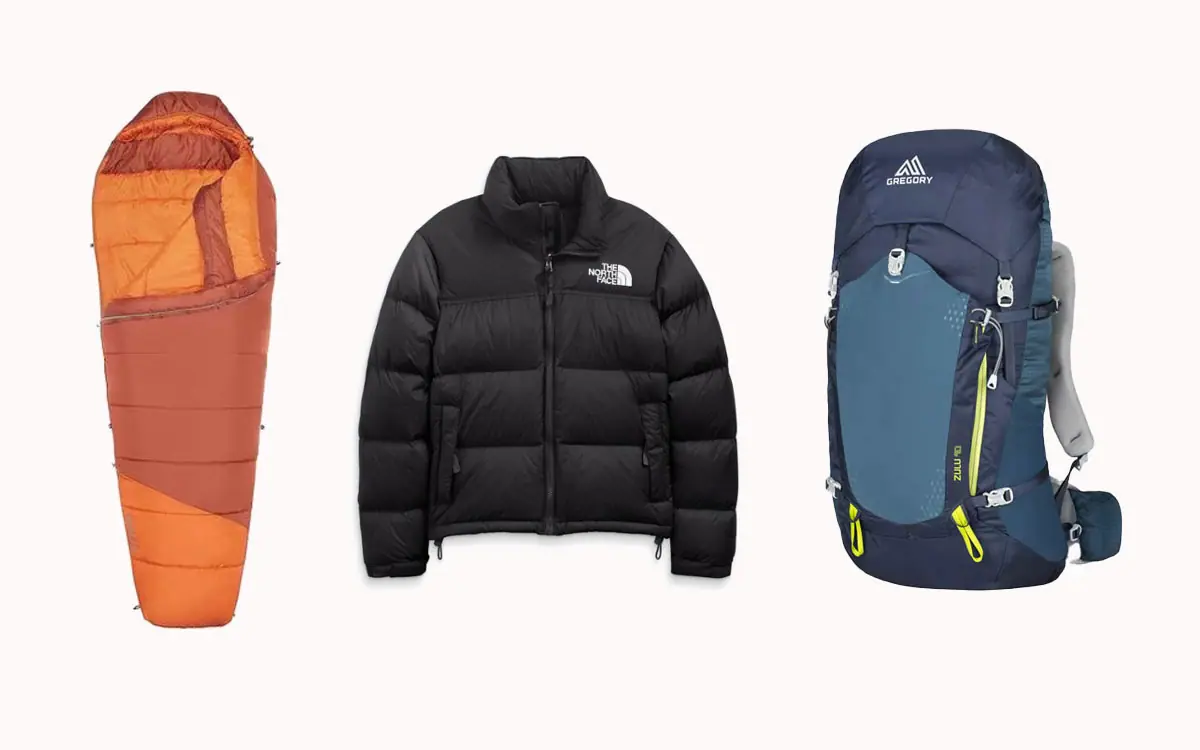 Four-season (zero-degree) sleeping bag
In case of chilly weather in the mountains, a sleeping bag is necessary to pack for Everest Base Camp Trek/high-altitude trekking.
Although additional blankets are available, it is advised to sleep in your own clean sleeping bag for the best warmth and comfort.
If you're wondering about how to select your sleeping bag then, let me tell you that you can easily locate a selection of sleeping bags, including North Face models on the streets of Thamel.
Additionally, these sleeping bags are inexpensive, making them available to the majority of people. Besides, you can also hire a sleeping bag with Ace the Himalaya during your pre-trek meetings as well.
Puffy down jacket
A puffy down jacket is a must when hiking at high altitudes. However, it is crucial to understand the differences between a down jacket and a synthetic jacket.
Compared to a synthetic jacket, a genuine down jacket is a little lighter and offers better insulation. It is best to buy a winter down jacket from a dependable company like Columbia, Helly Hansen, Mountain Hardwear, or a comparable replacement.
To avoid wasting money on an expensive item that might not be used frequently, renting a down jacket is a highly recommended alternative if you do not have any purpose for one after the trip. Ace the Himalaya provides that option as well.
Daypack 
You must be wondering what size of daypack you should purchase for the EBC trek. While shopping for a day pack, it is important to get a pack that you can rest in and carry comfortably and also make sure it is 35 to 45 liters. Understanding how a bag is put together will help you choose the best purchase.
If you're unfamiliar with how to efficiently pack a backpack, it's strongly advised to watch instructional videos on YouTube. There are numerous tutorials available that can teach you valuable backpacking tricks.
It's important to note that learning how to pack your backpack correctly based on its specific type will greatly benefit you during your trek in the Himalayas.
Sleeping bag liner 
If you intend to travel during the winter and monsoon seasons, you should be ready for heavy snowfall and considerable temperature drops at night.
Although more blankets might be offered, it's highly recommended that you carry a sleeping bag liner to protect yourself from the cold.
Upper Body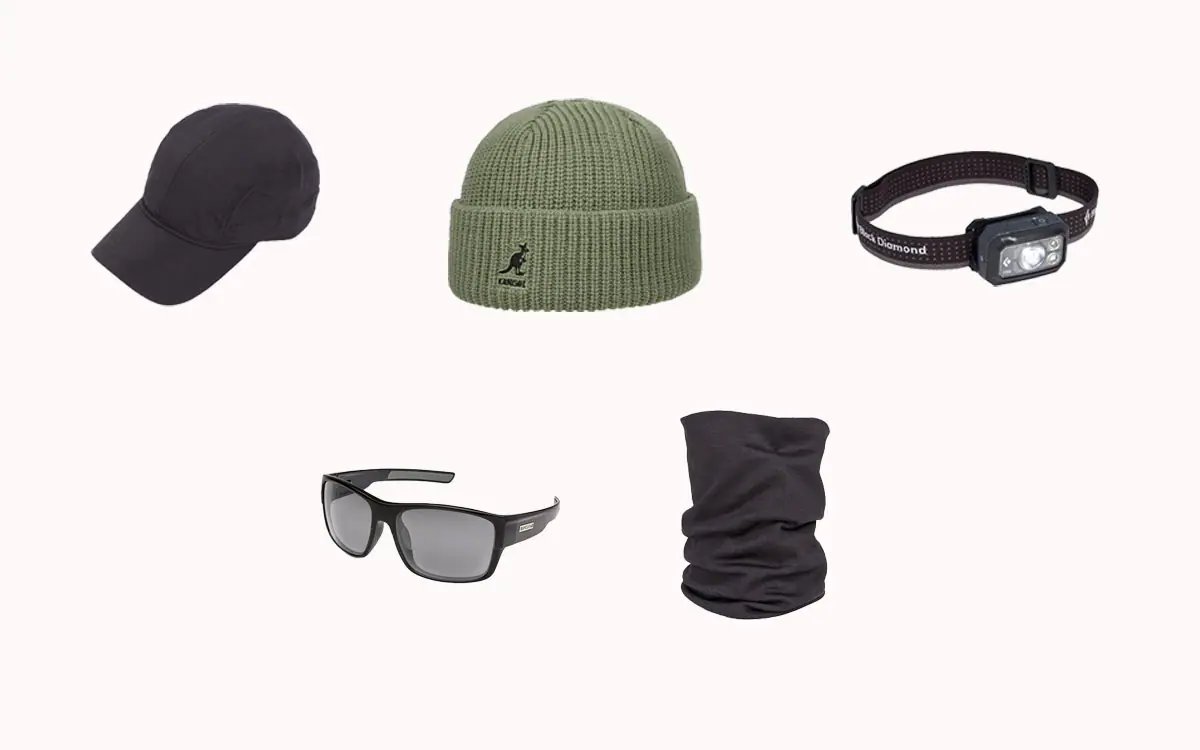 Sun hat or cap 
A sun hat or cap to protect your face, neck, and head from direct sunlight. It helps you to prevent sunburn and shield your eyes from glare.
Wearing a hat or cap also reduces the risk of heatstroke or sun-related illnesses during long hours of outdoor exposure. Ace the Himalaya will provide you with a free baseball cap during your pre-trip meeting.
Knitted hat
A knitted hat provides warmth and insulation for your head during colder weather or at higher altitudes.
It helps retain body heat and prevents heat loss from the head.
Headlamp
A headlamp is a crucial tool for obtaining hands-free lighting while engaging in early morning treks, night hikes, or when traversing dark surroundings.
When trekking in Nepal, it is often necessary to commence the journey early in the morning to avoid crowded trails and unfavorable weather conditions in the mountains.
Additionally, there may be circumstances along the trail that require walking late into the night. Hence, it is vital to carry a headlamp to ensure safe navigation and enhance visibility when setting up camps.
Sunglasses
As you ascend higher, not only does your altitude increase but so does the Sun's watchful eye on you. This can be a double-edged sword, as basking in the Sun's rays can provide much-needed warmth in the cool mountain temperatures, but it can also pose risks to your eyes.
To strike a balance between enjoying the sunlit moments and safeguarding your vision, it is crucial to pack a trusty pair of sunglasses. These stylish accessories not only shield your eyes from harmful UV rays, intense sunlight, and the blinding glare of the snow, but they also act as a protective barrier against pesky dust and debris that may be floating about.
So, remember to carry your sunglasses to keep your eyes safe while you soak up the majestic views and embrace the wonders of the mountains.
Scarf or neck gaiter
A scarf or neck gaiter protects your neck and face from cold winds and can be used as an extra layer for insulation.
It also provides extra layers of protection from dust or sunburn.
Torso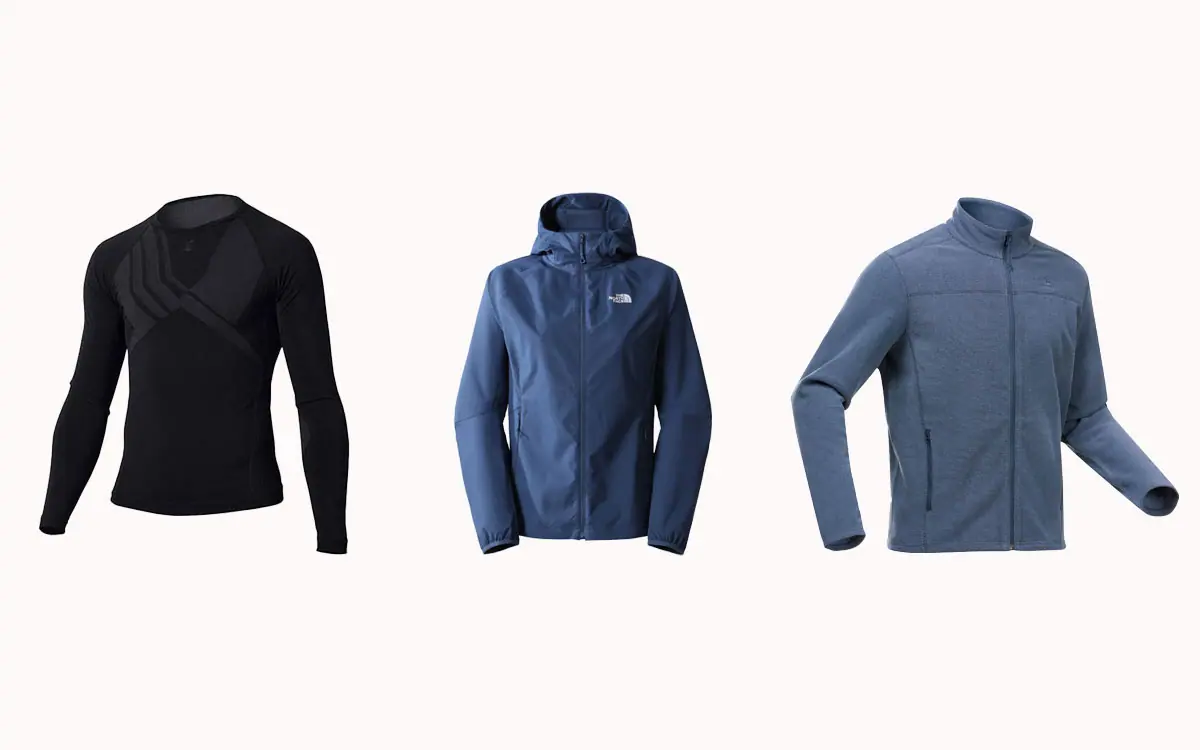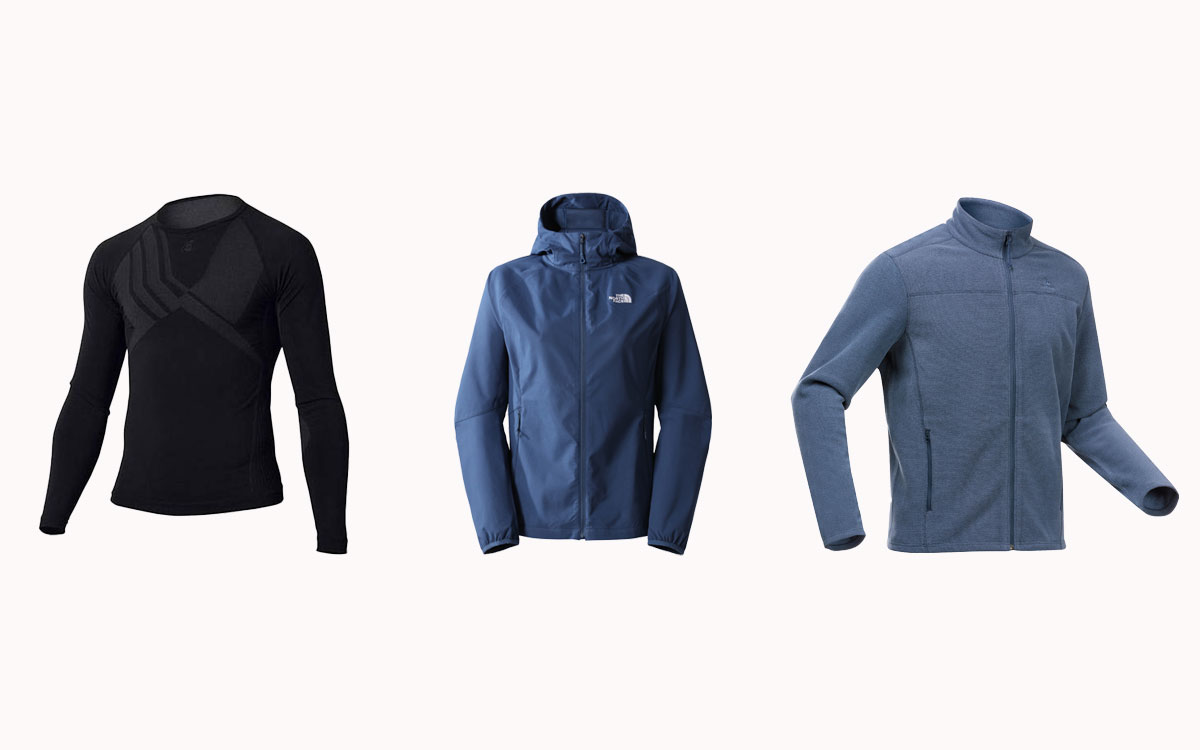 Technical fabric base layer
This essential garment, often crafted from synthetic materials such as polyester or natural fabrics, serves a vital purpose in ensuring your comfort and well-being during your mountain trek.
It boasts a range of impressive properties including odor resistance, moisture wicking, quick drying, and temperature regulation. These features work harmoniously to keep you snug and content as you traverse the trails.
By resisting unpleasant odors and effectively managing moisture it minimizes the risk of falling ill in the mountains due to the cold. It prevents the accumulation of sweat within the fabric, reducing the likelihood of developing conditions like pneumonia that can arise from prolonged exposure to dampness.
So, don't underestimate the importance of investing in such clothing. By choosing a garment that possesses these beneficial properties, you can enjoy your trek with enhanced comfort and peace of mind, knowing that you are well-equipped to withstand the challenges of the mountain environment.
Waterproof, windproof shell
A windproof shell jacket is essential for protection against rain, snow, and strong winds. Perhaps, it'll help to keep you dry and shield you from rain, snow, and strong winds.
It is also essential for maintaining your body temperature and preventing hypothermia or discomfort during adverse weather conditions.
Fleece jacket or pullover
These jackets provide warmth and insulation to your body by trapping air close to your body.
They are lightweight and offer excellent thermal properties, making them ideal for layering. It can also be worn as a mid-layer or outer layer depending on the weather conditions.
Lower Body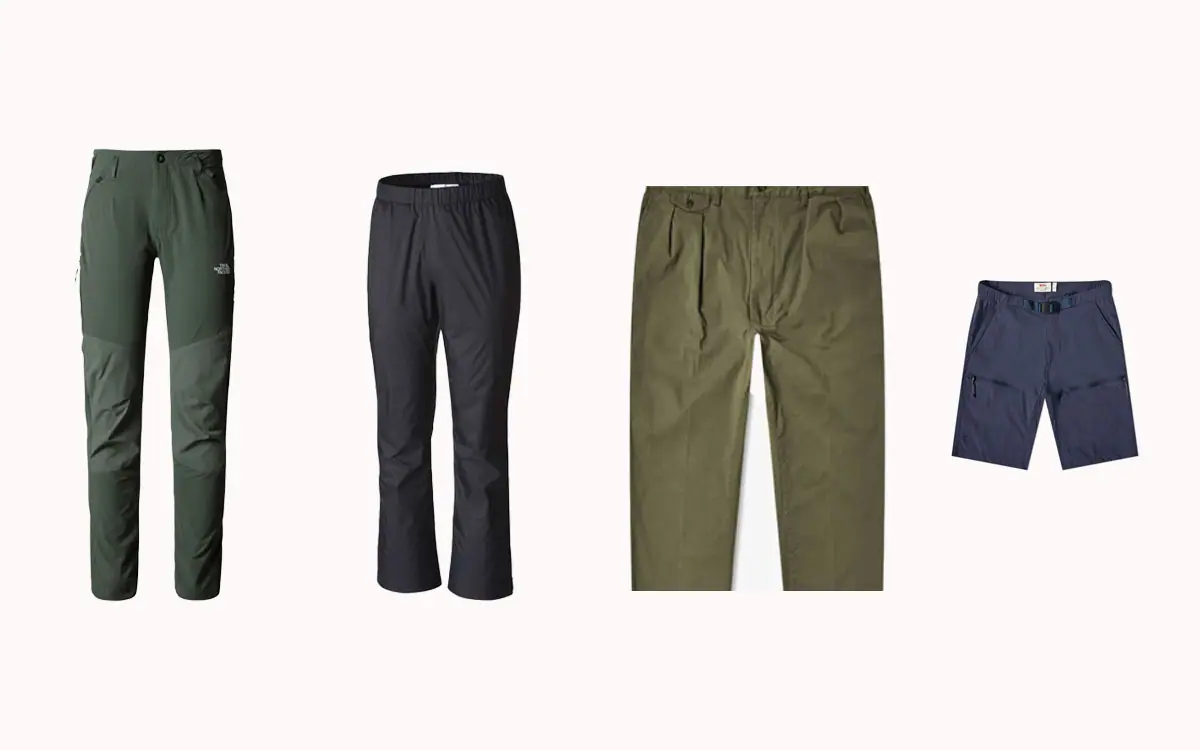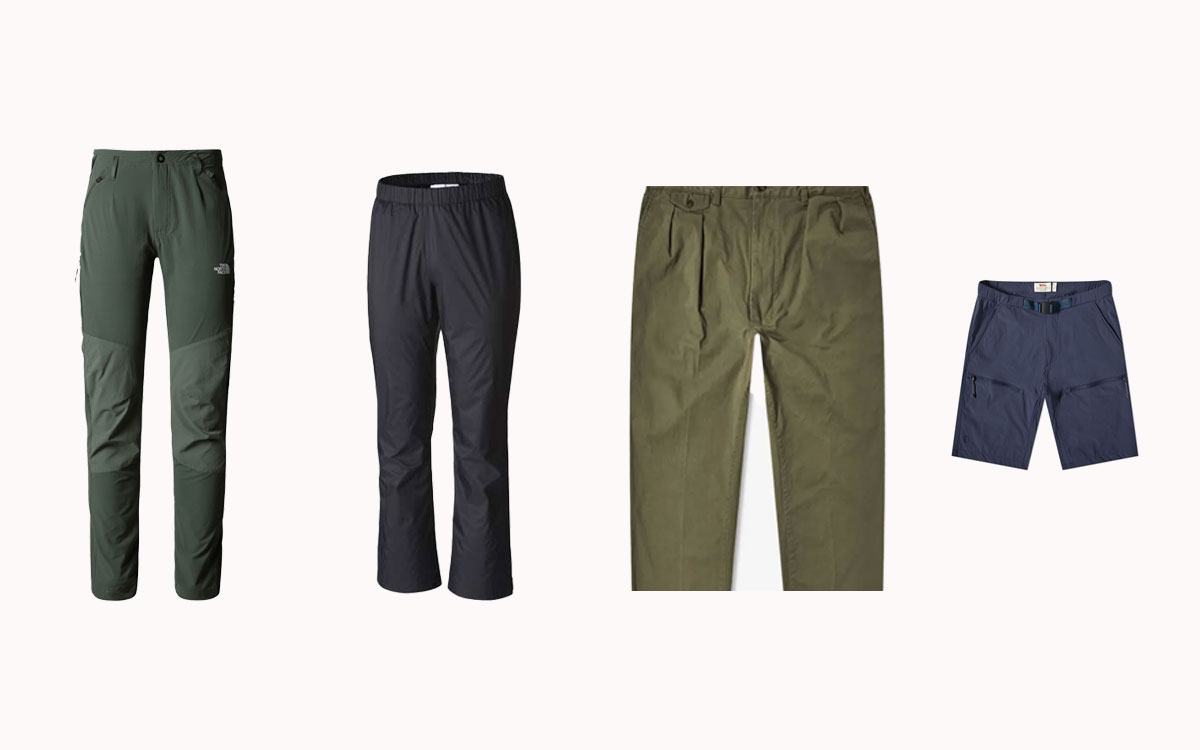 Hiking pants 
Hiking pants are typically lightweight, durable, and quick-drying. They offer freedom of movement and protect your legs from scratches, insect bites, and adverse weather conditions.
Hiking pants are designed to be breathable and provide comfort during long hikes or treks. Look for durable and quick-drying hiking pants from Columbia, Outdoor Research, or Mammut.
Comfortable pants
These comfortable pants are perfect for relaxing inside the teahouse, providing a sense of ease and comfort after a long and tiring walk along the trail.
They are designed to help you unwind and feel relaxed during your downtime in the teahouse, ensuring you can fully recharge for the next leg of your trek.
Waterproof/windproof outer shell pants 
Outer shell pants are essential to protect your lower body from rain, snow, and wind. They are typically made of waterproof and windproof materials, providing a barrier against the elements.
These pants keep you dry and help maintain your body temperature in harsh weather conditions. For quality products look for brands like Marmot, Arc'teryx, or The North Face.
Hiking shorts 
Hiking shorts are comfortable and provide freedom of movement during warm weather or strenuous activities.
They allow better airflow and prevent overheating. Hiking shorts are also quick-drying, making them suitable for crossing streams or wet environments.
While purchasing it look for lightweight and quick-drying hiking shorts from brands like Columbia, Patagonia, or Prana. You can find them at any outdoor store at Thamel.
Hands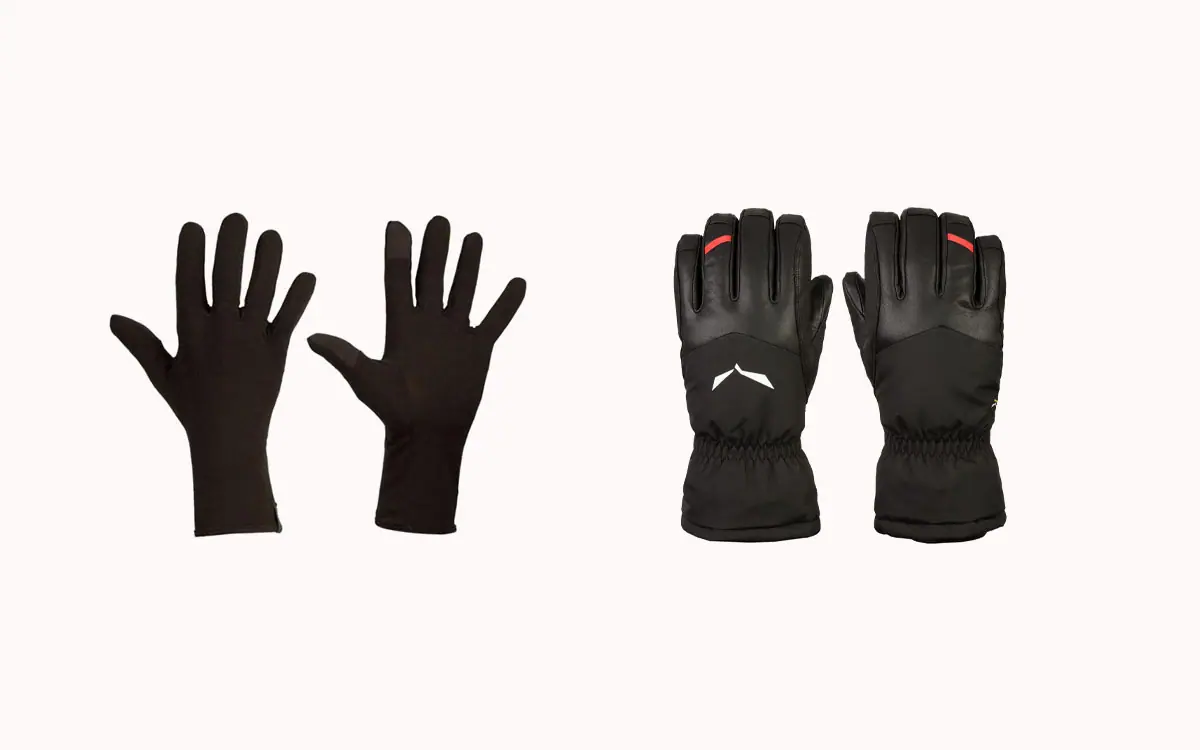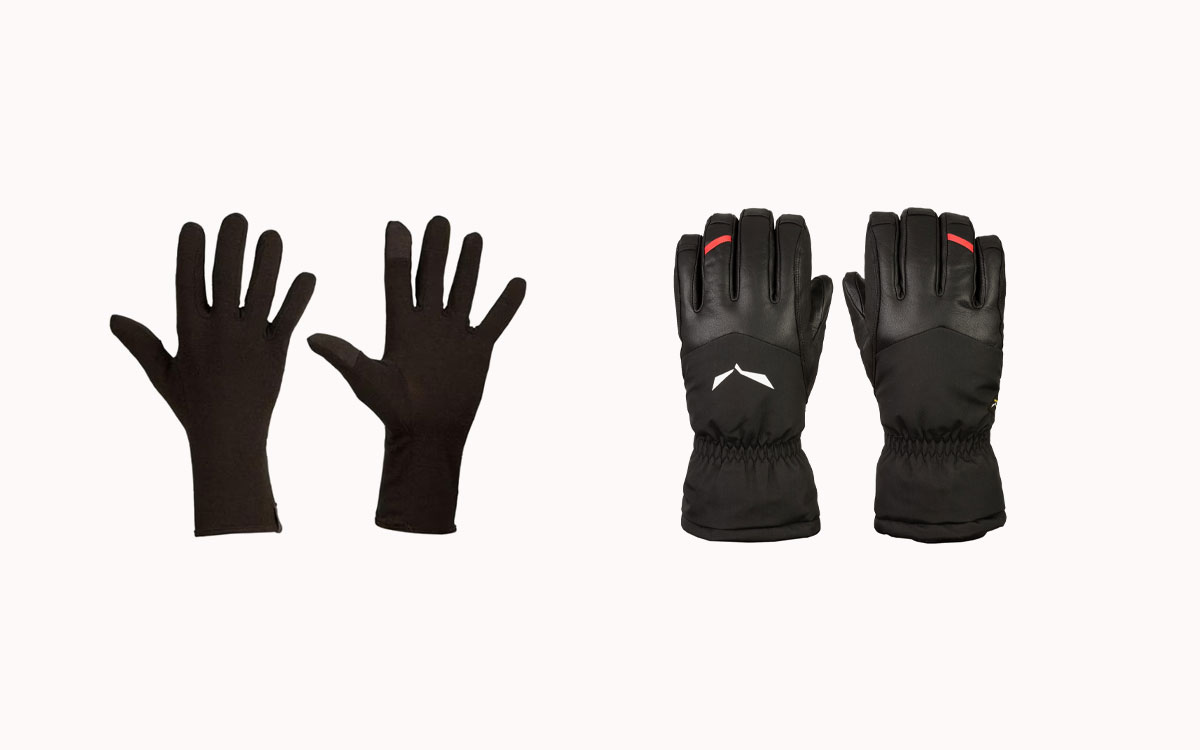 Wool or technical fabric liner gloves 
Liner gloves are thin gloves that can be worn under outer gloves for added warmth and insulation.
They provide an extra layer of protection against cold temperatures and wind, keeping your hands comfortable during outdoor activities.
Hard-shell outer gloves (insulated for colder months)
Look for hard-shell insulated waterproof gloves to protect your hands from extreme cold, wind, and moisture.
This glove is especially important during winter or high-altitude treks.
Feet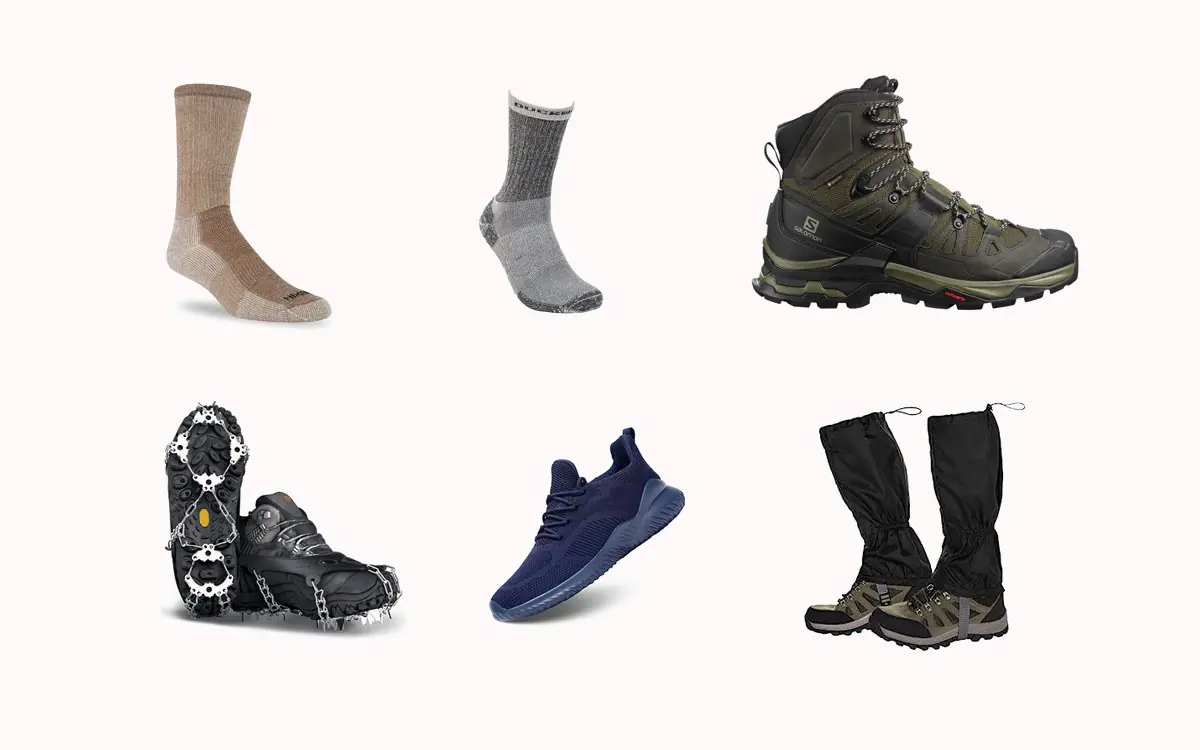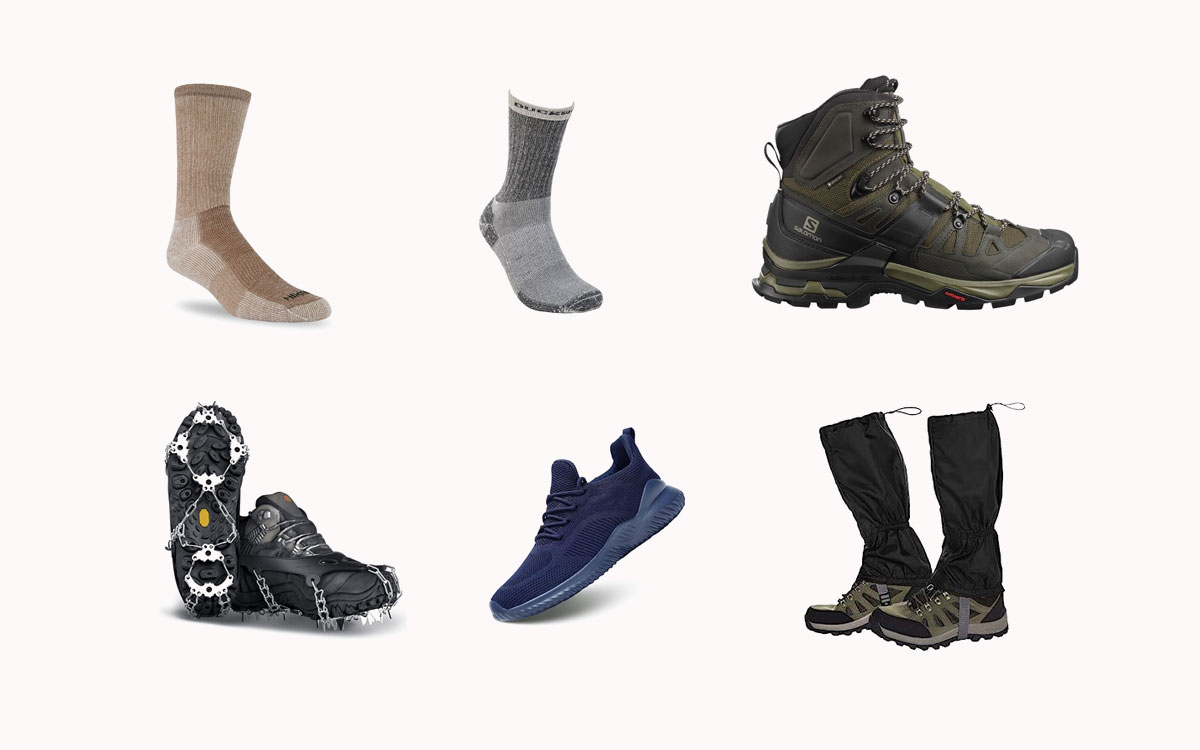 Wool or technical fabric warm socks
These socks provide insulation, moisture-wicking, and comfort for your feet.
They keep your feet warm even in cold conditions.
Hiking socks
Hiking socks are specifically designed for outdoor activities.
They provide cushioning, support, and moisture-wicking properties to keep your feet dry and prevent blisters.
Liner socks
Liner socks are thin socks that can be worn under hiking socks to reduce friction and prevent blisters. They also provide an extra layer of insulation.
Trekking/hiking boots
Trekking or hiking boots provide ankle support, stability, and traction on various terrains.
Waterproof boots are recommended to keep your feet dry in wet conditions.
Ice cleats
Ice cleats are recommended for trekking in icy or slippery conditions. They provide traction and help prevent slips and falls.
Casual shoes
Casual shoes are comfortable footwear for resting or walking around tea houses or villages during your trek.
Look for comfortable and lightweight shoes while purchasing them.
Gaiter
Gaiters are protective coverings worn over your boots and lower legs.
Lightweight gaiters are suitable for dust and debris, while heavy gaiters are recommended for snow and cold conditions.
Undergarments
When it comes to undergarments, you are the best judge of what makes you comfortable. It is crucial to remember to pack enough of the most comfortable undergarments for your high-altitude trek in remote areas, as there won't be any shops available to purchase them. However, here is the list of the things you need to carry:
Technical fabric/quick drying is best for underwear (opportunities to launder during the trip)
Sports bras (women)
Pajamas or sleeping clothes
First Aid Kits and Medications
Sunscreen
Sunscreen is a crucial item to have during high-altitude trekking because as you ascend to higher altitudes, you move closer to the sun, which raises the risk of sunburn.
Applying sunscreen regularly while on the trail helps safeguard your skin from harmful UV rays and prevents sunburn, which can be uncomfortable and result in lasting skin harm.
Lip balm
The dry air at high altitudes can cause your lips to become dry, cracked, and chapped. It is recommended to bring along lip balm that contains SPF to keep your lips moisturized and shielded from harsh environmental conditions.
Antibiotic ointment
Bandages (including blister-specific bandages)
125 or 250 mg Acetazolamide tablets for altitude sickness (consult with your doctor)
Painkiller tablets
Bismuth subsalicylate for indigestion or diarrhea
Other Essentials 
In addition to the gear mentioned earlier, there are several other essential items to consider for your Everest Base Camp trek. These items are crucial for your comfort, hygiene, and overall convenience throughout the journey.
Passport
Extra copies of passport-sized photos
Reusable water bottle
Toiletry kits
Water purification tablets or UV water purifier (if you plan to treat water)
Hydration bladder
Towel
Pillowcase
Toilet paper (2 rolls)
High protein snacks (such as protein bars or nuts)
Waterproof/dry bags for carrying important documents and money
Airline tickets (Please leave a copy at our office in Kathmandu. This can be useful if there is a change in the date of the flight.)
Everest Base Camp trek packing list for optional items
Power bank or extra batteries
Cameras and mobile phone
Cards/book
Binoculars
Trekking poles
Whistle
Thermos for hot water
Each item in the Everest Base Camp trek Packing list is equally important to carry along the trek. Although some common equipment hasn't been explained at last but also serves a specific purpose in ensuring your comfort, safety, and protection during a trek or outdoor adventure.
It's important to choose high-quality gear that suits the weather conditions and the demands of your activity.
Please note that availability of specific brands and stores may vary. It's always a good idea to check with local retailers or trekking gear shops in Kathmandu for the most up-to-date information on where to purchase these items.
However, you can find plenty of outdoor shops in and around Thamel selling the product. I hope that this blog gave you a general idea of the equipment list for the Everest Base Camp Trek.