The Everest Base Camp Trek located in the Khumbu region of Nepal, inside the Sagarmatha National park, a UNESCO world heritage site, is easily one of the most renowned trekking routes in the world.
The camp at an elevation of approximately 5,364m (17,598 ft) offers an impressive look into the culture and beauty of the Himalayas, and the Himalayan people.
The trek is a moderate climb and even with its challenges, the blessings are ever so abundant. With the world's highest mountain: Mt. Everest, towering atop, the Everest Base Camp trek serves both as a pathway and a massive destination all on its own.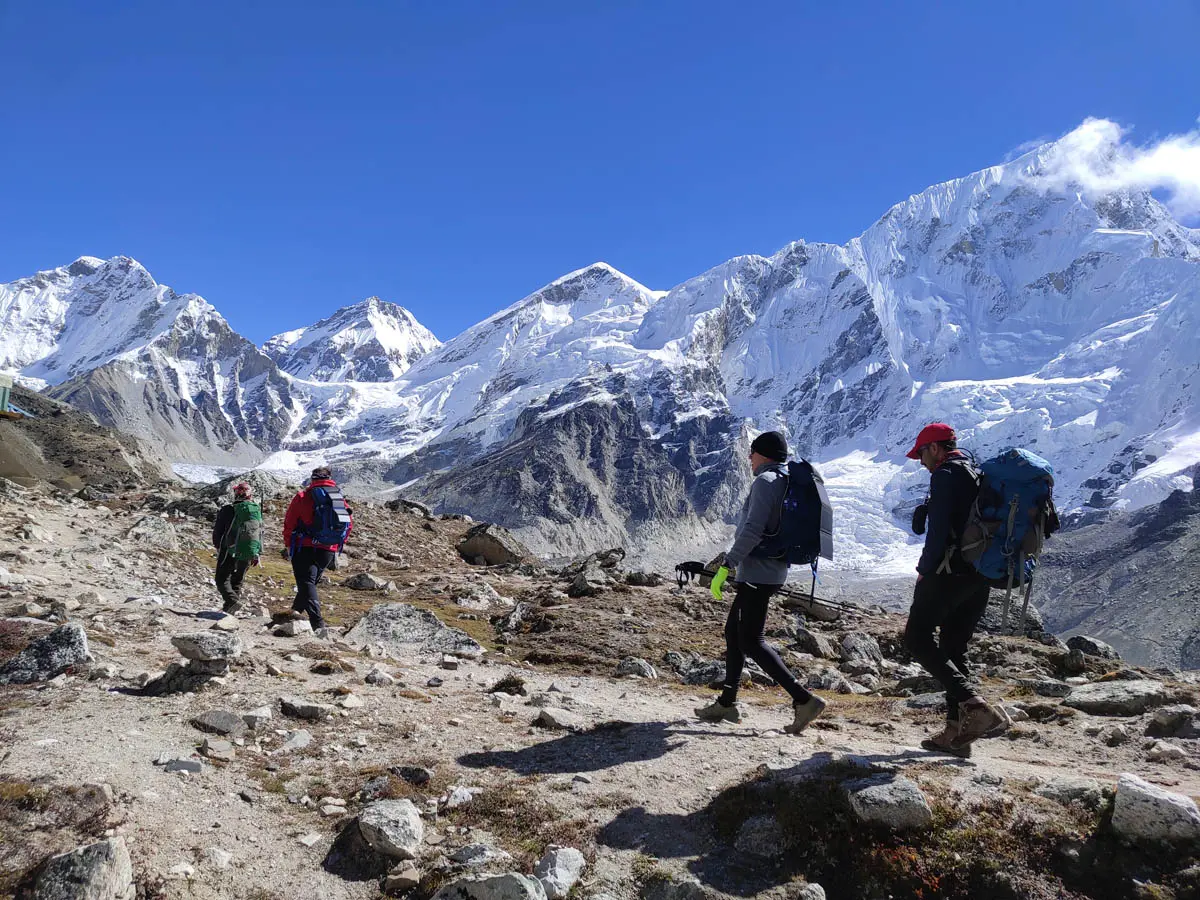 The sherpa people, their unique culture and top-notch hospitality is perfect to warm, a cold spirit persevering for the peak. Astounding mountain views greet the trekkers as they gradually walk up to the camp.
Ranges like Lhotse (8,516m), Nuptse (7,861m), Ama Dablam (6,782m) stands out in clear sight while synchronised sherpa homes peek complimenting the luscious green hills around the mountain.
Why is internet access necessary during the EBC trek?
With everything that the Everest Base Camp has to offer, one could be very occupied with their journey alone to ever care about anything else, so why is the internet or a workable Wi-Fi still such a necessity? The answer is simple: the compulsion or need for relevance.
Finding oneself warm in the womb of nature, it is easy to lose track of what life had once been like, but with the world as it is today, it is actually important to keep track.
The Everest Base Camp Trek is a journey full of unexpected thrills, to be able to share these wonderful moments of joy and excitement, the internet plays a vital role.
In order to remain present and in contact with sources that could help or even remotely assist one out of trouble, the internet is significant.
As lenient as a trek 5,364m high could be, it is still not a walk in the park, these moments of sheer delight come with just as much uncertainty, the matter of safety cannot be gambled with.
Getting SIM cards in Nepal
The first and the easiest step into finding a fairly strong internet connection is through SIM cards or mobile data. A thorough rundown into the process of purchasing is given below:
Choosing the best Service Provider
Nepal's top three mobile service providers with the most subscriber loyalty include: NTC, Ncell and Smart Cell. Even among them, the ones used the most are NTC and Ncell.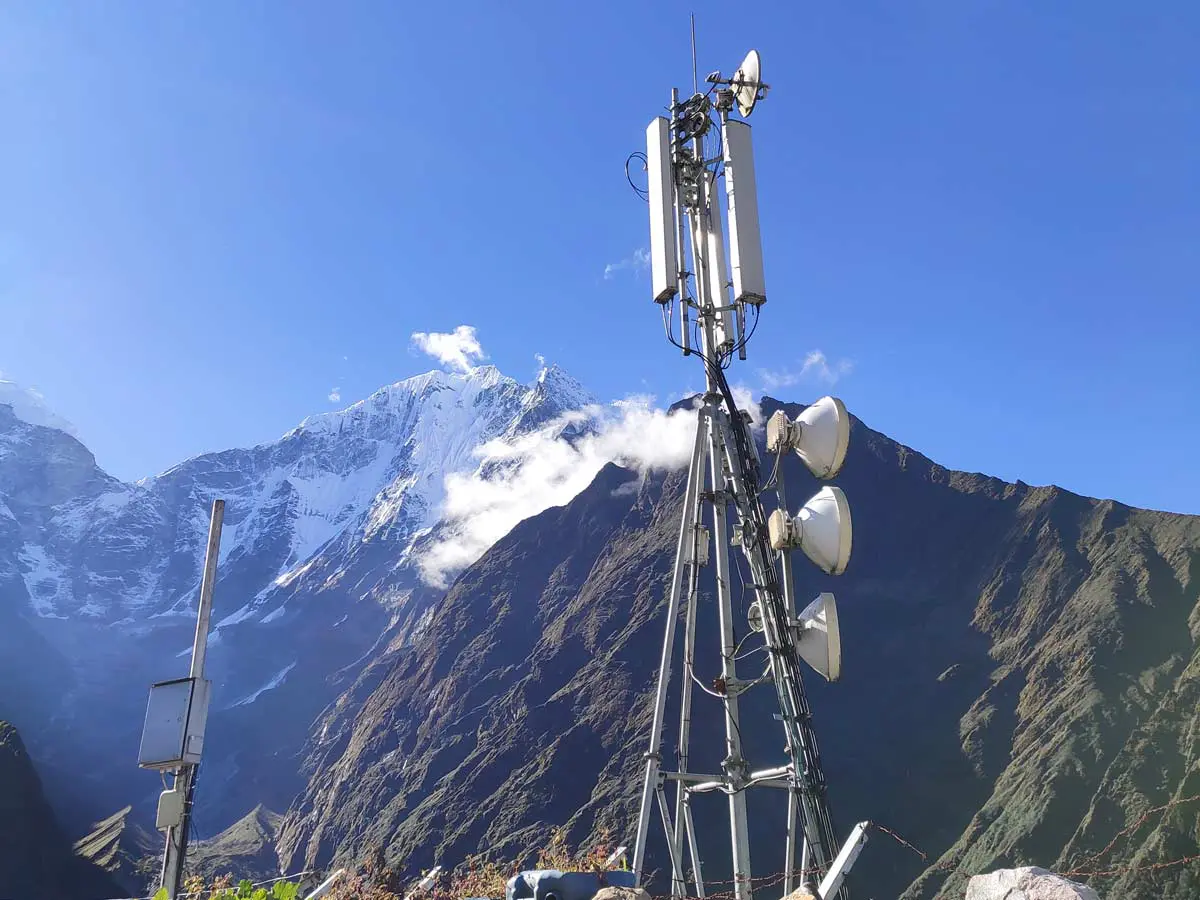 NTC is a government owned telecom service provider which is also the largest and the oldest in Nepal, Ncell on the other hand is a local subsidiary of the leading telecommunication company based in Sweden, TeliaSonera.
Both of these companies are known for their diverse services and impressive market share. They offer a wide range of prepaid, and postpaid mobile plans alongside strong data and internet services.
Recommended carrier
While choosing a service provider, it is important to look through their coverage rate, plans and prices, and the overall flexibility.
NTC and Ncell provide wide coverage that reach most of the country which also includes popular trekking ports like the Everest Base Camp.
A lot of trekkers tend to prefer Ncell for its speed and reliability around the area, the carrier also offers several diverse data & calls packages to choose from which is always a plus for its users.
Most locals tend to use both carriers and the practice is common and proves to be quite helpful.
Either way it is important to note that in the higher areas of the base camp, it might be difficult to hold a network. The weather condition and the altitude at a specific time or area could greatly affect the internet or mobile connection.
Bring the required documents
Once you've decided of a carrier, you will be asked for a few documents, they are, a copy of your passport and a passport sized photo.
Locate a mobile service centre
You need to get to an authorised reseller or a mobile service centre of your chosen carrier to fill in a customer application form and submit your documents.
You can find these places in major city hubs, shopping centres or the airport.
Identify a plan that fits your needs
Before getting your SIM card you need to identify what sort of plan works for you. Every mobile service provider has a customised plan, data & call packages or rate specified for itself, choosing one that exactly fits your needs is significant.
By the end of it all you will receive your SIM card along with a new phone number.
Mobile Network Coverage along the EBC route
Throughout the EBC trail mobile network coverage is constantly fluctuating, in some parts the connection might be good while in some it might not be as favourable, this is due to the constant change in altitude and geographic conditions.
Here we have a brief outline of the network conditions enroute:
| | | |
| --- | --- | --- |
| Location | Phone Network | Internet Service |
| Lukla (2,840m) | Ncell and NTC | Wi-Fi and data |
| Phakding (2,610m) | Ncell and NTC | Wi-Fi and data |
| Namche Bazaar (3,440m) | Ncell and NTC | Wi-Fi and data |
| Tengboche (3,860m) | Ncell and NTC | Wi-Fi and data |
| Dingboche (4,410m) | No data, no phone reception | Wi-Fi (Airlink) |
| Periche (4,371m) | No data, no phone reception | Wi-Fi (Airlink) |
| Lobuche (4,910m) | No data, no phone reception | Wi-Fi (Airlink) |
| Gorakshep (5,164m) | Ncell and NTC | Data (not reliable), Wi-Fi (Airlink) |
| Everest Base Camp (5,364m) | Ncell and NTC | Data (not reliable) |
The given table should help trekkers plan their communication and internet usage while trekking to the Everest Base Camp.
Internet Access along the trail using Mobile Data
It was only after the 2010's that the Everest Region was able to access 3G mobile signals to connect to the rest of the world in real time.
All thanks to the Nepalese telecommunication company Ncell a subsidiary of the phone company TeliaSonera based in Sweden, the Everest Region was able to establish itself popularly through the internet.
Today a number of base stations have been set up through the Everest Base Camp route starting from Lukla at 2,840m and up to Gorak Shep at 5,164m.
In most parts of the region, mobile coverage is excellent, allowing trekkers to easily communicate with loved ones, share experiences, and exchange information.
However, the signal strength drastically reduces beyond Tengboche, becoming very low to non-existent in Dingboche, Pheriche and Lobuche. Only in Gorak Shep, trekkers can enjoy good signal reception.
One thing to keep in mind, however, is that the signal could often face problems. Depending on where you are on the trail, there could be problems in connection, but this is inevitable due to the altitude and rapid weather changes.
Buying recharge cards along the trail
Once you have decided to rely on a mobile service provider it is also extremely important to stock up on a reliable number of recharge cards to continue making use of the connection.
After you land, you can easily find them anywhere in Kathmandu, the capital city. Here, they are accessible and also cheap. Any passing shop around the city can provide you with recharge cards for both Ncell and NTC.
However, Namche Bazaar is also another stop to find a reliable stock, here on, it will be impossible for you to find any shops offering the cards, so it is good to go around the market and purchase a number of them when you can.
Internet Access in Guest houses/Tea houses along the trail
While it's not out of the question to get internet access in guest houses and tea houses along the Everest Base Camp trail, it's important to know that the reliability of the connection can be quite shaky.
A number of guest houses could provide you with a Wi-Fi connection for a few bucks but it won't be anything easy to work with. A lot of tea houses might not have Wi-Fi to begin with so completely depending on connections like these on the trail is definitely not advisable.
Internet Access using Internet Service Providers
Internet Service Providers being introduced was another milestone in the development of the Everest Region. This allowed trekkers to stay online for much longer and do more than just check emails on their trip.
With a sole purpose of providing them with Wi-Fi, internet service providers became a much more viable internet resource through time.
Everest Link and Airlink Internet
Everest Link is an ISP exclusively available in the Everest Region, it is a wireless network that operates itself to be affordable and accessible because trekkers can easily buy prepaid and package link cards in most shops and lodges around the trail.
But its accessibility does not guarantee its reliability, Everest Link Wi-Fi is notoriously unreliable and cannot be trusted.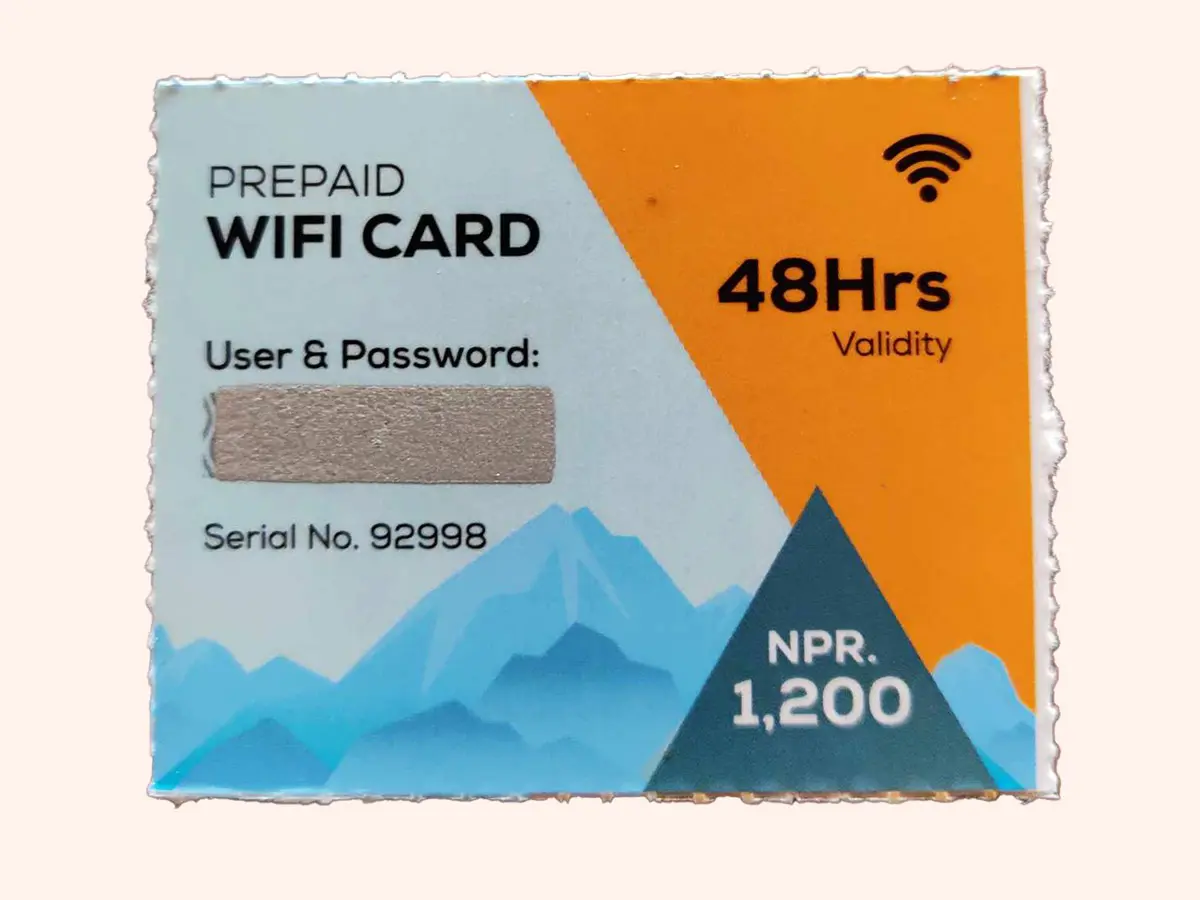 Airlink on the other hand is an ISP in Solukhumbu that was established in the year 2016 with its aim to provide internet services to all remote areas of Nepal. They believe that the internet is for all and provide great prepaid and postpaid internet services to many locations in the Everest Region.
Through guesthouses enroute Airlink Wi-Fi varies in cost in accordance to the amount of time you need it for, for 24 hours the rate is 700 NPR while for 48 hours it's 1200 NPR. For this rate they provide unlimited internet services, both extremely reliable and strong.
EBC Trek Internet Access during off season
The months around June, July, August, Mid-September and January are generally considered off seasons for trekking around the Everest Base Camp. In the area where internet connection is already scarce and understandably flimsy, the off season creates another major gap.
Around this time most guest houses above 3,500m are closed so expecting internet connection through hotel hotspots or the hotel Wi-Fi is quite impossible. Some tea houses or guesthouses might offer Wi-Fi access but they're bound to be limited and extremely slow.
In such cases when travelling it is advisable to carry an Ncell SIM from Kathmandu that can help one connect to a better connection through mobile data or packages.
In comparison to other internet service providers using mobile carriers come out to be a much safer option because despite giving limited time coverage they are quite reliable in terms of stability.
Phone and Gadgets charging
Phone and Gadgets charging through the Everest Base Camp trail can be quite challenging. Like a lot of other amenities that might not be present as you gradually go higher up, the presence of electricity is also quite scarce.
Luckily until Namche Bazaar you will not need to pay at all for getting your devices charged but that luxury only lasts awhile.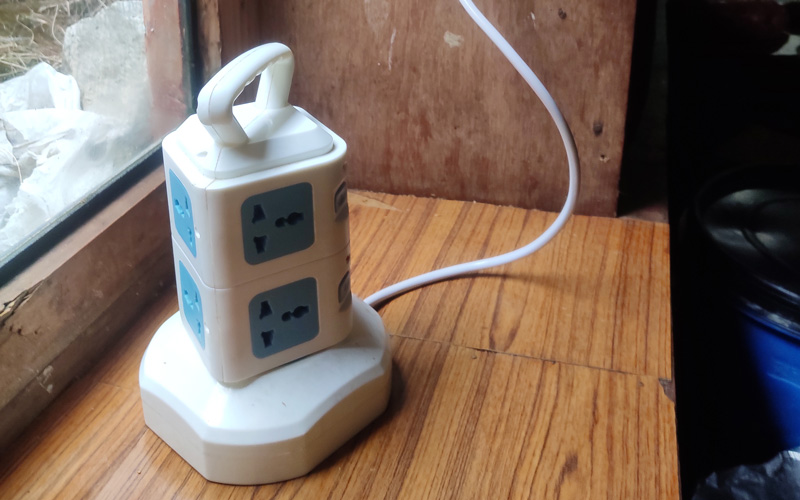 In Tengboche you will be charged NPR 500 for your mobile phone and NPR 1000 for charging your power bank. The cost will only keep increasing with your altitude.
To avoid situations where your phone and gadgets go down completely carrying portable power banks or solar charges that can last you awhile is always a plus.
Remember to charge these devices alongside your phone and other gadgets whenever you get to a guest house or tea house. For a solar charger you can always have it attached to your rucksack so it gets plenty of sunlight and charges for when you need to use it.
An adapter is also a must have, the electrical sockets in different teahouses can vary one after another. Particularly carrying a universal travel adapter is highly recommended.
Is there wifi on everest base camp trek?
Thanks to Airlink a lot of locations around the Everest Region have been enjoying great internet services but there is no Wi-Fi at the Everest Base Camp. However, you will still be able to receive a reliable phone network around the base camp.
Can you use 4G at the Everest Base Camp?
The Everest Base Camp does not have a 4G network. Gorakshep is the last stop in the EBC trail where you can access both Wi-Fi and 4G data. When at EBC the only means of communication available is a phone network.
It is extremely important to do good research in terms of what could work for you as a means of communication when travelling so remote.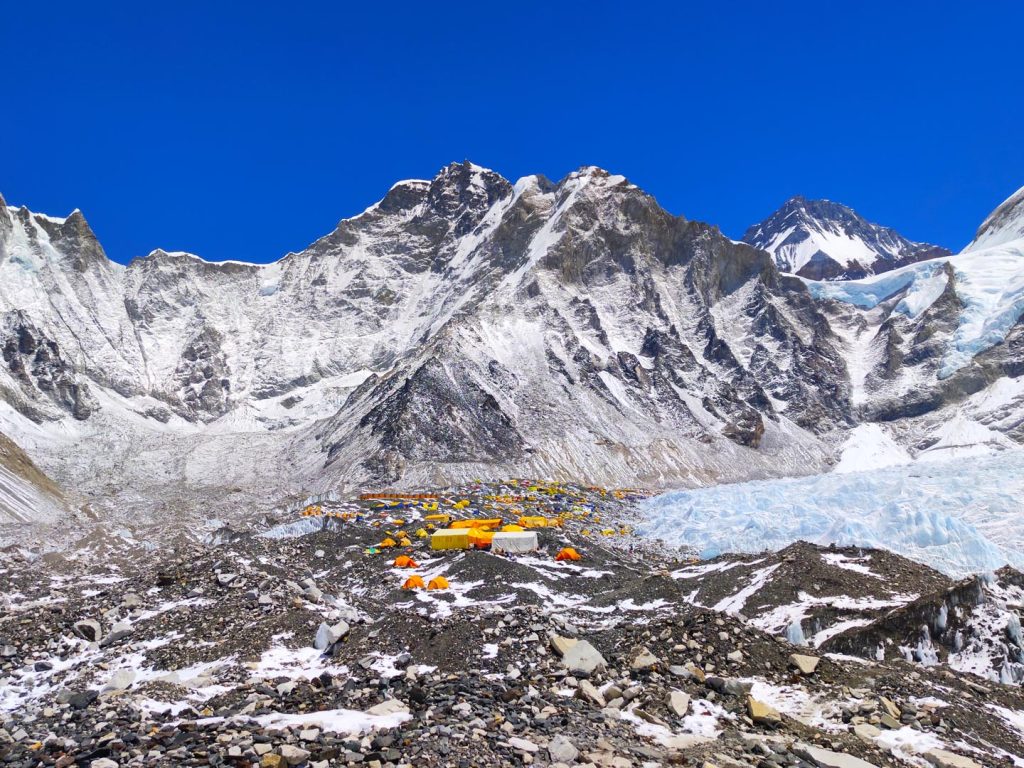 Weighing your options and needs makes it easier for you to have a safe and smooth sailing trip. It is always wise to take precautions so carrying more than a few options in your pocket will always be great.
Through mobile Network services you will be able to make international calls and connect to the internet through data, and using Wi-Fi can help you stay long term on the internet, make video calls, contact more of your loved ones and browse around.
Both of these options will come in handy as you will find yourself evidently far away from home. Make sure to negotiate and make their best use.