Among most of our frequently asked questions, one is whether it is possible to undertake the Everest Base Camp Trek during monsoon season or not.
The answer is yes! In fact, the trek can be accomplished all year round, including the monsoon and winter seasons as well.
While these seasons do present their own challenges, what's truly fascinating is that your dream trip isn't restricted to a specific month of travel.
As we delve into the monsoon season, beginning from the months of June, July, and August, we encounter frequent rainfall that saturates the Everest Base Camp Trekking trails.
Consequently, the paths become wet, slippery, and muddy, posing a considerable challenge for the trekkers.
Indeed, amidst the struggles of walking on muddy trails, there are several remarkable aspects that make Everest Base Camp Trek during monsoon season a unique and rewarding experience.
Some of the reasons why should you do Everest Base Camp Trekking in Monsoon seasons are:
Less crowded season
Nature enthusiasts often find solace in the soothing sounds of the natural environment.
Imagine being surrounded by nature's beauty and adding the calming melody of rainfall to the experience. This combination can be perfect for those seeking a refreshing getaway.
Furthermore, if you're planning to embark on the Everest Base Camp trek, opting for the monsoon season, which is considered the off-season, can offer a unique opportunity to immerse yourself in nature with added comfort and tranquility.
Unlike during the peak season, when the trekking trails are bustling with people, trekking in the off-season allows you to savor the serenity of nature without the crowds.
With fewer trekkers during the off-season, you'll have the advantage of having the trails and tea houses mostly to yourself. This solitude allows for a more intimate connection with the surrounding.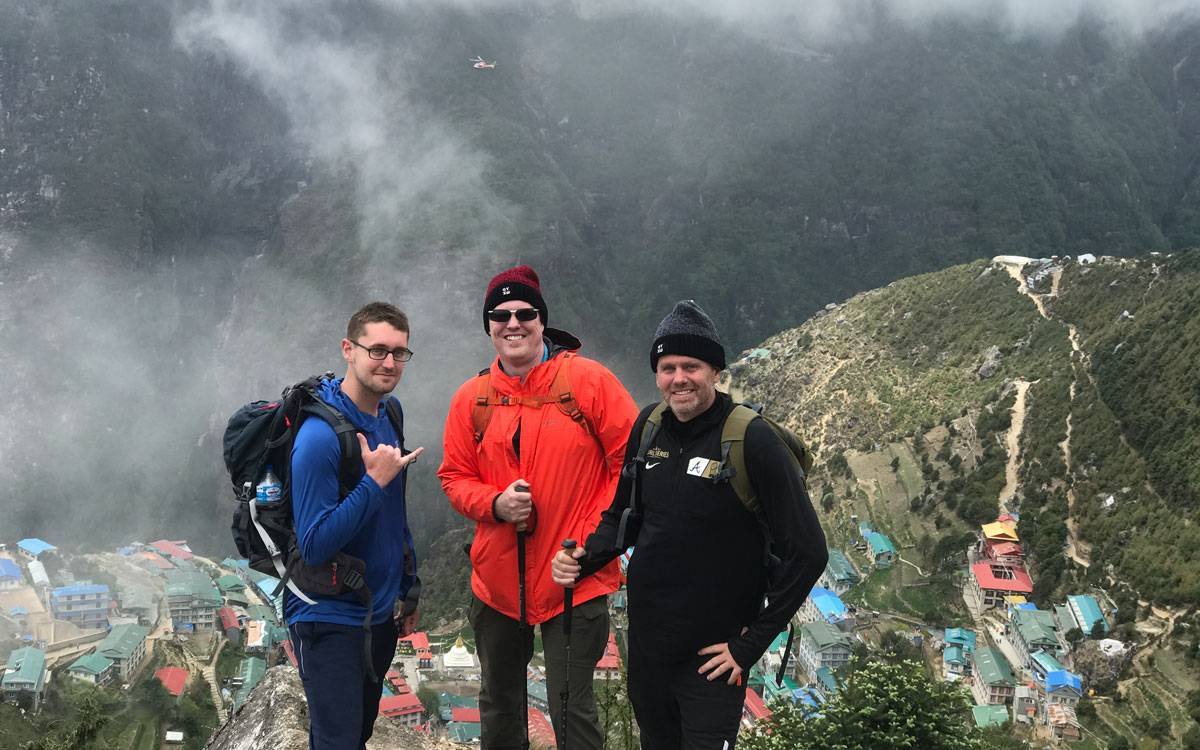 Breathtaking Beauty & Lush Greenery
During this particular season, there are several advantages to be experienced. The lush vegetation is at its greenest, and the air feels fresher and cleaner.
This creates a vibrant and refreshing environment in which to immerse oneself. The views of the mountains, forests, and various types of vegetation become even more fantastic and spectacular.
The emergence of new life in the branches and the surroundings, coupled with the vibrant wildflowers, enhances the overall enjoyment of being in nature.
Although the presence of clouds during this season may occasionally obstruct the views, there are instances where they contribute to the magnificence of the mountains.
The clouds sometimes form in a way that accentuates the beauty of the peaks, creating a truly breathtaking sight.
One of the highlights of trekking during the monsoon season is the opportunity to witness incredible and unique biodiversity. The abundance of rainfall during this time nurtures a rich variety of flora and fauna, making the trek an exceptional experience for nature enthusiasts.
You can encounter a wide range of plant and animal species along your journey, adding to the fascination and appreciation of the natural world.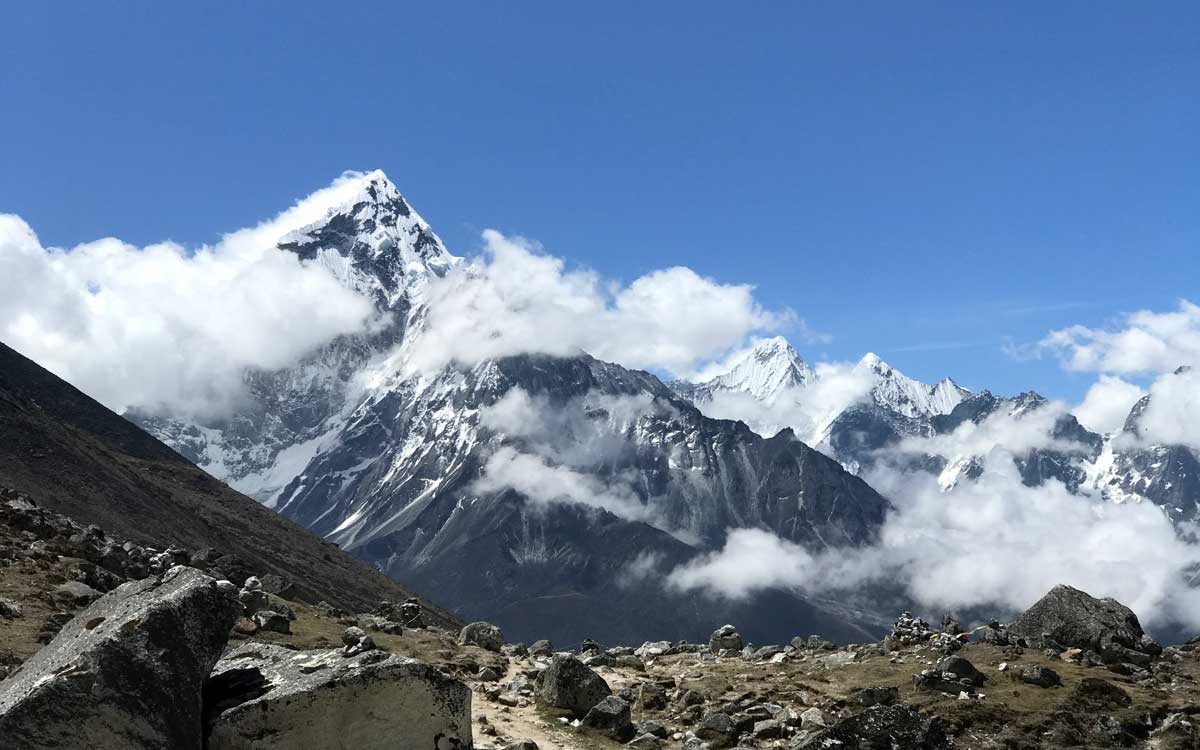 The temperature of Everest Base Camp Trek during Monsoon Season
In general, the monsoon season in the Everest region brings rainfall primarily in the lower altitudes, below 3,500 meters. Areas above 4,000 meters may experience rainfall for a limited period.
It's important to note that the intensity and duration of rainfall can vary from year to year. However, despite the rain, there are positive aspects to trekking during the monsoon months.
The excess rainfall often leads to the formation of spectacular waterfalls, adding a touch of natural beauty to the landscape. It can be a unique opportunity to witness the cascading water in its full glory.
During springtime, which is a different season, the average temperature in the Everest region is around 22 degrees Celsius (71.6 degrees Fahrenheit).
On sunny days, the temperature can reach a maximum of 30 degrees Celsius (86 degrees Fahrenheit). However, in the mornings and at night, especially in areas above 4000 meters, the temperature can drop to a minimum of -5 degrees Celsius (23 degrees Fahrenheit).
For more comprehensive information about the weather and temperature during different months and seasons, please refer our blog titled "A Complete Guide to Weather & Temperature at Everest Region."
What to expect in Everest Base Camp Trek during Monsoon.
Here is a list of things you should be prepared for while embarking on the Everest Base Camp trek during monsoon season:
Wet and Muddy Trails
During the monsoon season, you'll be expecting a lot of wet, muddy, and slippery trails due to rainfall. To cope with these conditions, it is advisable to wear appropriate footwear with good traction to provide friction while walking.
Carrying a trekking pole or stick can also offer additional support and stability. Consider wearing Ice Cleats or Micro Spikes to enhance grip on icy or wet surfaces, as they can be particularly helpful in such conditions.
However, Make sure to follow all the commands of the guide since they know the way.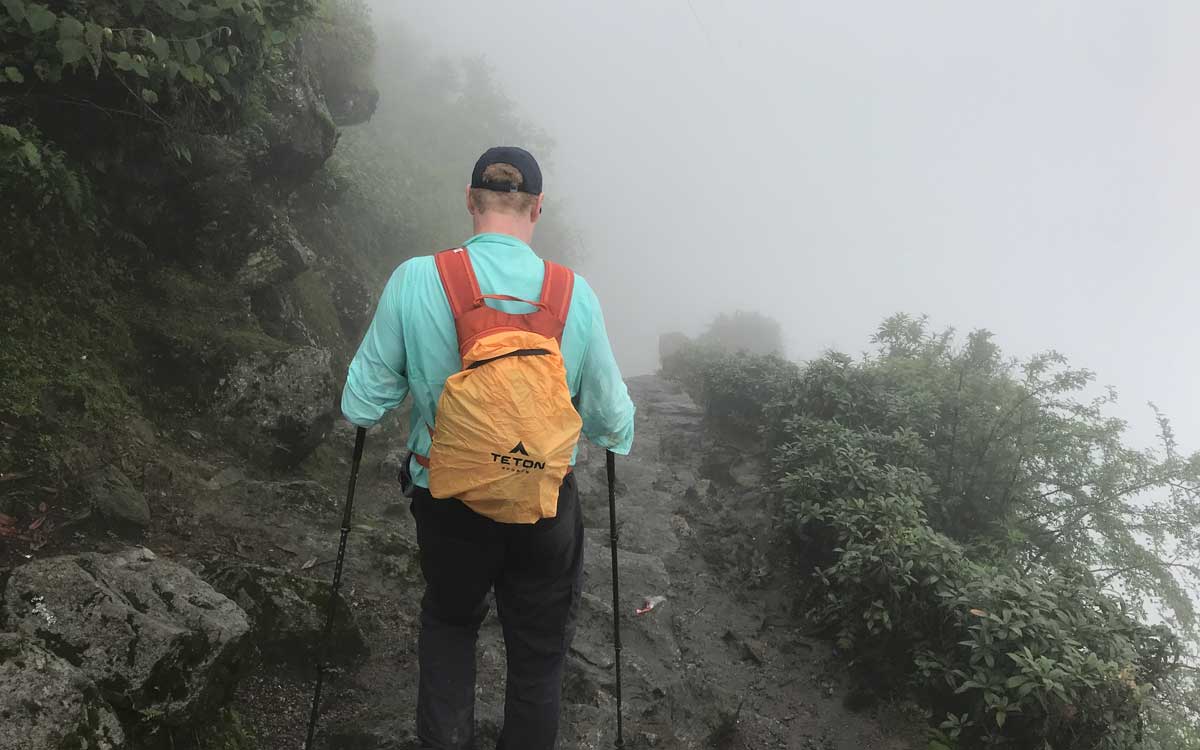 Frequent Mosquitoes and Leeches problem
At Everest Base Camp itself, you are unlikely to encounter insects.
However, during the lower altitude sections of the trek, such as the way up, you may come across leeches and mosquitoes.
It is recommended to carry insect repellents, ointments, or other skin care products to protect yourself from mosquito bites.
In case you encounter leeches, carrying salt can be useful as it can help in easily detaching them from your skin.
Chances of Excessive Rainfall
It is essential to be well-prepared for heavy rainfall during the trek.
Consider carrying a raincoat and appropriate rain gear to protect yourself from getting wet. Keep in mind that flight delays and cloudy weather are common in the region, so it's important to be patient and mentally prepared for such conditions.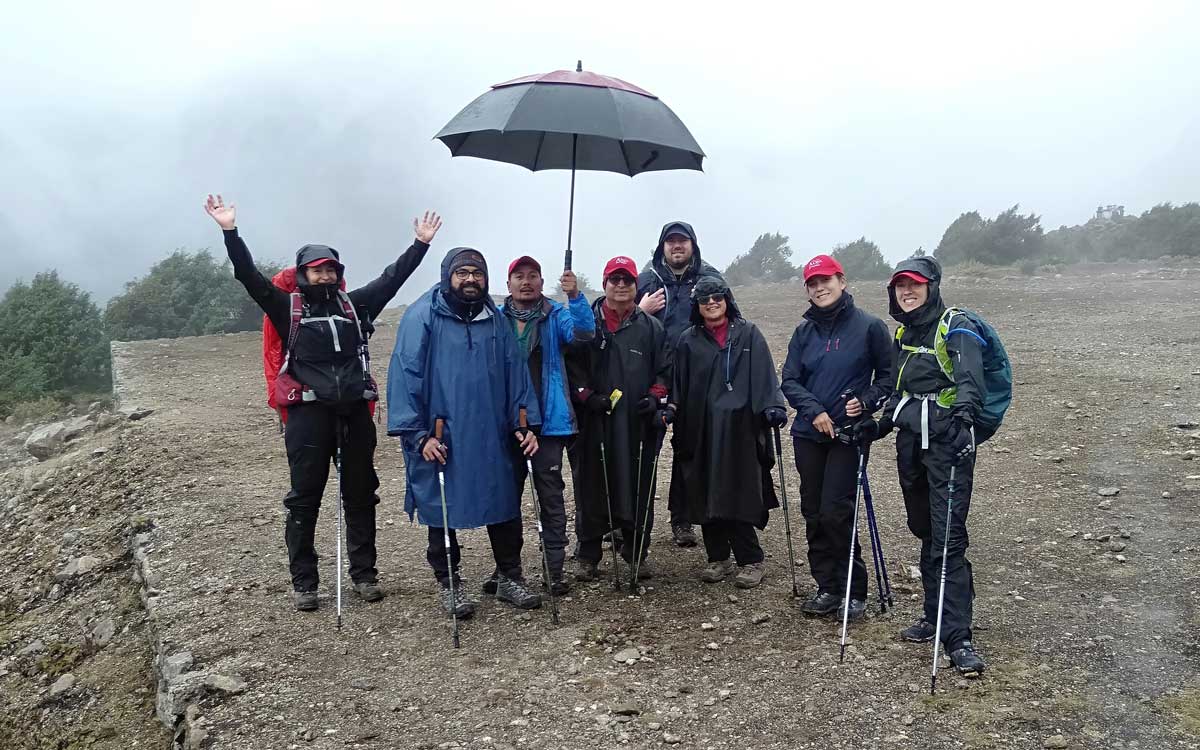 Flexibility in your travel plans will be helpful to adapt to any unforeseen circumstances that may arise due to weather conditions.
Here are some essential items you should consider carrying for a trek during the monsoon season:
Raincoat
Waterproof boots with good grips.
Walking Stick (for the support)
Skincare products ( skin ointments or mosquito repellent)
Warm clothes
Ice Cleats/Micro Spikes (recommended to prevent slipping on icy or wet surfaces.)
Conclusion
Although trekking to Everest Base Camp during the monsoon season presents challenges, it offers a unique opportunity to connect with nature and the local community.
If you enjoy high-altitude trekking and seek cultural immersion in the Everest region, this season is ideal as it experiences fewer crowds.
However, it's important to acknowledge the trade-off between the positive aspects and potential drawbacks. While you'll encounter heavy rainfall, it's still worthwhile to undertake the trek.
Remember to pack appropriate rain gear and allocate extra time for your journey as there's a high possibility of Lukla flight cancellations and limited visibility of Everest due to adverse weather conditions.