Buddhists regard high mountain valleys as 'beyuls', sacred places blessed by Guru Rinpoche or Padmasambhava. The mountains of Nepal hide many such beyuls. The Khumbu Valley in the Everest Region is one such sacred space.  Sherpas from the Khumbu Valley, who are known the world over as tough mountain guides, are devout Buddhists.
Deeply spiritual, for them Buddhism is a way of life.  These mountain communities used to practice an animistic religion known as Bon Po before the advent of Buddhism in the mountains.
Guru Rinpoche or Padmasambhava is believed to have introduced Buddhism in the Himalayas. Buddhist communities living in the high Himalayas celebrate the advent of Buddhism in their own unique way.
In Tengboche, a Sherpa village named after a Buddhist monastery situated in the village, the inhabitants observe the Mani Rimdu festival to celebrate the introduction of Buddhism in the mountains by Guru Rinpoche and to seek blessings and protection from the Buddha of Compassion, Chenrezig.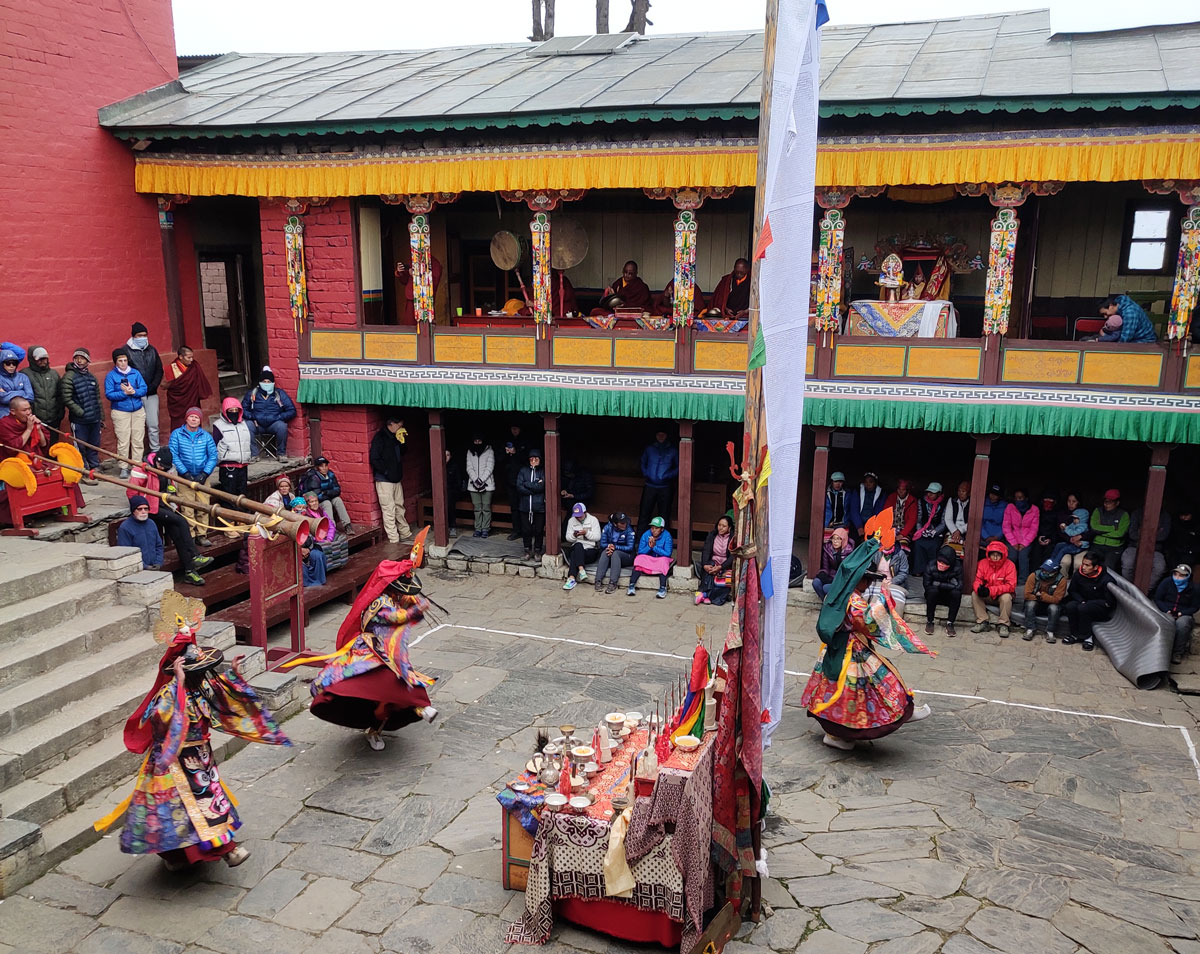 Tengboche Monastery was established more than three centuries ago and is an important spiritual site for Sherpas living in the Khumbu Himal. Colourful masked dances known as 'Cham' and religious tableaus by monks mark the festival. Sacred tantric rituals by lamas are also performed at the monastery during the festival.
The festival of Mani Rimdu begins with the installation of a 'mandala' using coloured sand by the monks.  Lamas (monks) meditate and worship in front of this mandala for ten days. Sherpa villagers from Tengboche and neighbouring villages gather at the monastery's courtyard to enjoy the elaborate dances and rituals performed by the monks.
Dressed in elaborate costumes the monks enact scenes depicting Padmasambhava fighting with the demons and Buddhist lessons on goodness and morality. Altogether sixteen dances with some comic interludes are performed.
Prayer requests are collected from people attending the festival and on the last day after the villagers have left, a fire ceremony is held to remove all negative energy from the world. The dismantling of the sand 'mandala' marks the end of the festival.
Apart from Tengboche, Mani Rimdu is also celebrated in the monasteries of Chiwang and Thame.
If you have an Everest Trek scheduled in the first week of November 2017, then don't forget to visit Tengboche Monastery on November 4th,5th &6th as the 'Mani Rimdu' festivities will be on full swing then.