Are you planning for Everest Base Camp trek?
If the answer is yes, there are certain things you should know about this challenging, yet rewarding trek. We want to let you know certain problems that you might face during the Everest Base Camp trek to ensure that you won't be surprised with some of the possible challenges along the way. We want your journey to the base of the world's highest mountain, to be a pleasant one. So keep on reading.
With the increase of tourism and ease of booking via the internet, it is often easy to forget you are travelling in a developing country where your ability to adapt and be flexible is a must. This is what makes an adventure an adventure.
Whilst the facilities in Nepal have improved in recent year's adventure seekers need to remember that when travelling in the more remote regions, conditions become more challenging by their very nature.
Often the Nepalese culture is confusing to westerners but is also one of Nepal's biggest charms. Relax and enjoy the adventure.
1. Lukla flight delay/cancellation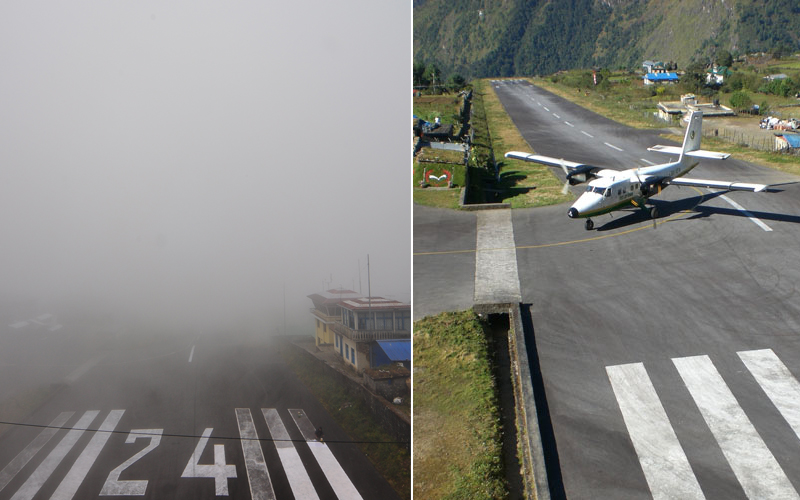 Every year thousands of trekkers fly to Lukla from Kathmandu to embark on a journey to Everest Base Camp. Lukla, also called Tenzing Hillary Airport is the gateway to Everest Base Camp trek. Currently, it is the main airport serving travellers in the Everest region, and it gets busier during peak season.
What causes Lukla flight delay/cancellation?
Lukla airport is nestled into the side of the Himalayas, with an extremely short runway and mountain walls at the end which makes its take-off and landing challenging.  In fact, the number of flights operations in Lukla is limited as the weather in the mountainous region is pretty unpredictable.
Besides, high winds, low lying clouds and poor visibility are other adverse climatic factors that may result in Lukla flight delays/ cancellations. That's why, considering passenger's safety, flight delay and cancellation are more likely to happen especially during the winter and rainy season at Lukla airport.
In addition, the major reason behind most flight delays/cancellations is not only due to Lukla weather but also the increased air traffic in Kathmandu airport.
What you should do?
Every participant traveling in the Everest region should be aware of possible flight cancellation, and should be prepared in advance. It's always a best idea for trekkers to include extra (2-3) days for the EBC trek so that they don't miss any International flight. If the weather is good, flying back to Kathmandu is possible, and you can spend the rest of the time relaxing, sightseeing in Kathmandu and many more activities.
Other reliable options
If you have pretty deep pockets, other alternative is helicopter flight to and from Kathmandu-Lukla. Under favourable conditions of visibility greater than 1500 m, a helicopter can easily operate while aircrafts like Twin otter and Dornier can fly only on visibility of 5000m or more.
If you choose to charter a helicopter, it may cost you extra USD 2500 in addition to domestic airfare. Generally, a helicopter accommodates 5 passengers at a time, which means you can divide your total cost among group members. If you are choosing helicopter ride due to bad weather conditions, you may be able to reimburse the cost from your travel insurance policy.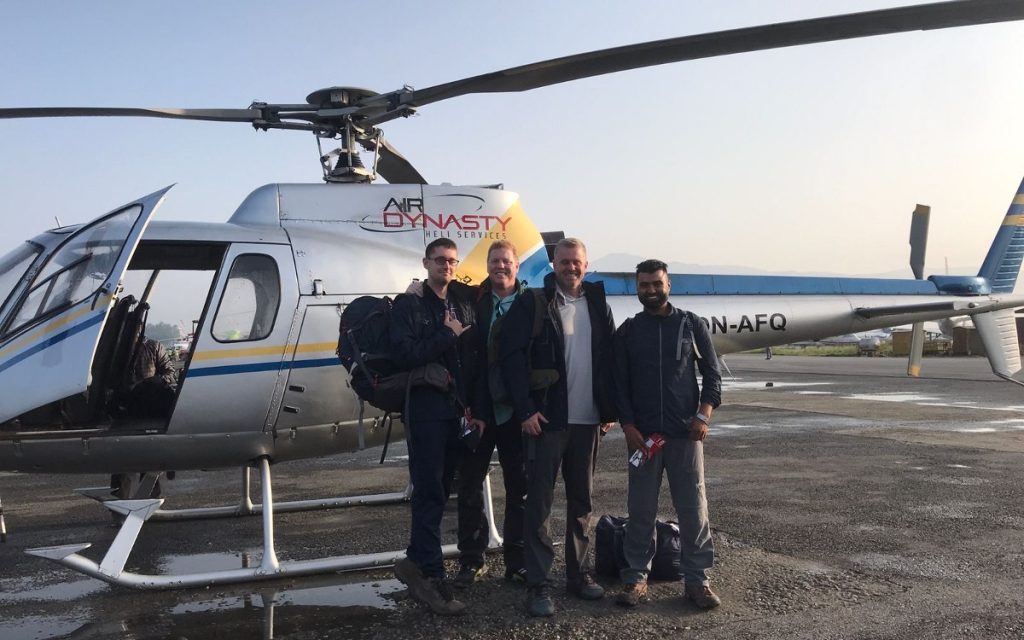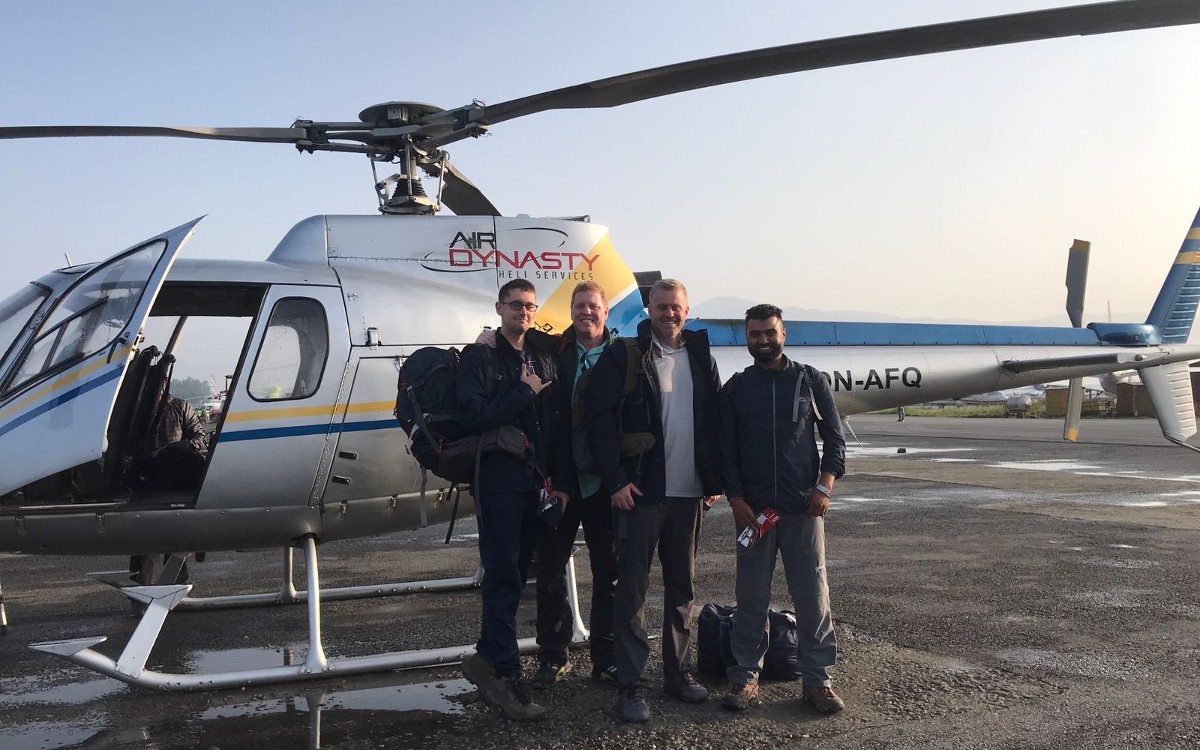 Having insurance policy is wise but make sure your insurance policy covers adventure activities over a certain altitude (4000m) including unfavourable circumstances such as weather delays, flight cancellations, evacuation etc. In this case, we can help you with the necessary documentation for your claim.
We further note that sometimes due to a last minute change in government rules, there might be changes in some information about itinerary that might cause you inconvenience. Please be assured that we will provide you the up to date information about the trip to make your journey a pleasant one.
2. Operation of Lukla flight from Manthali Airport, Ramechhap
Starting from March 2019, the Civil Aviation Authority of Nepal (CAAN) made a decision to reroute Kathmandu-Lukla air service from Manthali Airport, Ramechhap due to increased airport congestion in Tribhuvan International Airport (TIA), Kathmandu during peak trekking season (March, April, May, October,and November).
TIA is the only one international airport in Kathmandu which addresses more than 400 flights on its runway in a single day. Consequently, as a common response to increased congestion, CAAN decided to diversify all the Lukla flights from nearby Manthali airport in the upcoming years too. 
Change of Lukla flights to Manthali Airport, Ramechhap
Above all, the flight operation will continue from Manthali airport in the forthcoming years, especially during peak trekking month of March, April, May, October and November. Otherwise, the flight operation to Lukla from Kathmandu continues as usual on the remaining months except peak trekking months.
Considering this; Tara, Summit and Sita airlines of Nepal are operating all the Lukla flights from Manthali airport which means trekkers are required to travel to Manthali, which is 132 km northeast of Kathmandu to catch their Lukla flight and return back the same route. This is far from ideal but is beyond our control.
Kathmandu to Lukla flight
During the intervening time, please note that there will be a few first flights of some airlines in the early morning (6:30 am) from Kathmandu to Lukla. However, we don't think it will be prudent to wait for those flights during peak season as they carry a limited number of passengers (15-16 at a time) and cannot be ensured ahead.
Also, if the Kathmandu-Lukla flight get cancelled due to bad weather, there is less likely to reschedule your flight the next day due to limited number of flight operations from Kathmandu. Thus, booking Lukla flight from Manthali airport is the safe choice for you.
Besides the peak season (autumn and spring), the Lukla flight operation will carry on from Kathmandu Airport as usual.
Can you fly directly to Kathmandu from Lukla?
There may be some flights returning back to Kathmandu from Lukla directly after 11 am (if the weather conditions are favorable). However these aren't guaranteed so we highly recommend flying to Manthali from Lukla in peak season.
About Manthali Airport
Manthali airport can be reached upon 4-5 hour drive by road, travelling east from Kathmandu via B.P Highway. Manthali is one of the least developed parts of Nepal. The facilities provided there although being improved, are still very limited, as there is less flow of tourists in this region normally. It's difficult to find modern amenities like in Kathmandu, at the hotels and guesthouses there.
3. Traveling to Manthali Airport, Ramechhap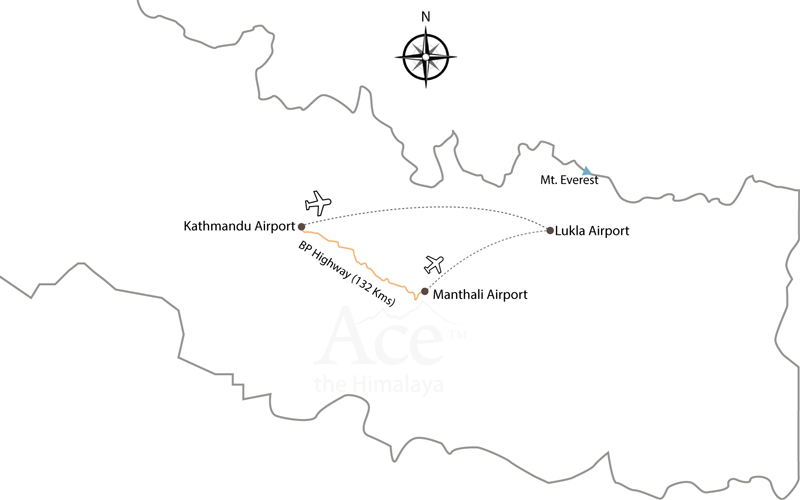 How to get to Manthali from Kathmandu?
If the airlines' shuttle service is not available, Ace the Himalaya has made an arrangement of private vehicle (depending on group size members, car, 4WD) either travelling to Manthali early in the morning around 3 am or reach one day before the flight day.
If the scheduled flight is in the early morning before 7am, then we need to reach by the previous day. Otherwise, we leave early in the morning (3:00 am) from Kathmandu to catch the Lukla flight after 7 am. If you travel to Ramechhap a day before, you need to stay in basic accommodation provided there in twin share basis.
Where to stay?
As many travelers are flowing to Manthali this season, the accommodation conveniences may not be easily available there. Besides, most of the accommodations are occupied by airline crew and locals. To deal with this situation, we think the best alternative options for your convenience is to is to stay overnight at Mulkot, nearby Manthali. The accommodation facilities are upgraded there compared to Manthali, and you should drive one hour (37 km) next morning to reach Manthali.
About transportation conveniences
Nepal's government imposed an extravagant 288% + import tax on vehicles that seems extreme to foreigners. Consequently, most Nepalese people don't have their personal vehicle and rely more on public vehicles such as buses, jeeps and airways.
While the high end tourist buses run easily in major highways of Nepal and in between major cities; the SUVs, minibus and jeeps are primary mode of transportation in the hilly and mountainous region of Nepal. Due to twisting mountain roads, vehicles such as Toyota Hiace, Mahindra Scorpio etc.(cost more than $70000 in Nepal) are used extensively for shuttle services in the hilly area, that includes Kathmandu to Manthali.
Oftentimes, many tourists complain that getting around in Nepal on vehicles are uncomfortable. Unlike popular luxurious vehicle in western countries, most transport services provided in Nepal are Indian motor vehicles that are comfortable and satisfactory.
Though the modern facilities like a developed country is still hard to find in Nepal, rest assured, in every instance we will provide you with the best facilities as we can. So do not expect traversing road by BMW or Mercedes Benz in Nepal.
Getting to Kathmandu from Manthali
Your return journey back will be similar transport arrangements to your outward journey.
4. Altitude sickness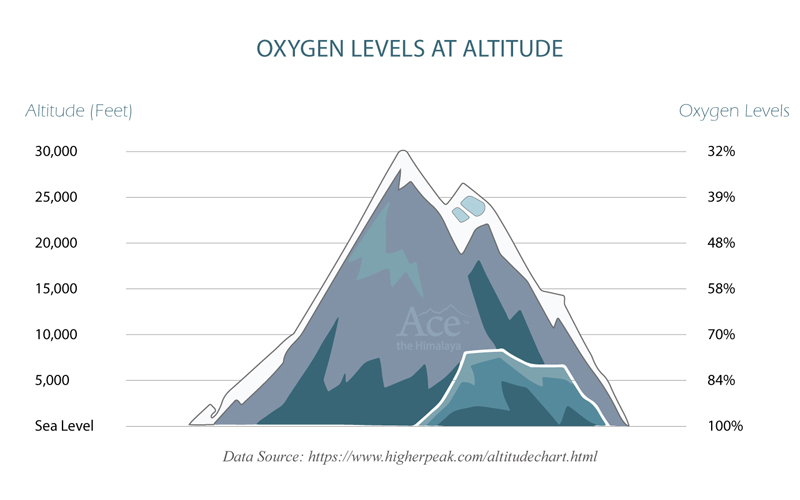 While trekking to Everest Base Camp, the decreasing amount of oxygen at higher elevations (above 2500m) may affect you to some extent. In general, symptoms of Altitude Sickness, also called Acute Mountain Sickness may appear among trekkers during the trek.
Having said that, not everyone suffers from altitude sickness as the ability of human body to cope in new surrounding differs with individual. If you don't exercise regularly or have chronic health problems previously, you should be aware of the common signs and symptoms of acute mountain sickness. They include weakness, dizziness, giddiness, nausea, diarrhoea, loss of appetite, insomnia, and shortness of breath.
Oftentimes, ignorance, overconfidence in estimating one's ability or lack of knowledge of trekkers can further lead to fatal condition. However, if dealt correctly it's not life threatening at all. On the other hand, altitude sickness can be prevented easily during Everest base camp trek by taking precautions that are listed below:
Not ascending too fast, rather hiking at a slow and steady pace.
Taking a rest day for acclimatization.
Drinking plenty of water (3.5-4 liters in a day), soups, and hot drinks.
Avoid sleeping pills and alcohol.
Stick to vegetarian meals.
Take medicines such as Diamox (Acetazolamide) if needed, but only under the prescriptions of physicians.
Follow the advice of your trekking guide
Know more about Everest Base Camp trek training- "How physically fit you should be for EBC trek?"
5. High altitude cough problems during Everest Base Camp Trek
High altitude cough, also called Khumbu Cough is one of the common problems among trekkers and mountaineers face during Everest Base Camp trek. This might sound surprising that the causes of this "Khumbu Cough" have not been acknowledged at all.
This is more common as you trek to higher elevation above 3000m. The cold and dry air is more likely to cause bronchial irritation leading to cough more. Besides, breathing difficulty at high altitude due to low oxygen and breathing through mouth may worsen the situation.
On the other hand, there are precautions you can follow to avoid this high altitude related cough problems. They are listed below:
Use buff or handkerchief to protect your neck and mouth from cold.
Wear mask to breathe humidified air.
Avoid breathing through the mouth.
Dress warm clothes to avoid cold related problems.
Keep yourself well hydrated.
Read our Equipmentssection to know about packing suggestions and what to wear during Everest Base Camp trek.
6. Vegetarian meals for weeks
Meat lovers, we've got some bad news for you! This doesn't mean you won't find meat dishes on tea houses menu, as a guideline, we highly recommend you to stick with vegetarian meals. There are some practical reasons behind having vegetarian meals during your stay in the Everest region.
The locals practices Buddhism that prohibits animal slaughtering in the Khumbu region. So all the meats available at tea houses are brought from Kathmandu and neighboring village below Lukla called Kharikhola by porters or by yak. Hence, the meats available there are not fresh and not hygienic. So, the best option is to stay away from meat for your health reasons and to avoid food poisoning.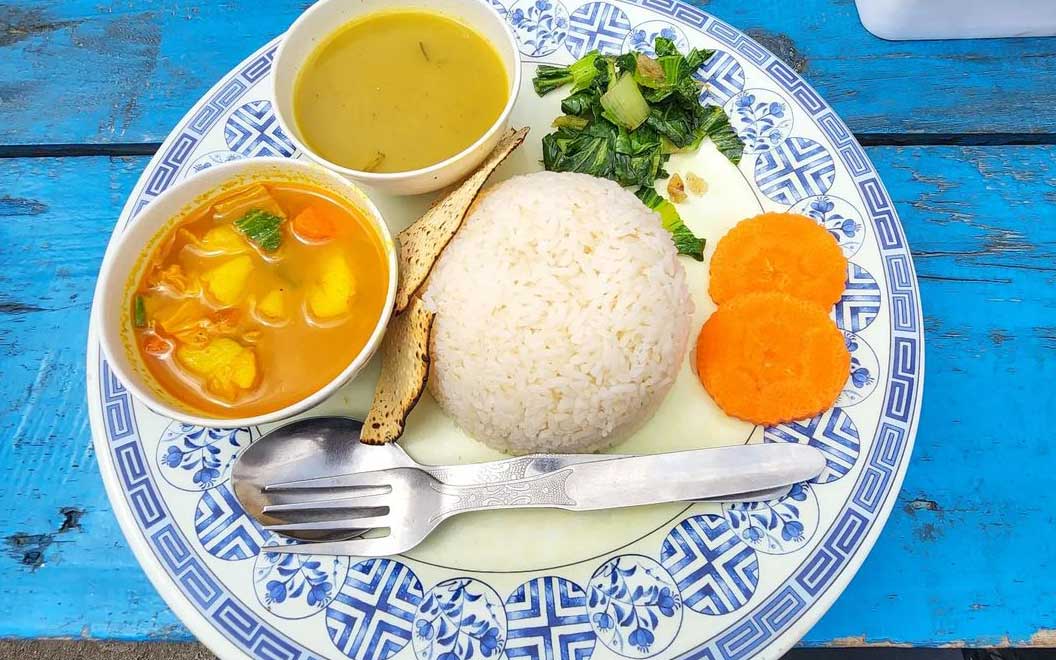 On the other hand, vegetarian meals served at tea houses are highly nutritious and gives you sufficient energy for the trek. This includes typical Nepali dishes: dal (lentils), bhat (rice) and tarkari (vegetable curry) for lunch and dinner. Similarly, tea houses provided delicious vegetarian foods such as pasta, noodles, French fries, boiled eggs, pancakes, omelets, toast, momo, garlic soup and many more dishes.
In addition, you can have tea, coffee, hot lemon, hot chocolate and cold drinks too. So, you don't have to worry a lot, even if you are in carnivore diet, you will be provided with regular meals that gives you sufficient energy throughout the day.
7. Drinking water
Human body loses water more quickly at higher altitudes compared to sea level. When trekking to high altitude regions like Everest Base Camp, your body works hard to get more oxygen, that's why staying hydrated is a key.
It is suggested to drink at least 3.5-4 liters of fluids (water, soup, hot drinks) in a day to avoid altitude sickness, muscle cramps and dehydration. If you are taking Diamox, we suggest you to drink more than 4.5 liters of water every day in the trek as it results in dry mouth quickly.
Having said that, all natural sources of water available is unsafe to drink in the Everest region for health reasons. Instead, you should drink bottled mineral water, boiled water, or use purification tablets or iodine for making all natural sources of water drinkable. Other possible option is using SteriPEN for water purification.
You can purchase bottled water and boiled water on the teahouses in the Everest region. But make sure you are not throwing plastic bottles everywhere, and the best option is using reusable metallic water bottle or disposing water bottle, plastic waste in proper places.
Hence, drinking water is not a real major problem while trekking in the Everest region, but the water tastes is not so good. This means the taste of water after purification might be a problem for many trekkers during Everest Base Camp trek. So we suggest you two possible alternatives for good water taste.
If you are using iodine tablets for drinking water purification, wait for 40 minutes and add chlorine dioxide tablets to make the water tastes like chlorine. Another alternative may be adding vitamin drink tablets with electrolytes for improving its taste and your energy.
8. Accommodation conveniences are limited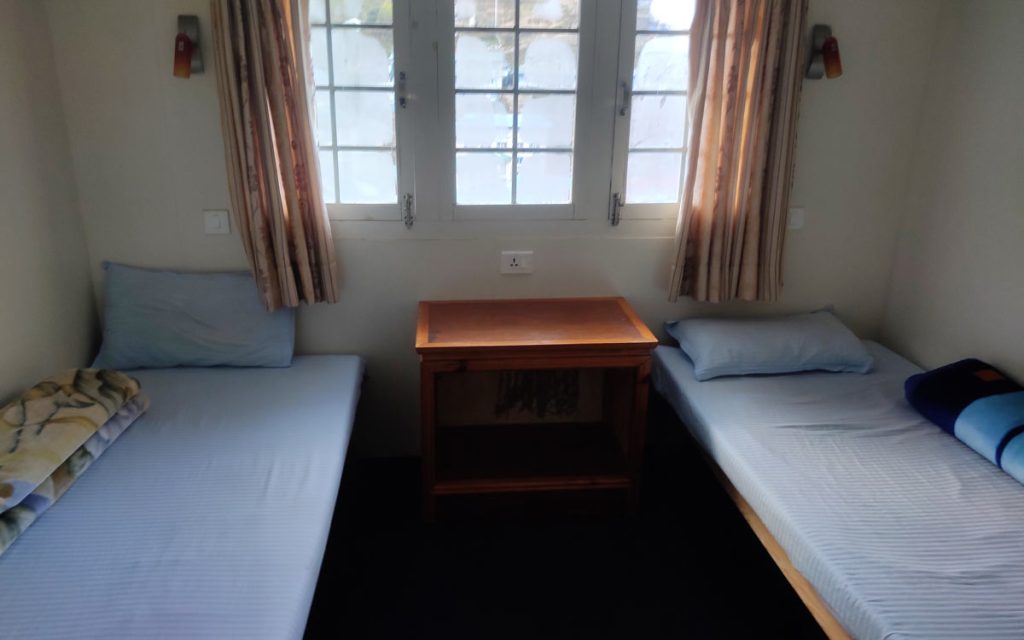 Along the trekking routes, the accommodation conveniences at lodges/guesthouses would remain very basic, but comfortable. In general, it consists of double/twin sharing room or dormitory rooms including mattress and a quilt or blanket.
The tea houses accommodation conveniences include warm dining area with bonfire, delicious vegetarian meals and cozy bedroom. Sleeping bag and down jackets are available for renting, so you don't have to worry a lot about the freezing temperature.
In addition, the accommodation conveniences offered at tea houses may vary from place to place. Most tea houses are devoid of attached bathroom (exception if you book luxury rooms) at guesthouses of Khumbu region. This means going to the restroom during the night time may be problematic because of the freezing temperature.
On the other side, booking luxury rooms with attached bathrooms before the trek is the only solution to avoid this discomfort during the EBC trek. For luxurious accommodation with best facilities, read "Everest Base Camp luxury trek 14 days".
9. Outdoor toilet adventure
It doesn't sound glamorous, and I guess it isn't, but you need to be okay with outdoor toilet adventure during the EBC trek. You may feel awkward at first, but you will get used to it. Especially, if you are in transit along the trekking route with no villages and teahouses nearby, it's the only available option to you. Having said that, please make sure you are maintaining your privacy while pooping, hiding away from people in the bushes, woods or stones.
Nowadays, you will find standard, western style flushing toilets in most areas of Khumbu region. Similarly, you will find squat toilets in some tea houses there. If you are not used to squat toilets, it might be overwhelming to you at the beginning, but you get used to it!
But more than anything, to trek to Everest is to accept adventure. To borrow from Maya Angeloue,-"Hoping for the best, prepared for the worst, and unsurprised by anything in between." You must be mentally prepared for some surprises and some problems you might face during the Everest Base Camp trek.