In the wake of 7.8-magnitude earthquake that struck Nepal on April 25, the main focus of international media was on buildings, city areas and villages that have been devastated by the quake. Their coverage sent a message to the world that Nepal isn't safe for travel anymore.
However, what they didn't cover was areas which were unaffected by the earthquake. Out of 75 districts of Nepal, only 8 are affected. The 8 don't include popular tourist destinations such as Pokhara, Lumbini, Chitwan National Park and Everest and Annapurna trekking regions. The situation portrayed on television programs and newspapers was far from the ground realities.
Listen to what Andrew Jones, the vice-chairman of the Pacific Asia Travel Association (PATA) and experienced crisis management expert has to say: "I have visited Nepal several times. My first impression towards Nepal after the April 25 deadly earthquake was that the country had been devastated.
The international media reports showed that everything had been destroyed. But when I arrived here, it was much better than I had anticipated. To be honest, I didn't have any problems visiting the country. No dangers at all. In general, I don't find Nepal unsafe to visit. There are many places in Nepal that have escaped the disaster, and there are many places to visit." You can read his full interview here (link).
And it's not just Andrew Jones, our own Ministry of Culture, Tourism and Civil Aviation published a press release (link)and said "Nepal is safe and secured place to visit".
It's been more than a month since the trembler hit us. The situation has already begun to return to normal. Businesses are coming into operation and more and more people are living within their homes except those who lost. And above all, the tourism industry, that faced the biggest blow due to the earthquake, is ready to welcome the guests.
And when you come to visit Nepal, the most important thing you are doing is helping us. You are helping our economy to recover and to rebuild our beautiful country.
Here we present you some information that gives you clear, undistorted picture of what the conditions are really. That means it tells you that Nepal is safe for travel.
Kathmandu and Tribhuwan International Airport
Though the capital city saw a considerable number of casualties and damaged houses, the ground situation isn't as being depicted in media. The only international airport of Nepal, Tribhuwan International Airport, hasn't sustained damages. Instead it has been operational all along. The roads are well and so are the other infrastructures of the city such as electricity and water. Inspection has found that around 90% of hotels for tourists are in a good state. You can easily find a good hotel to stay if come now.
Heritage Sites
We have 8 UNESCO World Heritage Sites. Of them, only 3 were damaged by the earthquake and the damages are 40% only. You can safely visit Lumbini, the birthplace of Buddha, Sagarmatha National Park and like. The renovation work for the damaged sites has started and the government of Nepal is opening heritage sites in Kathmandu valley for tourists from June 15.
Pokhara
Often called the most beautiful city of Nepal, Pokhara has no damages. Everything from hotels and restaurants to roads and communication is 100% safe and operational. But due to negative publicity, the Lake City has suffered the lack of tourists. Pokhara Tourism Revival Committee (PTRC) has been formed and heavy discounts are given. If you visit Pokhara now, you will get 20% discount on restaurants, 50% discount on hotels, 20% discount on tours and trekking.
Hotels, Resorts, Restaurants and Teahouses: Except on areas near the epicenter, hotels, resorts, restaurants and teahouses either have only minor damages or no damages at all. In Kathmandu, about 90% hotels for tourist are safe and operating. In popular destination such as Pokhara, Annapurna region, Everest region, Lumbini, Chitwan, you can easily find a safe hotel to stay.
Chitwan National Park
One of the best wildlife-viewing national parks in Asia is far from the damages of earthquake. The park's major attractions like boating, jungle safari, elephant riding, visit to crocodile breeding center and night viewing of wildlife are all fine. But, like most of the tourist destinations which are safe, Chitwan has suffered the shortage of tourists.
And it's not just Chitwan, Nepal's other national parks like Bardia National Park, famous for tiger viewing, Sagarmatha National Park, etc are also safe to visit. Out of 10 national parks, only 1 has been affected by the earthquake.
Trekking
The earthquake came at the peak season for trekking. And immediately it made the trails empty as trekkers rushed to get out of the country. But most of the trails aren't risky as you might believe. The earthquake only affected Langtang, Manaslu, Rolwaling and Helambu regions.
It will take more than a year for the trails to open up in these areas. But in popular regions like Annapuran and Everest, which receive the highest number of trekkers, there is either least or no impact. Meaning the trails are safe. And so are in regions like Mustang, Dolpo, Makalu and Kanchenjunga. The teahouses there are also safe and operational.
Communication and Transportation
The telecommunication signal was sketchy in the first few days. But soon it worked pretty fine. Now you can easily make a call, use Internet or send an email. There is no communication problem. And also no transportation problem. In the affected regions, the road condition is worse. But if you want to travel to Pokhara from Kathmandu by road, or if you want to take a plane to Lukla, you can do it without difficulty.
To conclude,
The experts' views and the situations on the ground which we just provided tell one thing: Nepal is safe for travel. Your arrival to Nepal after the earthquake isn't just about your vacation, like we said above. It's also about our recovery. You visit, we recover.
And if you want to use a few extra days to directly help an earthquake-battered community while travelling in Nepal or want to come to Nepal with an aim to rebuild, we have trips just for you.
Trip 1: Rebuild Nepal and Annapurna Trek Program (13 Days) (link)
Trip 2: Nepal Rebuild Volunteer Program (9 Days) (link)
As this article (link) points out, "tour participants will help reconstruct villages in the Gorkha region, near the epicenter of the first quake, where trekking volunteers will provide priceless sweat equity along with much-needed dollars to help purchase construction supplies"
For every purchase of any of the trips, we will spend US$ 300 to purchase construction materials.
Apart from these voluntourism programs, we are working with local NGO Sambhav Nepal (with whom we have collaborated for past 8 years) to distribute relief supplies to the victims of earthquake. So far 16,000 kg of rice, lentils and salt, and tarps have been provided in Deurali, Thumi, Aruarbang, Aruchanaute, Arupokhari and Manbu villages in Gorkha. And 1,200 roofing sheets to 3 community schools in Manbu, Aprik and Aruchanaute villages so that they can make temporary rooms to run classes. We will also give US$ 10,000 to Sambhav Nepal for its school-rebuilding project after the monsoon season.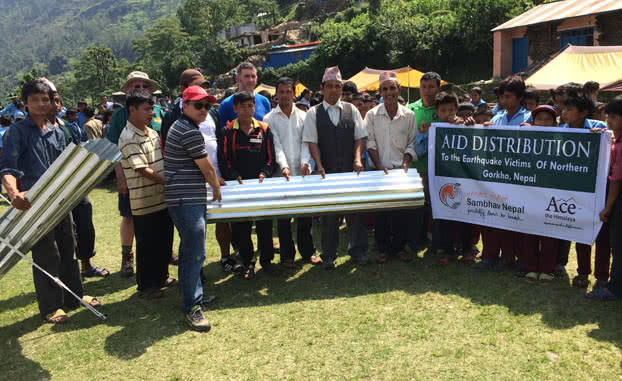 Soon we are heading to the villages in Gorkha with more aid. Some of the villages we are visiting such as Sama Gau, Prok and Lo are located at high-altitudes. They can be reached only by helicopter as the trails have been damaged due to landslides triggered by the earthquake. And we are also planning to visit 15 schools to distribute roofing sheets and assess the damages for our school-rebuilding project.