On May 29, 1953, for the first time in history, Sir Edmund Hillary with his Sherpa guide and a lifelong friend Tenzing Norgay conquered Mount Everest, which was considered to be unconquerable by many. He was also the first person to reach Earth's three poles-the South, the North and Everest (the third pole).
Sir Edmund Hillary, who was named one of the 100 influential people of the 20th century by Time magazine, was not just a mountaineer and explorer. He was a philanthropist who founded the Himalayan Trust through which he helped to develop the Sherpa community.
And, he was a man of wisdom.
Here are 12 of Sir Edmund Hillary's inspirational quotes to help you feel motivated.
The Quotes
#1 No one remembers who climbed Mount Everest the second time.
#2 You don't have to be intellectually bright to be a competent leader.
#3 As a youngster I was a great dreamer, reading many books of adventure and walking lonely miles with my head in the clouds.
#4 You don't have to be a hero to accomplish great things—to compete. You can just be an ordinary chap, sufficiently motivated to reach challenging goals.
#5 People do not decide to become extraordinary. They decide to accomplish extraordinary things.
#6 I have been seriously afraid at times but have used my fear as a stimulating factor rather than allowing it to paralyse me. My abilities have not been outstanding, but I have had sufficient strength and determination to meet my challenges and have usually managed to succeed with them.
#7 Life's a bit like mountaineering – never look down.
#8 Mount Everest, you beat me the first time, but I'll beat you the next time because you've grown all you are going to grow…but I'm still growing.
#9 While on top of Everest, I looked across the valley towards the great peak Makalu and mentally worked out a route about how it could be climbed. It showed me that even though I was standing on top of the world, it wasn't the end of everything. I was still looking beyond to other interesting challenges.
#10 It is not the mountain we conquer, but ourselves.
#11 I have never regarded myself as a hero, but Tenzing undoubtedly was.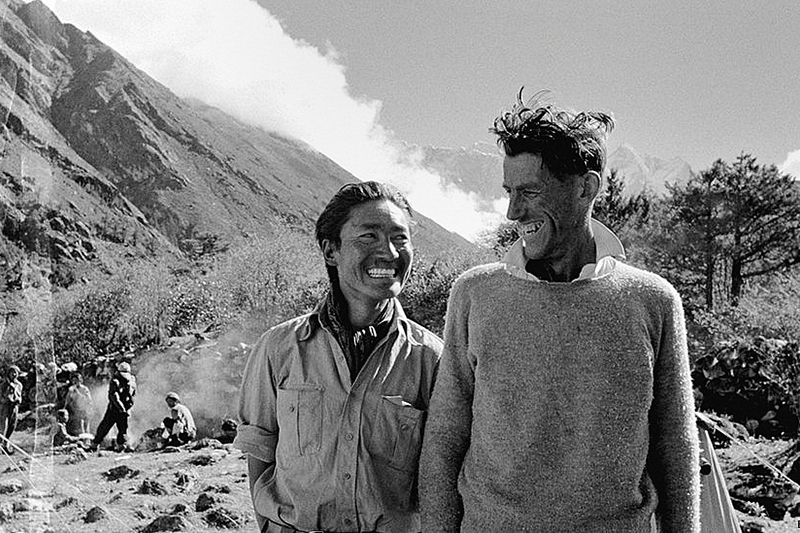 #12 If you have plenty – more than enough – and someone else has nothing, then you should do something about it.
Wrapping It Up
It doesn't matter whatever you are a mountaineer,  philanthropist, trekker, traveler Or anyone. We all need help and we all need something to make us feel motivated, something to help us to strive to our goals and dreams. We all need inspirational figures to guide us out of harsh weathers of life, to guide us to being found after being lost.
We all need inspirational quotes from folks like Sir Edmund Hillary to help us conquer our own Everest.
Ace the Himalaya, is a travel and trekking company based in Nepal.  Ace the Himalaya has meticulously created unique outdoor adventure journeys for you to explore the highlights of four enchanting, yet very different cultural wonderlands – Nepal, Bhutan, Tibet and India. From trekking, peak climbing and mountaineering to rafting, wildlife safari, cultural tours and other activities, Ace the Himalaya has an option for all kinds of outdoor lovers. We are proud to showcase the beauty of Nepal to the world and take your journey beyond the ordinary! For more information, contact us.