When embarking on the arduous journey to Everest Base Camp, it's crucial to possess immense strength, both physical and mental. And as the saying goes, "We are what we eat." Fortunately, the Food on Everest Base Camp Trek presents a diverse array of healthy and energy-rich choices amidst the majestic Himalayas.
The EBC trek is well developed where you have a variety of food choices to pick from a menu during all meals. You can also try a lot of authentic Sherpa dishes during Everest base camp trek. The menu generally has vegetarian options and we encourage sticking to vegetarian meals during the trip.
So, being a vegetarian is not an issue at all when it comes to trekking in the mountains. Also, avoiding alcohol and smoking during the trek is recommended to steer clear of altitude sickness. You will find a great deal of garlic on the menu since it helps with acclimatization.
Food Safety
Guesthouses follow international guidelines while preparing and setting up the food and serve you clean, protected, and warm meals. Most ingredients are freshly grown in the villages itself, so they are fresh and organic. Take caution while buying packaged food in the trails as the food stock can sometimes be outdated or even expired.
Our guides will be there no doubt, to assist you choose healthy options of food and drinks and to ensure that you are on a healthy diet.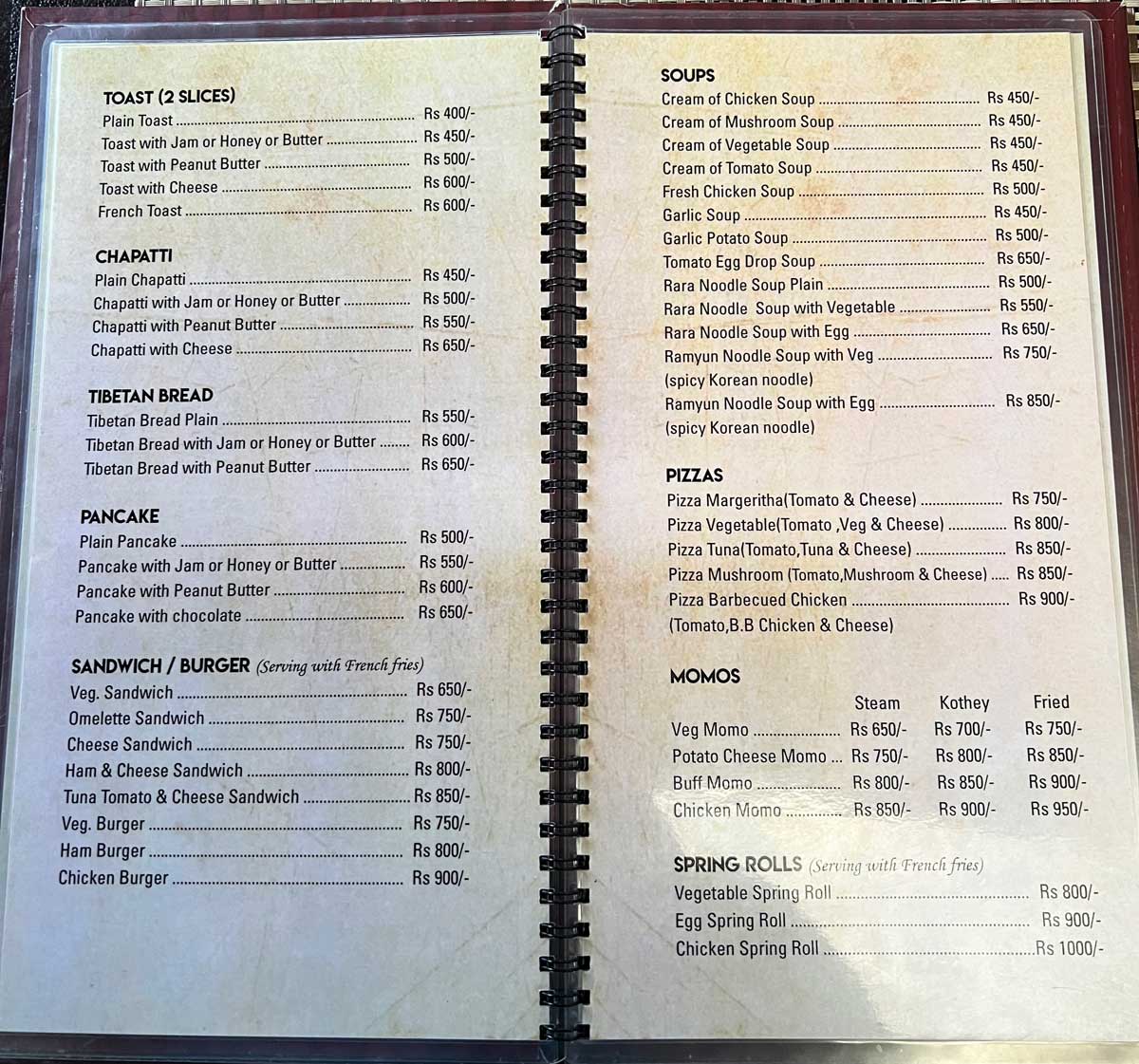 Among the long list of menu, here are some selected some healthy food choices commonly recommended by our guides and teahouse owners considering it's safety and health benefits.
Food Items recommended
The primary food choice while trekking in Nepal is 'Daal Bhat' which simply translates to rice and lentil. It is a popular lunch option to power through your long trekking days. Multiple meal choices are available in the guesthouses. The variety ranges from typical American breakfast to local Nepali and Sherpa cuisines.
Breakfast in EBC route
Morning meal is most essential to kick start your day in the mountains with some healthy breakfast. Until you reach the next teahouse destination for lunch, you can fill up by some breakfast menu items below.
Bread/ Toast
Eggs
Porridge
Cereal
Oats
Pancakes
Tibetan bread
Roti/ Chapati
Potatoes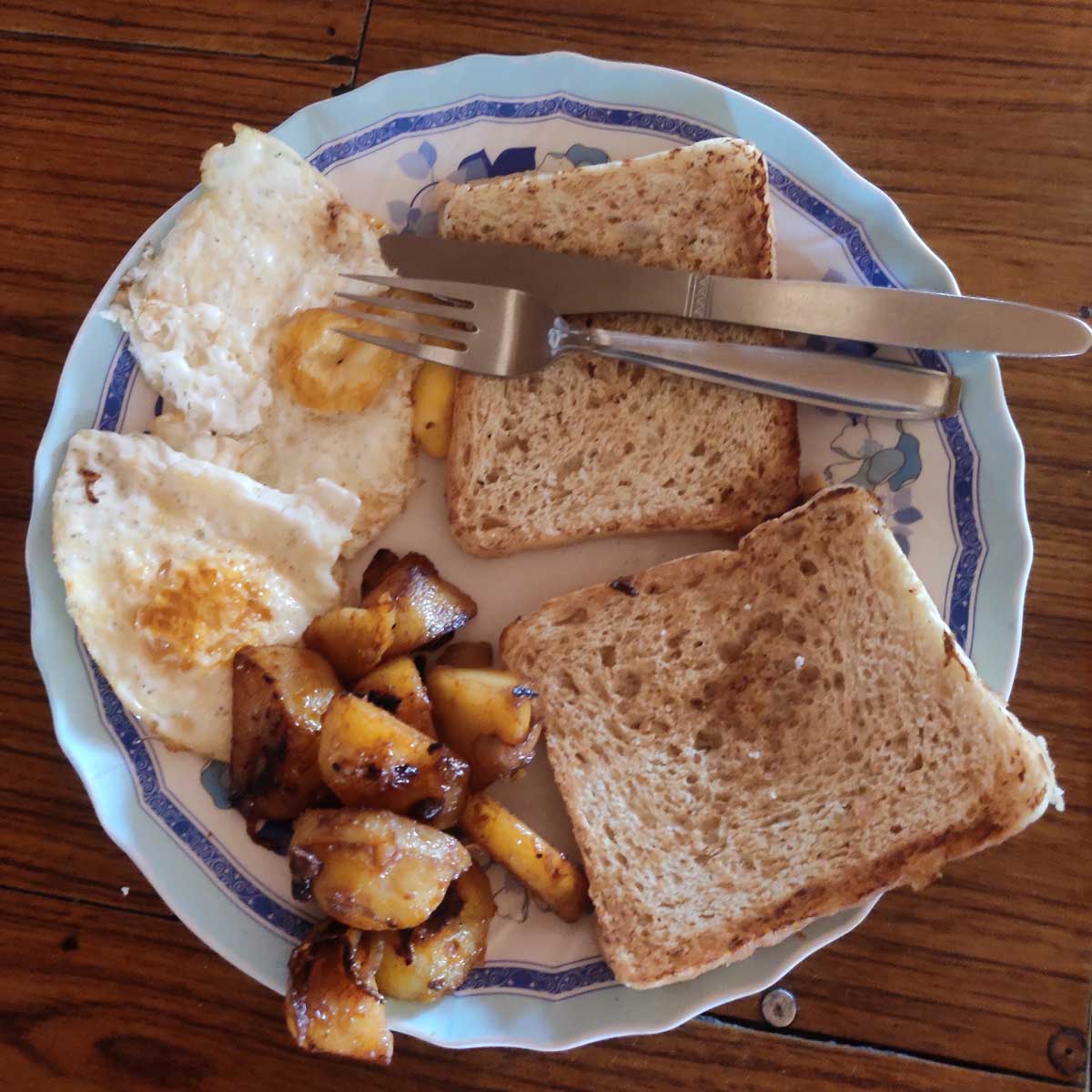 Lunch/ Dinner in EBC route
Lunch options are mostly dominated by Daal Bhat as it is the most available item in the trails which is also the most fulfilling and healthy. You can however choose any option from the menu ranging as mentioned below. Dinner menu mostly resembles that of Lunch and you can select your choice of evening meal.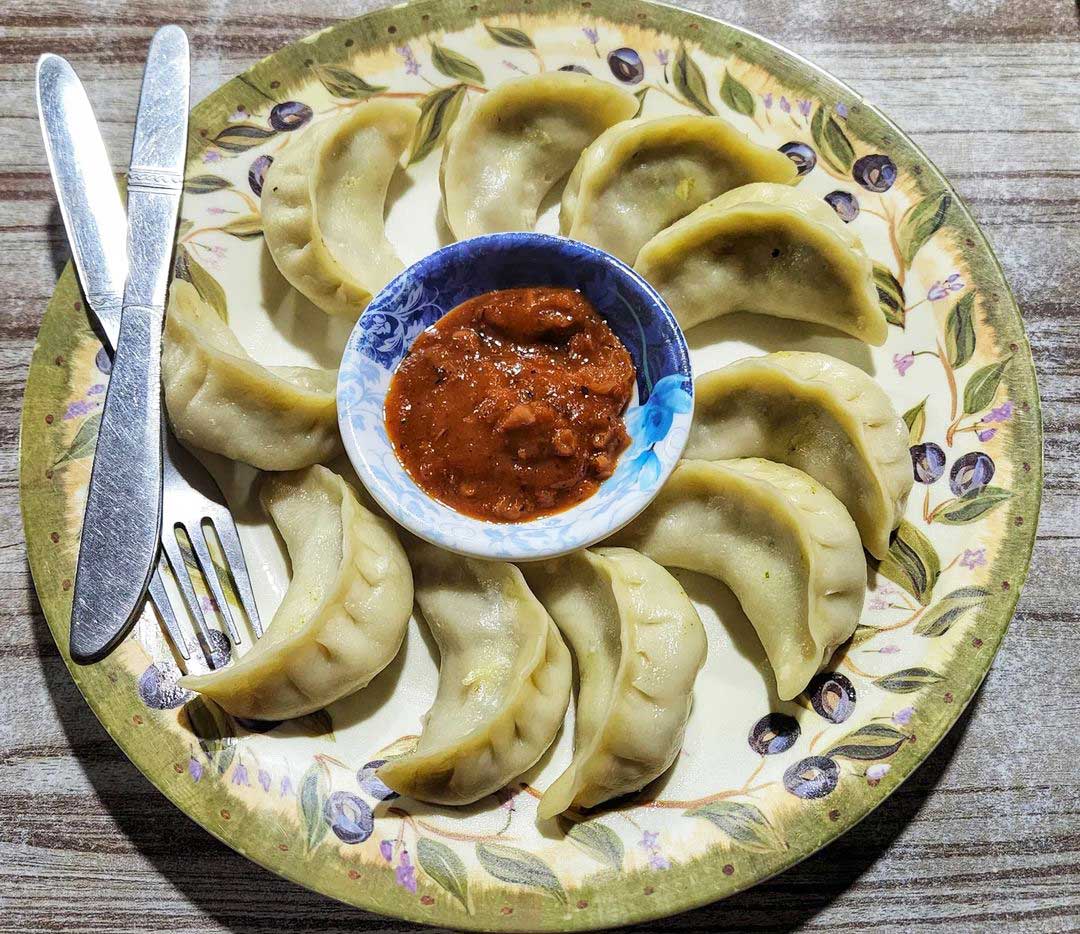 Daal Bhat (rice served with lentils, curry, pickle, and salads that you can refill)
Fried rice
Noodles
Dumplings
Soup
Sherpa Stew
Pasta/ Spaghetti
Spring Roll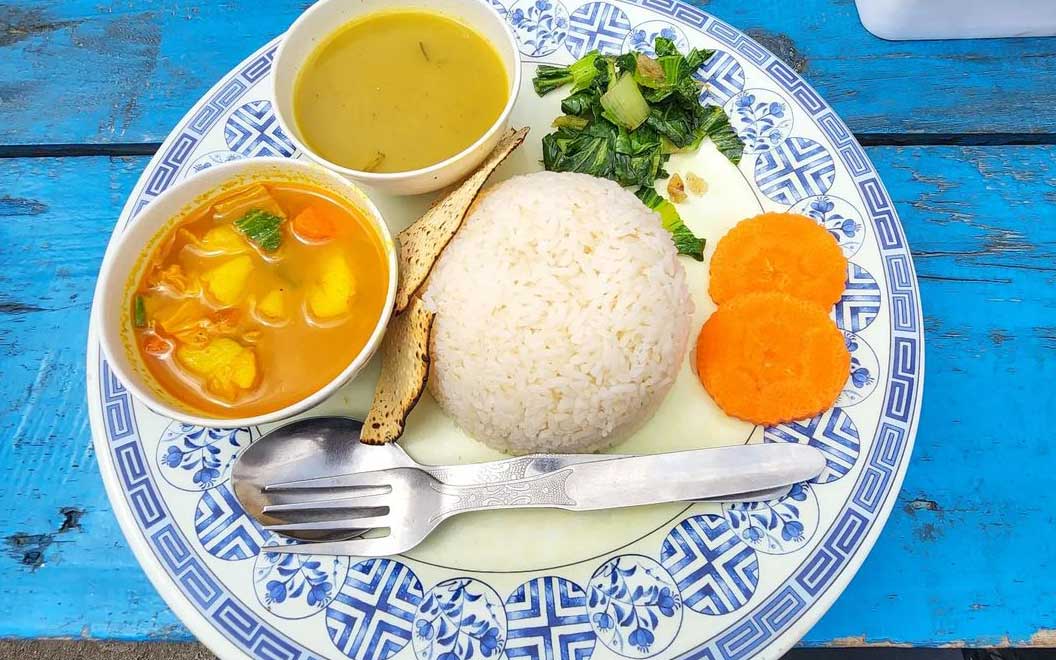 Apart from the food you get in the trails, you can always carry some healthy protein bars, dried fruits and nuts to snack on in between hikes. It is suggested you consume more fluids to keep you hydrated with plenty amount of water intake.
Cafés along EBC trek
You can find a number of cafés along the trek like in Lukla, Namche Bazaar, Tengboche and Dingboche. You can stop by to enjoy a cup of coffee and confectionaries during you rest or leisure in the amazing ambience. You can find freshly brewed or fine blend coffees in most outlets. The cafés serve delicious desserts like hotcakes, apple pies, pastries, rice pudding, and some interesting attempts at custard.
Beverages
Unlike most trails in Nepal, you will also find a number of bars in the Everest trail offering you good booze. Besides, the cafes and teahouses offer a great variety of hot and cold beverages during your stay.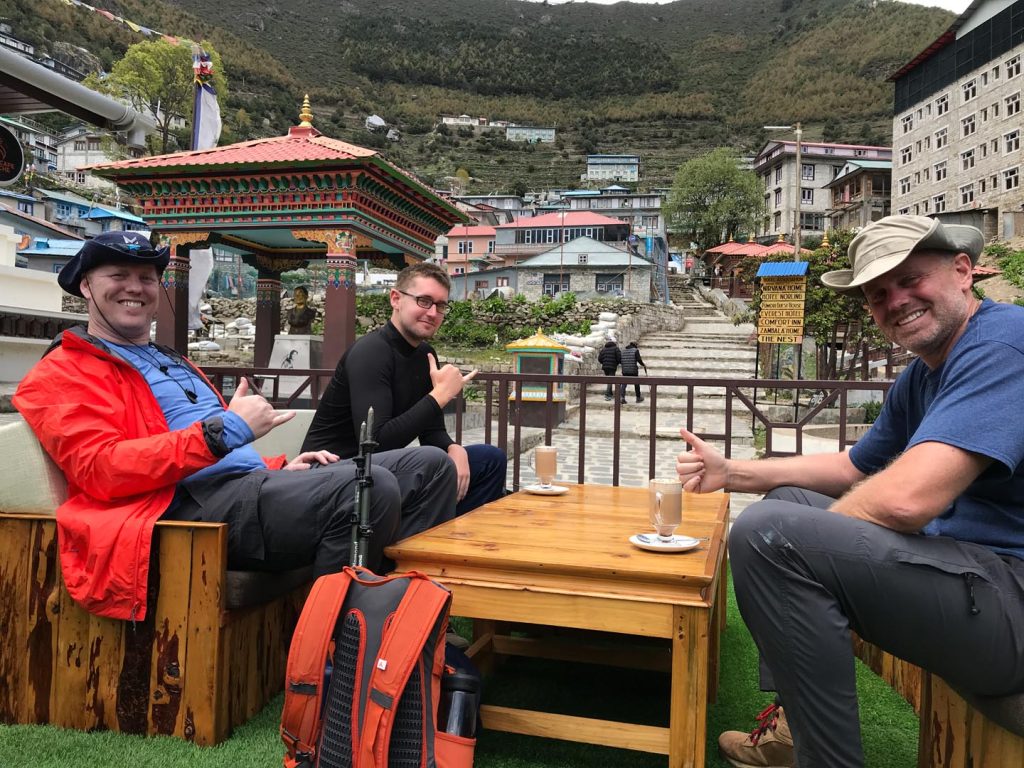 Some commonly available drinks include:
Tea (Ginger, Mint, Black, Lemon)
Coffee (Fresh brewed in Cafés whereas Nescafe in lodges)
Lemon drinks
Soda
Hot Chocolate
Beer (crafted Sherpa beer is most popular along with other branded canned beers)
Foods to avoid in EBC trek
You can find meat in some teahouses. However, we suggest you stick to vegetarian meal options as the Everest region is a slaughter free zone. Meaning the meats you find in lodges are carried there from Lukla via flights which are stale and might cause stomach issues. Likewise, it is wise to avoid alcoholic beverages and smoking during your hike up as they can increase chance of altitude sickness.
Moreover, high altitude trekking doesn't blend well with hangovers as it requires much stamina. You can still enjoy celebratory drinks after completion of your trek while returning back to Namche and Lukla. Following a healthy diet naturally means you must avoid junk food as far as possible.
Drinking Water
Natural spring water or tap water is found plenty along the trek and guesthouses. You can also use purification tablets or iodine for pure and safe drinking water, which you can buy in Kathmandu. It is suggested you carry a water bottle that can hold cold as well as hot water and a hydration pack that shall assist you in quick hydration during hiking.
Nevertheless, bottled mineral water is available all over the shops and lodges in the trek for USD 1 to 5 depending on the altitude. However, we discourage use of such plastic bottles that contributes to plastic pollution in land.
Hot boiled water upon extra charge of USD 2 to 5 per liter is available. The cost varies with increase in price with the gaining altitude.