"Visit Nepal 2020" is a national tourism campaign to promote sustainable tourism in Nepal. A country where tourism plays an integral part in national economy, Nepal is a paradise for outdoor lovers featuring the best adventurous spots for mountaineering, hiking, rock climbing, mountain biking, white water rafting, jungle safari, cultural tour and sightseeing activities.
Nepal is a small landlocked country situated between India and China, nestled among the great Himalayas. A mountainous country in South Asia, with its area about the size of England, Nepal has so much to offer for the traveler and adventurer.
Though the average width measures about 200 km, you can find landscape and ecosystem diversity ranging from hot, plain Terai region in the south to green lush mid hills and snow capped Himalayan peaks in the north. It's a home to eight of the world's 14 peaks over 8,000 m, a great spot for mountaineering and hiking trails. Which is why Visit Nepal is a lifetime experience.
Nepal has preserved it's natural beauty at its best with 10 national parks, 6 conservation areas, 3 wildlife reserves and 1 hunting reserves, a land of breathtaking landscapes with rich, diverse wildlife, birds and vegetation. Of course, most parts of trekking areas follow the trail along the protected areas of Nepal offering the range of attractions and spectacular scenery along the way.
With some of the spectacular one day hiking trails around Kathmandu to world's best classic treks like Everest Base Camp Trek and Annapurna Circuit Trek and often less visited remote trekking region like Upper Dolpo and Upper Mustang; the range of activities and the cultural diversity found here are awe inspiring.
This is a new decade, and why not try something challenging, yet fulfilling? So, start the new decade with Visit Nepal 2020, hiking the rugged, beautiful trails in the Himalayan country. Here are the most popular treks that you don't want to miss in Visit Nepal 2020.
Everest Base Camp Trek
| | |
| --- | --- |
| Where? | Khumbu, The northern part of Solukhumbu district, Eastern Nepal |
| Why? | The only way to get intimate with the world's highest peak, Mount Everest |
| Length: | 156 Km, 97 miles |
| Duration: | 14 days |
| Level: | Strenuous |
| When to go? | March to June, September to December |
Everest region is a land of dramatic contrasts, with glacial lakes and rivers, cliff top monasteries, stupas, mani walls, lush forests, picturesque mountains, Sherpa villages and high passess; you can see them all along the way. One of the main reasons people visit Nepal is to reach the world's top.
This stunningly scenic trail to "the top of the world" continues along historic trading route between Nepal and Tibet, through UNESCO World Heritage Site, Sagarmatha National Park, and mountain towns inhabited by Sherpas. It's the only way to see incredible vistas of Himalayan giants such as Mount Everest, Lhotse, Nuptse, Ama Dablam, Thamserku and neighbouring peaks.
During peak season, particularly spring (March to May) and Fall (September to November), this region is filled with trekkers and mountaineers preparing for Everest expedition. Although being extremely remote mountain region, you will find better infrastructures and modern amenities here. Wi Fi internet, hot showers, and comfortable tea houses accommodation are available along the quaint villages from Lukla, up to the Base Camp.
The added bonus is Gokyo valley and Everest High passes Trek, which takes a longer time and requires long trekking days to explore the true wilderness of the Everest region. Besides, the most popular Everest Base Camp Trek 14 days, if you want to see more in Everest region, Ace the Himalaya offers a wide selection of private and customized treks in Everest region.
EBC Trek with Heli Flight from Gorak Shep Make a sojourn to Everest Base Camp, followed by a spectacular helicopter flight to Lukla from Gorak Shep.
Everest Base Camp with Island Peak Expedition Hike to the base of Mount Everest and climb to the summit of Island Peak (6,187 m/ 20,299 ft).
Annapurna Circuit Trek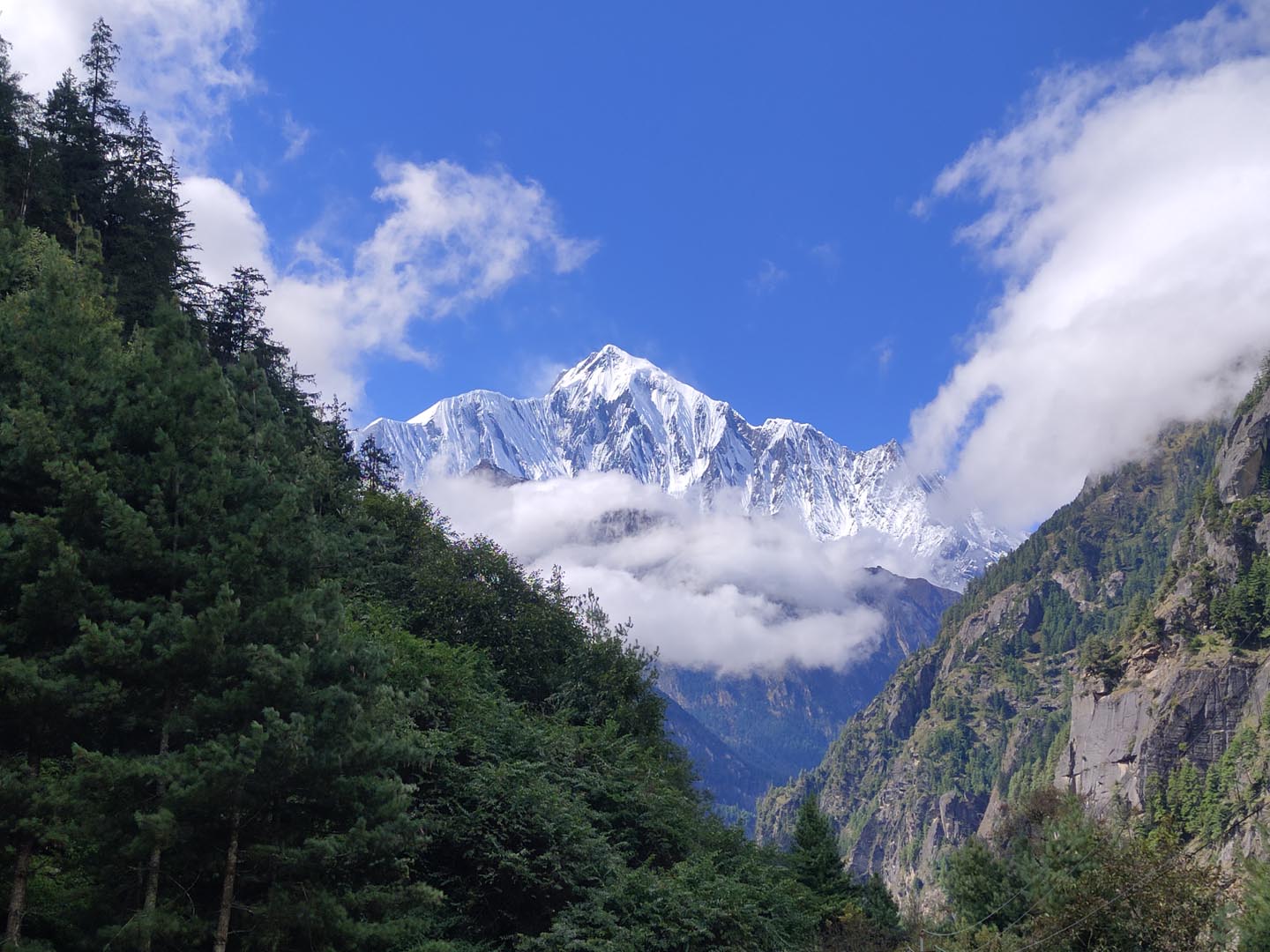 | | |
| --- | --- |
| Where? | North of Pokhara, Annapurna region, Western Nepal |
| Why? | A truly classic trek through ever changing magical landscapes |
| Length: | 230 Km, 145 miles |
| Duration: | 22 days |
| Level: | Strenuous |
| When to go? | March to June, September to December |
Hiking the Annapurna Circuit region trail is truly fulfilling, a journey of a lifetime experience you can have, and we are absolutely certain that the ever changing landscape will blow your mind.
Annapurna region is one of the world's most beautiful hiking trails, combining a unique set of river valleys- Marsyangdi valley and Kali Gandaki river valley, picturesque Annapurna range and Dhaulagiri range, with magnificent views from Thorong La Pass.
The Annapurna Circuit route goes around the Annapurna massif, that constitutes Annapurna I, the 10th world's highest peak (8,091 m) along with other 14 peaks above 7,000 m. This classic trail combines the most iconic villages of the Manang and Mustang district, winding through diverse climatic zones and vegetation, starting from lush subtropical forests to alpine tundra vegetation, along with impressive views of wildlife and birds.
Though the road construction nibbles away the trek length, even better you find the impressive terrains with upgraded modern amenities all along the way. This classic trek route usually begins at Besisahar, and finally ends at Jomsom.
There are so many world class treks in Annapurna region including several hiking trails through mid hills of Annapurna region. Winding through the traditional villages north of Pokhara, there are short treks like Mardi Himal Trek and Khopra Danda Trek to experience awe-inspiring panoramic views of Annapurna range and explore the rich culture and lifestyle of the locals. Likewise, Annapurna Himalayan Trek is deeply rewarding with sunrise views over the Himalayan massif and cultural diversity found here.
On top of that, Annapurna Base Camp Trek is all about high alpine routes and takes to the base of Annapurna I, winding through the most spectacular scenery en route. Almost as popular was "off the beaten path" trail in the remote Nar Phu Valley with its uniquely constructed houses, raw inhabitants who follows Buddhism and their Tibetan influenced lifestyle. Besides this, here are some of our honorable treks in Annapurna region.
Tilicho and Thorong La Pass Trek 21 days: The definitive Annapurna Circuit trek combining Tilicho lake, the highest lake in Nepal and Thorong La Pass.
Himalayan Highlights 13 days: The ultimate adventurous trip including Ghorepani Poonhill Trek in Annapurna mid hills accompanied by rafting, jeep safari, rafting and sightseeing around Kathmandu and Pokhara valley.
Langtang Helambu Trek
| | |
| --- | --- |
| Where? | North of Kathmandu, Langtang valley, Central Nepal |
| Why? | Escape the madding crowds in one of Nepal's best National Parks |
| Length: | 230 Km, 145 miles |
| Duration: | 19 days |
| Level: | Strenuous |
| When to go? | March to June, September to December |
One of the most popular hiking trails in close proximity to Kathmandu, the capital city of Nepal is Langtang Helambu Trek.
You can reach the trailhead by 8 hours bus ride from Kathmandu. On the first day of trail, the route takes in impressive views of snow-covered mountains, glaciers, lakes, forested valleys, monasteries and sweeping meadows.
Encompassing holy sites like Gosainkunda and associated lakes, and the beautiful Helambu valley; this Langtang region has been a home to Tamang and Sherpa ethnic community, and a popular pilgrimage site for Hindus and Buddhist.
What's more, there are various side trails here including Langtang Valley Trek where you can hit the trails along Langtang National Park enjoying the spectacular scenery. Yet another option is Langtang Valley Ganja La Pass Trek for a more challenging prospect  and experience true wilderness as you cross Ganja La Pass en route.
As an added bonus, the majestic flora and fauna, Kyanjin Gompa, cheese factory, and impressive views of Langtang Lirung (7,245m), Dorje Lakpa (6,990m) and Langtang Ri (6,370m) cannot be forgotten in a hurry.
On top of that, East of Langtang leads to Manaslu Circuit Trek which was stunning with its wild and untamed landscape.The trail is less crowded due to its strategic geographic location, but with this epic hiking trail you can say you've truly explored the rich natural and cultural biodiversity of Nepal.
The route begins on the Budhi Gandaki river valley, where trekkers get a completely different experience of ever changing landscape and awe inspiring Himalayan peaks. You will encounter Larkya La Pass, colorful monasteries  and secluded villages which remain unspoiled for much of the year.

Langtang Helambu Trek 19 days: Make a sojourn to Langtang valley, Gosainkunda and Helambu valley in the shadow of snow capped Himalayan peaks.
Tsum Valley Trek 18 days: Experience the true wilderness hiking through remote Tsum valley, a beautiful trip to explore scenic landscape and culturally enriching villages of Nepal.

Kanchenjunga Base Camp Trek
| | |
| --- | --- |
| Where? | East of Kathmandu, Taplejung district of North eastern Nepal |
| Why? | A rugged and remote hike to the base of the world's third highest peak. |
| Duration: | 29 days |
| Level: | Very Strenuous |
| When to go? | March to May, October to November |
Many tourists flew to "Land of Mount Everest" for trekking and mountaineering. Only few of them get to this uncharted territory of eastern Nepal to follow truly wild trail along the diverse Kanchenjunga Conservation Area.

Generally commenced in eastern corner of Nepal from Taplejung and concluded in Kanchenjunga Base Camp, the trail winds through traditional villages and homes to ethnic Tamang, Sherpa, Rai and Limbu community.

Unlike other popular hiking trails, Kanchenjunga Base Camp Trek is a little rougher. There are fewer tea houses, and the only accessible through special trek permit, guides and tented camping stay along the way.
During its undulating course, the trail passes through the most beautiful wilderness region with its glacier lakes, river valleys and awe inspiring mountain views. Likewise, the impressive views of Kanchenjunga South Face, Mount Janu, Kabru, Nyukla Lanchung and associated peaks are truly breathtaking.
With so many options available, this trek requires some prior preparation, good fitness level, special trek permit and guide from trekking agency, but once you hit the trails, you will appreciate Kanchenjunga as a "must experience" trek.

Upper Dolpo Trek
| | |
| --- | --- |
| Where? | North West of Kathmandu, Upper Dolpo region of Far western Nepal |
| Why? | Gain an insight of Nepal's most wild, remote and scenic landscapes |
| Duration: | 25 days |
| Level: | Very Strenuous |
| When to go? | March to May, September to November |
Upper Dolpo Trek sounds like an adventure Hollywood movie. Well, upon viewing the Himalaya directed by Eric Valli for the first time, you will want to behold this astonishing world; hidden, little known and out of the way for most hikers.
Less than one percent of total visitors in Nepal get to this wonderland, but if you hit the hiking trails you can openly say you have explored the hidden gem of one of the world's most stunning places.

The route begins from Jhupal aistrip, and continues on the path of Dunai and towards Shey Phoksundo Lake. This trek is the absolute best way to get to Shey Gompa, which is hugely glorified in Peter Matthiessen's book "The Snow Leopard".
This rugged, yet beautiful trail travels along Shey Phoksundo National Park, the largest park in Nepal; next through several high passes like Kang La Pass, Saldang La Pass and Jeng La Pass en route; offering some reminiscent insights of ancient Buddhist Kingdom.
Trekkers who embark on a sojourn to Upper Dolpo region enter a different world of spectacular mountain scenery, turquoise mountain lakes, lonely monasteries, and beautiful landscapes similar to neighbouring Tibet.
Upper Dolpo, being extremely remote and isolated, is also the least developed part of Nepal. Modern facilities and amenities are hard to find, that's why it is necessary to stay on tented camp and carry your food supplies. Plus, you need to arrange permits from a trekking company and guides, so it's all about group experience.
Besides the must experience hiking trails in Asia, Nepal has witnessed a phenomenal amount of mystical work and comprises some of the finest religious architecture in the world. Everywhere you go, you will find temples and monasteries with its own historical importance.  Just being there and view the tapestry of Nepali cultural life, you can feel the powerful spiritual experience.
"Atithi Devo Bhava" – literally, "The guest is equivalent to God" emphasizes on ancient Hindu scriptures has become an etiquette in Nepalese society. No matter which part you are from the world, you will find the feeling of hospitality and friendliness in Nepalese people. We are a land of diverse culture, tradition and religion, yet the people live together in harmony, celebrate festivals together and treat each other with respect.
Get more information on Visit Nepal 2020 special trekking and hiking trips by Ace the Himalaya.

So, what are you waiting for? Take your pick from the above hiking trails for Visit Nepal 2020, pack your bag and camera, and go hiking adventures in the shadow of the Himalayas.